While the proposal is usually the pinnacle of excitement, why end the engagement celebration there? Let your family and friends know with these 15 fun ways to announce engagement.
Here are 15 equally awesome ways to announce engagement while ensuring it will reach the right people – without breaking the bank.
1. Say it with pets
When you and your partner decided to have a fur baby, your friends knew it was a sign of things to come. It's only fitting that Fido be the bearer of breaking news, like in this ownership role reversal that has the pet announcing his humans' engagement.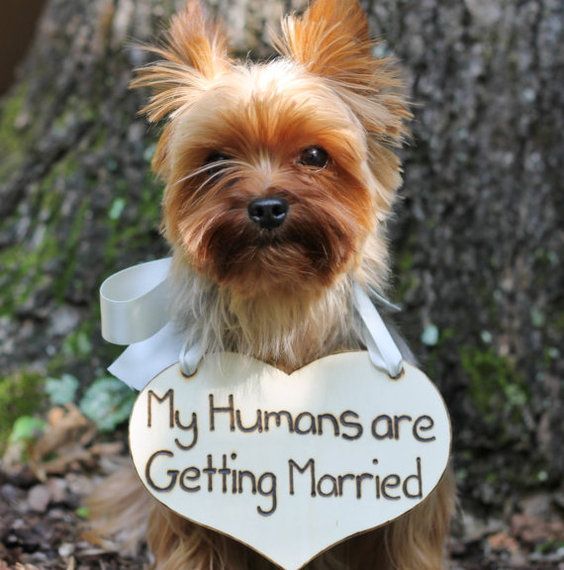 2. Go on, be a mug… 
Play it cool and take a photo of you pretending to casually read the morning paper while clutching a funny engagement announcement coffee mug, drawing attention to your new bling. "Ring? What ring?! Oh that old thing….Yeah, I'm engaged!"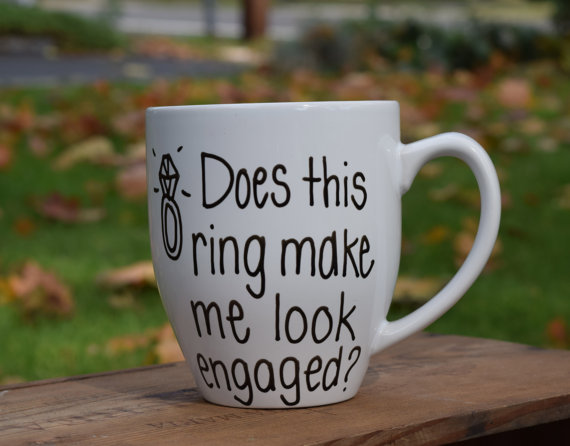 [ew-supplier-carousel]
3. Spell it out
Literary lovers can have a whole lot of fun with scrabble squares presenting plenty of opportunities to drop the engagement ring into 'I do' lines and other 'Love' notes.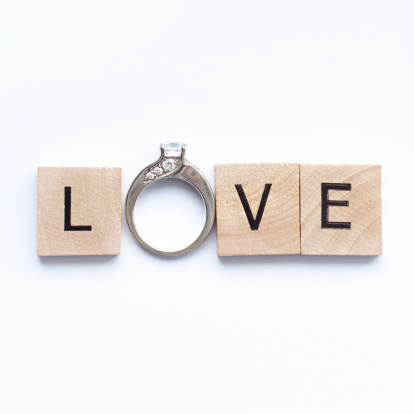 4. Viewfinder
This seriously novel engagement announcement keepsake tells the story of you and your partner leading up to the big commitment. It's interactive, personalised and comes with its very own viewfinder camera. It's perfect for betrothed couples born in the '70s and '80s!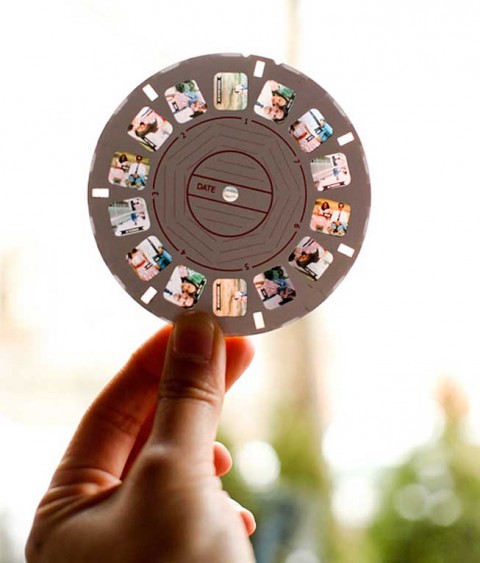 5. High-school sweethearts
If you and your partner met in school, head back to your old stomping ground and use the school' scoreboard, or some other architectural feature of significance to announce your engagement with a nostalgic reminder of how you met and your enduring love. The same can be done with church or hobby group noticeboards, if they played a part in your meeting.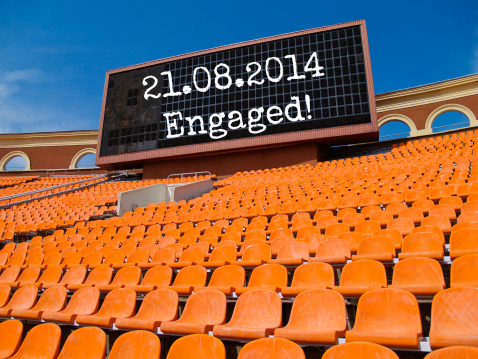 6. Movie buffs
Pay tribute to your favourite movie with a satirical re-enactment of the DVD cover, like this Walk the Line engagement announcement featuring Joaquin Phoenix and Reece Witherspoon, or should that be Joshua Watson and Rachel Van Der Merwe?
7. DNA matching
Get out the ink pad and let your fingerprints make love hearts in a symbolic uniting of lives. Avoid being too coy or mysterious, or you risk recipients mistaking the notice for a baby announcement!
Source: Telva
8. Get inked
Grab a marker of the non-permanent variety and share your long anticipated engagement with tattoo-inspired font featuring your new bling as the letter 'o' in the phrase, 'bout time.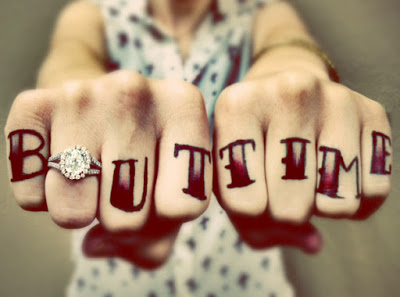 9. Get wet
Who doesn't love a play on words? Take a dip in a backyard pool with an underwater photographer to let your friends and family know you're ready to take the matrimonial plunge.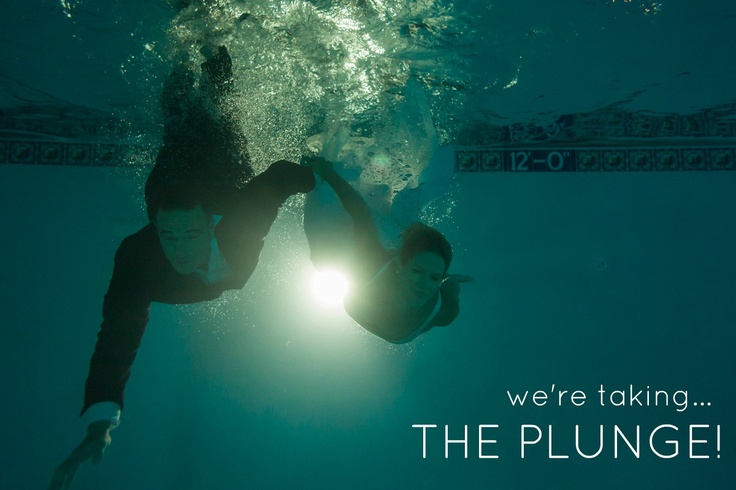 10. Pop culture parody
If over-the-top, cutesie engagement announcements make you feel a little queasy, try injecting some personality into a pop culture parody, like this couple have done with Beyonce's 'Single Ladies – Put a Ring on It'.
Source: Argeesht Mirzakhanian
11. Cartoons
If you and your partner would rather leave the camera out of it, hire the services of a graphic designer or professional animator and have them whip up a pic of you and your partner doing whatever it is you like to do.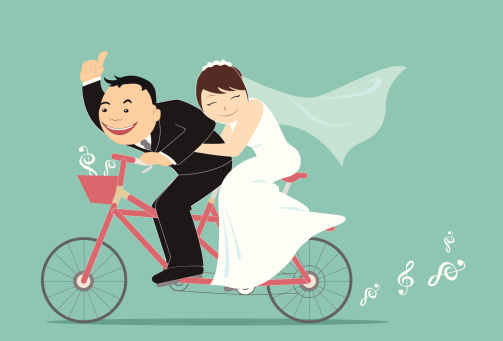 12. Lucky in love
You're probably feeling pretty lucky after the love of your life told you there's no-one else they'd rather grow old with. Express just how lucky you feel with a physical representation showcasing your engagement ring busting out of a fortune cookie.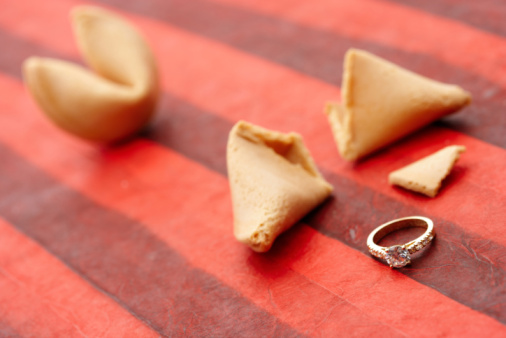 13. Relationship timeline
Let recipients relive your relationship lifespan with a photographic montage of you and your partner, highlighting the significant moments that paved the way to your engagement.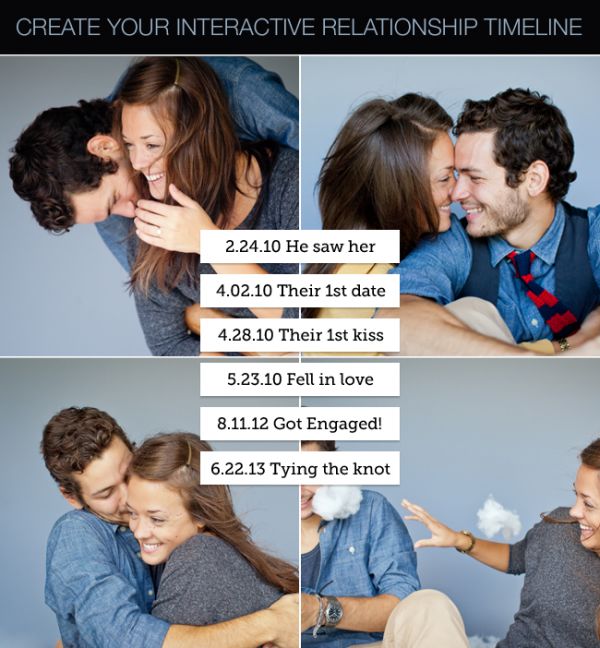 14. Silhouettes
Employ an artist or get crafty with your partner and use Photoshop for DIY silhouette engagement announcement cards that are simple, understated and timeless.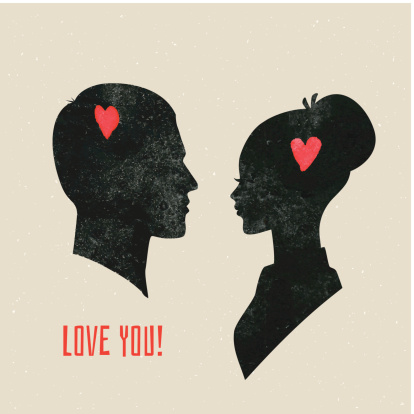 15. Say it with sand
Sand written engagement announcements are easy, free and provide a beautiful natural background against which to display your ring. Options include a trail of feet imprints leading off into the sunset with the words "Our journey starts here", or hand imprints showcasing the ring on the appropriate finger.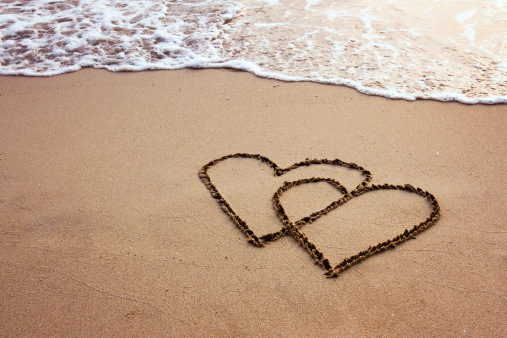 Have you received an out-of-the-box engagement announcement? If you were the mastermind behind a creative announcement that had your guests hanging on the edge of their seats for the wedding, we want to know about it in the comments below.