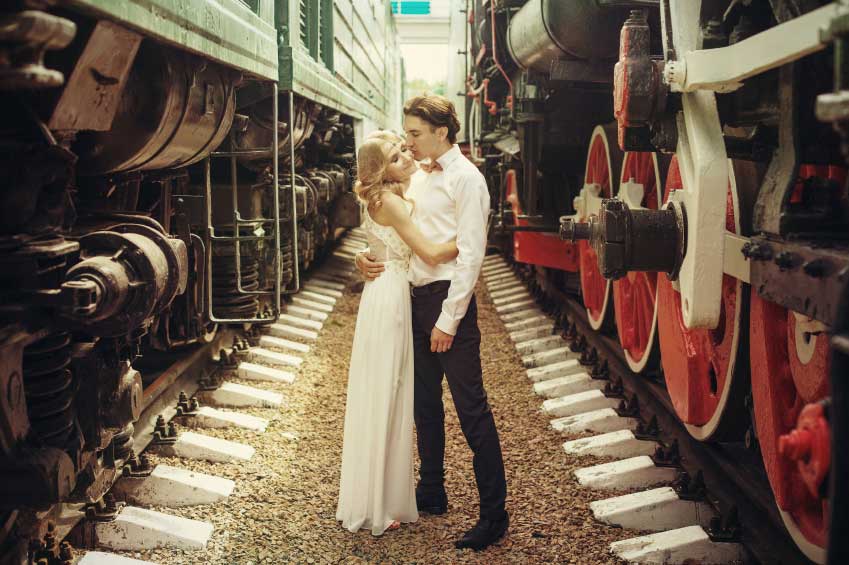 In the days before train travel was so common and affordable, trains were the best way to travel long distances and, if you're after a honeymoon that is filled with old world charm and romance, it's still a wonderfully viable way to travel on your honeymoon and, with these 11 old world train trips – it can actually BE your honeymoon!
Train travel has so many advantages: You don't have to steer and watch the road the entire time; you are up close and personal to the scenery; you can sit and watch the world go by; you can have your own self-contained accommodation – and you can interrupt your journey if that is your wish.
So if you're the clickety-clack and intoxicating rhythm of train travel appeals to you, here are some top train travel destinations you should consider for your honeymoon:
Canada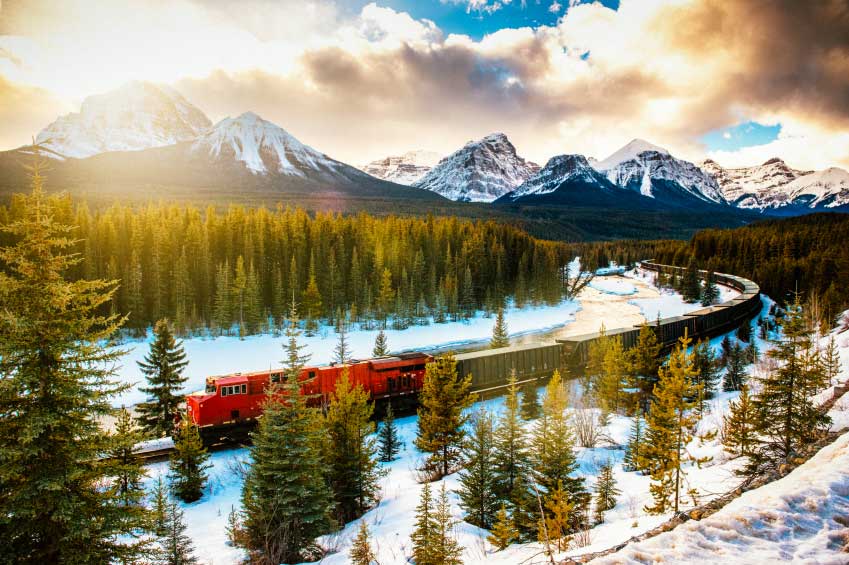 The Rocky Mountains offer stunning and spectacular scenery; count the trees and lakes. You can take a journey as short as two days. The choice of seating and accommodation varies which will appeal to those on a budget but the scenery is the same for everyone. The observation cars give you that up close and personal feeling. One highly recommended leg of the Rocky Mountain journey is that from Banff to Vancouver.
Peru
If you're South America bound, this whole day excursion has so many highlights. It's known as the Hiram Bingham Orient Express. You ride in Pullman-style carriages with superbly upholstered seating. The food matches the spectacular scenery and the four-course meal on the return leg is gastronomic in design and taste. History abounds with the Inca city of Machu Picchu yours to explore.
South Africa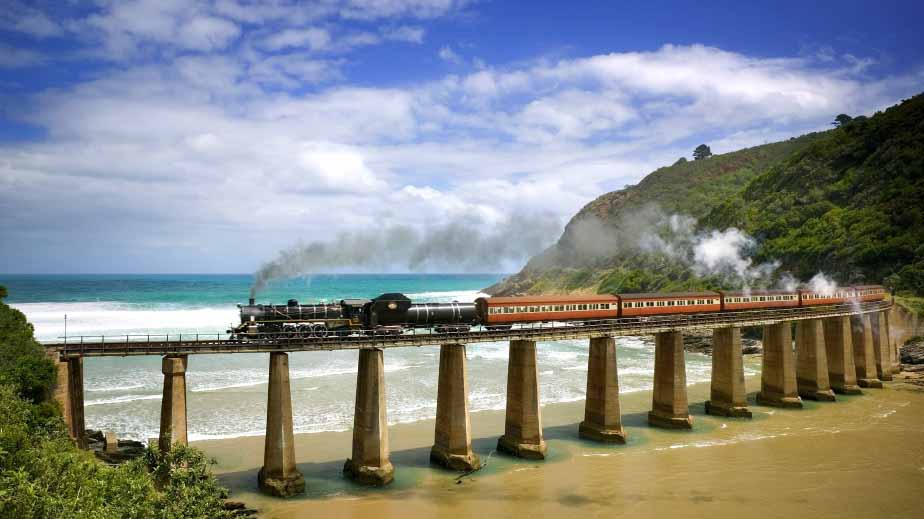 It's a thousand miles from Pretoria to Cape Town and if you want a 5 star hotel on wheels, this is it. The Blue Train seats, food, butler service and luxury are legendary. Oh, and don't the fascinating African wildlife and countryside. Not recommended for honeymooners on a tight budget.
USA
If you like wine and sunshine then the Napa Valley Wine Train will appeal. It's a short journey but on a vintage train. You can wine and dine on board or simply travel and enjoy the glorious views. You can take a guided tour to wineries and return in time for the slow train trip home. It's a slice of California for wine and food buffs.
New Zealand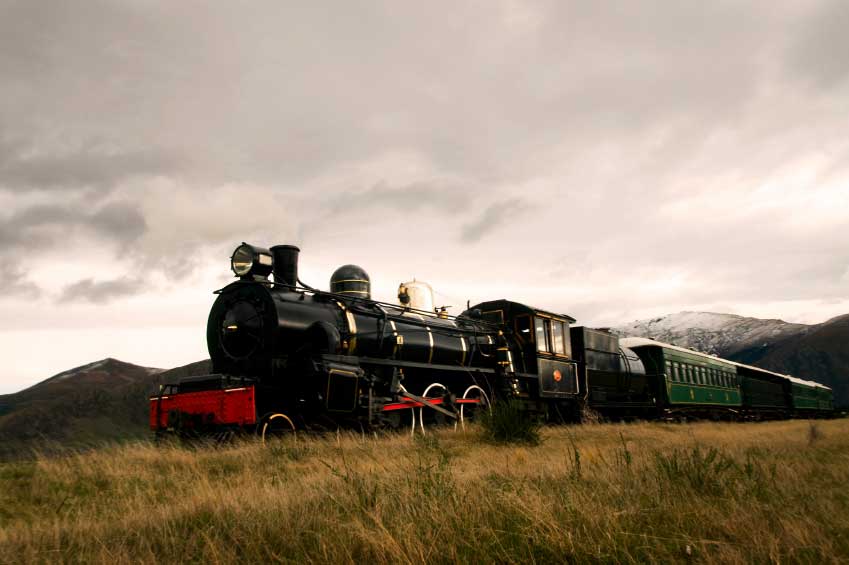 The train goes from the beautiful, and re-born, city of Christchurch to the wild and rugged country around Greymouth. It's only a half-day trip but packs a lot into that time. And of course there is so much to do at either end of the line. It's a trip to marvel at glaciers and mountains as much as manmade scenery with tunnels and viaducts.
Europe
Sadly the original Orient Express was derailed by Agatha Christie but you can still take a truncated version from London to Venice. It's a two-day smorgasbord of fabulous food and even more fabulous scenery. Indulge yourselves in the vintage, plush carriages where your day seating becomes your upmarket boudoir. As the French and Italian countryside drifts by, enjoy everything including the on board entertainment.
Australia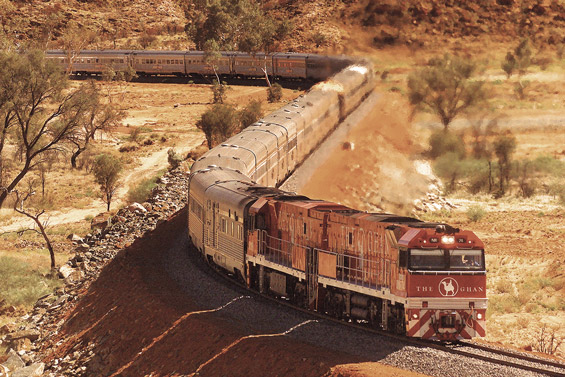 A train trip through the heart of Australia is an eye-opening, once-in-a-lifetime experience. You won't see the soft, green mountains of the Swiss Alps but you will enjoy equally breathtaking, ever-changing expanses of rich, brown land oozing with dramatic scenery and jaw-dropping beauty aboard The Ghan or the The Indian Pacific. Onboard, you can enjoy the solitude of your own luxurious private cabin.
The Isle of Man
The Isle of what? If you're a motorcycle fan you'll know about this gorgeous island in the Irish Sea between England and Ireland. It's a grand place for an idyllic honeymoon and where you can take an old-fashioned train trip from Douglas to Port Erin. Would you believe this line and its locomotives were the inspiration for Thomas the Tank Engine. Now that's something to tell your grandkids.
Switzerland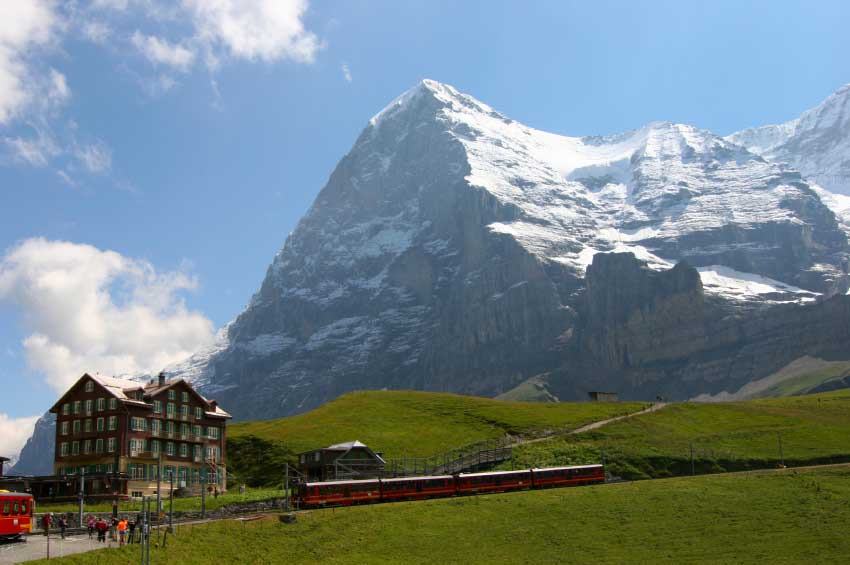 The Bernina Express reveals the picture postcard landscape of the Swiss Alps. You start by bus from the shores of Lake Como with all its renowned beauty. You finish by train at St Moritz. Ski-ing anyone? Glaciers, rivers, forests, villages and waterfalls are right outside your window. Pick your season and pick your delights.
Russia, China and more
The Trans-Siberian Railway is a trip and a half. You would need to have 'adventure' at the top of your list when planning your honeymoon to take this train trip. If you didn't know your partner super well before you started this trek, you certainly would by journey's end. It's not for everyone because it takes weeks and covers such a vast distance. You might consider a shorter version. Your holiday snaps would require a marathon sitting.
Mexico
This is a surprisingly popular holiday destination for many people including honeymooners. It offers a train trip with a difference. The El Chepe is the Mexican version of the Grand Canyon where the train wanders through Mexican canyons over some 40 bridges and through more than 80 tunnels. The waterfalls and forests are spectacular and after you climb some 8000 feet, the views are to die for. Olé.