Planning your wedding can be an absolute blast, but it can also be very, very hard work. Though most brides tend to keep their cool, some tend to let the stress of wedding planning – or just their own enthusiasm – get the better of them and turn into, well, bridezillas!
Not you, of course, but just in case you're starting to receive odd looks from friends, family and passers-by every time you mention the 'w' word, here are some of the things we've seen brides-to-be do and say – and sometimes, it ain't pretty.
So, if you recognise more than one or two of these behaviours, you may need to reign things in, before the wedding party – including the groom – forget to save the date.
There's no 'I' in 'Team'
You give the bridal party zero input into how they're going to look in front of your 150 guests, even though they are paying for their dresses and hair/make-up – and some have flown in from across the world to be there for your big day. Oh, and because you're not getting a spray tan, you prevent the rest of the party from getting some colour to offset the pale pistachio dress you've forced them into.
Listen to what your bridal party has to say about how they feel in the colours or style of dress you've chosen for them.
Erm, hubby who?
You spend more time with your wedding planner than the man you're going to marry. This can be problematic for a variety of reasons. For one thing, It may be an idea to inform hubby he'll be dancing your first dance to Justin Bieber's 'As Long As You Love Me' before the big day, so he has ample time to object. But you're not too worried, after all, you already know who's going to win that one!
It's kind of his wedding too; step back and give him some creative license!
Daddy's dollar
You agree to an additional $300 to change the sugared almonds from Paradise Pink to Pink Lavender, without consulting the treasurer. We understand this is not applicable to all brides, but if anybody other than you and your partner is contributing to the wedding costs, be gracious and considerate of who's footing the bill and how you're deciding to invest their money.
No matter who's paying for the wedding, somebody has worked hard for that money, so don't just fritter it away.
Biggest loser
You go to bed at 8pm every night after your Crossfit class and wake up at 4am every morning to run 10km. Your diva-like dietary requirements have become so ridiculous, you sneak your own food into restaurants. You're embarrassing yourself, your friends have suddenly become too busy to catch up, and your wedding is still six months away.
Try moderation – far more sustainable, and your friends might even join in!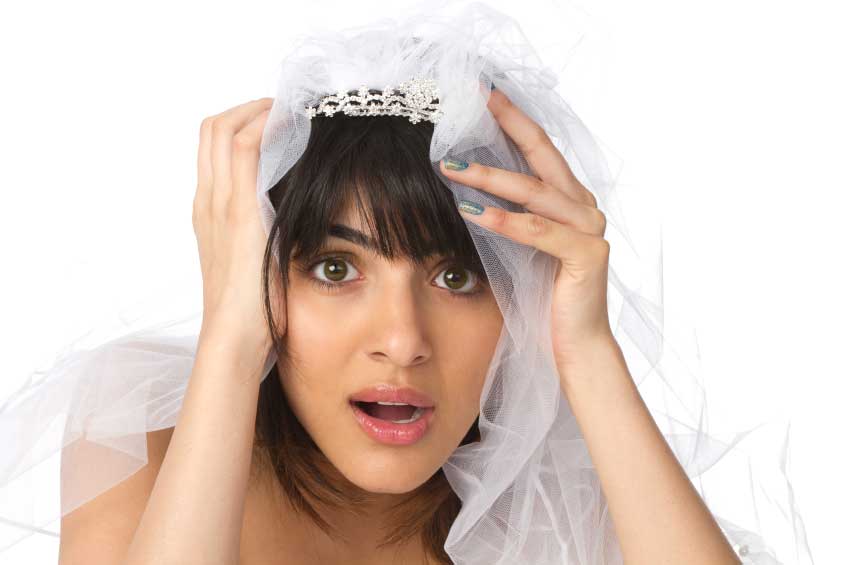 Party pooper
You have forbidden your fiance from having a buck's night because it's a waste of money, you don't trust his friends and it's an outdated institution of absolutely no benefit to the wedding preparations (which you've so obviously been left to do all on your own!) But you're having a hen's night, because that's different.
What's good for the goose is good for the gander, non?
Cake crusader
You sample all the wedding cakes within a 100km radius of your house and spend all weekend comparing flights to visit interstate bakers. Everybody who steps foot inside your house is cornered into a tasting ceremony, with your inevitable conclusion, "The sugar is too sweet, the icing is too bright and the centre is too soft!"
Of course you want your cake to be perfect, but keep in mind you're eating it, not marrying it.

Blame game
Your sister-in-law offered to make the wedding invitations. She sends you a proof to approve before going to print, but you're so caught up in booking photographers and you know the invite looks great, so you tell her to just get on with it. The invites are sent out with the right day, but wrong date. It's all her fault – and you make that known to everybody – before promptly removing her from the bridal party.
It's not just you who wants your big day to be perfect, so do all your friends and family. Mistakes happen, so cut them some slack! 
Photography fail
You compile a set list of photographs you want taken on the day. Instead of enjoying the moment, you spend the entire ceremony directing the photographer to take close ups of the flower girl's head piece, nine different angles of the sunshine filtering through your champagne glass, and intermittent pics of the cake as it's gradually devoured, piece by piece.
Stay in the moment and let the photographer do what they're paid to do!
Due to a natural disaster wiping out the east coast's entire mango supply, the caterer has offered to substitute the dessert ingredient with their more expensive caramelised fig at no extra cost, or import mango from overseas for a small surcharge. You have a meltdown and tell them you don't care where the mango comes from, but you're not paying for their catastrophic mistake. Zoiks!
The sun will set the morning after your wedding – even if you don't get your mango of choice. Relax! 
Filter fitting
On any given day, your wedding pops up in conversation approximately 24 times. Of all those times, 24 is the number of times you introduced the topic, finding obscure segues from talking about the office printer to talking about the printing costs of your wedding invitations. You might need to fit a wedding filter. Before opening your mouth, think to yourself, "Does this have anything to do with my wedding, is this person invited/even remotely interested in my wedding, and will I once again hijack a non-related conversation with wedding waffle?"
As excited as you are about your big day, unfortunately, not everyone else may be, so feel free to share with anyone who will listen, provided they are genuinely interested!
If you liked this story, you'll love this story about a bridezilla's demanding email that went viral!