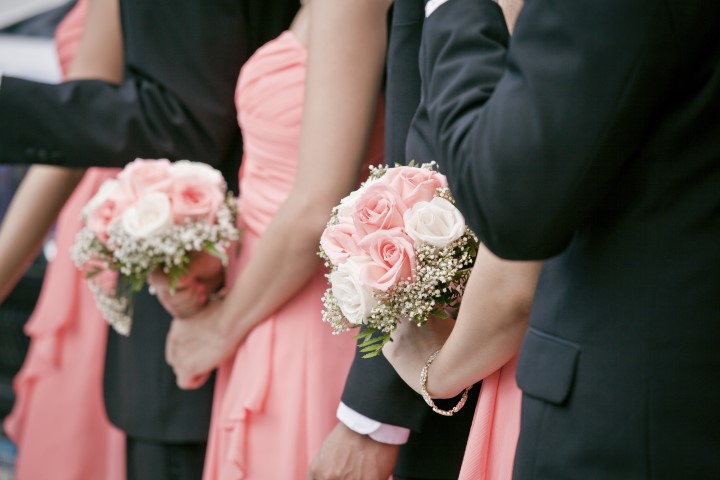 How many bridesmaids will you (or did you) have?
Majority of brides choose two or three bridesmaids
Most brides will choose to have two or three bridesmaids accompanying them down the aisle according to an Easy Weddings poll. 60% of brides that completed the survey reported that they planned to have two or three bridesmaids, while 14% were having less and 26% were having more.
Deciding which friends or relatives to ask to be your bridesmaids can be one of the most difficult parts of wedding planning as you don't want to offend anybody by not asking them, but you want to be surrounded by the people that mean the most to you on the day. Keeping the numbers small is a good way to avoid upsetting people, and two to three bridesmaids seems to be the ideal number for various reasons.
With two to three bridesmaids you can:
Just ask your sisters or very closest friends
Keep costs down on bridesmaids' outfits, bouquets, and transport
Share out the bridesmaids' responsibilities
14% of the brides that took part in the poll said they only planned to have one bridesmaid, and this would usually be their sister or their best friend. The advantages of just having one bridesmaid are that it is someone you know very well and trust, and that they have more freedom over their outfit as they don't need to co-ordinate with others. However, it does put more of a burden on them as they need to make all the arrangements for the hen party as well as helping you with wedding planning.
Around a quarter of brides planned to have four or more bridesmaids, with 3% indicating they would have more than six. These may be larger weddings with a greater number of guests where more adult bridesmaids were required, or the couple may have decided to include some children or teenagers in the wedding party as junior bridesmaids.