Forbidden love, escape to another kingdom and happily ever after are the fairy tales of princes and princesses.
In this case, it was the true love story of Laetitia Signoret, 27, and Gregory Perrot, 33, who wed on May 18, 2013 in their homeland of France.
The couple, who moved to the Gold Coast earlier in their relationship, overcame many challenges before becoming engaged after eight years as an item. "The main one being that my father would not accept Greg and banned me from the 'castle'," says 27 year-old Laetitia. "But our love was strong and together we travelled to faraway places an ended up in Australia; our promised land."
After recognising their love for one another and success as a couple, Laetitia's father finally blessed the relationship.
When it came to planning their big day back in France, the theme was obvious: a fairy tale wedding. "We hired a castle with a beautiful garden, the finest caterer and invited guests from all over the world," recalls Laetitia.
One-hundred-and-sixty guests from Australia, the US and Europe attended the afternoon ceremony. "It was made of both Australian and French usages, aimed at thanking the people who made our love possible, while giving them hope and living proof that love conquers all," smiles Laetitia.
As per French law, the pair were first married at a simple and intimate ceremony at the City Hall to make their commitment official. In the late afternoon, 160 guests attended the castle ceremony.
After exchanging their vows, guests were interviewed and filmed to the couple's surprise when they watched their wedding video.
Laetitia's ivory encrusted gown was from Enchante Bridal and Formal Wear.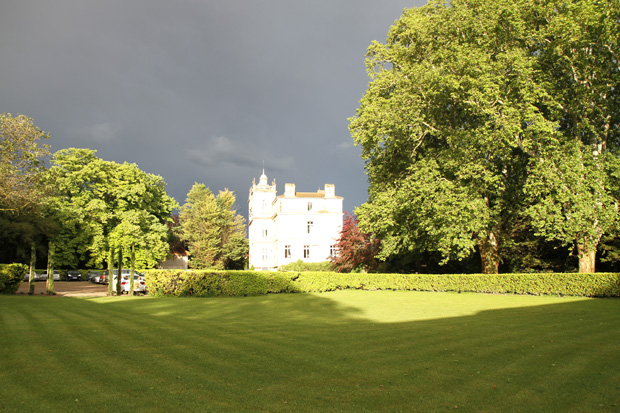 Laetitia said their wedding celebrations ended perfectly at 4am. "We retired to a suite in the castle and lived happily ever after," she smiles.
Photographs courtesy of GM Video.
Featured Suppliers:
Bomboniere: DIY / Brides Accessories: Hair Comes the Bride / Brides Gown: Enchante Bridal and Formal Wear / Brides Shoes: Enchante Bridal and Formal Wear / Bridesmaids Dresses: Hedy Bridal / Celebrant: Avignon's mayor / Ceremony Venue: Town Hall in Avigno and Chateau des 3 Fontaines / Entertainment: Yohann Animation DJ / Flowers: Arom Nature / Grooms Attire: Vendome / Grooms Shoes: Vendome / Hair: Sandrine / Invitations: faire-part-creatif.com / Makeup: Marie-Christine / Pageboy Attire: Giga Store / Reception Venue: Chateau des 3 Fontaines / Rings: Diamond Boutique and Michael Hil / Venue Decor: DIY / Videographer: GM Video / Wedding Night Accommodation: Chateau des 3 Fontaines