A casual conversation over clay led to the intimate wedding of Alissa Davis and Lester Gay on November 2, 2013.
The pair met while at university where Alissa was studying fine arts. "I was waiting for the bus with a bag of clay…Lester was lost trying to find the carpark after going to the uni gym for the first time," recalls the bride, 30. "He asked for directions and the conversation turned to clay [Lester's parents are ceramicists]."
About six years later Lester, 34, proposed over a cup of tea. "Informal and no fuss was the proposal – exactly how our relationship has been and how we wanted our wedding day to be," smiles Alissa.
Alissa, an online shopping guru, purchased a majority of wedding items online, incorporating a green theme to suit their spring event. "A short ceremony followed by an informal reception with lots of laughs, music and good company, which is all we asked for," she recalls.
Lester was surprised at the reception with a traditional Maori welcome from their New Zealand guests. "This was an eye-opener for most, and passersby were left wondering where the noise was coming from," laughs Alissa.
Alissa's custom-made gown was accessorised with Lovisa jewellery and ivory satin shoes.
Lester's best man was lucky to make the big moment of 'I do'. "The best man missed his morning flight from New Zealand and ended up arriving only a few hours before the ceremony," says Alissa.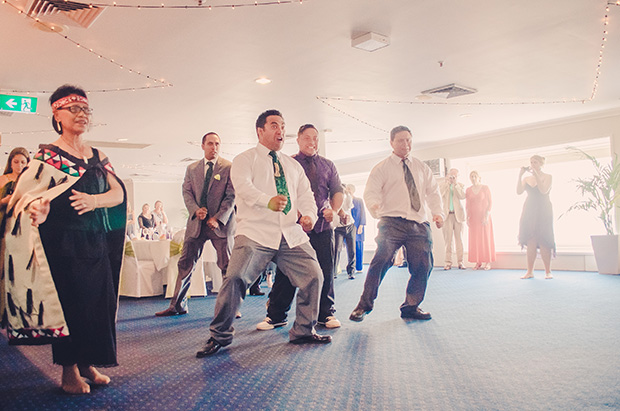 "The wedding photographer had tears of laughter rolling through our location shots, as the boys could not keep serious with their poses," smiles Alissa.
Photos courtesy of Kelly Judd Photography.
Featured Suppliers:
Bomboniere: DIY / Brides Accessories: Lovisa / Brides Gown: Custom / Brides Shoes: Clarice / Bridesmaid Shoes: C'est Bon / Bridesmaids Accessories: Lovisa / Bridesmaids Dresses: Review / Celebrant: Lozzy Macey / Ceremony Music: DJ Nathan Skelton / Entertainment: Haka by family and friends / Flowers: DIY / Grooms Attire: Man to Man / Groomsmen Attire: Man to Man / Hair: Kaoru / Honeymoon: Nelson Bay / Invitations: DIY / Makeup: Concealed Makeup / Rings: Angus and Coote / Transport: Luroc Limousines / Venue: Harbourview Function Centre / Venue Decor: Paramount Event Hire