This story is so sweet. Divorced and single for six years, 38-year-old Renae Hart had given up on dating. And even though she had loads of cuddles and love from her six gorgeous children, there was still something missing.
But she'd decided to throw herself into her midwifery degree to forget ever meeting anyone and as quite often happens, the moment she stopped looking, she found Mr Right.
Well, Mr Phillips, actually. 26-year-old Joshua Phillips.
Renae tells, "After moving closer to Brisbane, I started going to my local church in Kangaroo Point and that's when I met Josh. He sat behind us a few times and I thought he was pretty cute. We connected at a church dance and talked all night and after our first date we were inseparable."
After seven months dating, Renae went on an extended trip away and while she was gone, Josh realised just how much she meant to him – in fact, he couldn't live without her!
She says, "In the weeks following my return we talked about how much we couldn't be without each other and decided together that it was time to commit and get married.
I'd love to say it was this big romantic proposal but we were making decisions not just for the two of us but also my six children, so we made the decision together."
Renae and Josh's sentimental cocktail wedding was a family affair, organised by Renae's sisters and catered by various family members. And the six kids made the most adorable bridal party! Renae says, "Both the girls were bridesmaids, the twins both had a ring pillow each and the boys stood with Josh as groomsmen. The aim was to make us feel like a family on our wedding day and we certainly achieved that."
She adds, "My heart melted when we walked out of the chapel and one of my twins, with his arms outstretched, ran up to Josh and said, 'Daddy'. I will never forget that moment. He had been waiting til the day were married to call him that and it was such a special moment for both of us."
Congratulations Mr & Mrs Phillips.
Renae says, "I love that we are there to support each other through not only the good times but especially the tough ones. Most of all I love that Josh has found a spot in his heart for my children. He has healed not only my past hurts but theirs too and has showed them that they are special to him and that he loves them."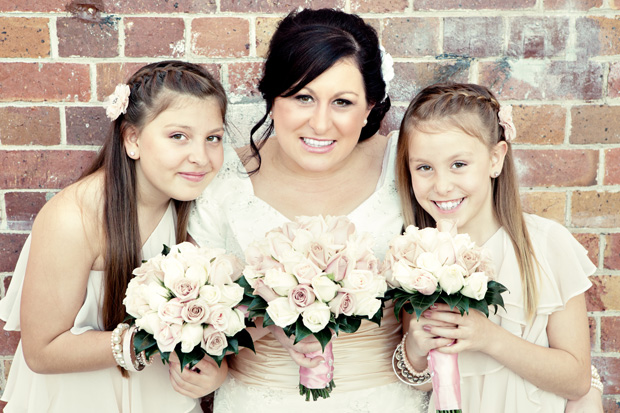 "I really didn't do a lot with the wedding other than choose colours, and organise my dress and the kids' clothes," explains Renae. "My sisters were in charge of everything and Joshua and I only had to turn up."

Renae's daughters were dressed by Forever New, her two eldest boys, Connor, and the twins wore their own trousers with shirts purchased online.
"It was important to me to have things that were sentimental," says Renae. "I could have bought a beautiful cake, decorations, guest book or ring pillow but each of my sisters made my day that much more special by making all those things."
Instead of a gift registry Renae and Josh opted for a wishing well (or in their case, a letterbox). She says, "That night as we sat on our bed for the first time as Mr and Mrs Phillips, we opened the cards from our guests and felt so loved by their words and well wishes. It was better than any wrapped gift."
This cocktail wedding was a family affair with lots of help from family and friends. "I loved having it that way," says Renae. "If people offer to do things for you and you are confident in their efforts, then let them. It takes a lot of pressure off you so you can enjoy the day more without the stress of organising the whole event."
Photos courtesy of Benjamin Hurt Photography.
Featured Suppliers:
Brides Accessories: Borrowed from family / Brides Gown: Dhgate.com / Bridesmaids Accessories: Equip / Bridesmaids Dresses: Forever New / Entertainment: Own playlist / Flowers: Tasi Wilson / Gift Registry: Wishing well / Grooms Attire: YD / Groomsmen Attire: Connor / Hair: Tamlyn Hair Designs / Honeymoon: Hong Kong and Thailand / Invitations: DIY / Makeup: Tamlyn Hair Designs / Pageboy Attire: Online / Venue: The Church of Jesus Christ Latter-Day Saints / Venue Decor: eBay / Wedding Night Accommodation: Rendezvous Hotel
Additional Suppliers: City Slush Party Hire (chocolate fountain)