No disrespect to my gorgeous husband who popped the question with a sweet, $15 proposal ring one Christmas Day, but this proposal could well be my all-time favourite.
Engineer Richie Roberts was planning another one of his surprises. This time it was for his anniversary with girlfriend Lisa Paton who he'd fallen for six years before.
When Lisa received flowers at her work, with a card that read, "Happy anniversary, babe, grab your things and head downstairs," she was none the wiser that in a few hours she would become a fiancé.
A chauffeur was waiting to pick her up – she had a leave-pass from her boss – and off they set to the secret destination which Lisa soon discovered was Melbourne's 'fashion capital' – Chadstone. The driver handed Lisa another little note which this time read, "Grab something small to eat, you'll be meeting Cindy outside Myer, level two."
Cindy? Who on Earth is Cindy? Lisa thought.
Well, Cindy turned out to be Lisa's own personal fashion stylist for the afternoon. Heaven! With only one requirement to satisfy – pick something to wear to dinner – Cindy helped Lisa choose a whole new wardrobe, commanding attention, service and some hefty discounts from fashion retailers eager to make an impression – and a sale. (I'm thinking Richard Gere in Pretty Woman… "we need some major sucking up.")
Arms laden with fancy boutique bags and a killer pink frock for dinner, the fun was not yet over and Lisa was treated to hair and makeup styling at Myer before being chauffeur-driven home.
It was at Eureka Skydeck later that evening that Richie asked Lisa to marry him. Lisa tells, "We were in the restaurant on the top floor having a beautiful eight-course meal and I needed a little break from eating. We went into the beautiful foyer which overlooks the city and when I turned around, Richie was on one knee. My hands went up to my wide-open mouth and I started crying. The staff who were watching on were clapping but I was so in shock, I didn't even hear them!"
Eighteen months and a baby boy later, Lisa and Richie exchanged vows in front of 90 friends and family in a gorgeous vineyard wedding styled and planned by the talented Angie at One Day, Your Way.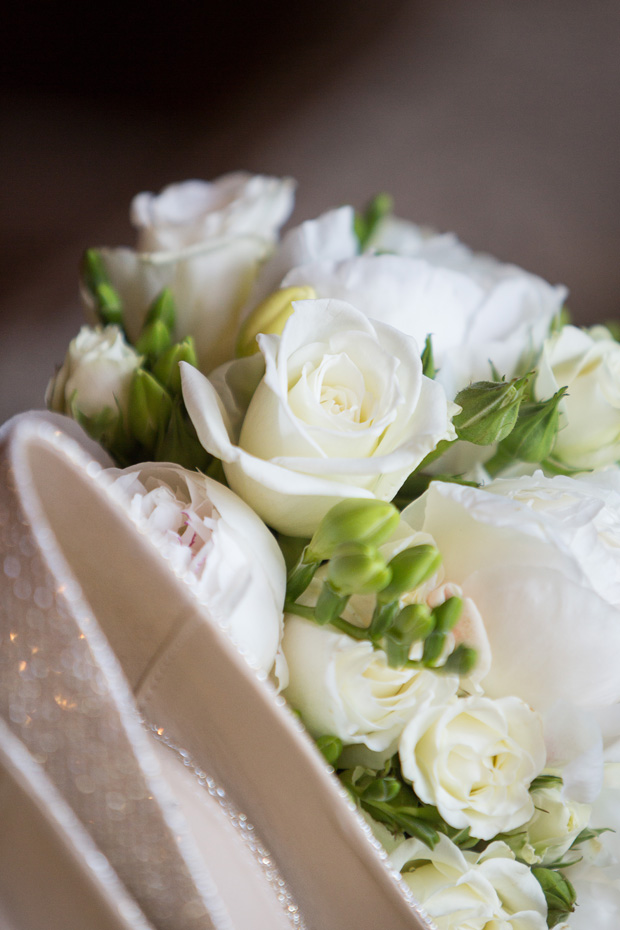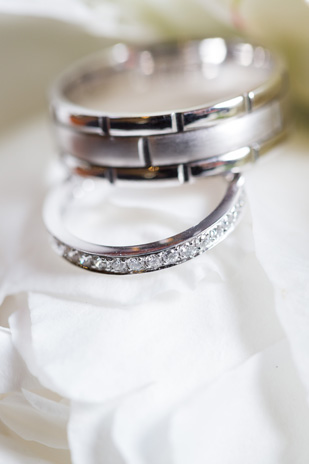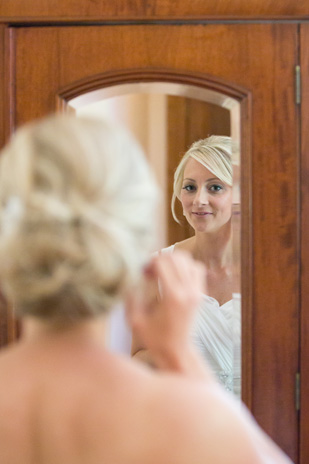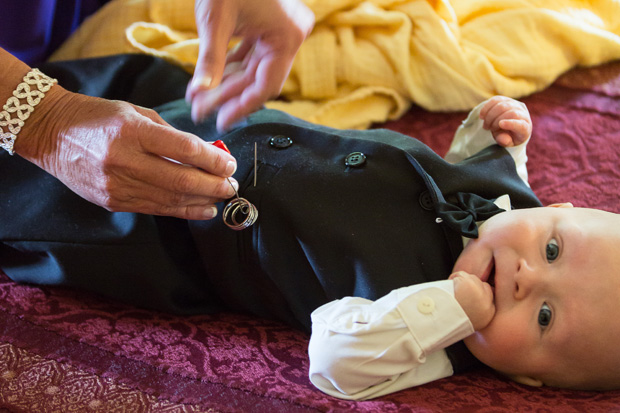 Lisa and Richie's baby boy, Hunter, who was four months old at the time, was the most adorable ring bearer.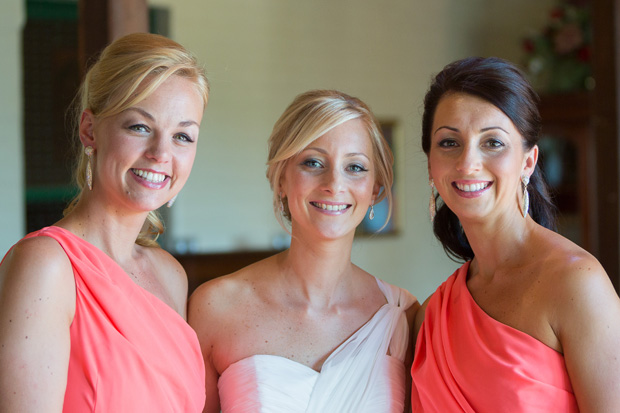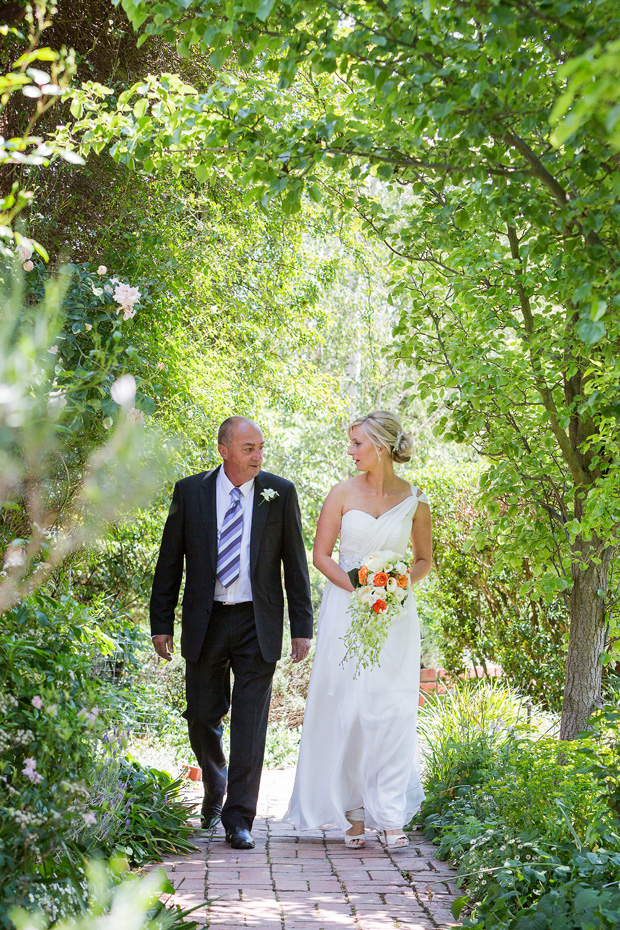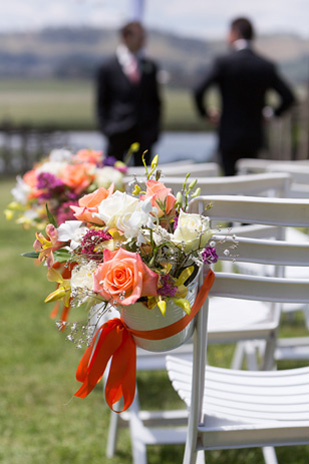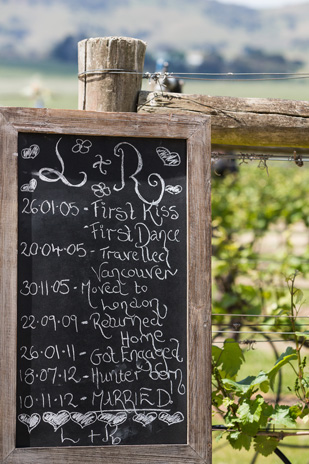 Wedding stylist Angie from One Day, Your Way, says, "We placed fun facts about the couple around the gardens for guests to read as they explored the venue prior to the ceremony."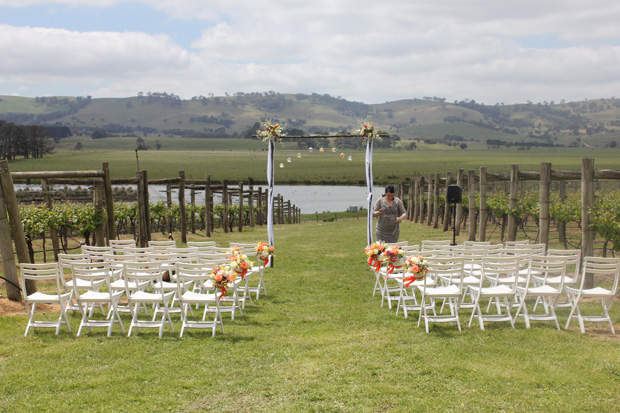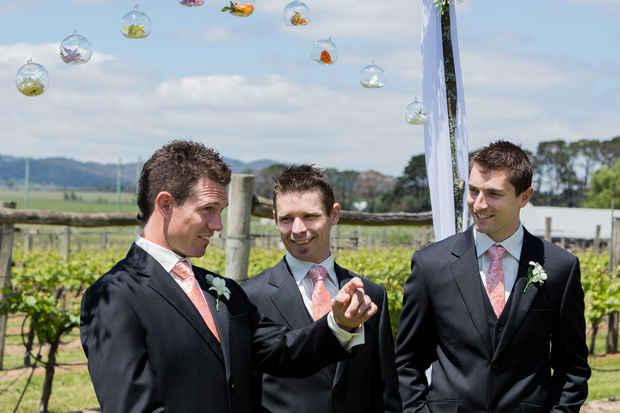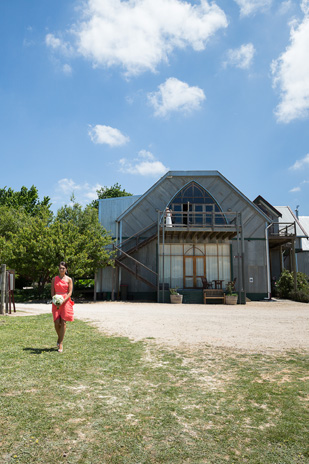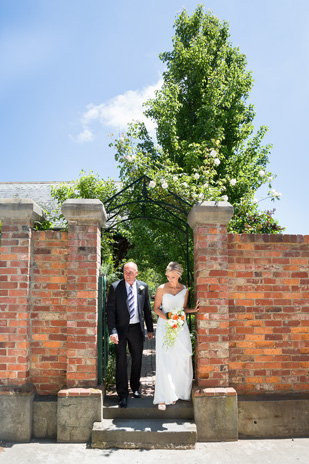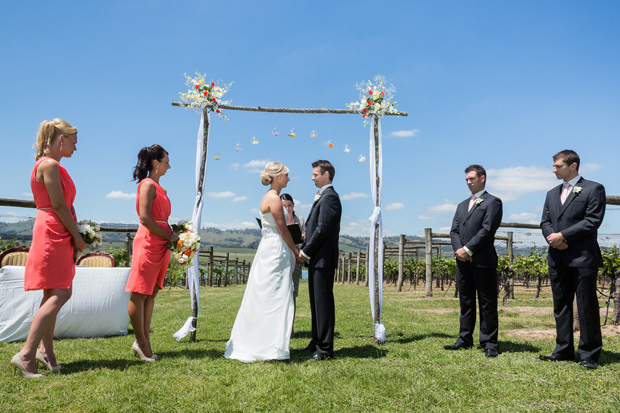 A beautiful arch using wood from the couple's 60-acre farm was constructed to enhance the ceremony location, which was beside the vines at Grange Cleveland Winery. It is now resides in a special place on their land.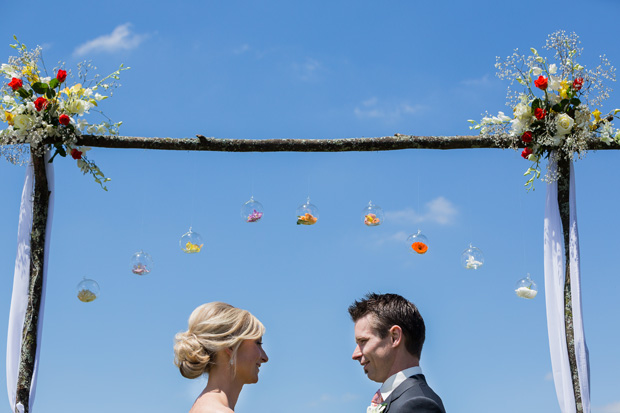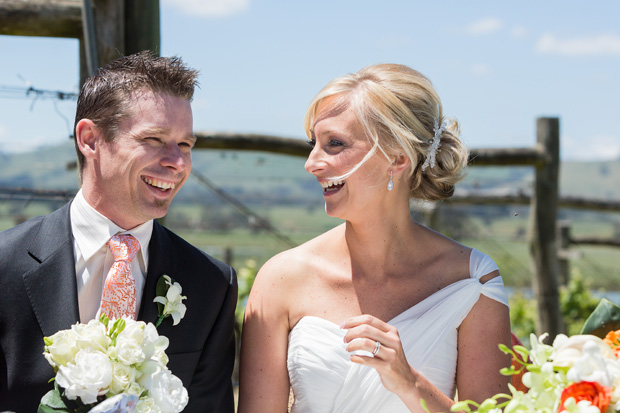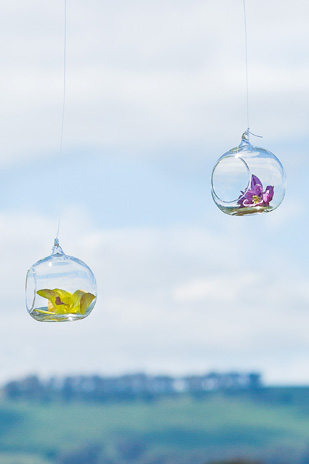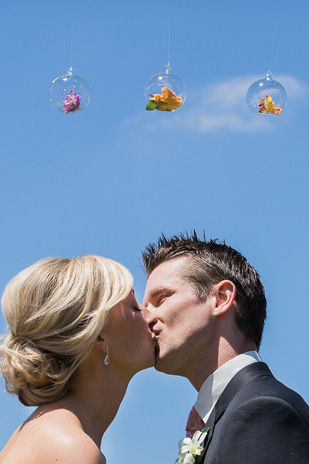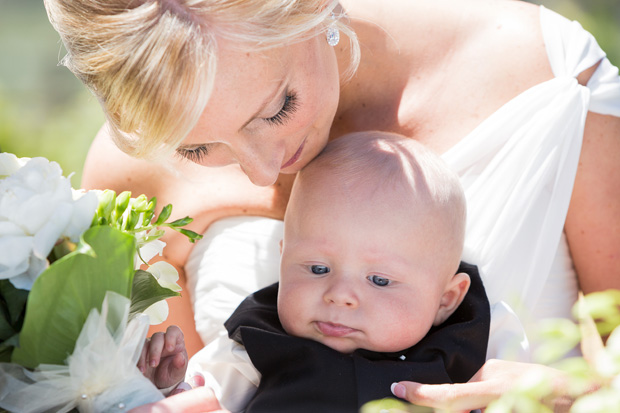 With a four-month old baby, Lisa and Richie opted for a day wedding and, besides, "it was such a stunning location, we did not want to waste the views by having the reception at night," explains the bride.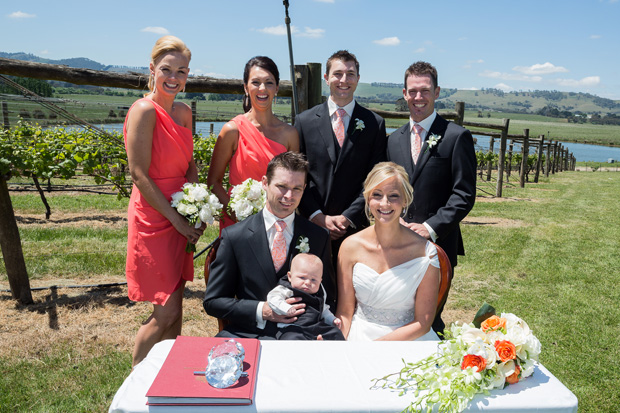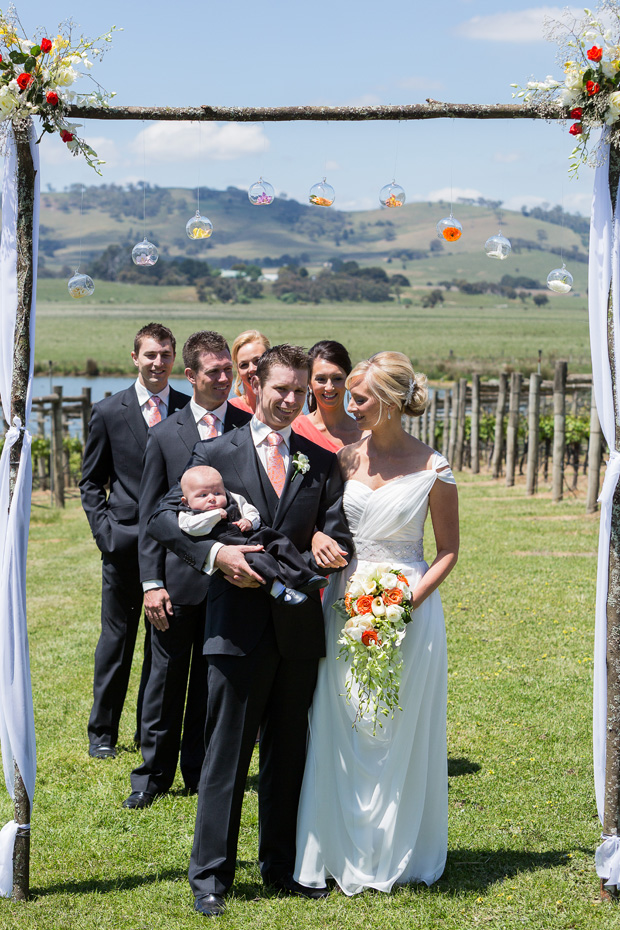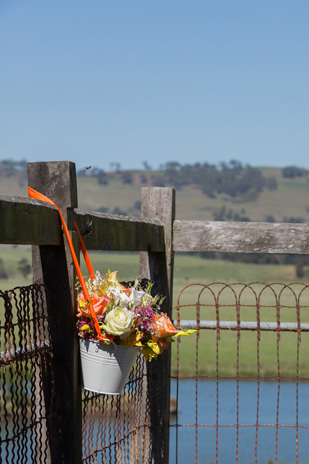 Lisa wore a simple and elegant one-shoulder gown with plaited belt from Stellini, whilst her bridesmaids looked fresh and summery in coral frocks from Sheike. The boys were suited by Ferrari Formal & Bridal, with lovely coral long ties to co-ordinate.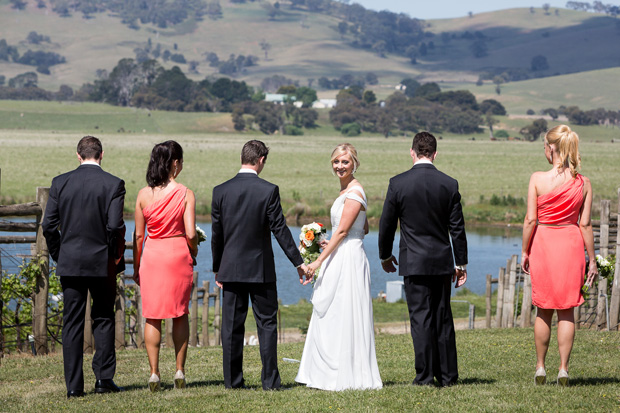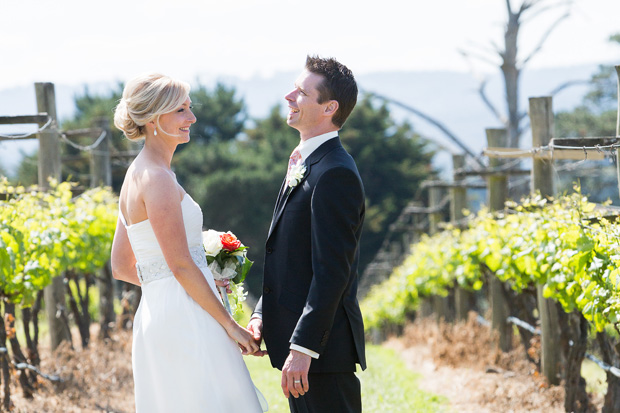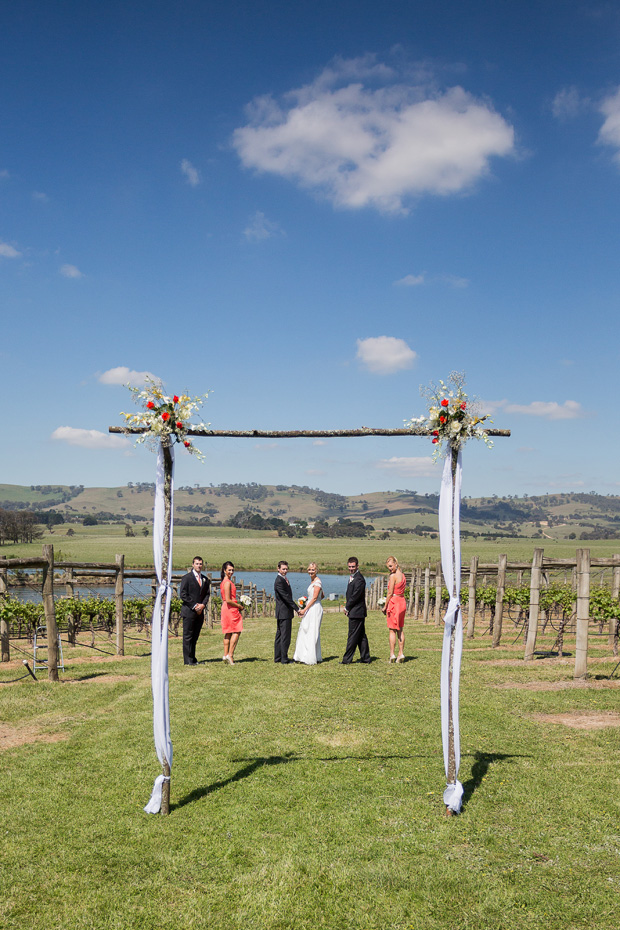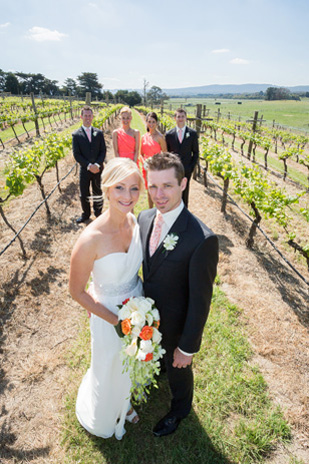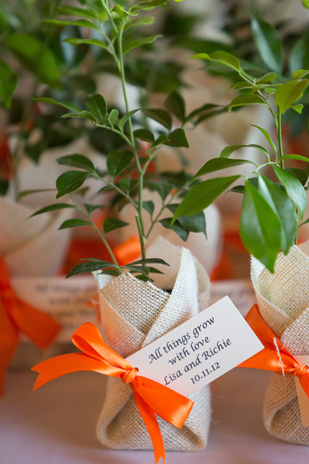 Purchased from Flourish Bomboniere, guests received an orange jasmine seedling with a sweet note attached, "All things grow with love."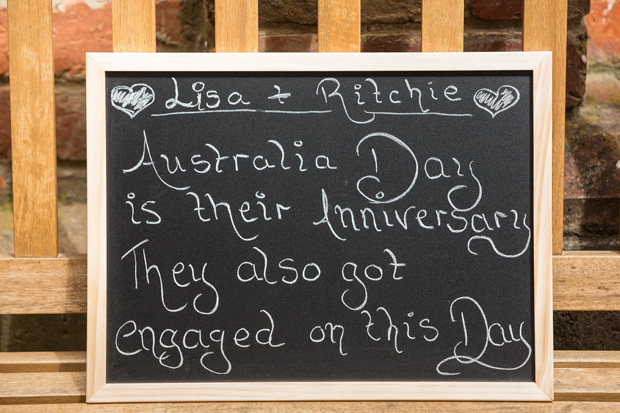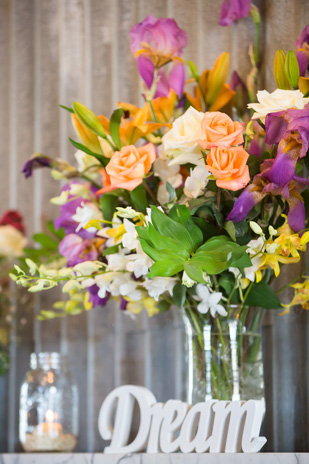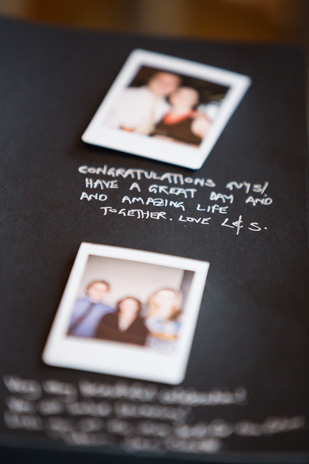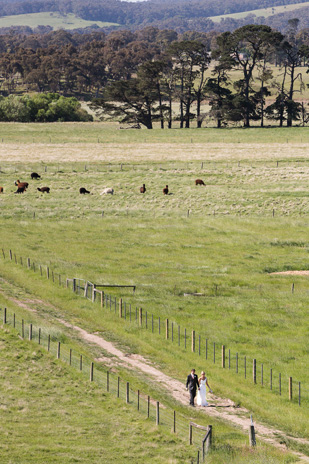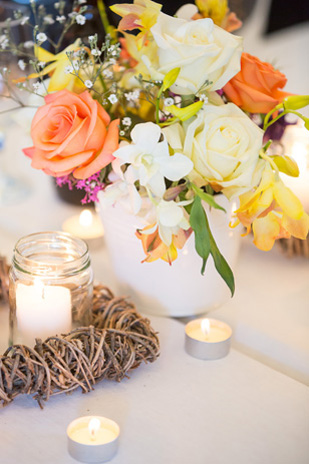 "We really loved our wedding and looking back we wouldn't have changed a thing," says Lisa. "This was confirmed by guests telling us how beautiful and relaxing the day was and how every detailed aspect seemed to carry a moment of its own."
Photos by Sarah Wood Photography.