People are always quick to share wedding horror stories; vendors going bust or awful service from uppity sales consultants. It put a smile on my face however to read all about Mildura (Vic) couple, Nadia Berton and Josh Train, and their destination wedding in tropical far north Queensland.
In this story, the bride raves about all their wedding suppliers, and in particular, Port Douglas Weddings and Port Douglas Catering & Events, who co-ordinated everything to a T, remotely yet seamlessly for the lovebirds.
Nadia says, "I absolutely loved planning our wedding. With help from all the companies from Port Douglas, everything went along so perfectly, better than I could have imagined."
The couple were engaged in August 2011 by the Trevi Fountain in Rome, Italy, whilst holidaying with their best friends – how divine. Up until then it had been a bit of running joke among Nadia's family (without putting the pressure on poor Josh or anything) that one day the pair would get married and have the wedding in Port Douglas so that they could all have a holiday there.
Nadia says when they returned from their travels, ring on finger, "We started thinking about where we would like to get married and suddenly Port Douglas seemed like a great idea (much to the Berton family's delight!)"
She adds, "We decided to take a trip up there to experience this beautiful place for ourselves. As soon as we arrived, we saw the church and the goose bumps that appeared set it in stone; we decided then that Port Douglas was to be the location for our destination wedding!"
Nadia tells, "Kristy and the team at Rainflowers were very easy to deal with and the flowers on the day were absolutely stunning and looked amazing in the photos." Yes they did.
"It was important to us that the venue really showcased where we were. We wanted to be in amongst the beautiful surroundings that you can only get in a place like Port Douglas," says Nadia.
Josh was dressed by local Mildura outfitters Ransom's for Men in classic black and white donning a fitted lounge suit and slim black tie.
Bride's Desire by Wendy Sullivan was the gown designer for Nadia, purchased from Jenny & Gerry's Bridal House in Adelaide. She loved the elegance of the range and the amazing detail on the gowns.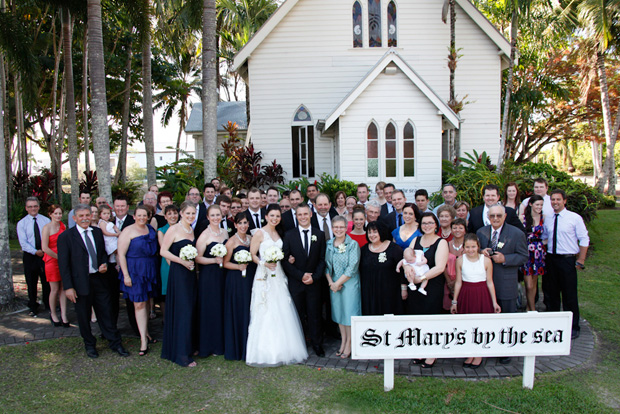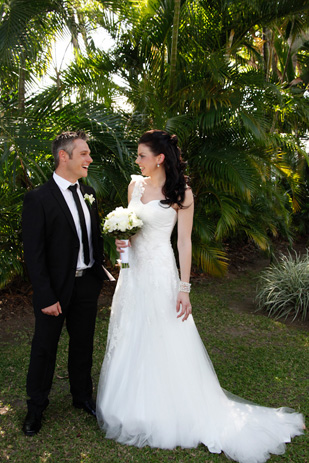 "We hired a couple of Mustangs," says Nadia, "my husband's favourite classic car! The drivers were so friendly and made the photo tour so much fun. Nothing was too much trouble for them."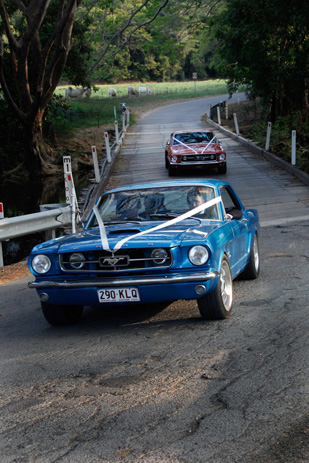 The couple's photographer was Jacky from Port Douglas Wedding Photography. "We really can't say enough about Jacky," praises the bride, who took the couple around the area to choose locations for their photo tour, including this one with the railway to have some fun with their new family name, Train.
The wedding reception for 57 guests was at Sugar Wharf and was organised by Port Douglas Catering & Events. "Our guests made countless comments on how sweet and attentive the catering staff were on the night; glasses were never empty and the staff were never short of a smile," comments Nadia.
Not wanting to miss out on any of Port Douglas, the couple commenced their honeymoon with sightseeing of the area including the Daintree and Mossman Gorge, before visiting Palm Cove and Magnetic Island for "a week filled with wonderful food, beaches, snorkelling, etc," says Nadia. "It was amazing and we didn't want to leave."
Photos courtesy of Port Douglas Weddings and Port Douglas Wedding Photography.
Featured Suppliers:
Bomboniere: DIY / Brides Accessories: Mimco / Brides Gown: Bride's Desire from Jenny & Gerry's Bridal House / Brides Shoes: I Love Billy / Bridesmaids Accessories: Mimco / Bridesmaids Dresses: Dido Bridal / Celebrant: Natasha Kollosche / Ceremony Music: Own playlist / Ceremony Venue: St Mary's by the Sea / Entertainment: Tropica Entertainment / Flowers: Rainflowers Florist / Grooms Attire: Ransom's Store for Men / Grooms Shoes: Williams Shoes / Groomsmen Attire: Ransom's Store for Men - Mildura / Hair: Mermaid's Wave Hair & Makeup / Invitations: DIY / Makeup: Mermaid's Wave Hair & Makeup / Reception Venue: Sugar Wharf / Rings: Hammerton's Jewellers - Mildura / Transport: Justin Cohu and Cars of Cairns / Wedding Night Accommodation: Hai Port Douglas / Wedding Planner: Port Douglas Weddings