Perth couple, Michelle Cavallaro and Andrew Howie exchanged vows on a scorching 42-degree day last December, in a Scottish wedding at Peel Manor House, south of Perth.
Andrew, whose grandfather is Scottish, wanted to pay homage to his Gaelic roots and so together with his brothers and uncles, donned the Scottish national dress (or skirt!) – the kilt. But ironically, Andrew's grandfather refused – "I'm not wearing a skirt!" he said. So funny.
Whilst Michelle and Andrew were the stars of the day, it was the bride's eight-year-old son, Jye, who stole the limelight, walking her down the aisle and giving her away to his soon-to-be step-dad, Andrew.
Michelle says, "It was a really hot day and Jye was dressed in his suit and felt like he was going to pass out. He said, "I don't know if I can do this." I ended up taking the jacket off him and then he said, "You know what, mum, I'm going to do this for you." He grabbed my hand and off we went down the aisle."
She adds, "He was very emotional when we got up to the altar and saw Andrew standing there. They are best buddies… It was so nice to see them having many cuddles throughout the day."
So sweet. Enjoy.
Victoria from Moving Makeup created a 1920s look for Michelle, with defined eyes and bright red lips, complementing her vintage hairpiece perfectly.
Andrew's Scottish attire – including the kilt, Ghillie brogues and sporran – was from All Things Tartan. His groomsmen wore black suits with silver fatboy ties from Penguins Formalwear and Jye wore a cream vest with a champagne satin tie.
Michelle purchased her strapless beaded wedding gown from Bridesire, who also made the bridesmaids' burnt orange taffeta dresses.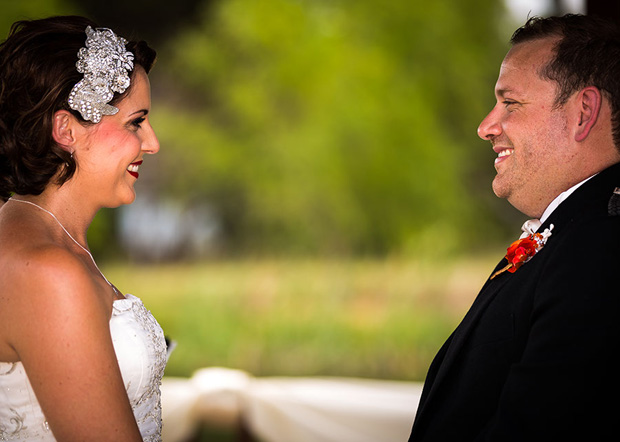 Symbolising longevity, Andrew's grandparents – who have been married for 61 years – held the rings during the ceremony. "They were really chuffed," says Michelle. "And the best man was happy not to have the responsibility!"
Anticipating typical Perth summer temperatures for her wedding day, Michelle opted for jewelled bouquets over fresh flowers. "I didn't want wilted bouquets by the end of the day and I didn't want fake flowers either," she says. So she Googled 'different wedding bouquets' and got the idea for these stunning posies.
Sandy from Sandy's Cakes created the couple's three-tier wedding cake, adorned with silver pearls and an orange motif to suit the styling of the event. "We had our monograms as toppers and a little J on the middle tier that stood for my son, Jye," says Michelle.
Michelle closes with, "The staff at Peel Manor House were amazing and nothing was too much to ask. They made us feel like superstars on the day."
Photos courtesy of Fotografia Coppola.
Featured Suppliers:
Bomboniere: DIY from eBay / Brides Accessories: Etsy / Brides Gown: Bridesire / Brides Shoes: Betts / Bridesmaid Shoes: Betts / Bridesmaids Accessories: eBay / Bridesmaids Dresses: Bridesire / Celebrant: Julie Chesson / Ceremony Music: Groom's uncle and cousin / Entertainment: Platinum DJs / Flowers: Blue Petyl Bouquets / Gift Registry: Thankyou Gift Registry / Grooms Attire: All Things Tartan / Grooms Shoes: All Things Tartan / Groomsmen Attire: Penguins Formalwear / Hair: Moving Makeup / Invitations: Wren Press / Makeup: Moving Makeup / Pageboy Attire: Penguins Formalwear / Photobooth: Platinum DJs / Rings: Stelios Jewellers / Venue: Peel Manor House / Venue Decor: Creative Elegance Wedding Decor / Wedding Night Accommodation: Peel Manor House