"Always go to bed every night saying 'I love you.'" This is heartfelt advice from Perth couple Lisa and Louis Parkinson who celebrated their one year wedding anniversary last week – the week of Valentine's Day.
25-year-old Lisa says, "I love Louis's ability to make me laugh and always put a smile on my face. Even though we have been together for nine years now I am always excited to see him." Louis, 28, says, "I love Lisa's caring and loving attitude to life and those around her."
The couple exchanged afternoon vows in the Studio Room of Perth's Burswood Entertainment Complex, which provided some fantastic locations for their stunning wedding photos. Captured by photographer, Robert Gordon of Squint Photography, I especially love the shots of the couple laughing, and clearly in love, on the gorgeous four-post daybed around the pool area of the venue.
The reception of 80 guests was held by the picturesque Swan River, at function centre, Burswood on Swan. Lisa, with the help of wedding stylists, Wed on Beaufort, created a simple and elegant wedding with a colour theme of silver, which was incorporated beautifully through the styling of the romantic event.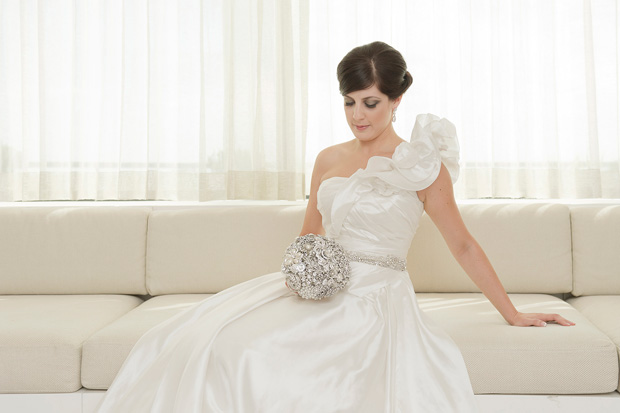 The standout feature on Lisa's Tuscany Bridal wedding gown was the gorgeous one-shoulder ruffle dotted with roses to create an amazing neckline that needed no other adornment.

Her stunning bouquet was by Lilybuds Bouquets, custom crafted using crystal and pearl brooches resulting in a unique and everlasting posy – and did I mention, stunning?!

Together with the silver teardrop earrings and bracelet, also from Tuscany Bridal, and dramatic eye makeup, Lisa looked breathtaking.
Ten-month-old son Harrison, was dressed in an adorable white suit with pleated shirt and white bow tie – which Lisa found at Catholics Corner in Canningvale, Perth.

Louis presented just as handsomely in a black peak lapel, satin-trim suit from Tony Barlow Formal Hire, and an impressive silver Lilybuds boutonniere.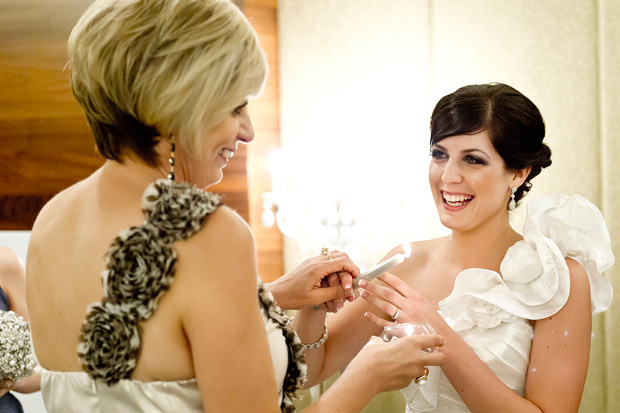 The couple had an array of diverse photo locations in and around Burswood, including the hotel foyer, theatre foyer, and Noveau restaurant.
Photos courtesy of Squint Photography.