I love seeing how couples inject their personalities and experiences into their nuptials to create a celebration true to themselves and one that is remembered by all.
Melbourne running coaches, Kirsty Angus and Rupert Van Dongen held an intimate Moroccan-themed beach wedding in April this year which had quite a different spin on a traditional style wedding.
Having spent an amazing time together travelling through the North African country, the styling and menu of their intimate event had a Moroccan/Spanish flavour, with a bold colour scheme of purples, greens and blues and an exotic menu including seafood paella and spiced cous cous. But the influence of their travels abroad was not all that made this wedding uniquely theirs.
The location was the popular Victorian coastal town, Lorne, where Rupert had first declared his love for Kirsty, and where they both compete in the annual Mountain to Surf run and the Pier to Pub swim events.
Their vows were exchanged under a beautiful arch of trees on the grassy area overlooking the beach and the reception afterward was shared with 50 guests at a beautiful privately-owned, Balinese-style holiday house with stunning ocean views.
Kirsty says, "It was perfect to have people mill around in the different spaces of the house. We had our speeches on the deck and danced in the kitchen/living area."
She adds, "We all got ready at the house together and when Rupert left to go to the ceremony we just said, 'I'll see you in an hour'."
At the start of the ceremony, each guest held a single orchid and as Kirsty walked down the aisle, she collected them up to create her bouquet. "It meant I got to greet most people as I walked in," says Kirsty. "It was a fantastic way to include everyone in the ceremony."
"The whole day was special but I really loved when our closest married friends came up after the vows to give us some advice on marriage. We didn't know what they were going to say and it was very genuine."
She adds, "We laughed a lot and cried a bit and every part of our ceremony was about us and connected to us."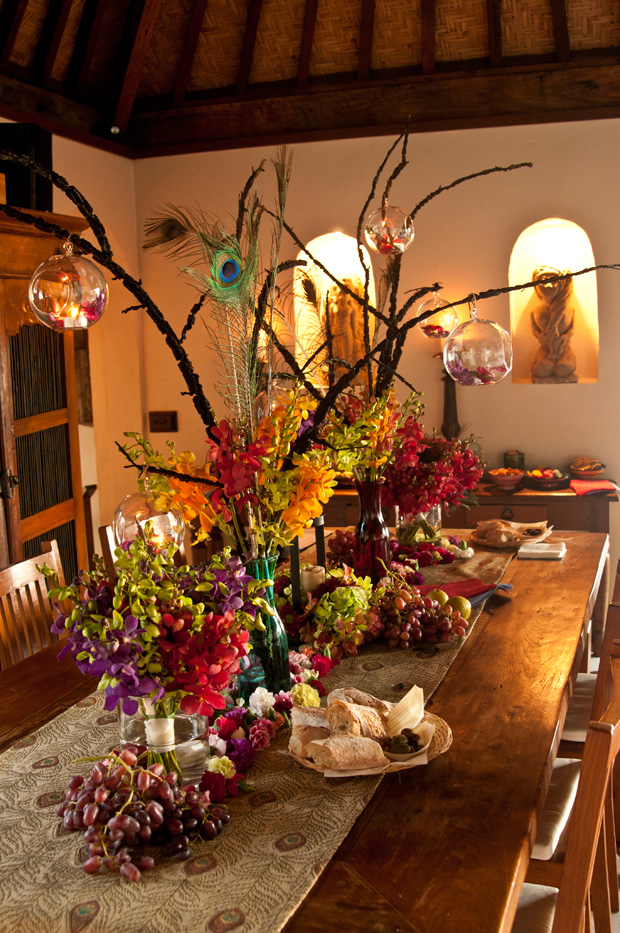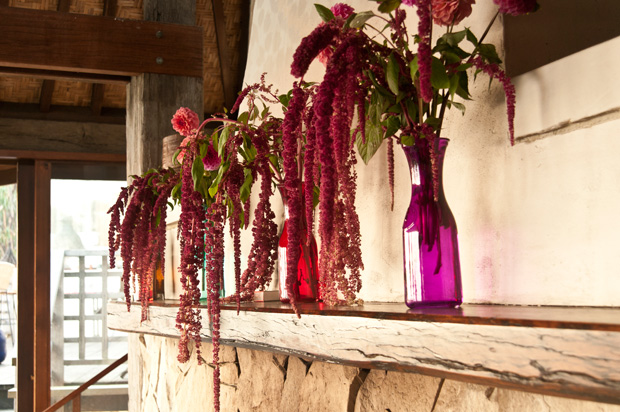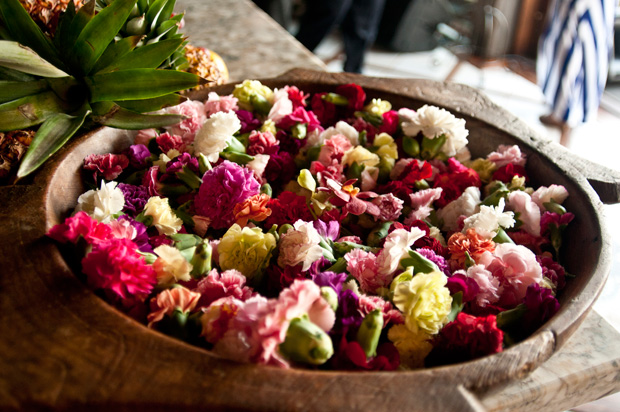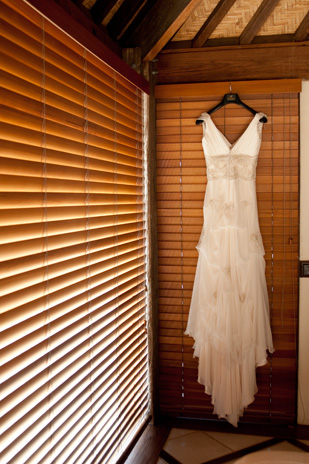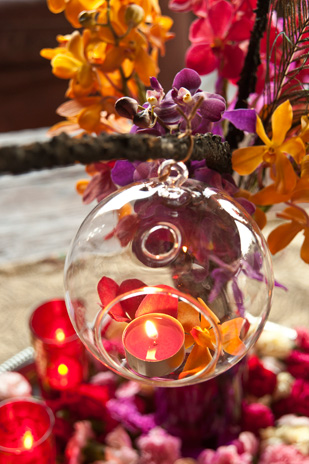 The couple decorated Kilolo house with various Moroccan-style ornaments; tea lights and lanterns from Ishka, coloured leather ottomans from Kasbah Imports and various other decor purchased from the country itself.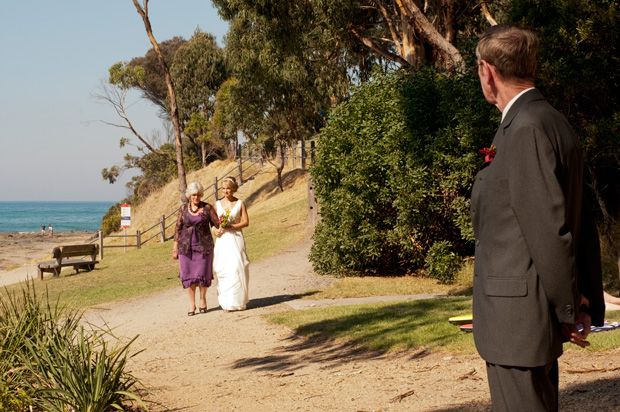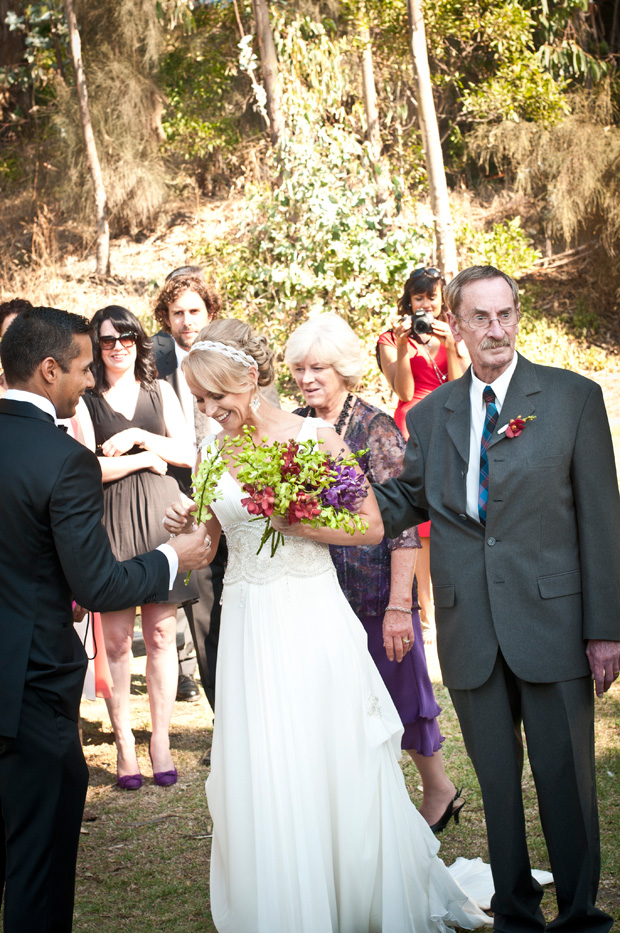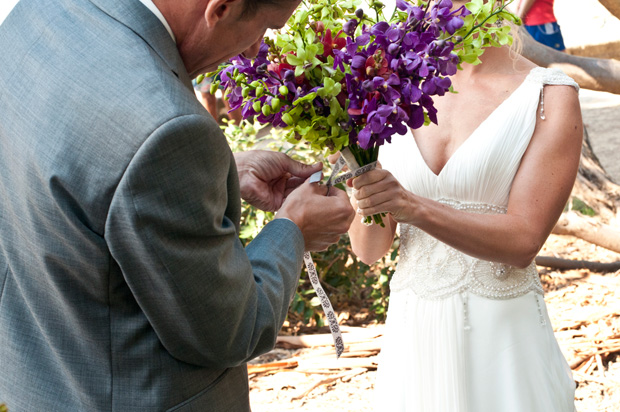 After Kirsty had collected up all the guests' orchids, Rupert tied the bouquet together with ribbon.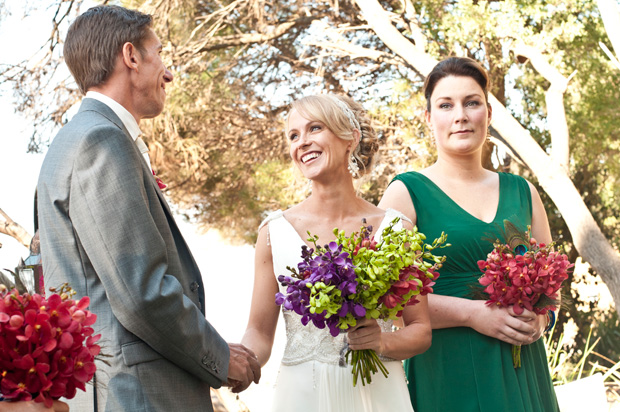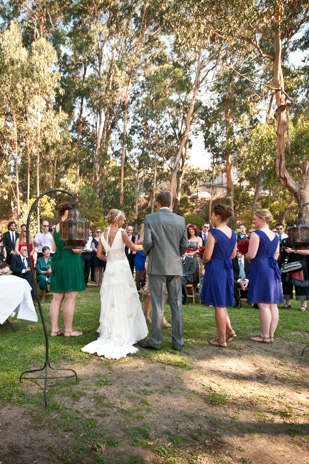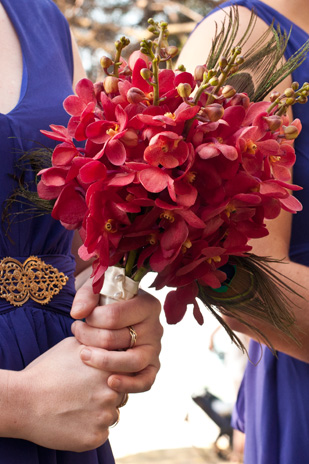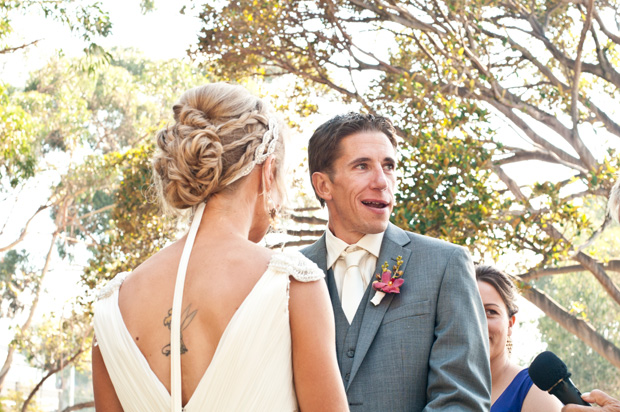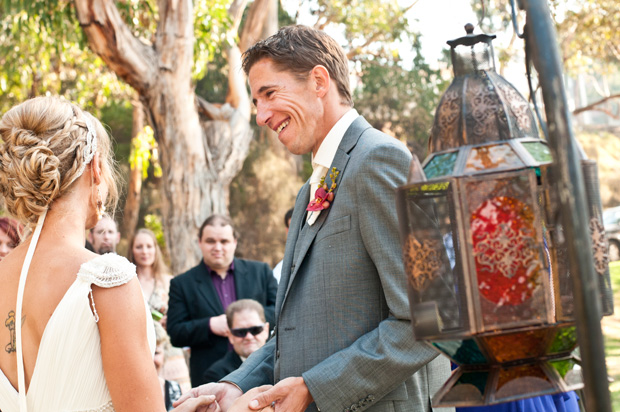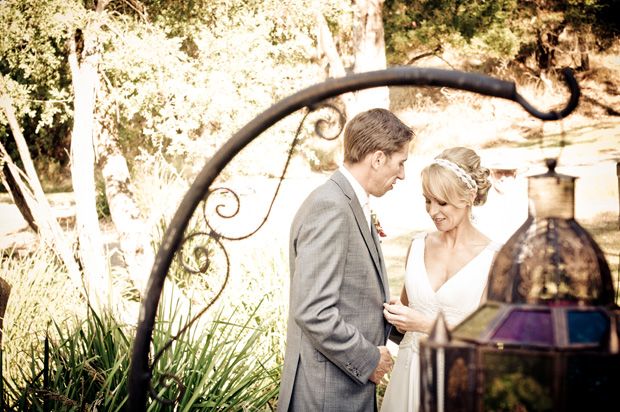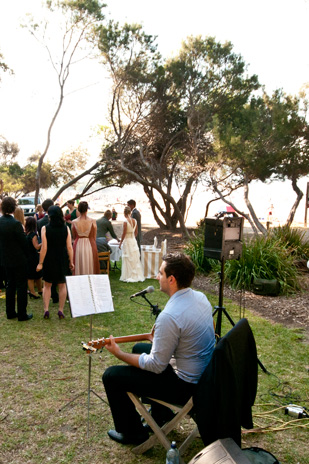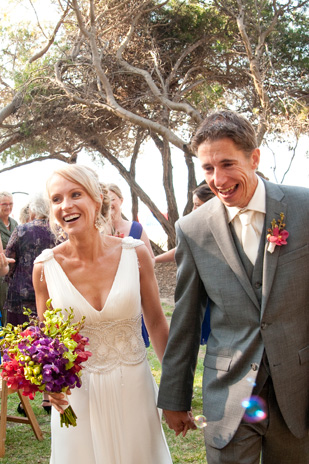 The ceremony music was sung and played by Kirsty's best friend's partner. "It was so special," she says. "I really felt like everyone we wanted involved was involved."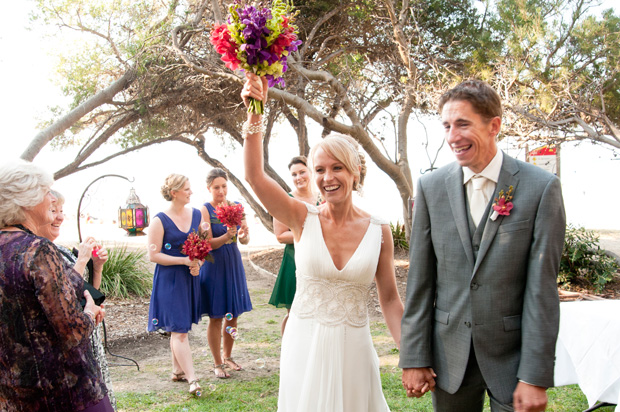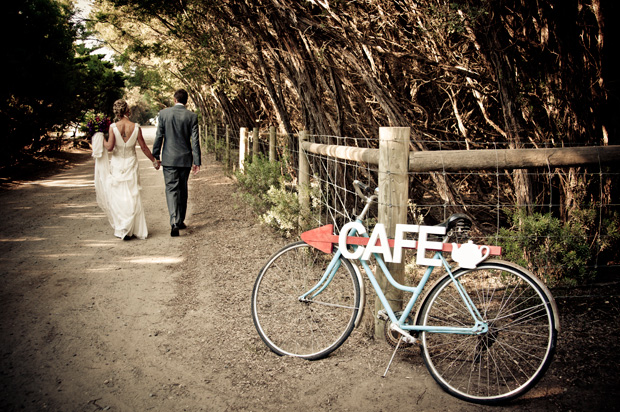 Kirsty's dress was a co-creation between herself and a private dressmaker. Using an unfinished sample gown purchased off the rack, they added Indian lace from Tylers Fabrics and changed it to a dress that Kirsty loved.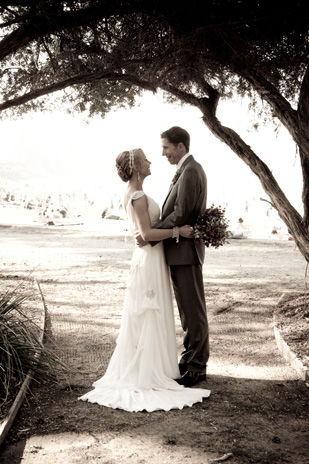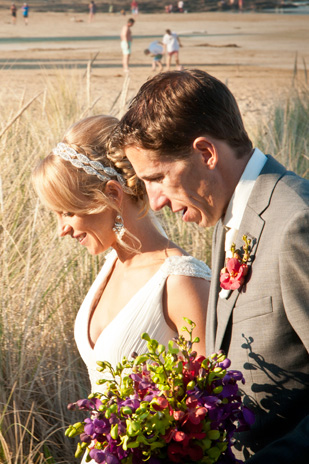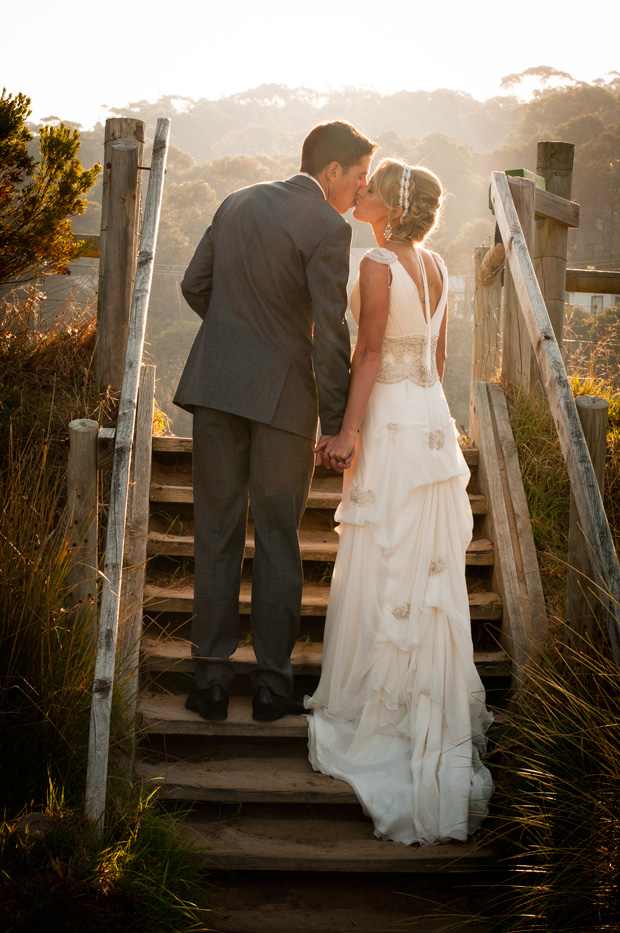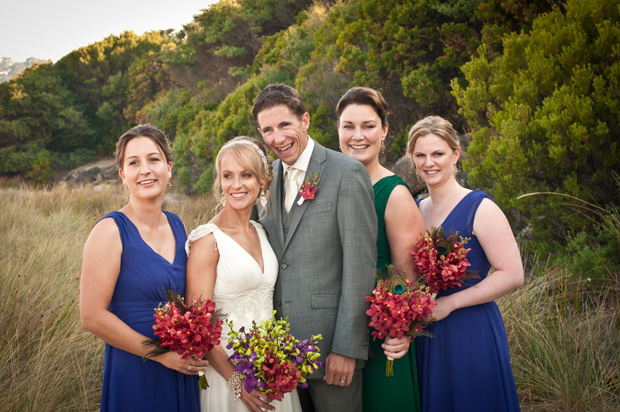 Kirsty says, "I had three bridesmaids, but Rupert didn't want any groomsmen so we just didn't have any." The bridesmaids wore Moroccan-inspired cobalt and emerald dresses from Queenspark and carried bouquets arranged with Singapore orchids and peacock feathers.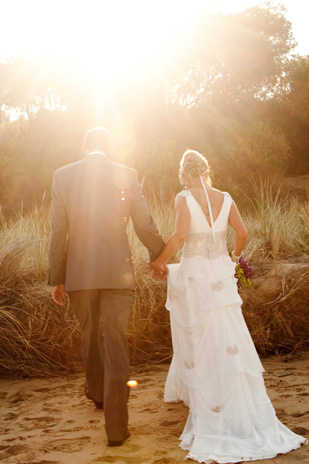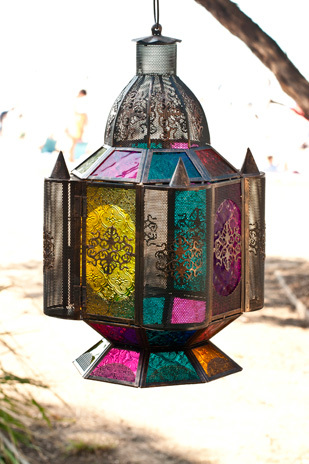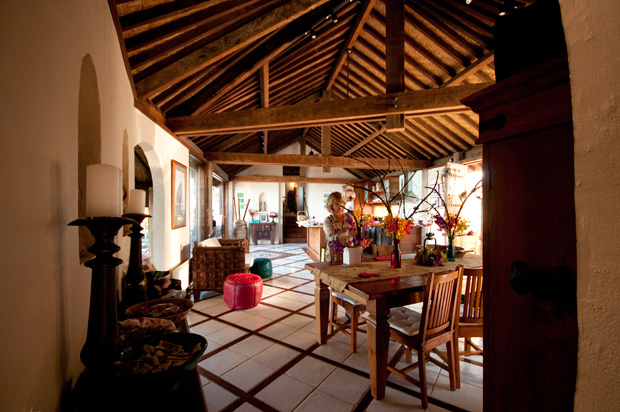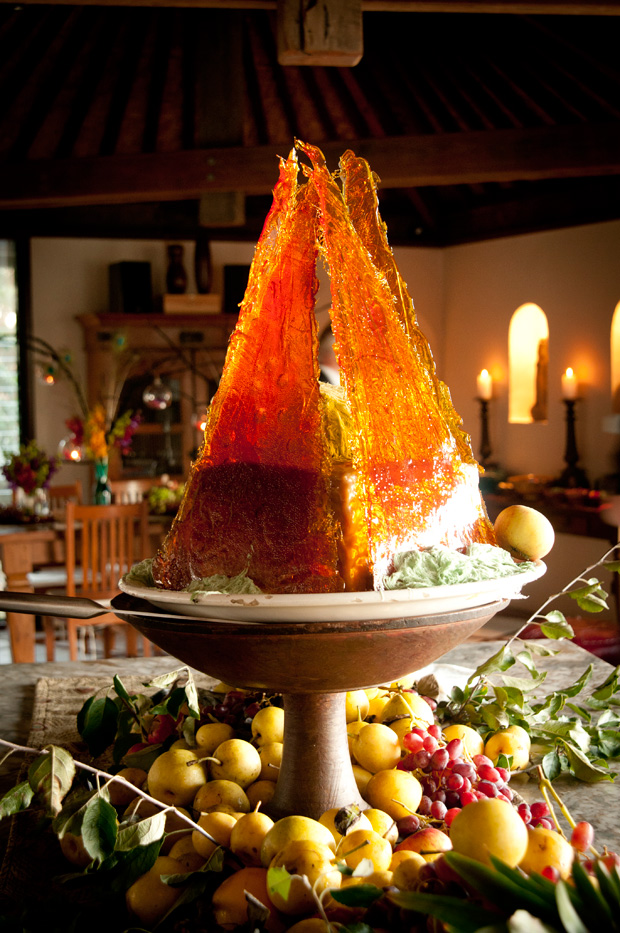 "Instead of cutting the cake," says Kirsty, "we smashed a toffee cake with a hammer!" A huge toffee pyramid surrounded a vanilla-and-caramel cake, which the couple served for dessert. "We smashed the toffee, shards went everywhere and were served with the cake, with an apple puree. Delicious!"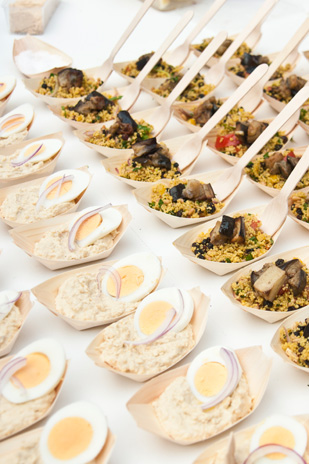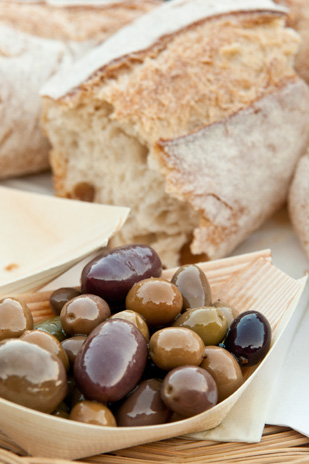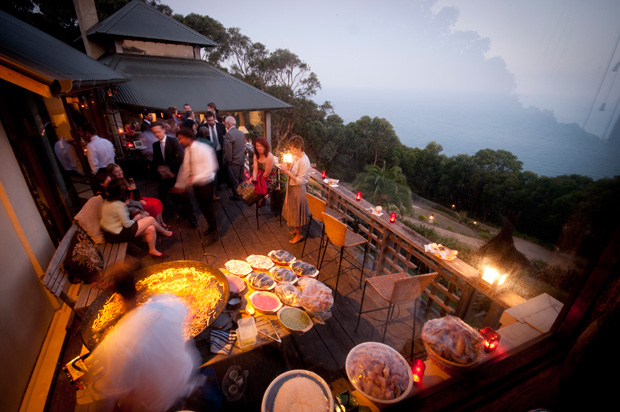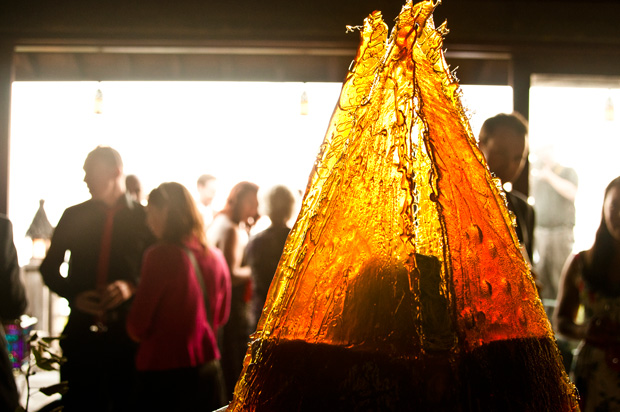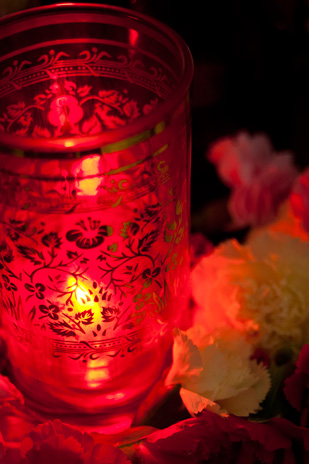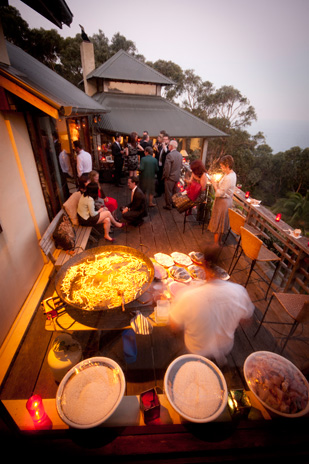 Lorne caterers, Cater & Co, cooked up an exotic storm for the couple and their guests. Kirsty says, "The food was so creative and fantastic. We really wanted it to be a main part of the experience. It was served on pressed palm-leaf plates with wooden cutlery and people ate standing or sat wherever they liked after they lined up for their paella on the deck."

She finishes with, "Our wedding may not have been what everyone would have done but it was perfect for us and we couldn't have been happier."
Photos by Barnaby & Wilson.