I read loads of submissions for our Real Weddings blog, and today's bride Karen Sloan who married beau Matthew Turfrey in a romantic Australiana wedding, sent me our longest ever submission – 27 pages! "People have accused me of having verbal diarrhoea and in this case there's no exception," jokes the 30-year-old bride.
I love it, though. She offers loads of real and practical tips for other brides-to-be, including her DIY efforts in styling the Fremantle (WA) couple's rustic Australiana wedding. She also describes how she even helped design and make her own gorgeous gown. But more about that later.
For now, enjoy the simply breathtaking photos, with Peter Adams of Memories of Tomorrow Photography, whom Karen applauds as "an absolute artistic perfectionist" and whom the bridal party nick-named "Commando" for all the stunts he pulled to get the perfect shot (ie, climbing trees and doing army rolls across the lawn.)
Of her dazzling bridal shoes, Karen explains, "Shortly after getting engaged, I walked past Wittner and stopped in my tracks. They there were, glittering and sparkling; calling to me in their pearlised pink leather and multi-coloured crystal entrusted magnificence." She adds, "My shoes were the very first thing I bought. They were the catalyst for our entire colour scheme."

Karen's shoe tip: "For the reception I bought a pair of gold ballet flats… I also bought three pairs for my bridesmaids that were presented on their chairs at the reception with a little note that read, "Time to get your dancing shoes on. Meet you on the dance floor." Truly the kindest thing you can do for these awesome women in your bridal party."
The gorgeous Australiana bouquets were by Zinnia Floral Designs, whom Karen discovered at the Swan Valley Wedding Open Day. Karen says, "Before I'd even pointed them out, husband-to-be leans over and says, "This is the best bouquet I've seen all day."" She adds, "Natalie's use of textures, colours and unique plant and floral combinations makes for jaw-dropping floral artistry."
Formal suit specialists, Spurling Formalwear, dressed the men in their 'Sorrento' beige self-stripe, three-piece lounge suit, with Chase Latte long tie and pocket hank.

Karen's suit tip: "Spurling has branches interstate which meant the best man was able to be measured for and try on his suit even though he was based in Tasmania."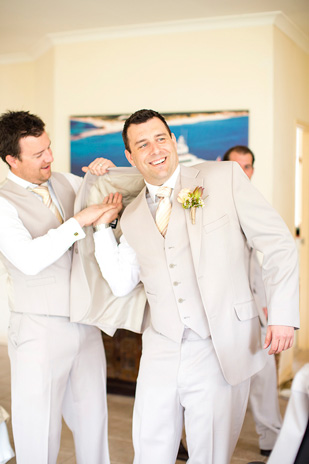 "The groom chose the transport for the day after seeing a rebuilt Ford Tudor limousine at a wedding open day and instantly wanting to hop inside and try out the plush cream cushioned interior," tells Karen. This magnificent cherry-red 10-seater limo is by AAA Executive Limousines.

Karen's tip: "Be gentle on your groom. Make sure, as a bride, you remember it's his day as well. So, if there's a style of transport he's really keen on, let him choose it."
Karen says the contemporary princess-style gown in raw silk and silk organza was designed in one night – by her – and made with love (and over 90 hours of sewing!) by her fashion-designer mother, Danielle Louise. "There was never a question of who would make my wedding dress [which included a handmade five-layer organza petticoat and cathedral-length veil]," says Karen. "My mother has been designing and producing bridal couture since I was a young girl, so her gift to me was to make the wedding dress of my dreams into a reality."

She adds, "I recall sitting on the kitchen bench with the rotary trimmer at 1.30am one morning, cutting just some of the 85 metres of raw silk into strips for the ruffles on my dress, while laughing with my mum, whose only visible body part above a mountain of fabric, was her hair. It's a memory I will always treasure."
Karen tells us about her braided up-do by AP's Hair Perfection. "Having an outdoor ceremony, I knew I would need a hair style that would stay off my face. So we went with a braided crown that swept up into a high-set roll that finished with braids continuing around the base of the hairline into a low-set bun. This was the perfect style that lasted until the end of the night.

Karen's hair tip: "I chose a slightly mussed-up finish instead of a smooth and polished style so it didn't matter when the wind picked up at the ceremony."
"The bridesmaids' matching dresses were a flowing empire line style with a sleeveless V-neck in floor-length chiffon and satin sashes of soft champagne," describes the bride. The gowns were purchased online at JJ's House.

Karen's tip for ordering online: "It is really important that your bridesmaids are aware months before the wedding they must maintain their weight and size, as not everyone is able to receive free alterations as I was fortunate enough to have."
Here's what Karen and Matt used to style their rustic Australiana wedding reception:

Organic coloured materials  –  Hessian table overlays  –  Ribbon & twine tassels for the bridal table  –  Tissue paper pom poms in kraft and cream  –  Fairy lights  –  White laser paper hearts  –  Hessian bunting  –  Twine trim flower jars  –  Mini cork-clip-boards for the seating chart finished with rattan bows  –  A handmade wishing well using a vintage hat box lined with hessian and bunting, adorned with thick ribbons in cream and peach  –  Lanterns from Bunnings and Kmart, lightly spray painted in metallic gold  –  Polished wood rounds to add height to the table centrepieces.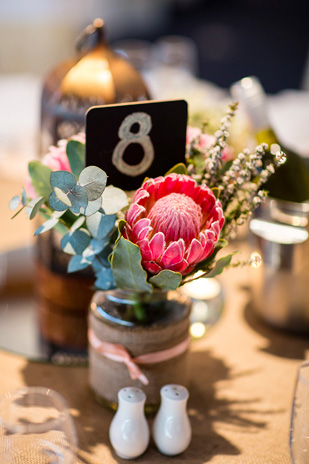 Erin from Passionpink Boutique Cakes "baked a variety of flavours that were not readily made by other suppliers," says Karen. Their atypical six-inch wedding cake with coffee-sized cupcakes was vanilla-berry-swirl flavoured with whipped buttercream frosting (topped with an Australiana-themed cake topper by Zinnia Floral Designs to mimick the bride's bouquet.)
And the tips don't end there. Here is some more wonderful wisdom from this enthusiastic bride:

We wanted to give our guests a chance to mingle prior to the bridal party entrance so we served a cocktail-style entree at the same time as the pre-dinner drinks.
If you choose to have a family member or friend as a videographer, ensure they use a tripod, and an external microphone if you have an outdoor ceremony.
Make sure your bridal party and family are included in the planning with you but be clear and firm about the items you are certain you want.
It puts you in a sticky spot if your partner finds out about a hidden cost that hasn't been discussed prior. Always discuss ideas before confirming with suppliers. Don't spend what you don't have.
Be flexible with your suppliers, particularly if you're on a tight budget.
Make sure you both agree on important decisions such as money, children, living arrangements, employment and anything else that affects marriage prior to the wedding.
Post-wedding, thank all of your guests and suppliers who helped make your day the amazing occasion that it was. No matter how long it takes, it's better late than never.
Thanks for your awesome submission, Karen!
Photos courtesy of Memories of Tomorrow Photography.
Featured Suppliers:
Bomboniere: DIY honey pot & recipe card / Brides Accessories: Family heirlooms, LK Designs, eBay / Brides Gown: Danielle Louise (bride's mother) / Brides Shoes: Wittner, with ballet flats for reception from Betts / Bridesmaid Shoes: eBay / Bridesmaids Accessories: eBay / Bridesmaids Dresses: JJ's House of Fashion / Celebrant: Lynette May / Ceremony Music: Amanda Cunzurlo, Mark & Marisa De Vatimo / Ceremony Venue: La Poisson D'Or / Entertainment: DJ Avi / Flowers: Zinnia Floral Designs / Gift Registry: Wishing well / Grooms Attire: Spurling Formalwear / Grooms Shoes: Airflex / Groomsmen Attire: Spurling Formalwear / Hair: AP's Hair Perfection / Invitations: DIY from Officeworks, Riot Art & Craft and Kmart / Makeup: Sara Colangelo (Napeoleon make up artist) / Photobooth: DIY / Reception Venue: East Fremantle Yacht Club / Rings: Prouds the Jewellers / Transport: AAA Executive Limousines / Venue Decor: A Perfect Beginning / Videographer: Family member / Wedding Night Accommodation: Pier 21 Apartments