It's hard to believe that a "relaxed bush wedding" put together by two SA farmers could turn out to be so modern, so fresh and so stunning. Even without flowers.
The only thing 24-year-old Canadian bride Carissa Kapeluck wanted to hold on the day was the hand of her "best friend" and partner of five years, Lachlan Brown.
Both raised on grain farms, the pair were a perfect match – or so locals thought, anyway – when in 2007 Carissa arrived in town (Ceduna, SA) on a working holiday from Canada. By 2009 she'd been back home (briefly), had introduced "Locky," 31, to the family, and returned to Australia to make it her home.
After a bit of wishing on Carissa's part, Lachlan finally popped the question in 2009 in a way only she would find perfect: "Out in the crop and on the farm that we both love."
They decided to hold a laid back bush wedding and their farm was a sentimental choice for the nuptials – of course they loved it – but it was also the first piece of land that Lachlan's grandfather ever owned.
180 guests attended the 2pm ceremony, and after some breathtaking photos around the property ("We will always have moments to remember in our favourite places," says Carissa), a beautifully styled cocktail reception was held at nearby Ceduna Hall.
"The emotions that rush through you as you are just about to see each other before the ceremony is amazing!" gushes the bride.
"I absolutely fell in love with the detailing on the dress," says Carissa of her Johanna Johnson ivory silk designer gown. "I knew it was the dress I wanted to marry my best friend in."
Lachlan was attended by four best mates, all from Ceduna, SA: Kieron Warmington, John Veerhuis, Ryan Trewartha and Nathan Warmington. They were dressed by Peter Shearer.
Carissa's bronzed bridesmaids – Cassie Eskra (Canada), Sara Veerhuis, Emma Burfitt and Alicia Warminton – wore ivory beautifully in short kimono-sleeve frocks from White Suede and nude peep-toe pumps from Novo.
The bridesmaids' glamorous metallic statement cuffs were a design of Bella the Bead on Etsy.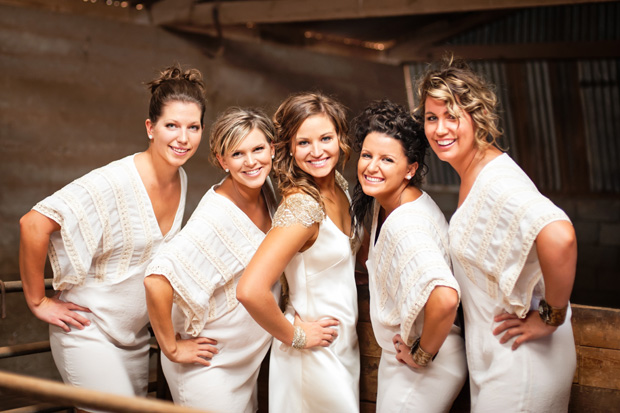 With a relaxed atmosphere their goal, the 'bridal table' was more of a 'bridal lounge' with beautiful wicker sofas and crate foot stools, supplied by Bay Funktion.
"Bay Funktion were amazing," says Carissa. "They hung sheer strips of cloth loosely on the ceiling (as we did not want structure), and four wicker balls hung from the ceiling. We had trees in the hall with tea lights hung from branches to bring the theme from our ceremony to our reception. Wine barrells were placed around the hall with stools to sit at as there were no tables."
"Things that made us happy were included in the day, right from getting ready, being married on our farm and dancing with a great band that night," says Carissa. "We tried to keep things simple and relaxed, yet fun for everyone involved… we wouldn't change a thing!"
Photos courtesy of Jade Norwood Photography.
Featured Suppliers:
Bomboniere: Charlesworth Chocolates / Brides Accessories: Johanna Johnson, Witchery / Brides Gown: Johanna Johnson / Brides Shoes: Tony Bianco / Bridesmaid Shoes: Novo / Bridesmaids Accessories: Etsy / Bridesmaids Dresses: White Suede / Celebrant: David Shacke / Ceremony Music: Jacqui & Marcus Tanke / Ceremony Venue: Private farm / Entertainment: DJ / Grooms Attire: Peter Shearer Formal Hire / Grooms Shoes: Peter Shearer / Groomsmen Attire: Peter Shearer Formal Hire / Groomsmen Shoes: Peter Shearer / Hair: Kira Kwaterski, Shear Envy / Invitations: DIY / Makeup: Jacqueline Tanke / Reception Venue: Ceduna Hall / Rings: Bell & Brunt / Venue Decor: Bay Funktion, Fairytale Weddings / Wedding Night Accommodation: Ceduna Shelley Beach Cabins