Who says chivalry is dead? Gold Coast groom Rama Ristiadi, 32, knows what women want. Yes, we may seem like complex, highly emotional creatures but it really doesn't take that much to impress!
After meeting 25-year-old Brooke Penfold through mutual friends in February, 2010, the pair went on their first date on Valentine's Day. Brooke tells, "Rama arrived at my door with a big bunch of roses, a big smile and lots of gentlemanly behaviour. He opened all doors, paid for my lunch, was kind, genuine and romantic. I knew then that I had found someone special! He has continued to open doors and buy me flowers every week since that day."
After a 17-month courtship, Rama's proposal was equally as attentive. He says, "Brooke loves photography and I wanted to capture our proposal so we would be able to look back on it for years to come. On arrival at our holiday in Stanthorpe we set the camera up to take a photo in front of the cabin and just before the photo was captured, I got down on one knee and asked her to be my wife."
Although it wasn't planned that way, this thoughtful groom even helped the bride choose her gown! Brooke says, "I can't even count the number of stores I searched to find the perfect gown. None of the dresses I had cut out of magazines suited me. Then on a holiday to Yeppoon, Rama and I walked into a little bridal store when he pointed out a dress and said, "That would look beautiful on you."
Just for fun, I tried it on and fell instantly in love! Although Rama seeing me in my beautiful dress before the big day wasn't my original plan, I didn't want to miss out on having it. Besides, my beach-blonde hair at the time and no make-up was quite a different look to the big day – and we loved telling everyone how Rama found my beautiful gown."
The pair held a vibrant, magenta-themed golf course wedding at the breathtaking Palmer Colonial on the Gold Coast.
Congratulations Brooke – he's definitely a keeper!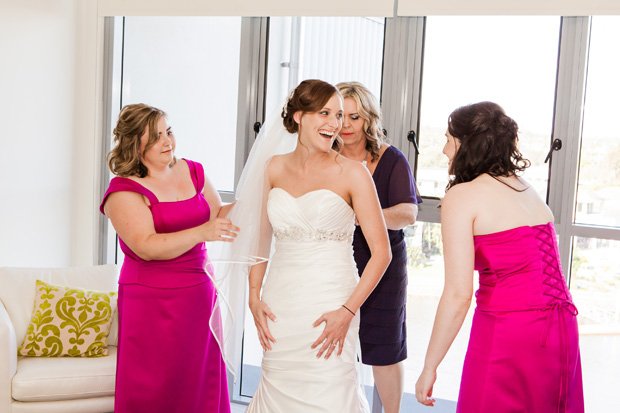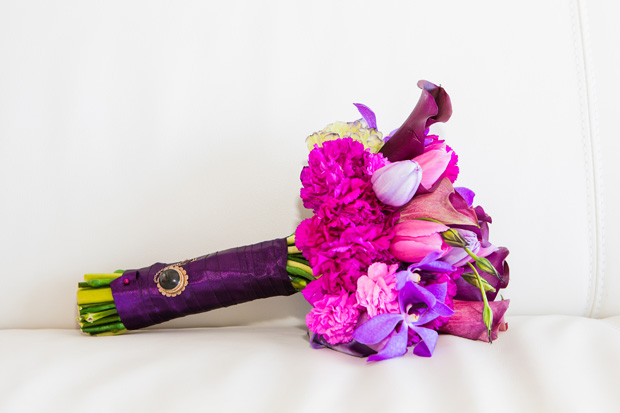 Brooke says, "We based our entire theme around our magenta and purple flowers. I knew that I wanted bright, beautiful and different bouquets that would really stand out in the photography against the green golf course."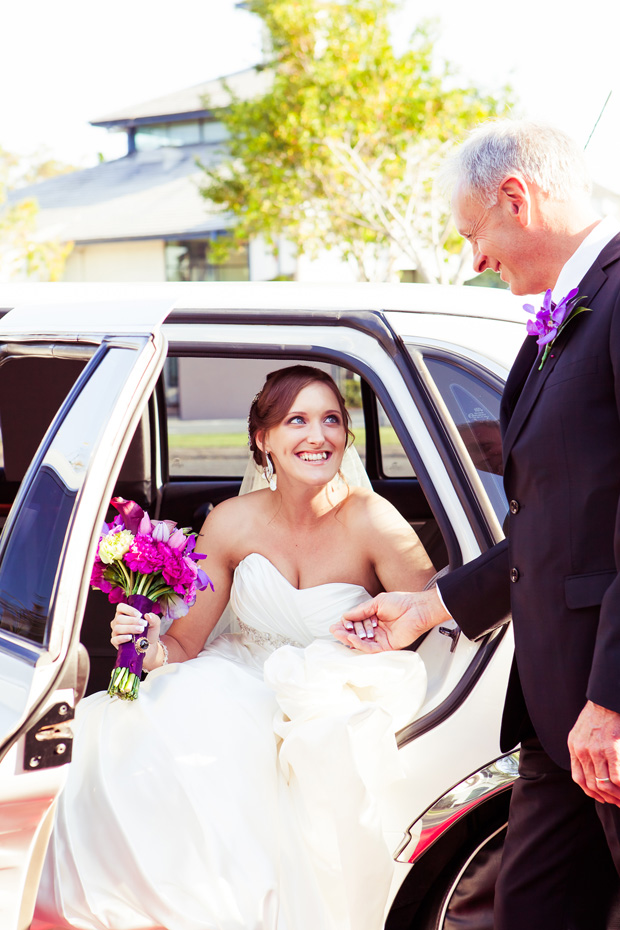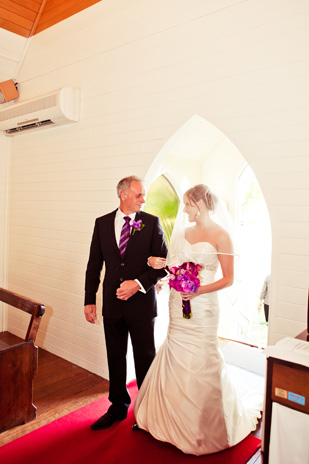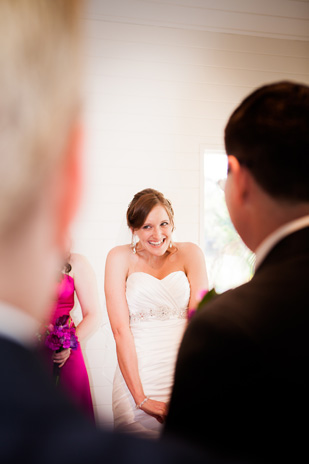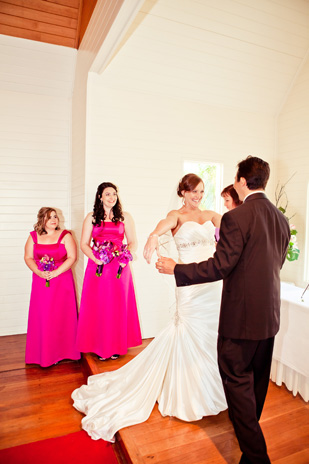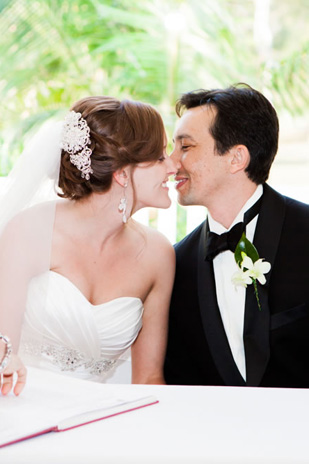 The couple's civil ceremony was held at the picturesque St Andrew's Chapel at Palmer Colonial Golf Course. "We wanted a civil ceremony with the beauty of a chapel and this venue provided everything we could have hoped for," says the bride. The wedding was made official by celebrant, Robyn Wagner.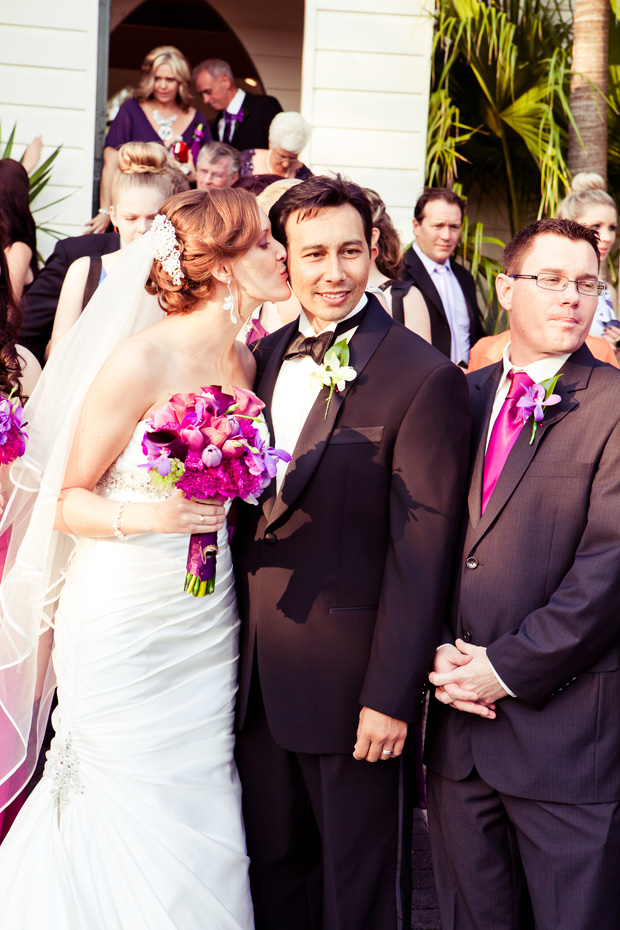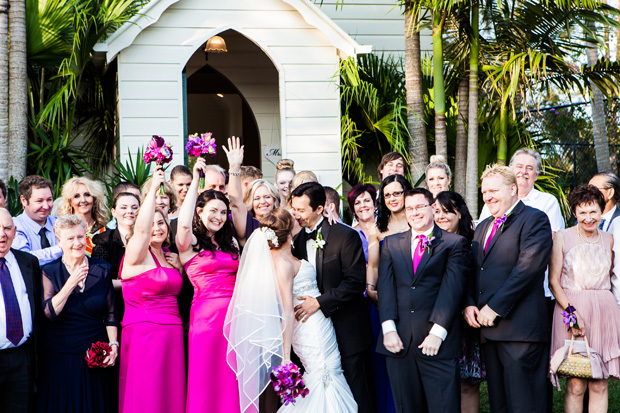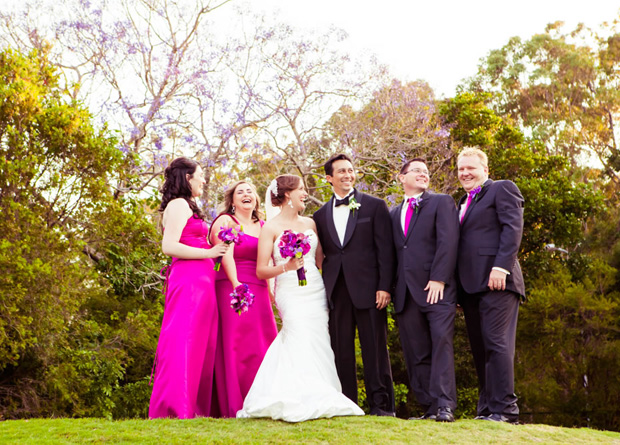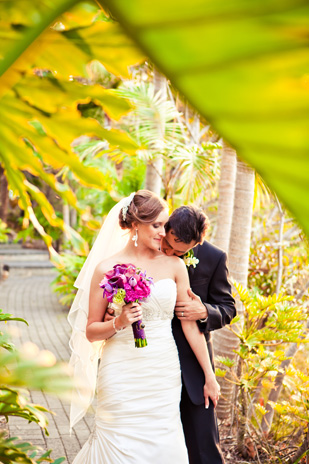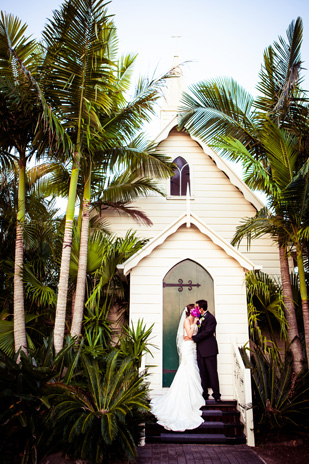 The bridal party wore the couple's chosen wedding colour – magenta – with the bridesmaids in floor length satin gowns by Luv Bridal and the groomsmen in suits by Man to Man and matching satin ties by Hadrills. Rama was dressed in a classic black tuxedo with black bow tie and cummerbund, all purchased from Hadrills.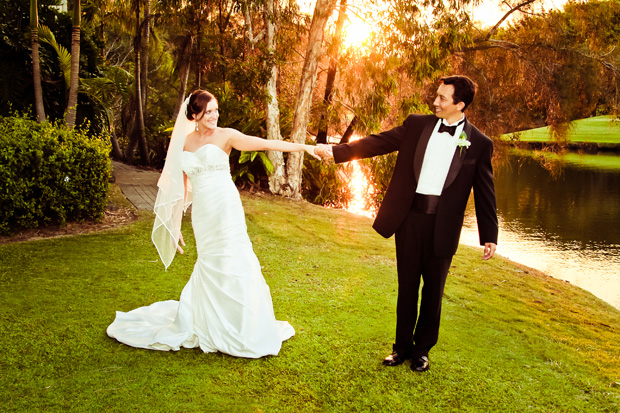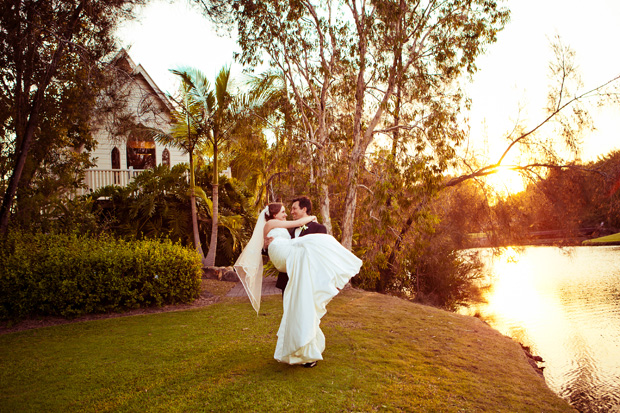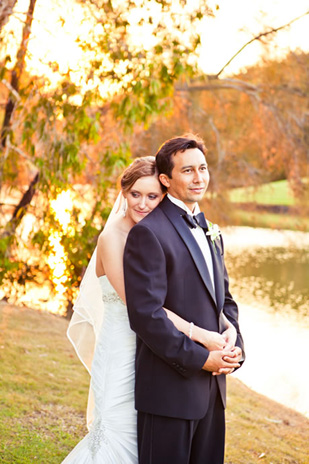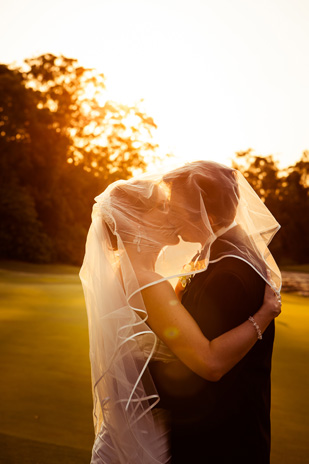 After the nuptials in front of 48 guests, the reception was held in the Fairway Room at the golf course. "The venue is breathtaking," praises Brooke, "and the food was incredible." For dinner, a three-course alternate drop menu was served including honey roasted pumpkin soup and Asian prawn salad for entree, baked reef fish and Camembert stuffed chicken breast for main, and sticky date pudding and rocky road cheesecake for dessert.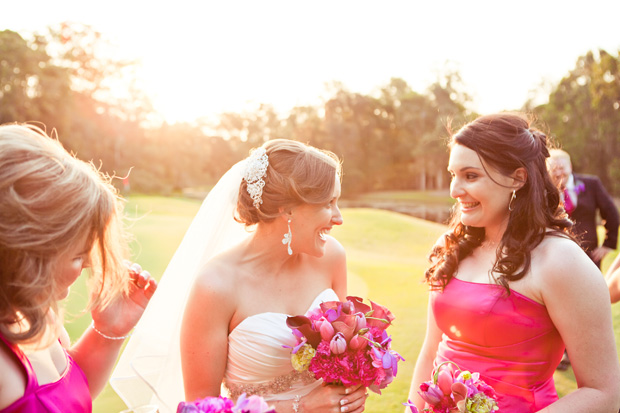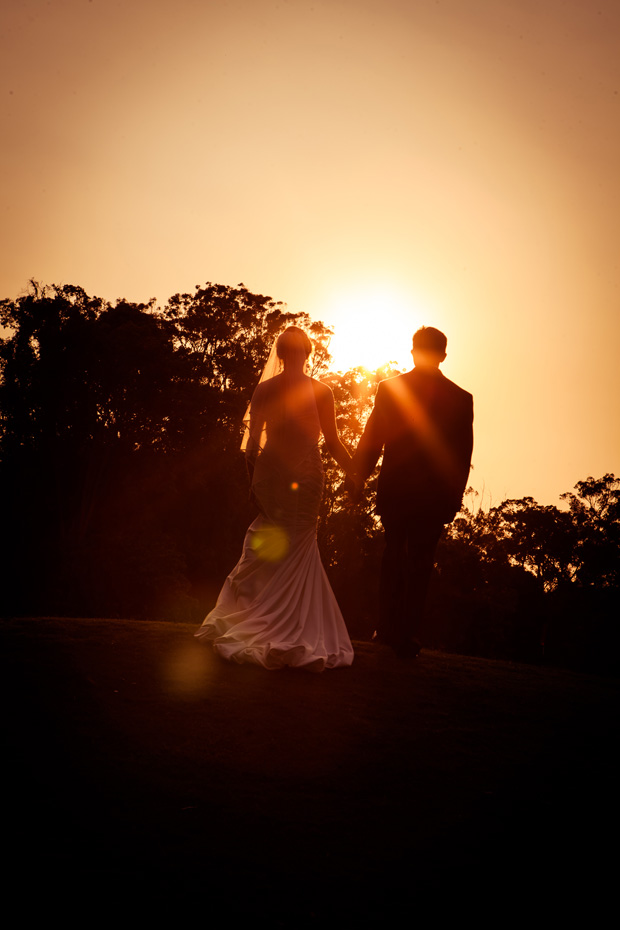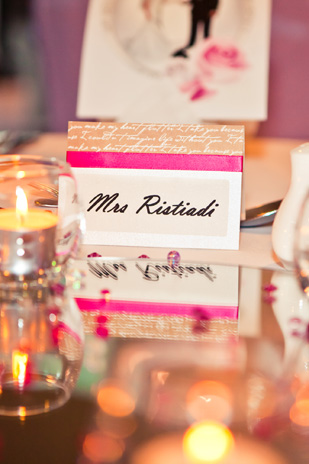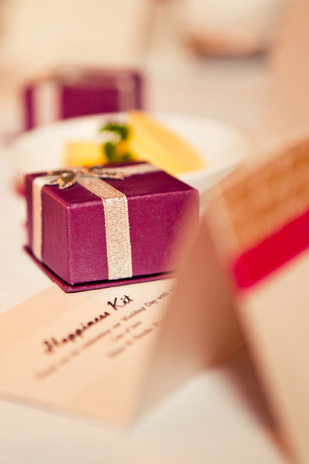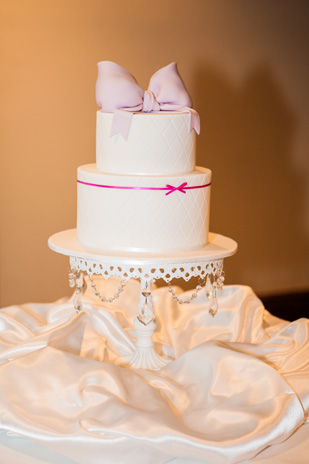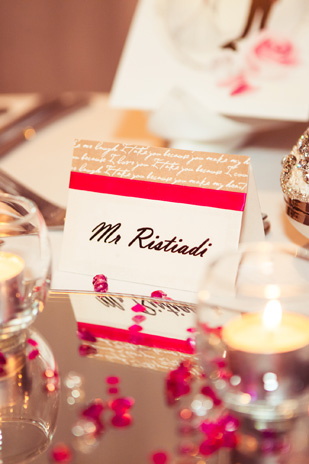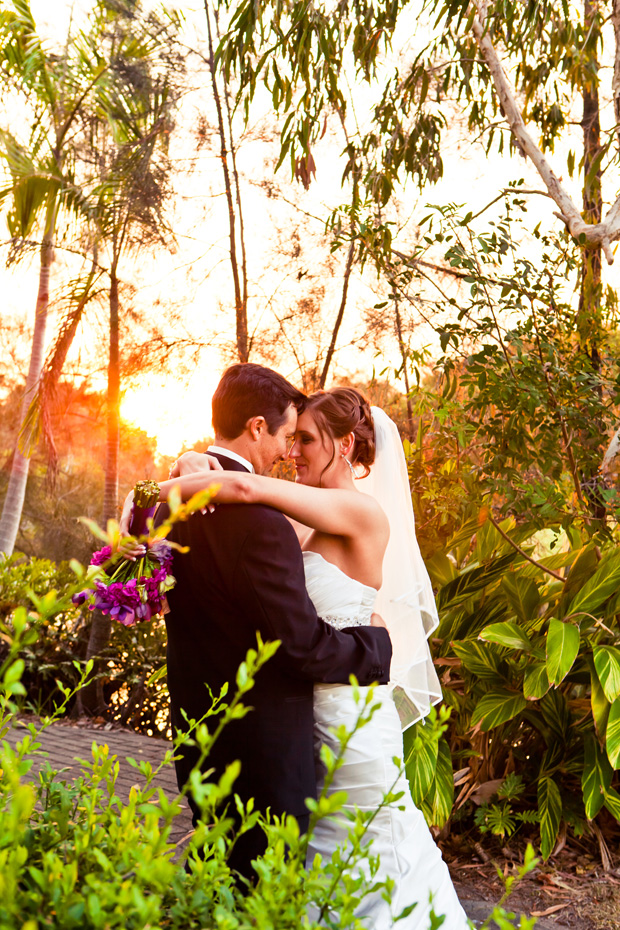 Some helpful advice from Brooke for brides navigating their way through bridal expos: "Type up your contact details with your name, phone number, email and wedding date. This will save you lots of time filling in the competition forms! Also, take stickers with you so you can identify suppliers you loved the most amongst the mountain of paperwork you will collect."
Photos courtesy of Angela Hawkey Photography.