Whilst 26-year-old Bianca Ferlazzo had always wanted a "fairytale wedding", her beau Jamie Mammoliti also had a wish – that one day he'd cruise to his wedding in his prized 1972 HQ Monaro – the fine piece of muscle machinery purchased before he was even allowed to drive.
Well, they both got their wish, and the result is the perfect 'his n hers' wedding – an exciting combination of bold masculinity and feminine loveliness that makes for a sensational wedding album (with kudos to Alex Pavlou Photography).
Two years after this Melbourne couple met and became "inseparable," Jamie, 27, had a light-bulb moment. How could he make his proposal, in a helicopter, over the 12 Apostles (on Victoria's Great Ocean Road), even more spectacular?
With a little bit of Photoshop.
On a digital photo of the famous tourist attraction, he 'wrote' in the sand, "Bianca, will you marry me?" and loaded it onto his camera.
On the day, taking happy snaps from the scenic flight, he handed the camera to Bianca to show her some of the magic he'd just captured.
"As I started going through the photos I saw the one asking me to marry him," says Bianca. "I was absolutely stunned, in shock, and very confused – the picture I was looking at on the camera was the exact place we were flying over in the helicopter!"
Overcome with emotion, Bianca started crying – until, that is, the pilot asked her what her answer was.
"I was so much in shock," she says, "I forgot to say yes! He took me by complete surprise."
Bianca was the picture of a modern princess on her wedding day, wearing a Judith Valente couture gown which she helped to design, and sparkling Swarovski jewellery.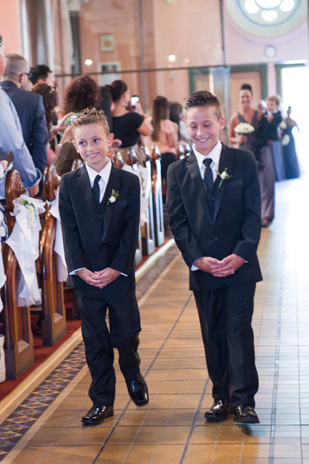 With 180 guests invited to share in their day, Bianca and Jamie wed at the magnificent St Mary Star of the Sea Catholic Church. "One of the most beautiful churches in Melbourne," says Bianca.
After the nuptials it was time for a symbolic dove release outside the church. The St Mary's doves are released from their basket simultaneously by the bride and groom, circling the church three times before flying away.
You can't beat a man in a tux. Jamie and his five groomsmen wore classic black tuxedos and waistcoats from Prinzi Collections.
Some more boys' toys at the Essendon airport provided for very cool location props for more wedding pics.
Looking elegant and feminine in their classic high buns, Bianca's bridemaids were dressed in floor length one-shoulder gowns by Cocktail Boutique.
This fairytale wedding had a fairytale ending – a surprise fireworks display from the couple's parents – but as Bianca says, "I married my best friend, and my soul mate, and nothing is bigger and better than that!"
Photos courtesy of Alex Pavlou Photography.
Featured Suppliers:
Bomboniere: Designer Chocolates by Chocolate Works / Brides Accessories: Swarovski / Brides Gown: Judith Valente Bridal Couture / Brides Shoes: Alan Pinkus / Bridesmaid Shoes: Oroton / Bridesmaids Accessories: Swarovski / Bridesmaids Dresses: Cocktail Boutique / Ceremony Music: Debbi Arpini / Ceremony Venue: St Mary Star of the Sea / Entertainment: The Sour Grapes / Flowers: Flowers on the Hill / Gift Registry: Myer Gift Registry / Grooms Attire: Prinzi Collections / Grooms Shoes: Batsanis / Groomsmen Attire: Prinzi Collections / Groomsmen Shoes: Batsanis / Hair: Tina Trigili / Honeymoon: Bora Bora / Invitations: BizziBee Graphic Design / Makeup: Kristal Garcia Make Up Artist / Pageboy Attire: Prinzi Collections / Reception Venue: Witchmount Estate / Rings: Diamondline Jewellery / Transport: Friends and family / Venue Decor: Decor It, Centre of Attention Centrepieces / Videographer: 3D Vision / Wedding Night Accommodation: Crown Metropol
Additional Suppliers: Rose Paper Designs (church booklets)