There's something to be said for morning weddings and lunchtime receptions. Especially when the spring weather is as glorious as it was for Melbourne couple, Beth Saveneh and Aidan Depetro last October.
They wed at the same church that Beth attended as a child growing up on the Mornington Peninsula – St John's Anglican Church, Sorrento – and held a relaxed and elegant lunch reception at the picturesque Mantons Creek Vineyard at nearby Main Ridge.
Beth says, "We really enjoyed having a lunchtime reception as it enabled us to appreciate the beautiful spring weather and gorgeous scenery of the vineyard and beaches."
She adds, "Even if it is a lunchtime wedding, you can still have the formalities of a dinner service but also enjoy the relaxed atmosphere of everyone sitting around sharing a meal together and then walking outside in the beautiful sunshine and surroundings.
"Given that many of our guests had travelled a long distance, it also enabled them to travel home at a reasonable hour and the kids weren't too tired either!"
For me, the appeal of a day wedding (which, for Beth and Aidan, ended at 6pm) is that you can choose whether or not to continue the celebrations into the evening with a handful of your besties. Beth and Aidan did just this, partying with a small crew at the vineyard before they all retreated back to private suites, enjoying a luxury breakfast together the next morning.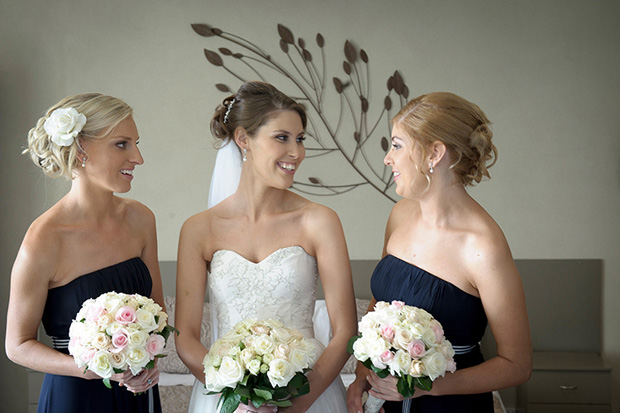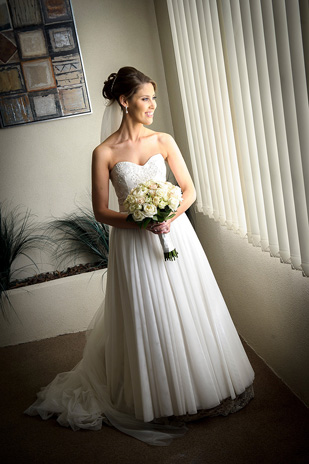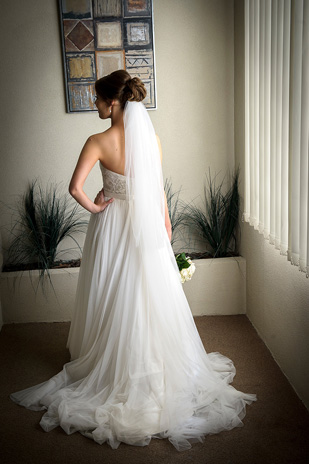 Beth's custom made Amaline Vitale gown featured a sweetheart neckline, hand-beaded bodice and soft floaty silk-and tulle-skirt. She wore a matching chapel-length veil from Wedding Veils Australia.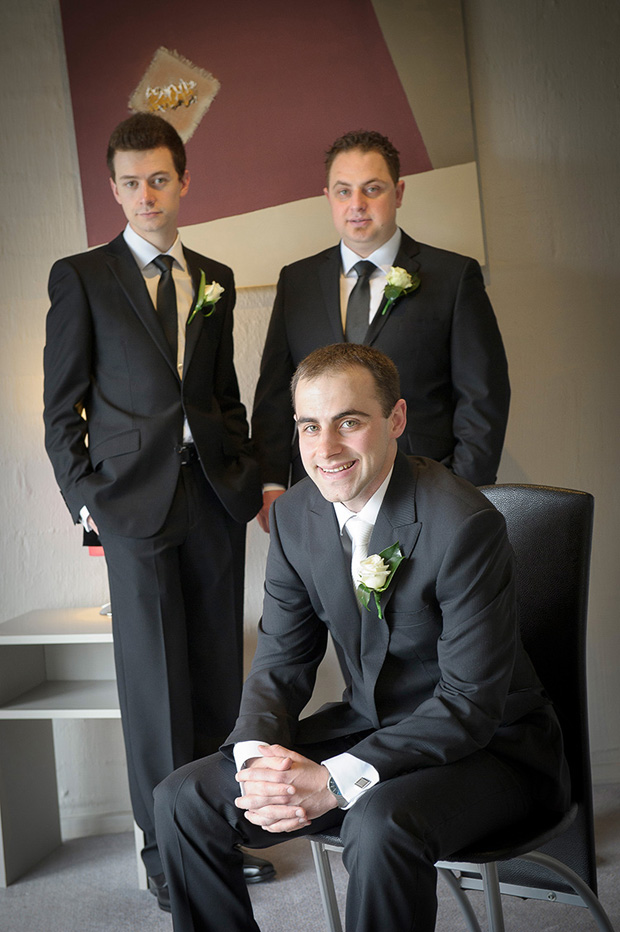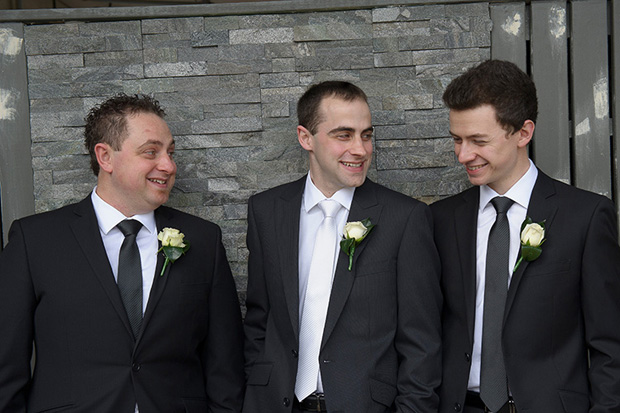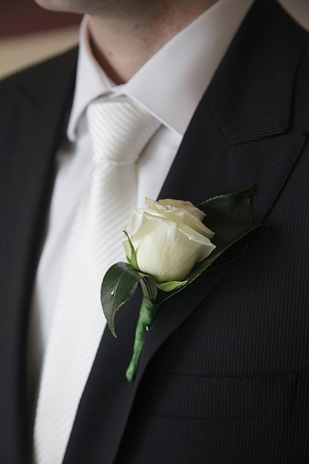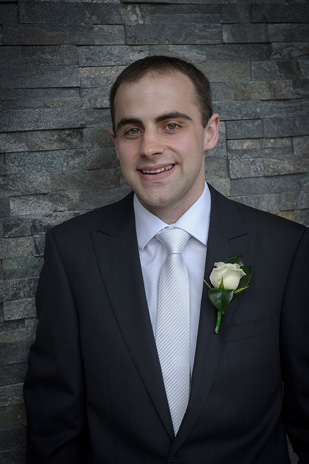 Aidan was dressed in a black Studio Italia fine wool suit with white shirt and embossed silk stripe tie, all from Marc Madden. His two groomsmen wore complementary styles from Opal Formal Wear.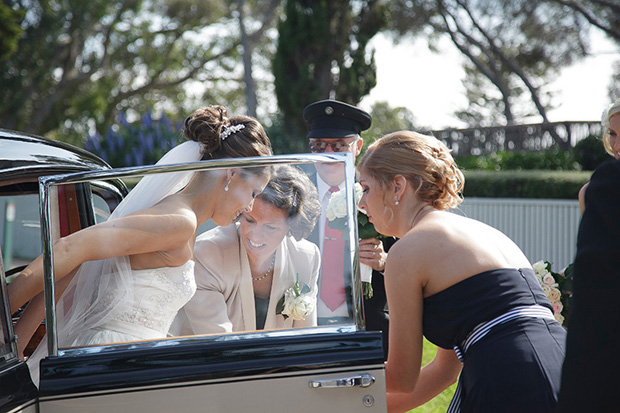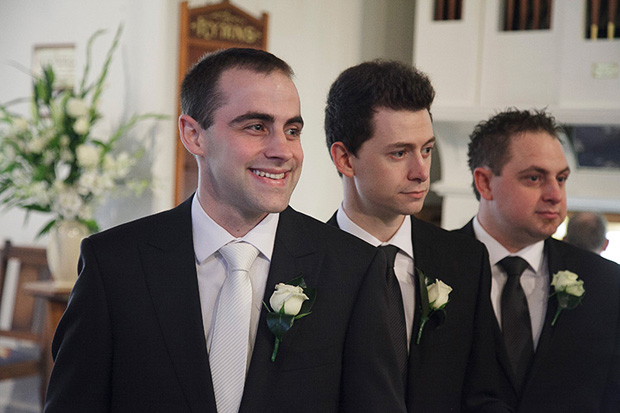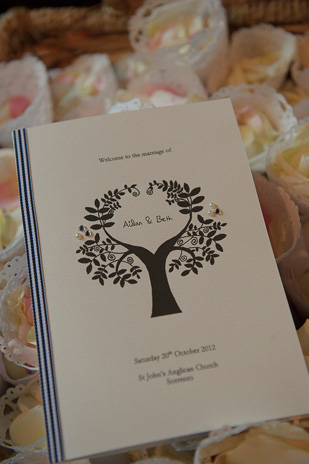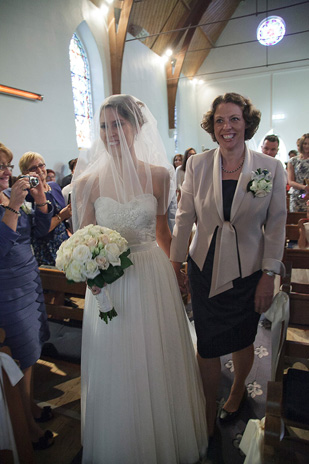 Beth was walked down the aisle by her mum – an orchestral harp teacher – who invited one of her youngest students, 12-year-old Harriette, to play during the ceremony. Harriette's sister Courtney led the congregation in song and pipe organist Norman Pilkington played Pachelbel's Canon in D and Prelude to Te Deum.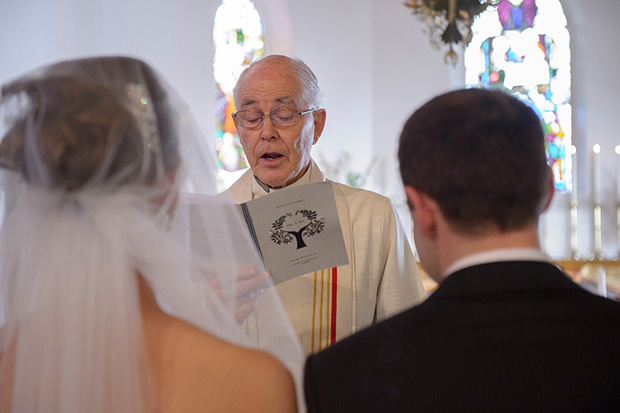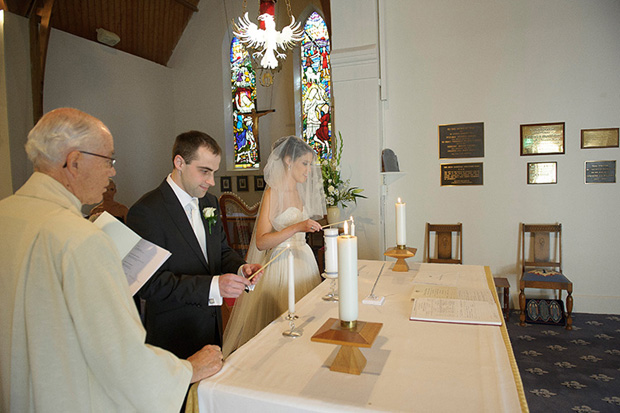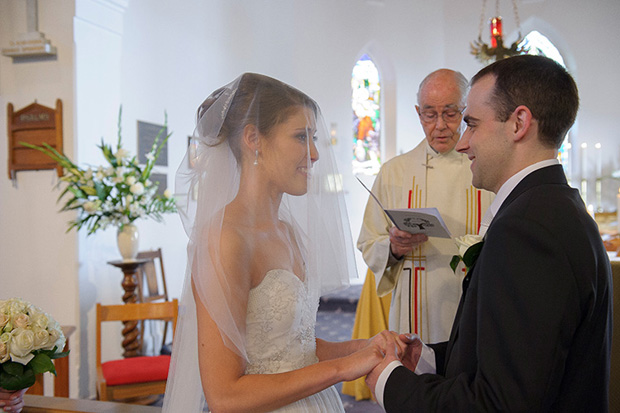 Beth says, "We truly bring out the best in each other and support each other through all of our life goals. We have the same ambitions and complement each other's strengths so well."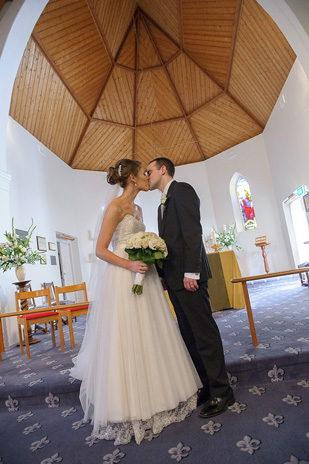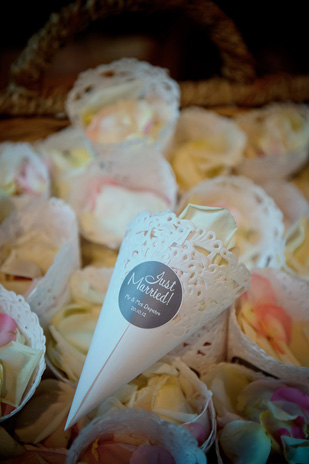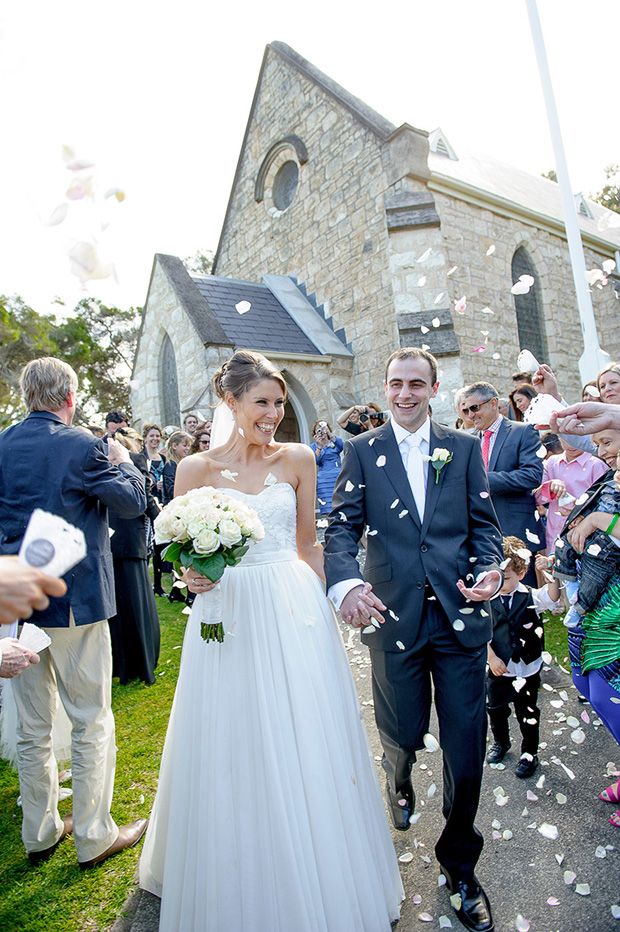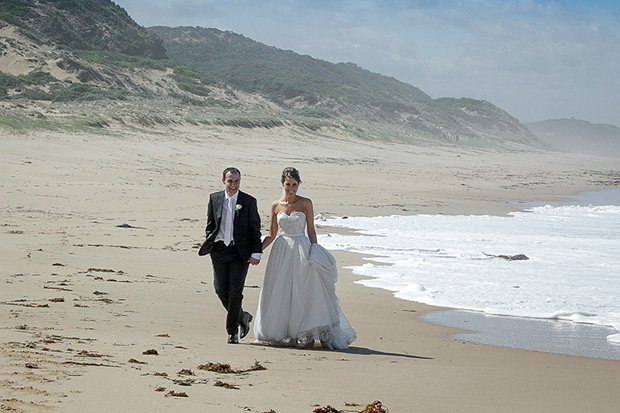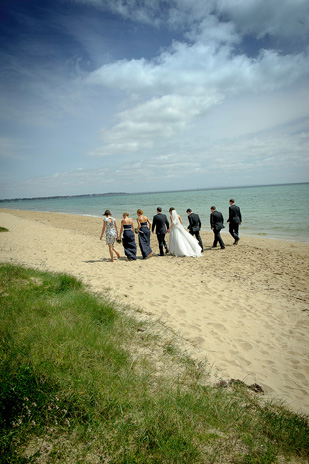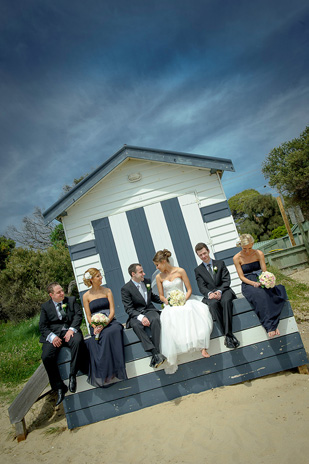 With a seaside location, the couple chose navy and cream for their wedding colours and the bridesmaids wore it beautifully in their floor length chiffon dresses from Light in the Box. Flowers were a mix of cream, ivory, light peach and pink roses in varying shapes and sizes by Tyabb Roses, which Beth describes as "exquisite".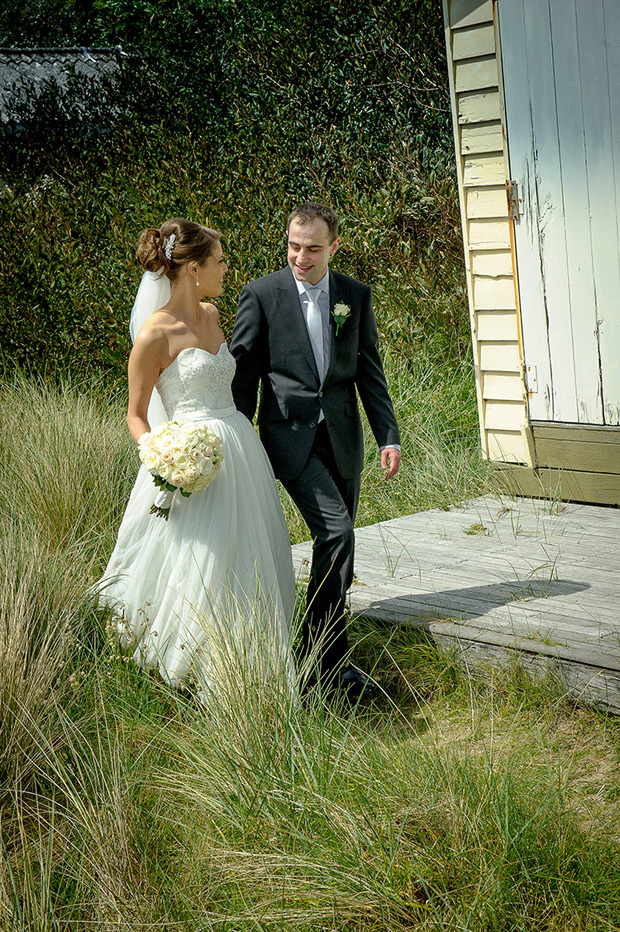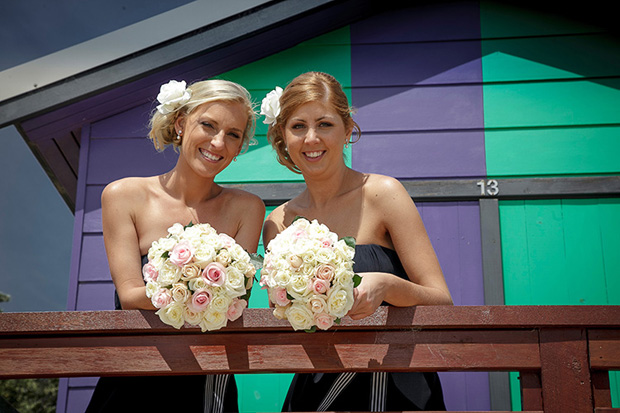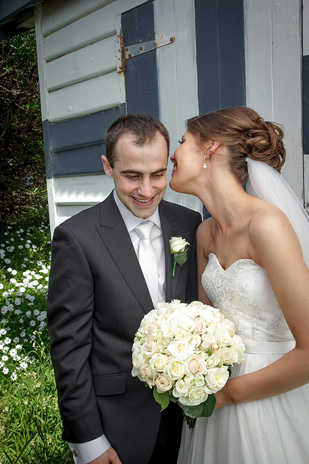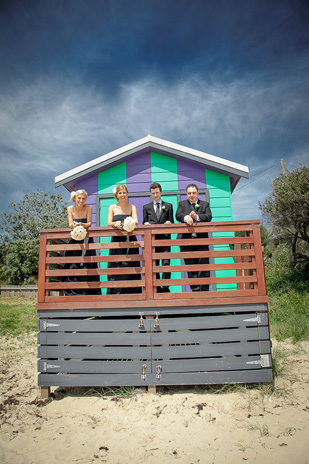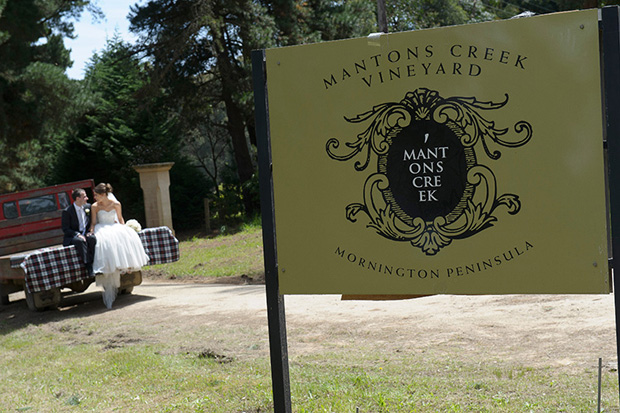 Whilst Beth and her bridesmaids arrived to the church in a luxury Armstrong Siddeley classic sedan, it was a surprise for guests to see the newlyweds 'chauffeured' to the reception through the vineyard on the back of a red cider truck. "It was a unique and enjoyable moment for us and our guests," says Beth.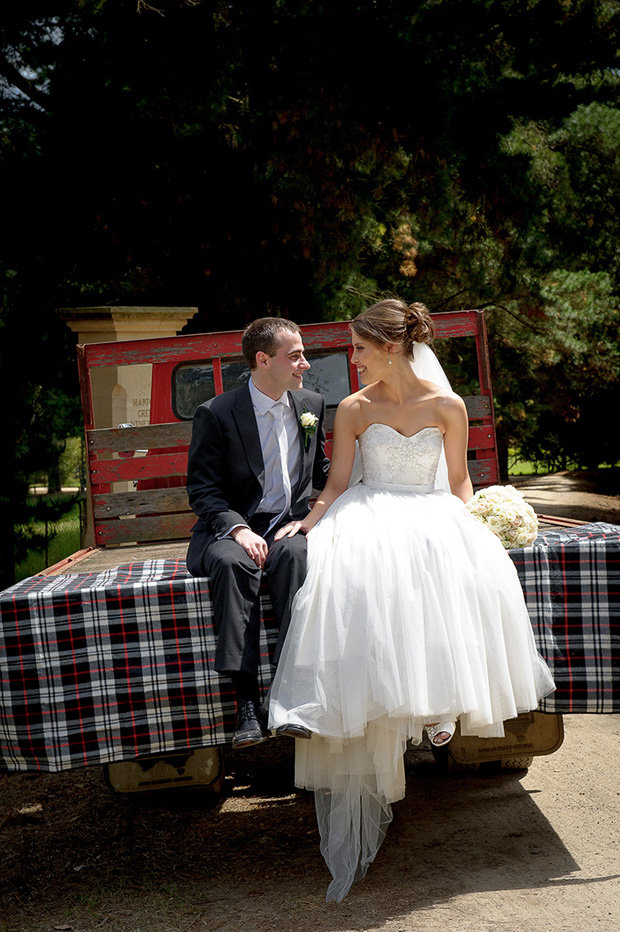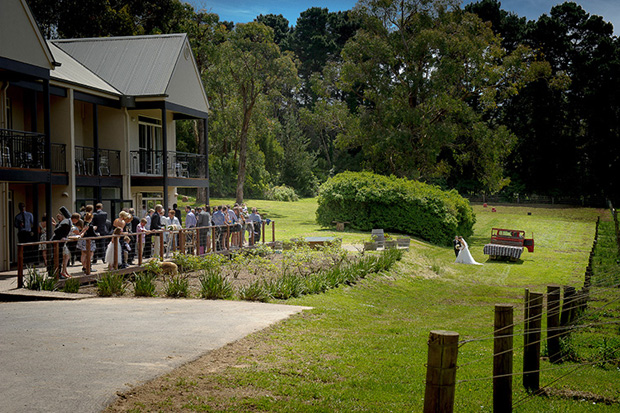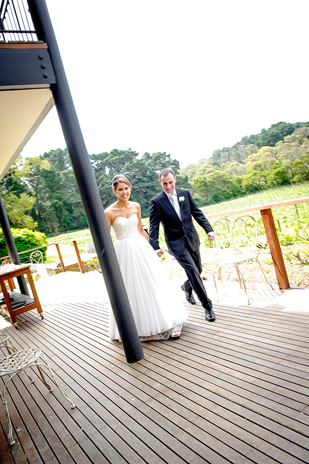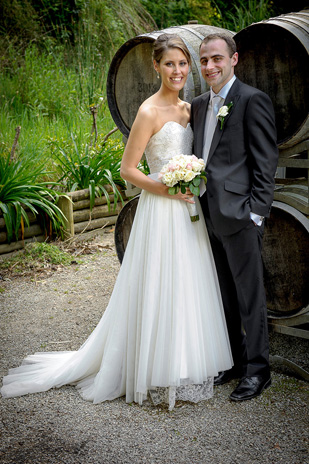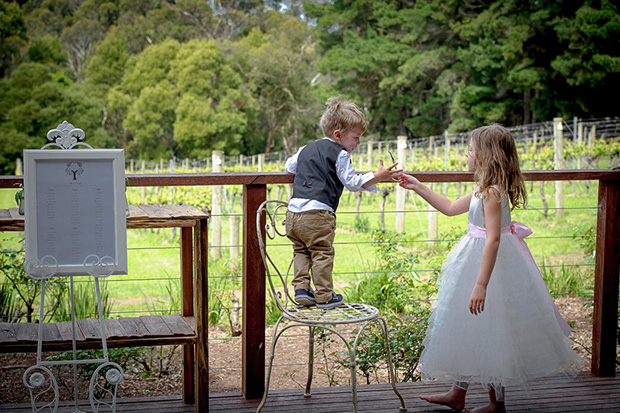 This day wedding was a family-friendly event and the thoughtful couple even went to the trouble of offering four age-appropriate types of wedding favours. For the adults, it was bottles of limoncello from Kelly Beans Bomboniere (paying homage to Aidan's Italian heritage). For the little ones, it was a personalised children's activity book with coloured pencils and chocolates. 'Tweens' received iPod paper speakers from Typo and the toddlers were given bride and groom teddy bears. So sweet!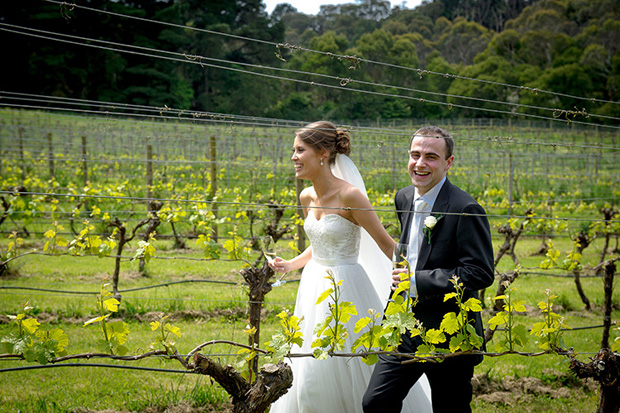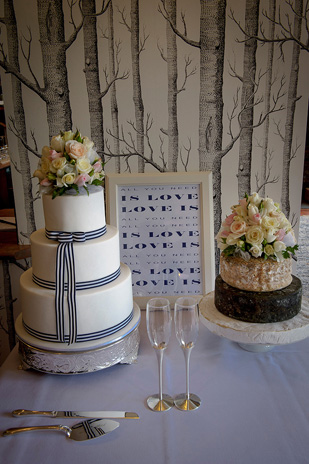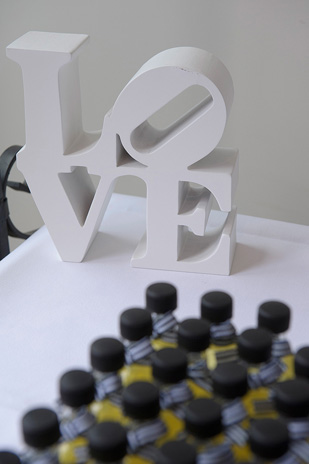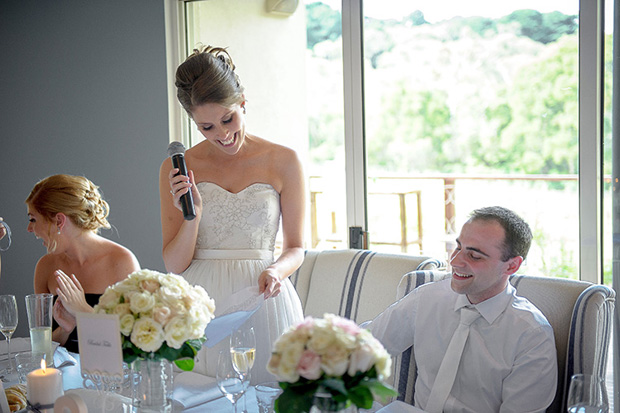 Beth surprised Aidan – and his Italian family – by learning her speech in their native language, which she spoke fluently and off-by-heart. It left many guests in tears – including her new husband!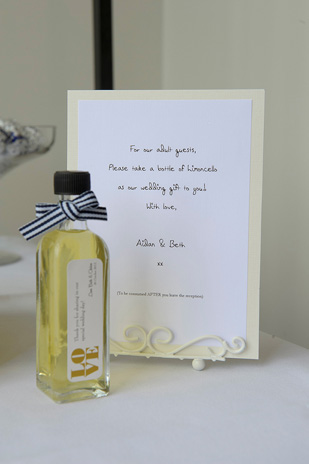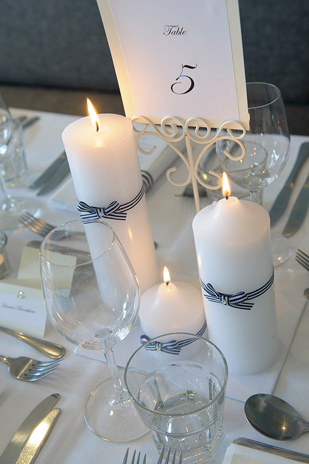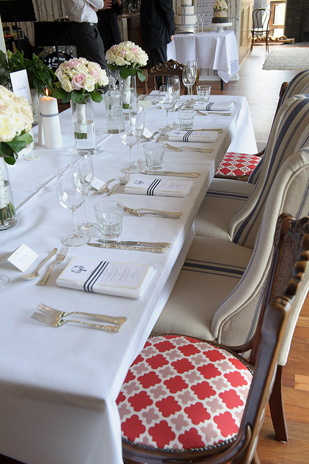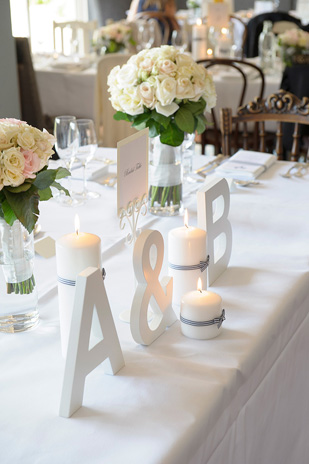 Photos courtesy of Marc Grist Photography.