He wore a pink scrunchy to uni and piqued the interest of creative country girl Hannah Cross.
Quirky city boy Mick Lin's love of two-wheeled transport has crept into all areas of their lives, including the theme of their bicycle wedding in Bali on March 8, 2014.
"Mick [28] is obsessed with bicycles," laughs 29-year-old Hannah, a textile designer who makes custom woven cufflinks for her business Hannmaid. "We have miniature bicycles all over the house – down by the skirting boards, above the doors – even in the toilet!"
Hannah's interest in cycling soon followed, inspired by "Mick's passionate pursuit of the childhood nostalgia that comes with travelling by bicycle," she says. "In a time where contemporary city life kills you slowly on a daily basis (which Hannah has experienced first-hand – she moved from Bairnsdale (Vic) to the city for university), cycling acts an ally to calm the mind and fill the void."
The well-travelled pair were engaged six years after falling in love, holding the first of their bicycle themed celebrations on Australia Day, 2013. A bright red double decker bus parked outside Hannah's parents' property was the 'venue' for their Bairnsdale engagement party – drinks were served on the rooftop while Mick greeted friends and loved ones on his bicycle/drinks bin down below.
Eighty guests joined them in Bali 14 months later, an obvious destination given Mick's Indonesian heritage. Bicycle references were scattered subtly and tastefully throughout the wedding, including Hannah's slap-band designs which they gave as bombonniere, a beautiful vintage bike for photographs and of course Mick's little two-wheeled collectables.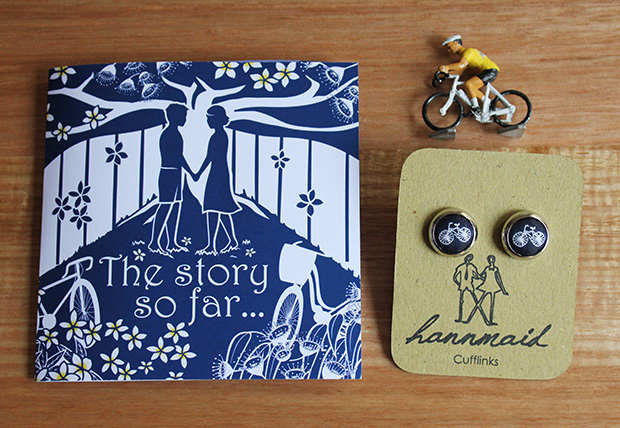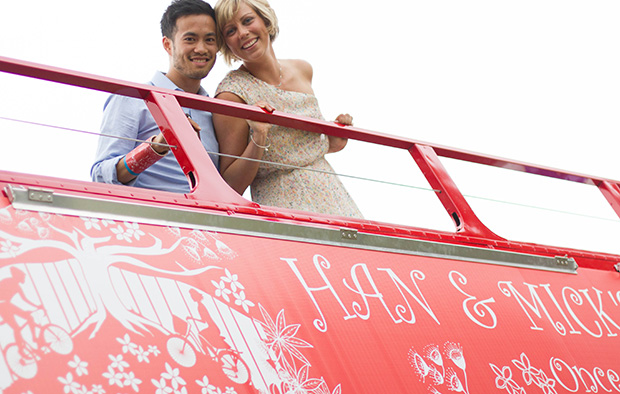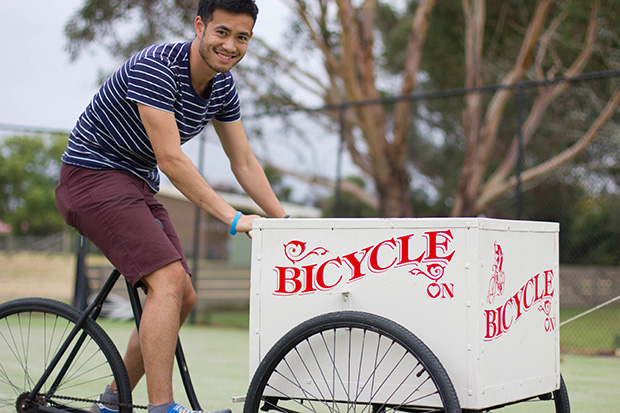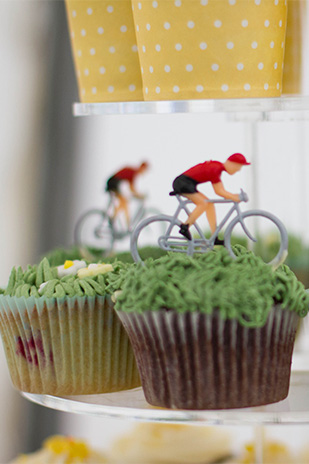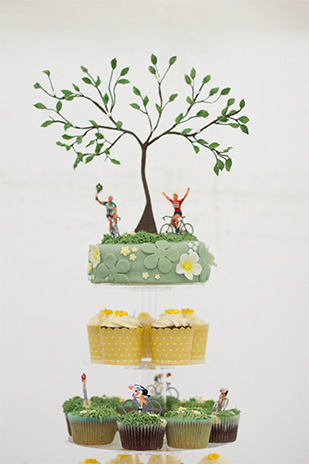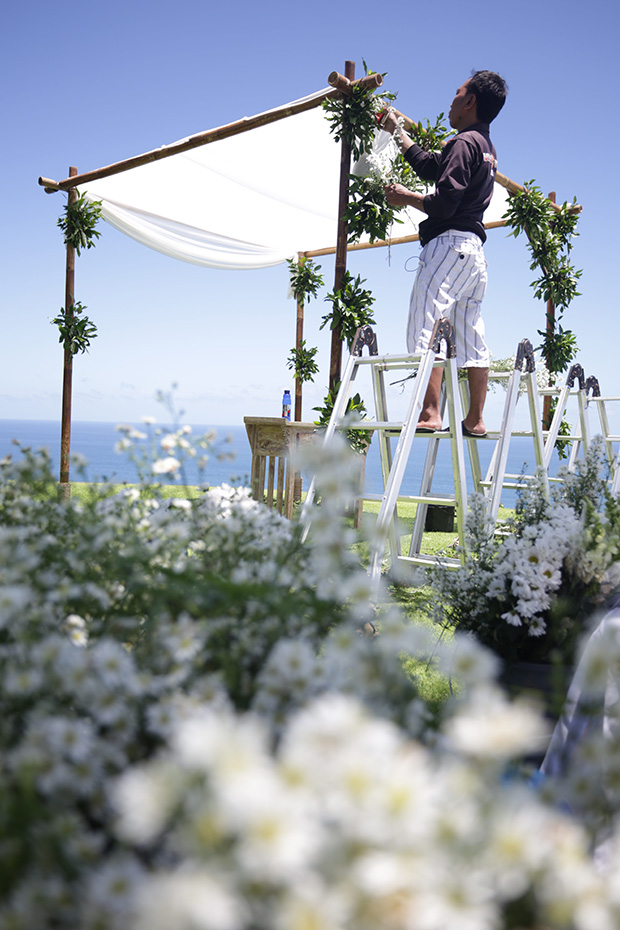 Hannah and Mick exchanged vows on a grassy knoll outside Semara Uluwatu's Tamarama Villa. Guests who travelled were in definite holiday mode creating a special excitement for the celebrations.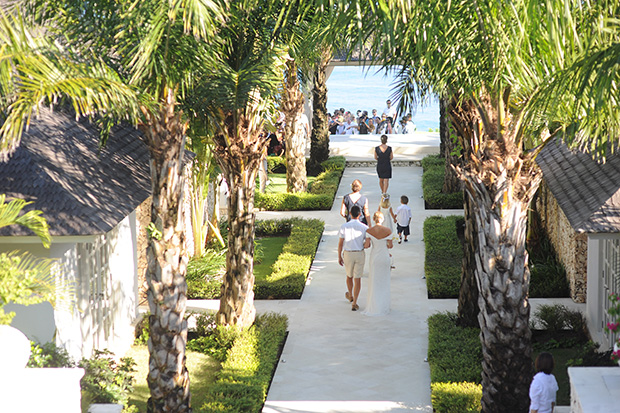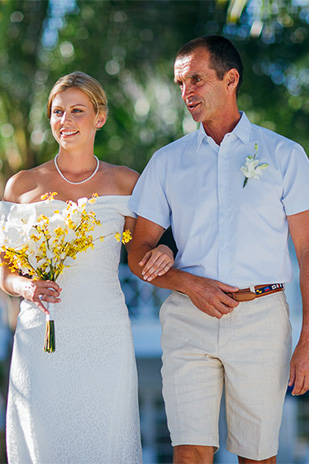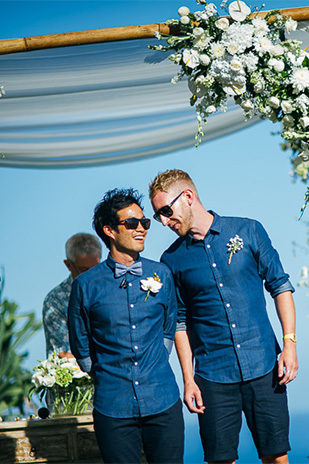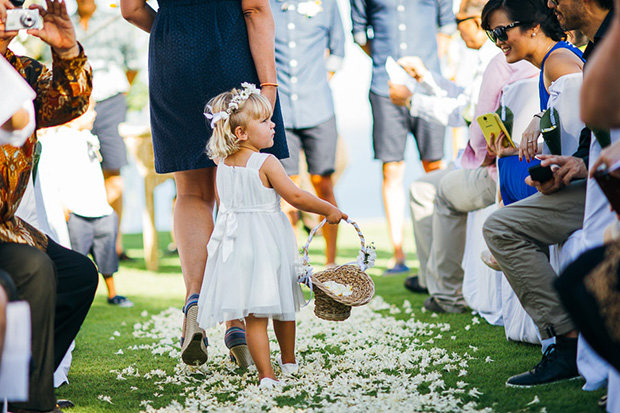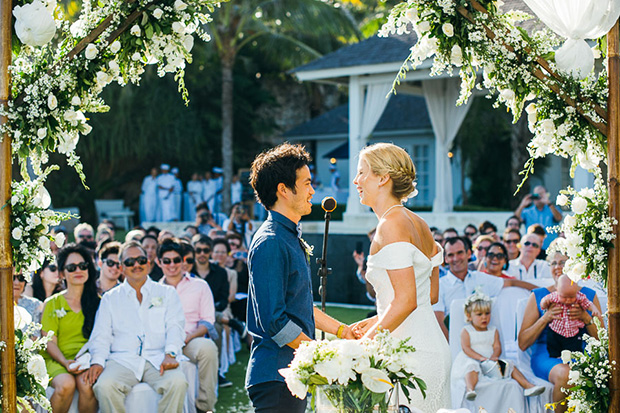 Best friend of the bride's father and local Bairnsdale character, Bob Yeates, offered to be the couple's celebrant and then went and completed a celebrancy course to become qualified. "He is a real hoot," says Hannah of yet another quirky choice.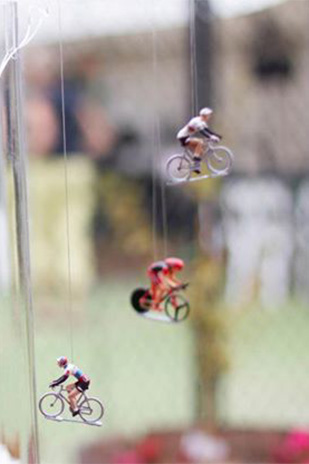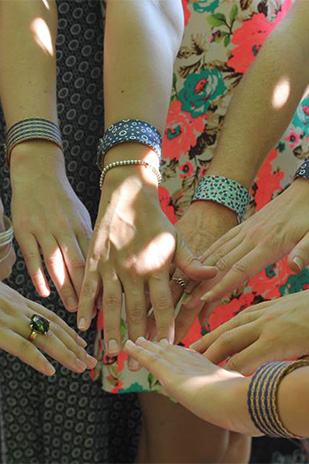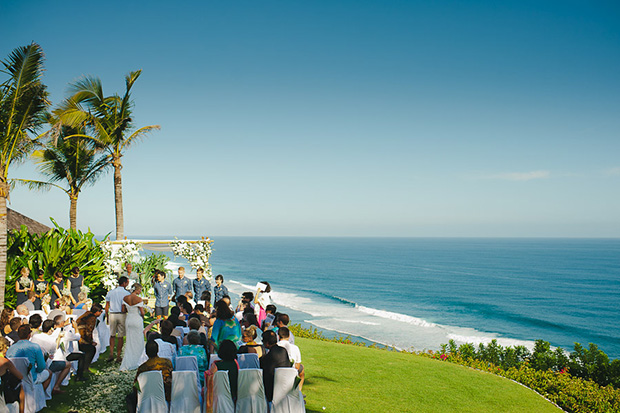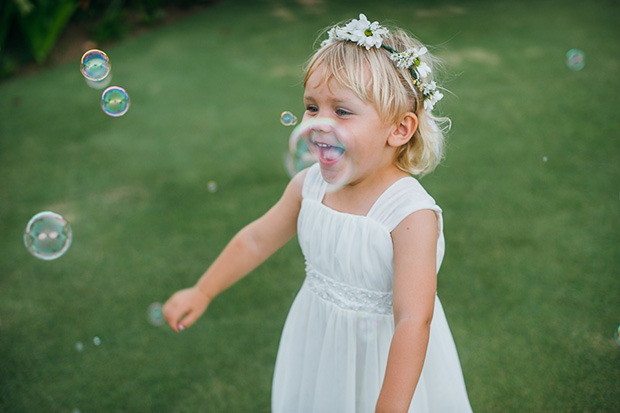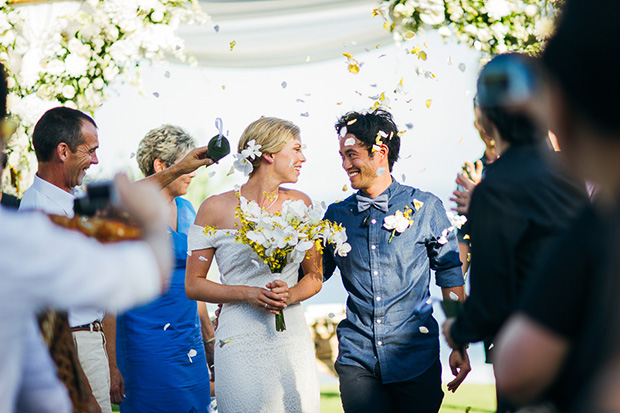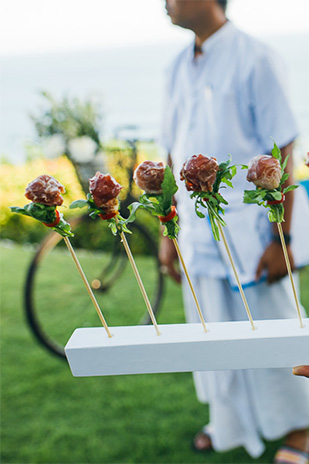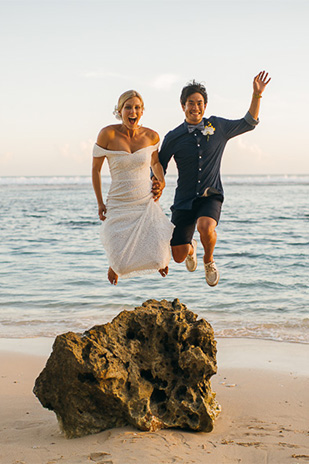 With Bali prices so affordable, Hannah and Mick splurged on the menu, including lobster for both entree and main. Mick's parents were charged with taste-testing the food prior and guests marvelled at their selections.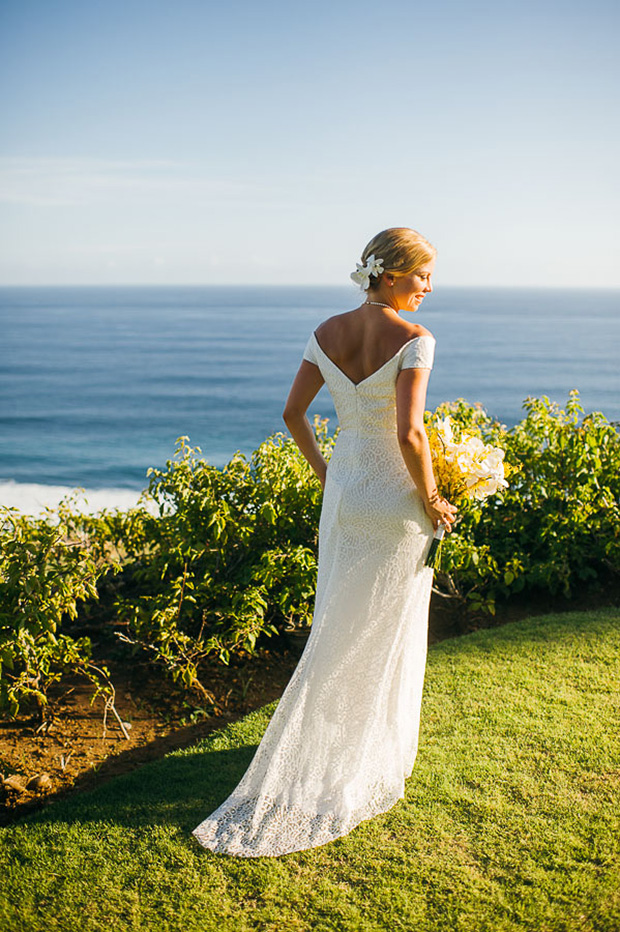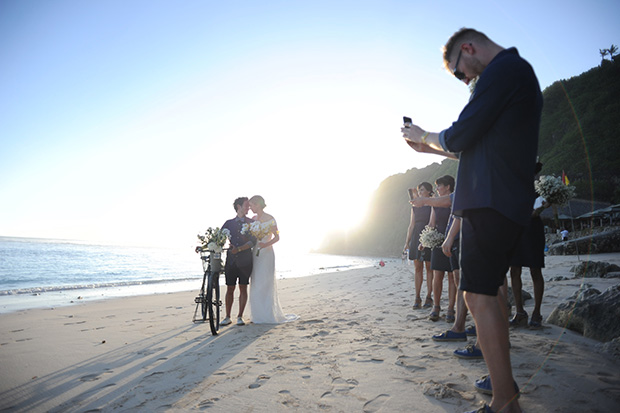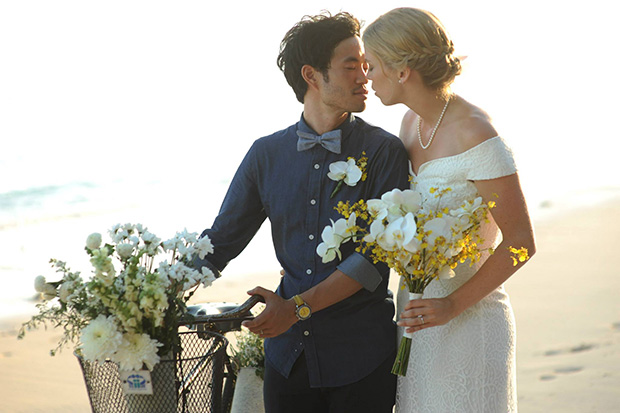 Hannah wore a lace off-the-shoulder number from Lisa Ho whilst Mick wore beach-chic beautifully in a Jack London shirt-and-shorts ensemble with vintage bow tie.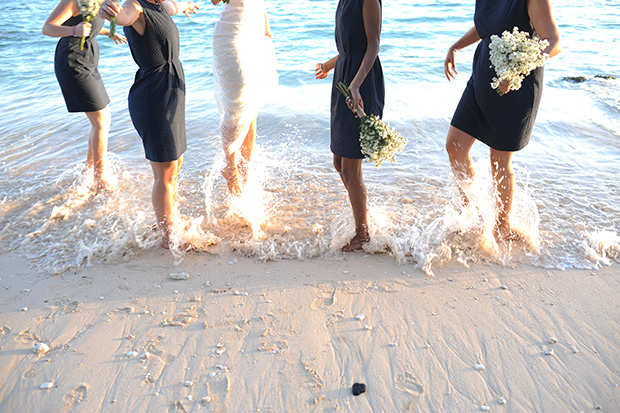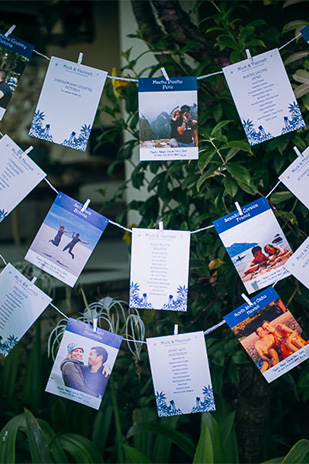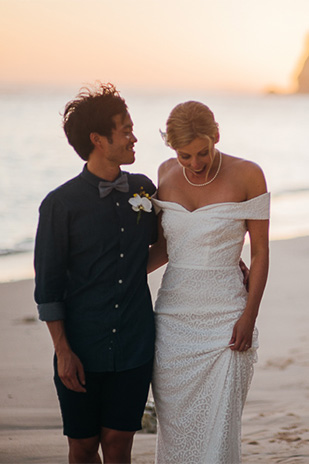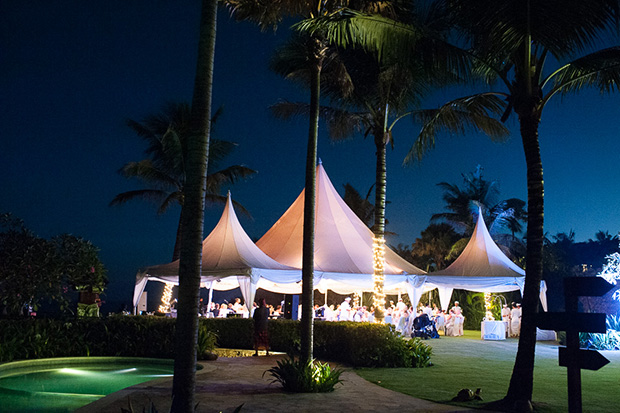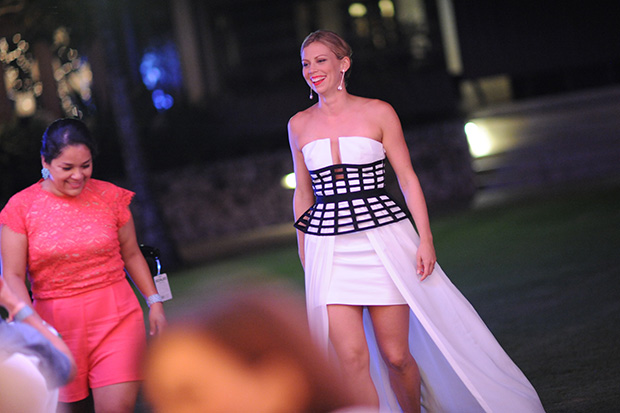 Hannah changed into a modern Sass & Bide party frock for the reception on the resort's Selatan Lawn.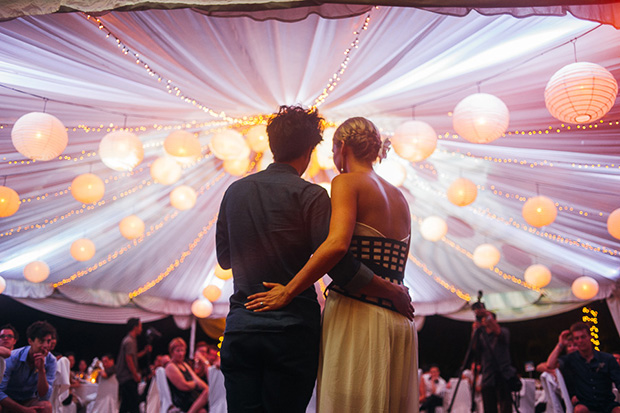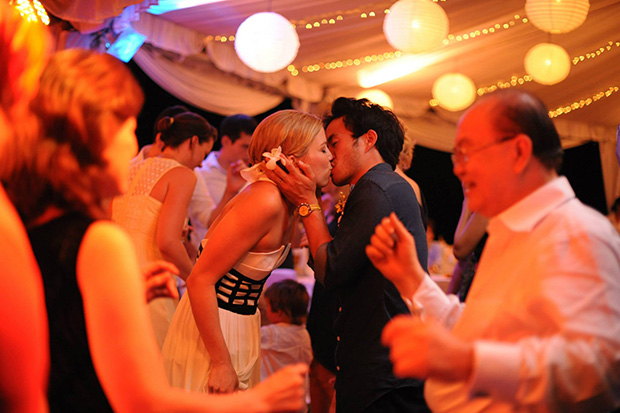 Mick and his dad sang Louis Armstrong's "What a Wonderful World" at the reception and the newlyweds entertained with a wedding waltz mash-up to Mazzy Star, "Eagle Rock" and "La Bamba". "We had a blast," says the bride.
Photos courtesy of Gusde Photography.