The excitement was palpable in Hawthorn (Melbourne) on the last weekend in September, 2013.
Forget the AFL Grand Final, being celebrated by jubilant fans at Glenferrie Oval, home of the reigning premiers, Hawks.
The classic wedding of Jasmin Lebner and Matt Dearing had arrived.
Ninety five friends and loved ones sat in The Immaculate Conception Church on September 29 to watch teenage sweethearts become husband and wife.
"The live music from the family day at Glenferrie Oval was pumping through the church throughout our ceremony," recalls 24-year-old Jasmin. "I distinctly remember 'Throw Your Arms Around Me' by Hunters & Collectors playing over our vows."
Adding further buzz to the momentous event were the TV cameras rolling in the background. Through dress designer, Baccini & Hill, Jasmin and Matt, 26, had agreed to participate in Foxtel reality program, Meet the Frockers, delving into the lives of bridal couturiers and their clients.
"We filmed so many hours; they came to my work, my last fitting, my house, the rehearsal and the ceremony. It was a bit more stressful but something special to have and another memory to keep from the day," reflects Jasmin.
The couple chose Quat Quatta to host their reception, remarking at the "astounding" service and food. "They truly made you feel like a guest of honour on the night," praises the bride.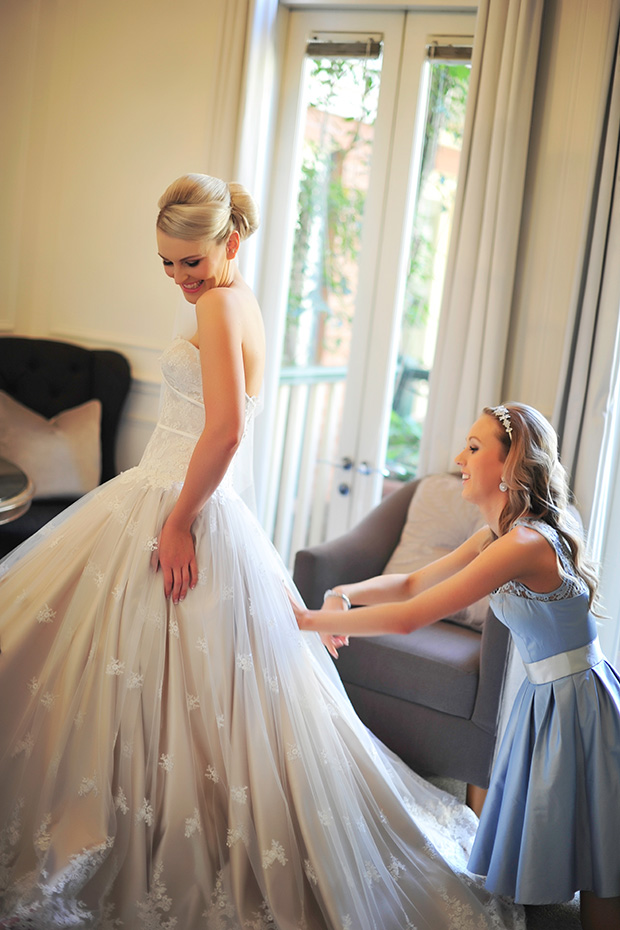 Jasmin's gown by Melbourne bridal salon, Baccini & Hill, was the combination of two signature styles 'Azure' and 'Chantelle'. "The dress nearly stole the whole show," laughs Jasmin, of its feature in Foxtel doco, Meet the Frockers.
"We share a lot in common," says Jasmin of Matt, "and I always really enjoy myself when it's just me and him."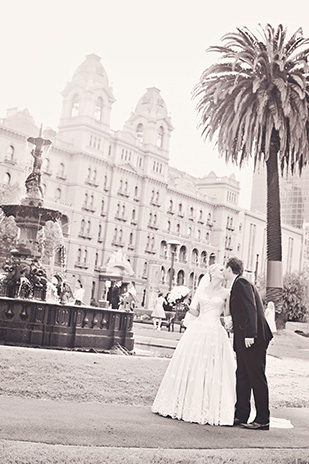 Jasmin reflects, "The morning after felt quite sad… I picked up my dress to leave the apartment and cried – it's so beautiful and will never be worn again."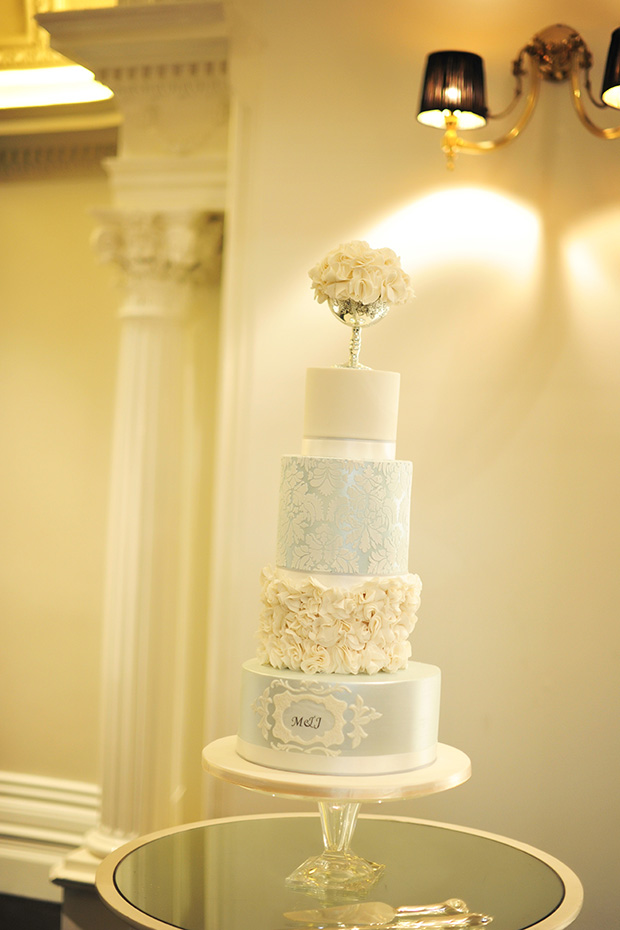 "When we were becoming the people we are today, we both had such an influence over one another, it brings a very literal meaning to 'made for each other,'" smiles Jasmin.
Photos courtesy of Abby B Photographic Design.
Featured Suppliers:
Bomboniere: Designer Candy / Brides Accessories: Baccini & Hill / Brides Gown: Baccini & Hill / Brides Shoes: Alan Pinkus / Bridesmaid Shoes: Zu / Bridesmaids Accessories: Oroton, Swarovski / Bridesmaids Dresses: Review / Ceremony Venue: The Immaculate Conception Church / Entertainment: The White Tree / Flowergirl Dress: Princess Boutiquehttp://www.easyweddings.com.au/FlowerGirls/Canberra/princessboutique/ / Flowers: floralevent / Gift Registry: Myer Gift Registry, wishing well / Grooms Attire: Prinzi Collections / Grooms Shoes: Zu / Groomsmen Attire: Prinzi Collections / Groomsmen Shoes: Zu / Hair: It's All About You / Honeymoon: Maldive3s / Invitations: Fine Finish Invitations / Makeup: Gorgeous Cosmetics / Photographer: Abby B Photographic Design / Reception Venue: Quat Quatta / Rings: John McAleer Jeweller / Transport: Melbourne Classic Cars / Venue Decor: DIY / Videographer: Wedding Movies / Wedding Night Accommodation: Crown Towers