I love the style of today's Real Wedding with Sydney primary school teachers Sarah Cutajar and Zac Abela.
When I asked Sarah how she describes their wedding theme, she replied, "Vintage, eclectic, relaxed and cheerful."
And the photos certainly depict that. The blue-grey waist coats with the floral bow ties. Sarah's 1940s Rita Hayworth barrel curls and raspberry pout. The vibrant spring bouquets. And the laid back garden setting on the grounds of Norman Lindsay Gallery near Sydney's Blue Mountains.
The eclectic vintage wedding theme even extended beyond what the couple wore, with a four-piece folk band playing hymns during the ceremony at Springwood Presbyterian Church, and a playlist at the reception full of old-time songs from the 1950s.
Having met working together in childcare, Sarah says, "We love how it is just 'being' when we are together; life is richer. We are the best of friends and we knew we were perfect for one another the moment we met." Congratulations to you both!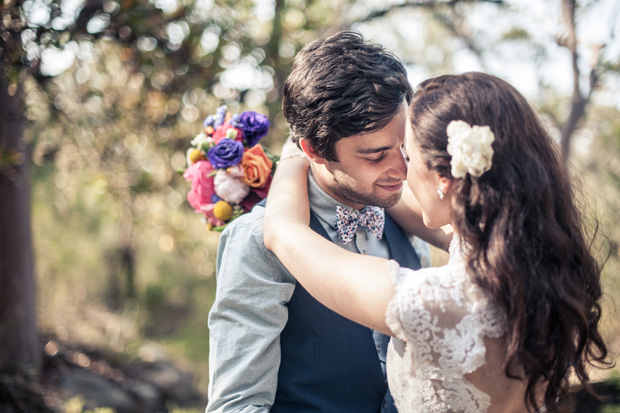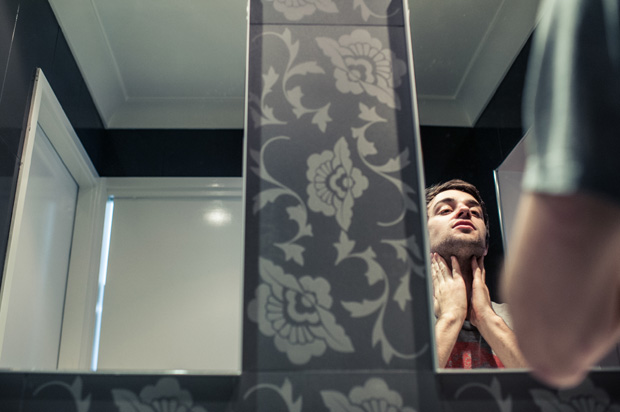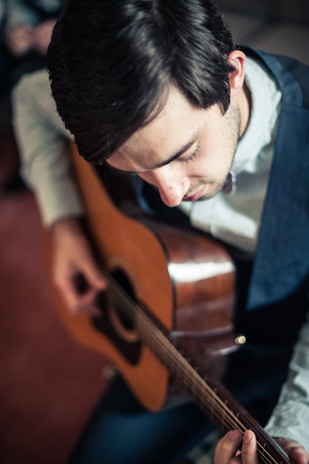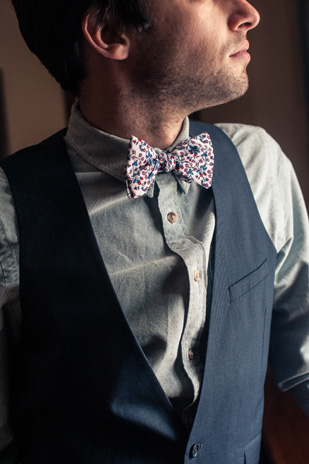 The couple looked around at several menswear stores before finding the boys' vintage-inspired outfits from a favourite of Zac's, UK e-tailer, Asos.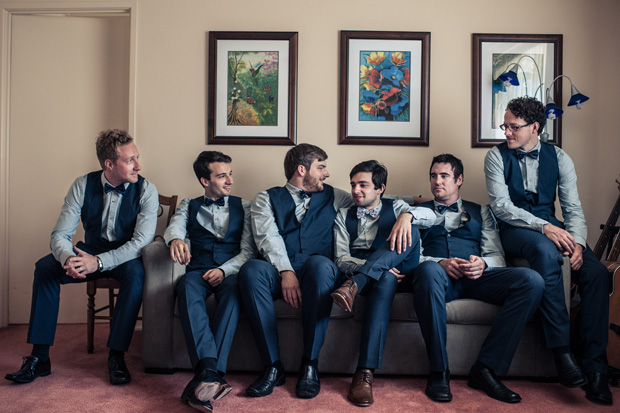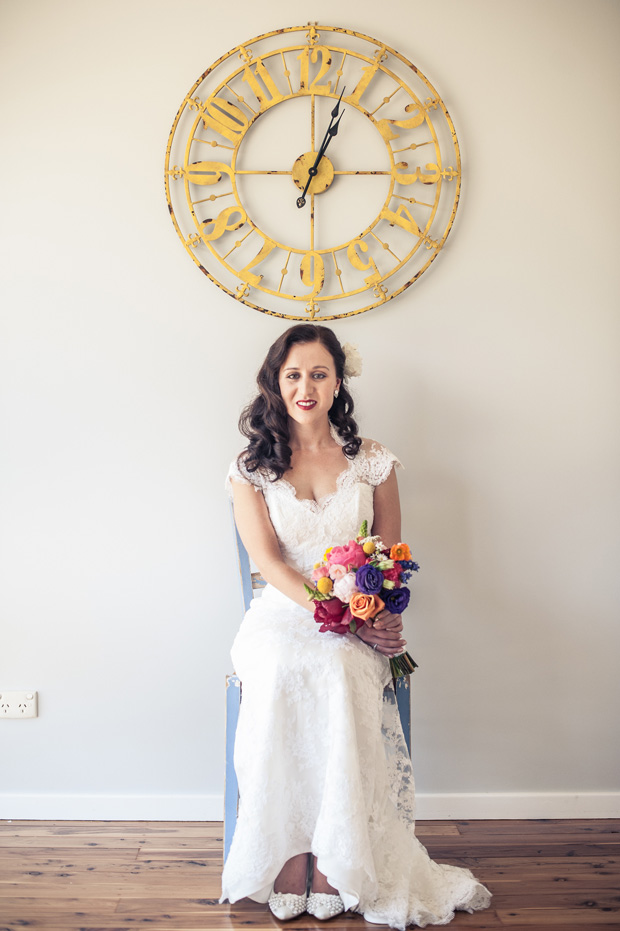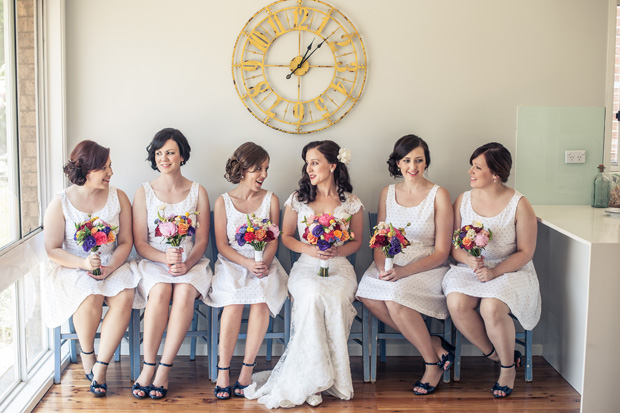 Sarah wore a pre-loved Justin Alexander gown, which featured gorgeous lace all over, cap sleeves and a beautiful keyhole back. With a single white peony in her hair, she accessorised with white points from Shoes with Style and wore her mother's vintage pearl bracelet.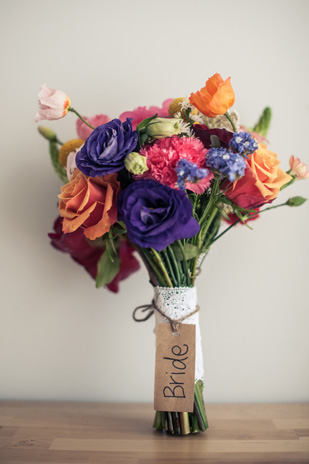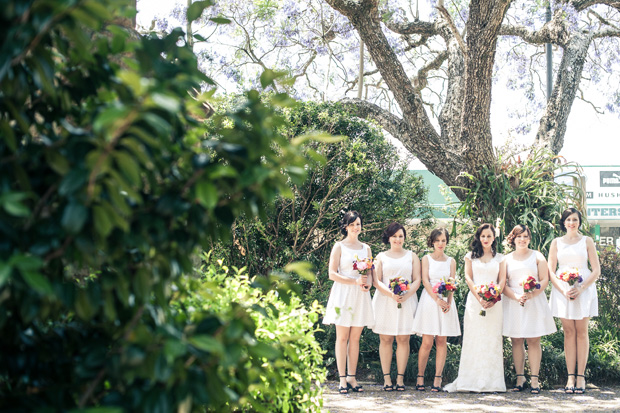 The five bridesmaids were dressed in cute above-the-knee, white retro-style dresses from Forever New with navy heels from Mel Shoes.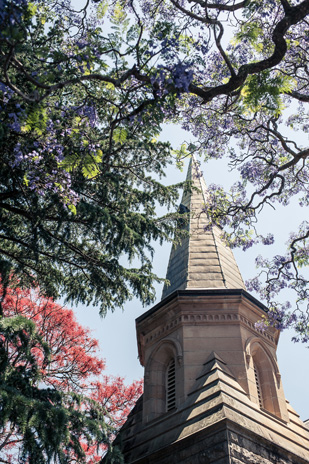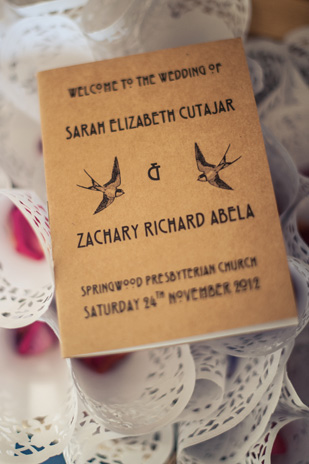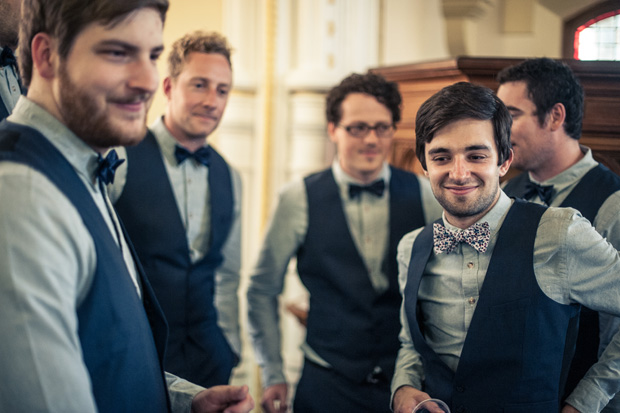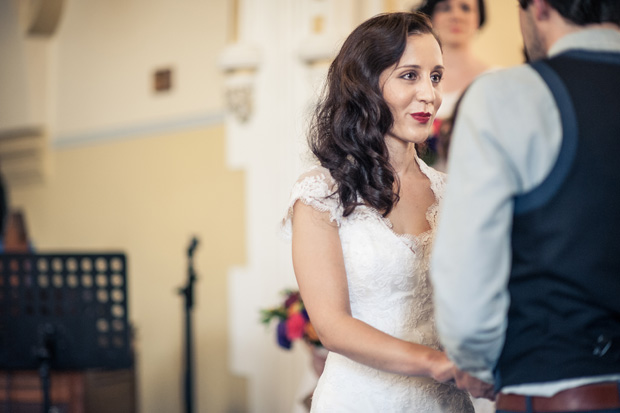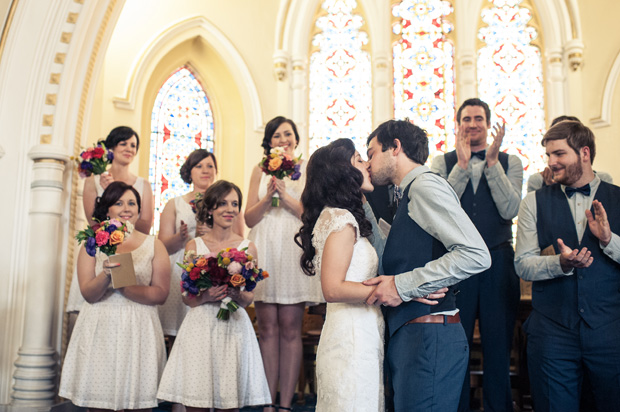 Sydney florist, Willow Flowers by Design, arranged the cheerful bouquets with roses, carnations, peonies, poppies, lisianthus and billy buttons – all in gorgeous bright spring colours.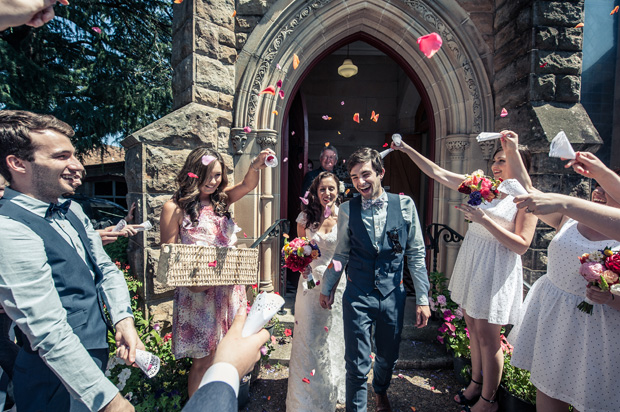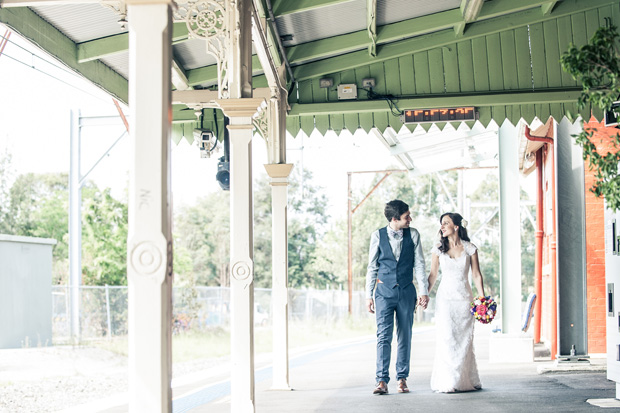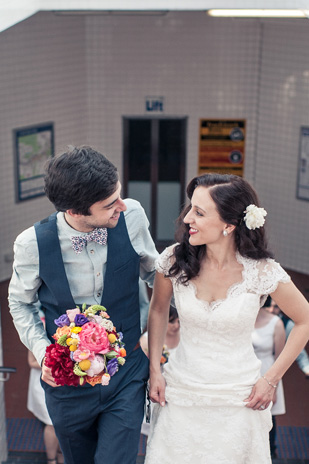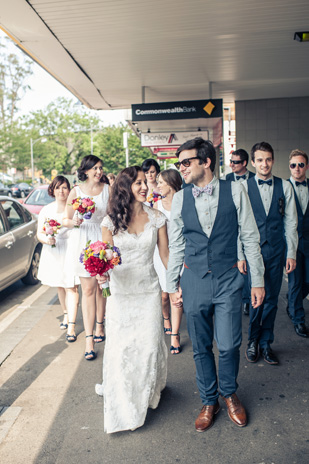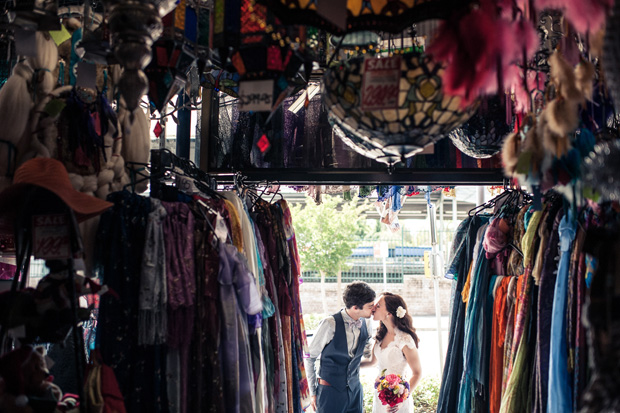 Photographers T-One Image spotted The Hippie Shop on their location shoot and popped inside to snap a photo of the newlyweds through the colourful merchandise. What a great photo to match Sarah & Zac's eclectic style.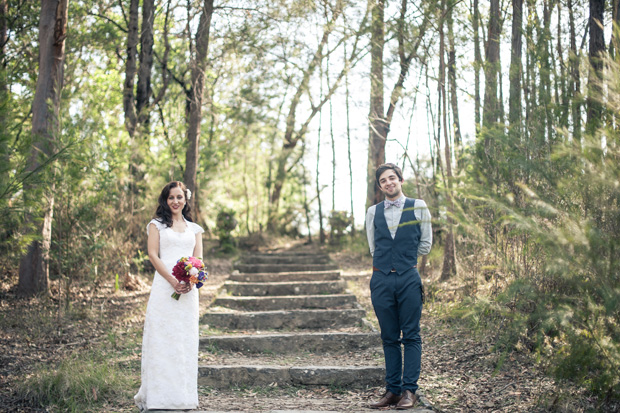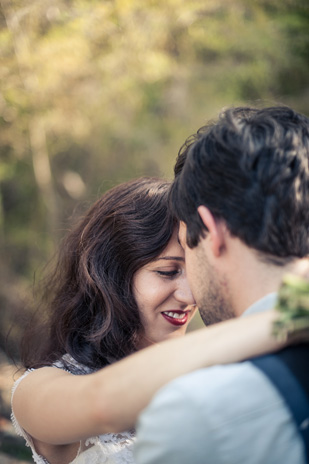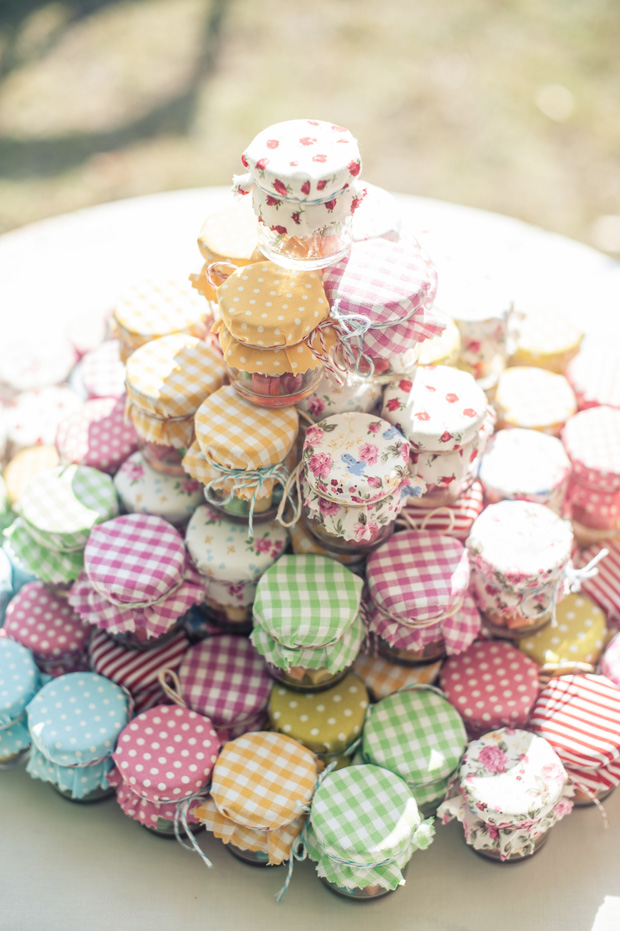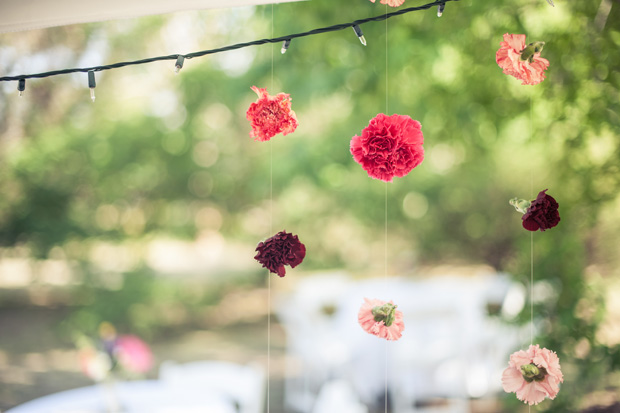 Of the venue decor, Sarah says, "The florist made strung carnations to hand around the marquee. We also had tissue paper pom poms hanging from the ceiling. On the tables were vintage embroidered doilies, and jars filled with flower posies put together by the florist."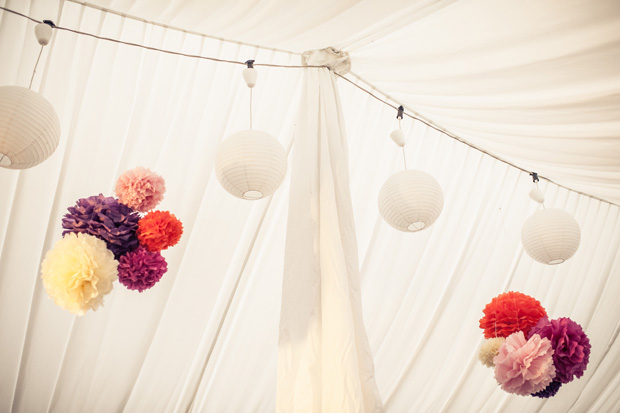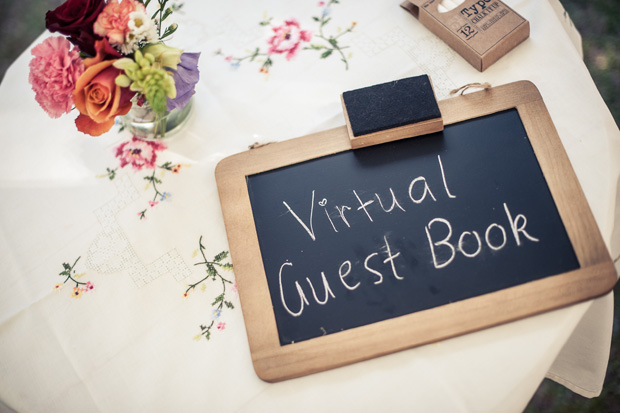 Instead of a photobooth, the couple set up a camera on a tripod in front of a lounge and had guests write a message on a little blackboard to pose for a photo with it.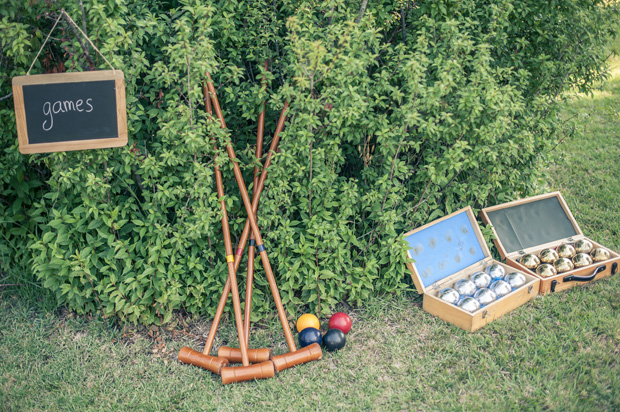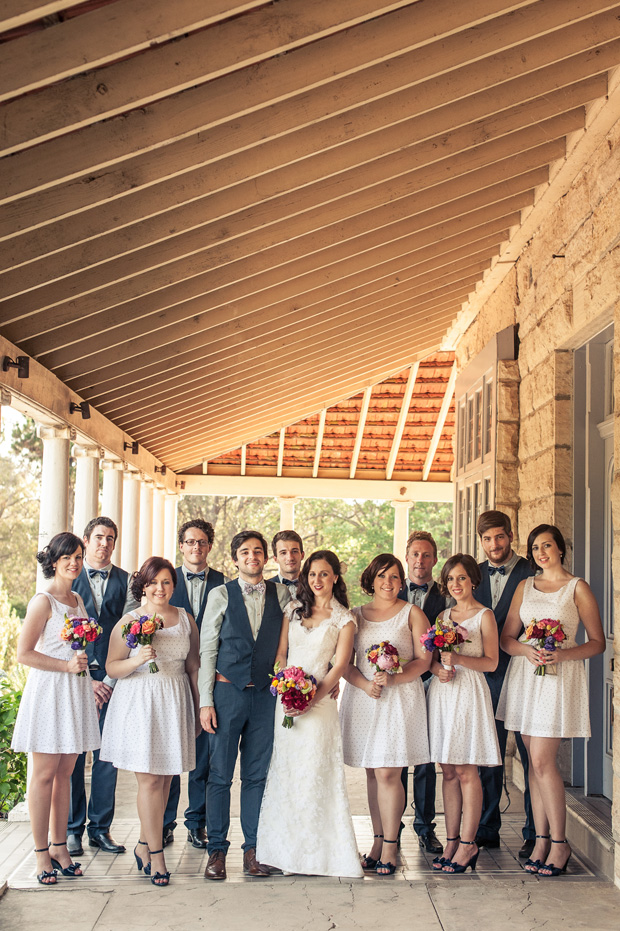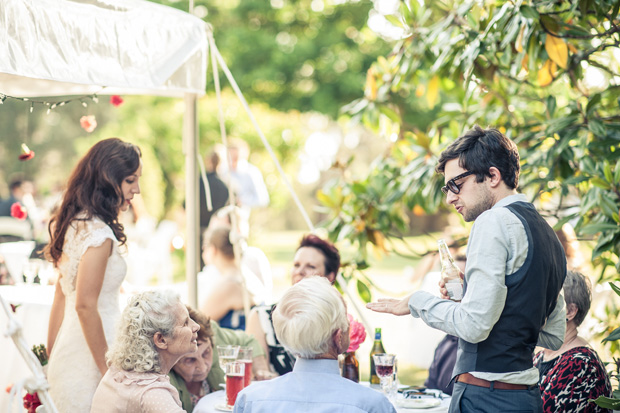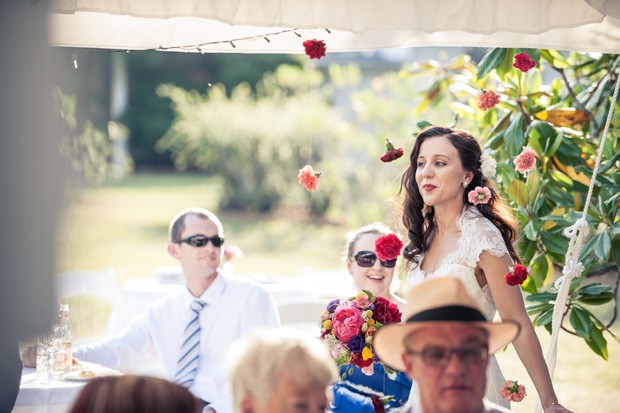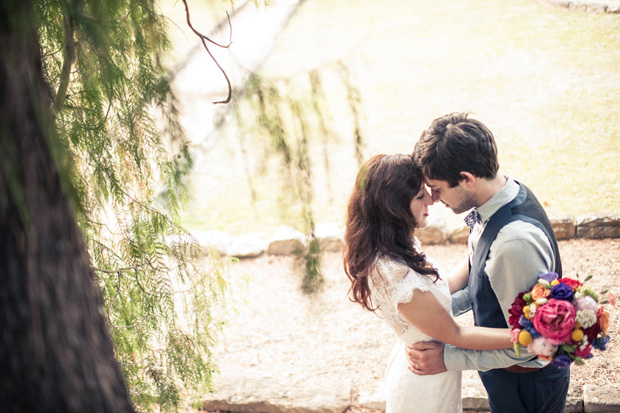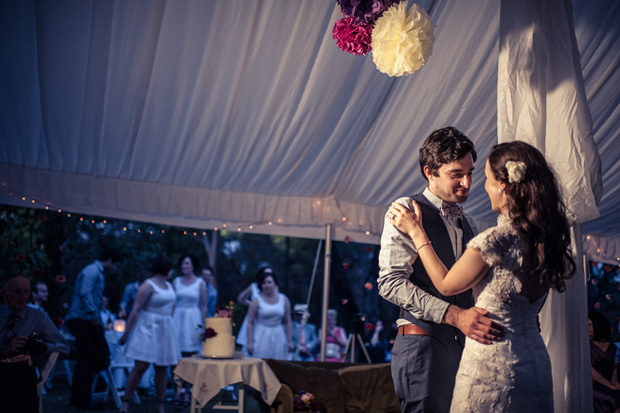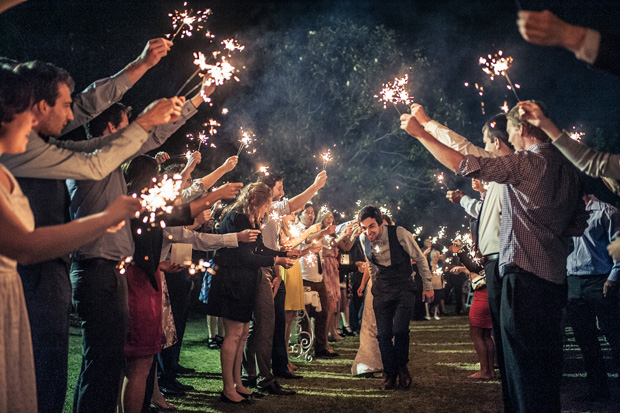 Sarah closes with, "Love sacrificially and be quick to forgive." Beautiful advice.
Photos courtesy of T-One Image.