It's ANZAC Day and to commemorate, I have a very classic and resplendent military wedding to share. Darwin-based Army couple Amanda Pilgrim and Mark Pearson are both members of the Australian Defence Force – Mark is an Army Officer and Amanda is an Exercise Physiologist.
They wed last year in a tasteful and traditional affair, held suitably in the Officers' Mess at the Keswick Army Barracks, in their hometown, Adelaide. "It was very different to the standard reception hall, that's for sure," says photographer, Kim Stevens.
After a traditional Catholic ceremony at Mark's former school, Rostrevor College, the couple arrived at the Officers' Mess to begin their military-inspired celebrations.
Amanda tells, "Mark and I greeted all the guests as they arrived at the reception, who then moved into the anti-room, which is a room in the Officers' Mess with a fireplace and chesterfield chairs. Canapés and champagne were being circulated and the guests started to wonder if we were having a cocktail function as they couldn't see any tables set.
Then our MC, Mark's brother, asked guests to move towards the dining room; at this time a huge red curtain was drawn, revealing the dining table. It was set up in a U-shape, with candelabras, silverware and sparkling glasses. You could hear the wow factor around the room; the revealing of the dining area was a real highlight."
The couple incorporated another tradition of Officers' Mess functions into their celebrations – replacing champagne with port for the bridal toast, adding one of many unique elements to their military-style wedding.
A traditional wedding requires traditional dress and Mark looked to Adelaide formal wear specialists, Jenny & Gerry's Bridal Centre, to hire a timeless morning suit – a black tail coat with grey striped trousers and white waistcoat.
Amanda's colour scheme was formal, wearing a white Ella strapless wedding gown with black waist sash; accessorised with black-and-white drop earrings and a matching necklace and bracelet. Her bridesmaids wore full length black chiffon evening gowns and all three girls stepped into black shoes – which matched – but were really chosen for practical reasons. "I am a practical person," says Amanda, "I wanted to be able to wear the shoes again."
Of her wedding bouquets, Amanda tells, "I wanted lilies however they weren't in season. So I looked up artificial flowers and found Wedding Bunches & Blooms in Walkerville, SA. Everyone commented on my flowers and they photographed really well."
The magnificent grounds of Rostrevor College provided for some meaningful on-campus location photos. Amanda explains, "You can only get married here if you went to Rostrevor" – another individual aspect of this couple's nuptials.
"We  met out the front of Haigh's Chocolates," says Amanda. "It was in Adelaide, June, 2006. I had joined my brother at 4am to watch the Soccoroos play off for a semi-final spot, not knowing at the time, Mark was in the pub next door. Australia won and the celebrations spilled out onto the street. We were both walking up Rundle Street and started talking out the front of Haigh's Chocolates. Mark asked for my phone number and the rest is history!"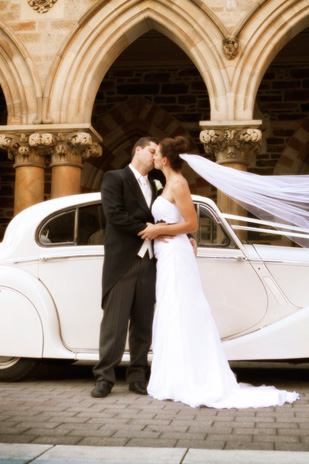 Amanda's mother, Rosemary Pilgrim, made and decorated the couple's elegant black-and-white themed cake. The top layer was homemade fruit cake and the bottom two layers were foam. "We weren't serving the cake for dessert, so who knew!" says the bride.
The dining table in the Officers' Mess was set up as one big U-shape setting, with the bride and groom seated like royalty at the top in full view of their friends and family. Amanda says, "I asked the Mess manager if the room came with any decorations and he said there were some candelabras. What he didn't tell me was that all the traditional silverware was also coming out – silver placemats and silver salt and pepper shakers – very regal!"
Andrew McCrone from Nice Cup of DJ provided the entertainment for the evening, playing music selected by the couple for the bouquet and garter toss, bridal waltz, cutting of the cake and reception farewell. "Every request we had, he was able to fulfill and the next morning he had left us a CD of the hit songs of the night," says Amanda. "It was the perfect touch."
Photos courtesy of Panache Photography.
Featured Suppliers:
Bomboniere: / Brides Gown: Ella from Jenny & Gerry's Bridal Centre / Bridesmaids Dresses: Online / Ceremony Music: Church organist - family friend / Ceremony Venue: Rostrevor College Chapel / Entertainment: Nice Cup of DJ / Flowers: Wedding Bunches & Blooms / Gift Registry: Not Another Toaster / Grooms Attire: Jenny & Gerry's Bridal Centre / Grooms Shoes: Jenny & Gerry's Bridal Centre / Groomsmen Attire: Jenny & Gerry's Bridal Centre / Groomsmen Shoes: Jenny & Gerry's Bridal Centre / Honeymoon: Morocco, Ireland, Greece / Invitations: The Distillery / Reception Venue: Keswick Barracks Officers' Mess / Rings: Gerard McCabe / Transport: Classic Jags / Venue Decor: Classy Candles / Wedding Night Accommodation: Keswick Barracks Officers' Mess