Now this is what I call a vintage wedding. Coralie Zelno and Guissepe Conti, who have made Valentine's Day their own (with their first date, engagement and wedding day all occurring on 14th Feb), held the most authentic vintage country wedding in rural Victoria earlier this year.
With a new house being built, the Melbourne couple were very conscious of budget and when they started looking at reception venues to suit their vintage country style, decided it was all too expensive. And besides, "none of them tugged at the heart-strings," says Coralie.
It was then that Coralie's parents offered to build a veranda onto the stable at their New Gisborn home and host the reception there. Coralie says, "The house was filled with flowers, the trees were lit up with fairy lights, the stable was aglow with candlelight, the vintage music was playing in the background and there was delicious homemade food that rivaled the best restaurants. It was everything we dreamed of."
She adds, "One of the guests commented how authentic the stable looked and my mum laughed and said, "It looks authentic because it's real. Two weeks ago it had a horse in it!""
So sit back and get ready to be transported into yesteryear, with these fabulous images by Epic Photography.
"I tried to avoid the trap of going over budget and buying things I would not use again," explains Coralie. "Years ago people just made do with what they had, so we tried to do the same." The dining table for 18 places was set with china and chairs that Coralie's parents already owned, and the veranda decorated with homemade adornments such as the blackberry jam bomboniere, table runner and wooden sign for the front gate.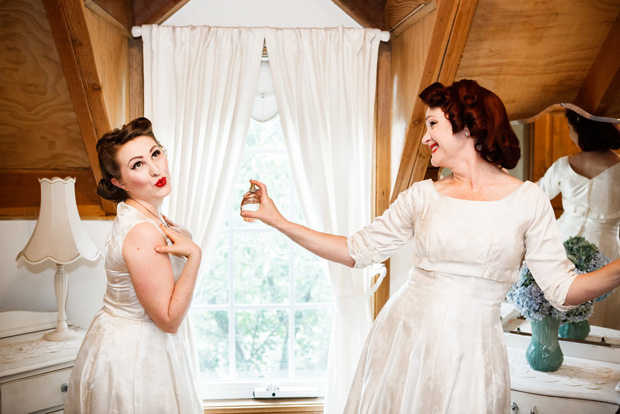 Coralie's vintage wedding gown was from Bell's Belles Vintage in Castlemaine. "We think the dress has had three lives. It was once a 1940s long sleeve wedding gown, was then altered in the 1950s into a bridesmaid dress and then I altered the neckline and bodice the third time," says Coralie. Vintage expert, Nicole, at Circa Vintage in Melbourne performed the professional alterations.
Prunella of Kyneton arranged the lovely country bouquets of old-fashioned blousy roses in soft tones with scent. Coralie says, "For me flowers must smell beautiful as well as look beautiful. My mum was a florist, so growing up the house often had fresh flowers that she had picked from the garden and arranged. The flowers were a very important aspect of the wedding and we had the house full of country blooms."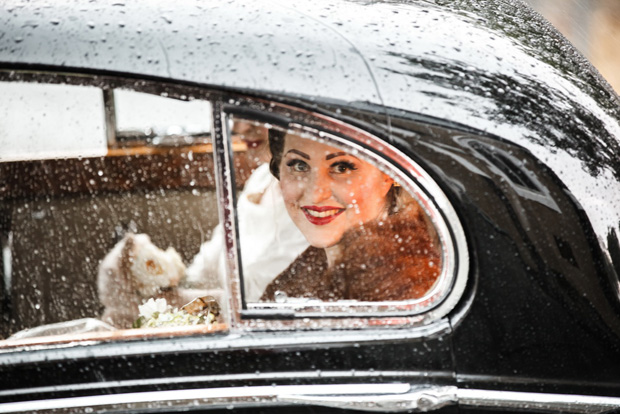 The bride tells, "There was a huge thunderstorm on our wedding day. The thunder was literally booming as I walked down the aisle. When I got to Giussepe's side I said to him, "Don't worry, a little bit of rain isn't going to ruin our day." Even though some things did not turn out as planned, it was like we were untouchable for one day – we were so happy that nothing could rain on our parade."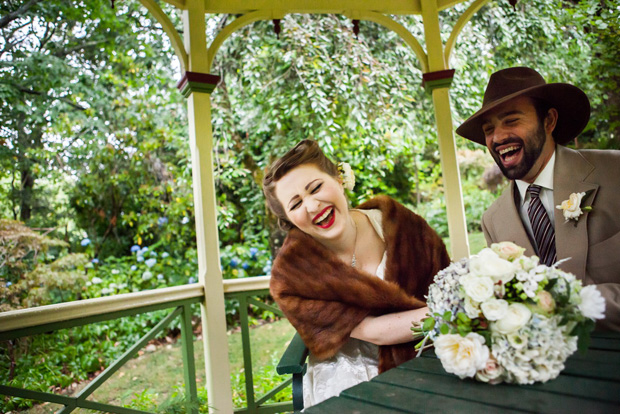 "There were so many special moments at our wedding. The way Giussepe didn't take his eyes off me throughout the ceremony. The way he held my hand throughout the wedding vows. And having a blast doing the garden photography in the rain," says Coralie.
Giussepe wore an early 1960s tan vintage suit with grey suspenders from Circa Vintage. His Humphrey Bogart-inspired hat was handmade locally by Gordon Hat Shoppe. "He looked like the man that he is," says Coralie, "a true gentleman."
"My mum, dad and brother did most of the cooking," explains Coralie. "I baked the cheesecake, gingerbread cookies and some other sweets. Giussepe baked the bread rolls and made his home brew beer, which was a big hit on the night."
Coralie closes with, "Keep it simple, make the most of what you have and remember what is important: it's not about big budgets and fancy dresses, it's the vows you are making and the person you are marrying."
Featured Suppliers:
Bomboniere: Homemade blackberry jam / Brides Accessories: Gift from parents / Brides Gown: Bell's Belles Vintage, Circa Vintage / Bridesmaid Shoes: Alan Pinkus / Bridesmaids Dresses: Bell's Belles Vintage / Ceremony Venue: St Brigid's Catholic Church / Entertainment: Jazz and 50s music / Flowers: Prunella - Kyneton / Grooms Attire: Circa Vintage / Grooms Shoes: Julius Marlow / Hair: Candice DeVille / Honeymoon: Cherokee / Invitations: Handmade by bride and groom / Makeup: Candice De Ville / Photobooth: Homemade / Photographer: Epic Photography / Reception Venue: Bride's parents' home / Rings: French Jewellery Box / Transport: Jag Jaunts / Venue Decor: Homemade
Additional Suppliers: Auburn Wine Cellars, Gordon Hat Shoppe