Women's footwear buyer Alana Hamilton and concreter Robbie Taylor met the old-school way – through a mutual friend – and when Alana learned that Robbie had never seen the chick flick, Grease, invited him over for a cruisy first date on the couch.
Well, he must have loved it (all the cheesy singing and dancing?) because seven years later the Melbourne pair were married in a casual cocktail vineyard wedding at Willow Creek Winery on Victoria's Mornington Peninsula.
Alana tells us about "low-key" Robbie's romantic, surprise proposal. "It was New Year's Eve and I was at work. I asked to leave early and my boss said no because it was too busy. Two hours later he changed his mind so I was all excited and suspicious Robbie might propose that day (he is terrible at keeping secrets). But he had led me astray by saying we were going away with friends.
I walked out of work and there was a limo in the driveway. Being NYE I didn't think anything of it and said to the girl next to me, "Oh who's got the limo?" Next minute a sign went up with my name on it! I literally started squealing and jumping around and the first thing I thought was, I have no clothes with me! Ha ha.
So I got into the limo and the driver wouldn't tell me where we were going! We drove into the city; I was crying and shaking. We pulled up outside the Intercontinental and I walked in to the check-in counter. The lady lifted the telephone and said, "Mr Taylor, Alana is here." I went up to Room 404 (yes I still remember the room number) and there was a bunch of lilies and roses with a card saying kind words and at the bottom it read, "Come in."
But I didn't have a key! So I had to knock and he opened the door laughing, saying, "It wasn't meant to happen this way, I forgot to give you a key!" Then he got down on one knee… it was so amazing yet still quirky and funny which is very true to how we are when we are together."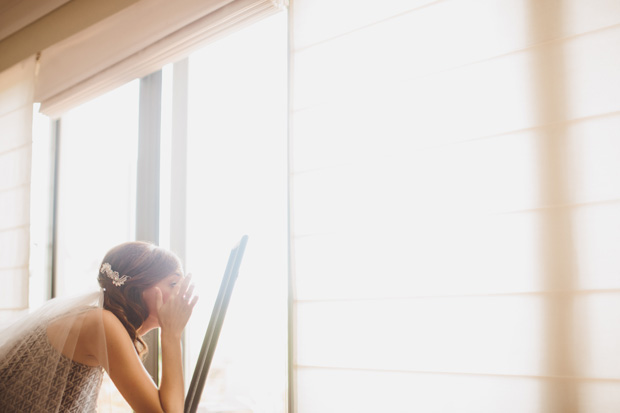 Alana found her dream Maggie Sottero gown from Raffaele Ciuca in Melbourne. "It was the first dress I tried on," she says of the soft flowing chiffon gown with strapless sweetheart neckline.
The civil ceremony was held at Willow Creek Vineyard, with a cocktail reception for 120 guests at the onsite restaurant, Salix. Celebrant, Lin Evans, who is also a friend of the groom, made it all official on the day.
The bridesmaids wore one-shoulder full length chiffon gowns from Swish Clothing, the colour of which "became a laughing matter because every time we were asked, our response was, "a musky, taupey, grey, brown, mauve colour,"" jokes Alana. The sweet flower girl dress was from Forever New.
The boys looked slick in their two-button suits from Tarocash, in ties to co-ordinate with the bridesmaid dresses.
Alana carried a monochrome posy of white peonies and David Austen roses, whilst her bridesmaids' bouquets contrasted in a lovely soft colour palette. "I kept joking I had bouquet envy!" says Alana of the girls' pretty posies.
Alana wore simple and elegant jewellery with her feminine gown; a Swarovski bracelet and earrings, and a hair comb from Imposters.
The couple's wedding cupcakes were made by a friend and "were gone very quickly for dessert!," says the bride.
"Enjoy every moment because it goes so fast!" says Alana. "Everyone says it because it's true. Take a breather and try to just enjoy yourself."
Photos courtesy of Darin Collison Photography.
Featured Suppliers:
Brides Accessories: Imposters / Brides Gown: Maggie Sottero from Raffaele Ciuca / Brides Shoes: Made by a friend / Bridesmaids Accessories: Tilkah / Bridesmaids Dresses: Swish / Celebrant: Lin Evans / Ceremony Music: Carl Russo & Si Van Dam / Ceremony Venue: Willow Creek Vineyard / Entertainment: DJ - friend / Flowergirl Dress: Forever New / Flowers: Hello Blossoms / Grooms Attire: Tarocash / Grooms Shoes: Tarocash / Groomsmen Attire: Tarocash / Groomsmen Shoes: Tarocash / Hair: Silk Hair by Meredie / Honeymoon: Flight Centre / Invitations: Printcess in conjunction with Acardo Invitations / Makeup: Samantha Coles / Pageboy Attire: Bardot Junior / Photographer: Darin Collison Photography / Reception Venue: Salix Restaurant / Rings: Michael Hill and Arman Jewellers / Transport: Hyatt Chauffered Vehicles / Venue Decor: AABCO / Wedding Night Accommodation: Carmens of Sorrento