Should you price your wedding services in a package, or are you better off charging a-la-carte? Wedding industry expert, Alan Berg, weighs in on the best practices for wedding business pricing.
Whether you're running a wedding venue, a floral business, or a car company, deciding what you're going to charge customers is a slippery slope. How can you set yourself apart based on factors other than your price? How can you keep your pricing competitive while also offering a service that gives your clients everything they need? While in the past it was commonplace to charge for each item individually, it's really not the best thing for your customers. They're much more likely to buy when you make it really easy to buy.
American author and wedding industry expert, Alan Berg, has written five books covering the many factors that go into running a successful wedding business. He's worked in the wedding industry for 25+ years and hosts the Wedding Business Solutions podcast, a weekly show on Apple Podcast and YouTube. In our latest chat with Alan, he discussed all the reasons to sell with packages instead of overwhelming your clients with too many choices.
Click here to view our Facebook Live session with Alan about Packages vs. A La Carte wedding business pricing. To join exclusive expert Q&A sessions live as they happen, please join our private Facebook networking group for wedding industry suppliers.
It's easier for you to sell packages
Boiling down everything that you do into just a few key offerings allows your customers to decide in the simplest way possible what they really want from your services. When you make it easier to sell what you do, you make it that much easier for customers to buy the packages you're offering.
The best way to think about it, as Alan explains it, is that you're not just selling a whole bunch of individual services or products. You're selling an entire experience, and the end result of that experience is something pretty spectacular — your customer's dream wedding. The best way to help them visualize what that looks like is to pair together everything you think they need to make that experience feel complete.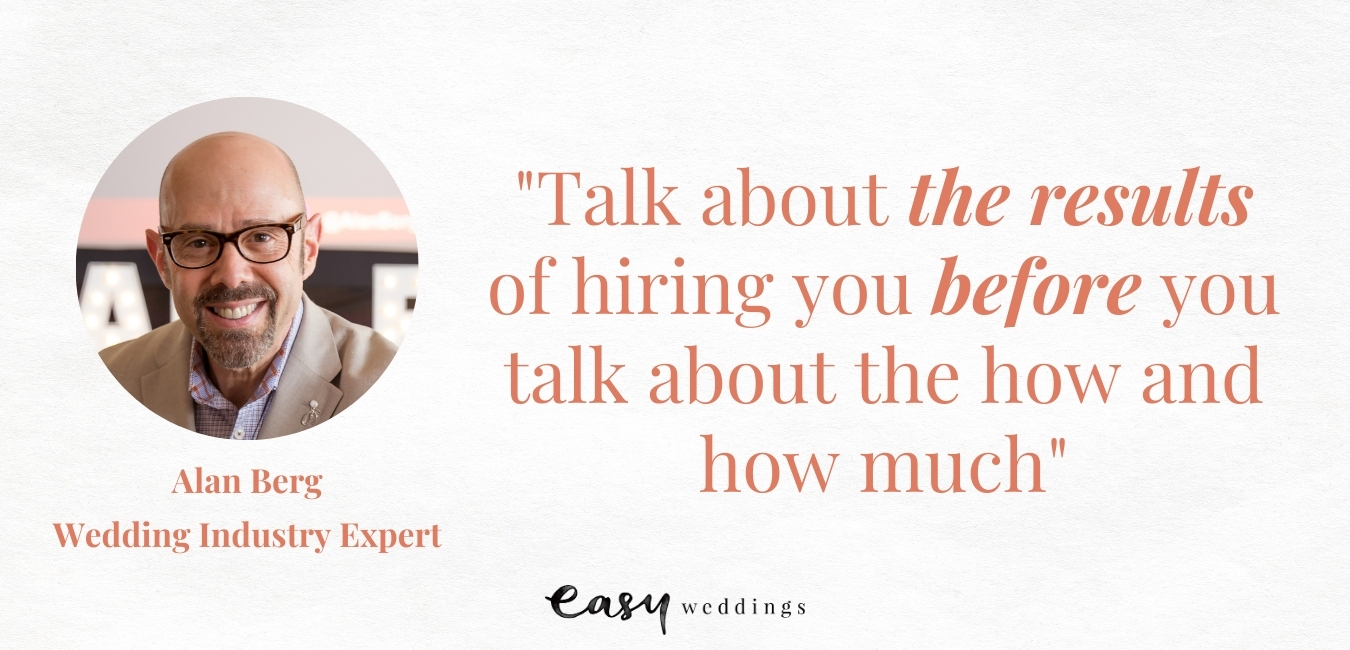 Wedding packages don't prevent customisation
There's a common misnomer that packages prevent customisation, but that's certainly not the case in the wedding industry. As Alan says, "The truth of the matter is that everything you create can still be custom." Practically every service in the wedding industry is custom just by its very nature — floral arrangements are designed with a couple's colour palette in mind, you might use different paper types for invitations, even catering companies tailor the wedding menu to the couple's preferences.
Couples find packages easier to digest
Alan says, "Couples find it easier to start with a package." by giving them fewer choices, there are fewer decisions to make. As suppliers, you can essentially avoid your customers' decision paralysis by giving them just the shortlist, or the curated version, of what you do.
There have been numerous studies about decision paralysis and how it impacts businesses. The best way to encourage your couples to act quickly and pull the trigger on working with you is to present your services in a way that makes it easy for them to make a decision.
Alan encourages suppliers never to forget that your number one job in selling is to make it really easy to buy. When you make it easy to buy, you get the sale before someone else has the opportunity to.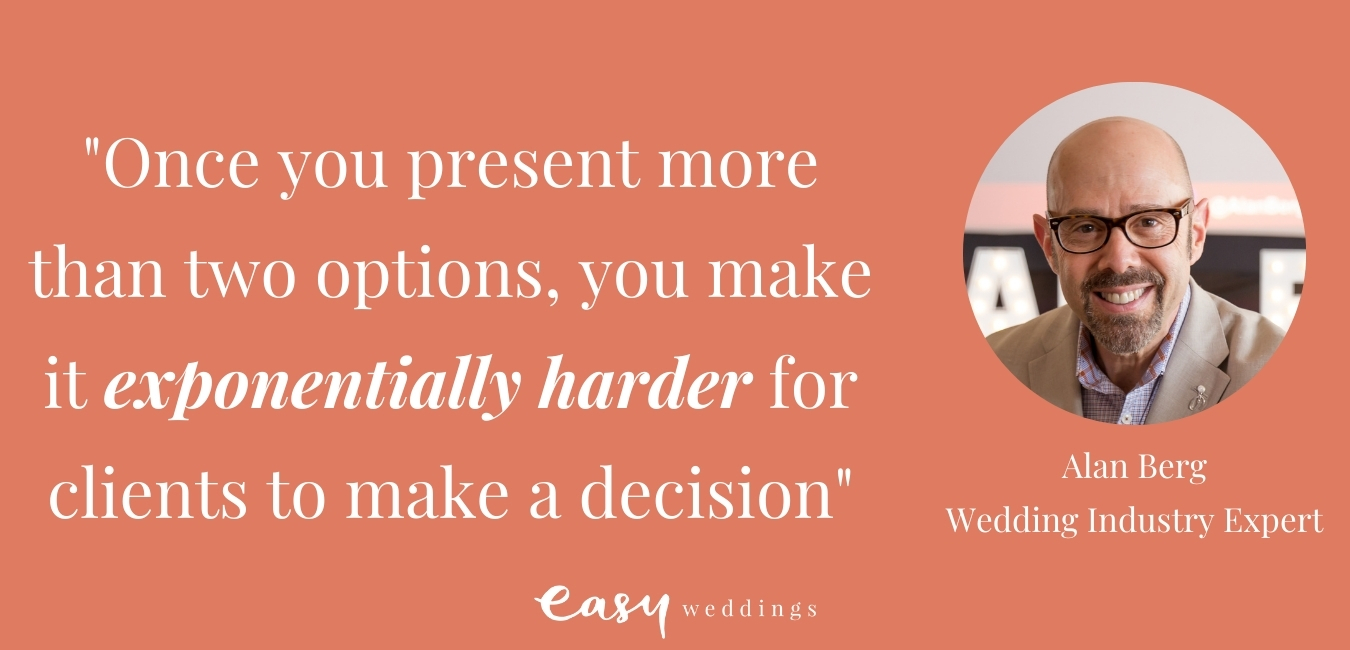 You can include the things you think are the highest value
When you're creating your packages, Alan says to start by looking at what your customers typically purchase and what they tend to group together. Instead of considering them as separate items, group them into packages that show your customers that they'll have everything they need when they book your services. Don't think about what they can tack on later if you consider something as integral to their overall experience working with your company.
"Remember, you can still customise everything and give people flexibility within the packages," says Alan. He says variations are okay, but you want to avoid having your customers miss something that's critical to their experience because you've only offered it as an optional add-on.
Packages allow you to sell the big picture
Alan suggests taking a look at the example of a wedding DJ's pricing. Most couples don't particularly care about the type of sound system or the miscellaneous equipment their DJ includes in the package. They want to be sold the bigger picture of their guests having an amazing time — a packed dancefloor, ambient lighting, a sound system that ensures everyone can hear the speeches.
When you focus on the results of what your clients get when they work with you, you're selling them the experience. You can avoid that icky commodification of saying, "pricing starts at X," which many couples find misleading in the long run.
You can still upsell
Even if your packages include your top sellers, you can still have additional a la carte options that give that little bit of extra service or thrill for your customers. If your business is catering, maybe you give the option of a more high-end wine list for your wine connoisseurs. If your business is floral design, maybe you add the option to deliver thank you flowers for special guests the week after the wedding.
You can always remove things from a package
Something Alan says to keep in mind is that you can always take things out of the package if it doesn't work for a couple's budget. Your packages don't have to be so set in stone that they prevent flexibility.
You can take advantage of the Centre-Stage Effect
The Centre-Stage Effect assumes that most people will choose the middle option when faced with a set of three options. If you keep this in mind when you're planning your packages, it'll help you decide which components are the most important parts of what you do.
Alan recommends presenting no more than three package options to one client. He says you can always have more packages prepared and on file, but more than 3 options are too much to close the sale quickly. He suggests presenting your packages in a way that highlights the middle option, possibly labelling it as the best value package or the most popular package.
---
For more wedding business pricing and customer service tips, speak with our Business Advisors today!
Get more business tips