Responding to enquiries is a basic part of any business. A couple gets in touch with us to ask about our services and we respond in the channel that they approach us in. But what happens when we receive that enquiry over SMS?
There's no denying that more and more couples are using their mobile phones to plan their wedding. As they do, so many more couples will also choose to send a text message rather than call or send an email. In fact, 75% of millennials would rather text than answer a phone call!
So how do we alter our current ways of responding to make them more SMS friendly?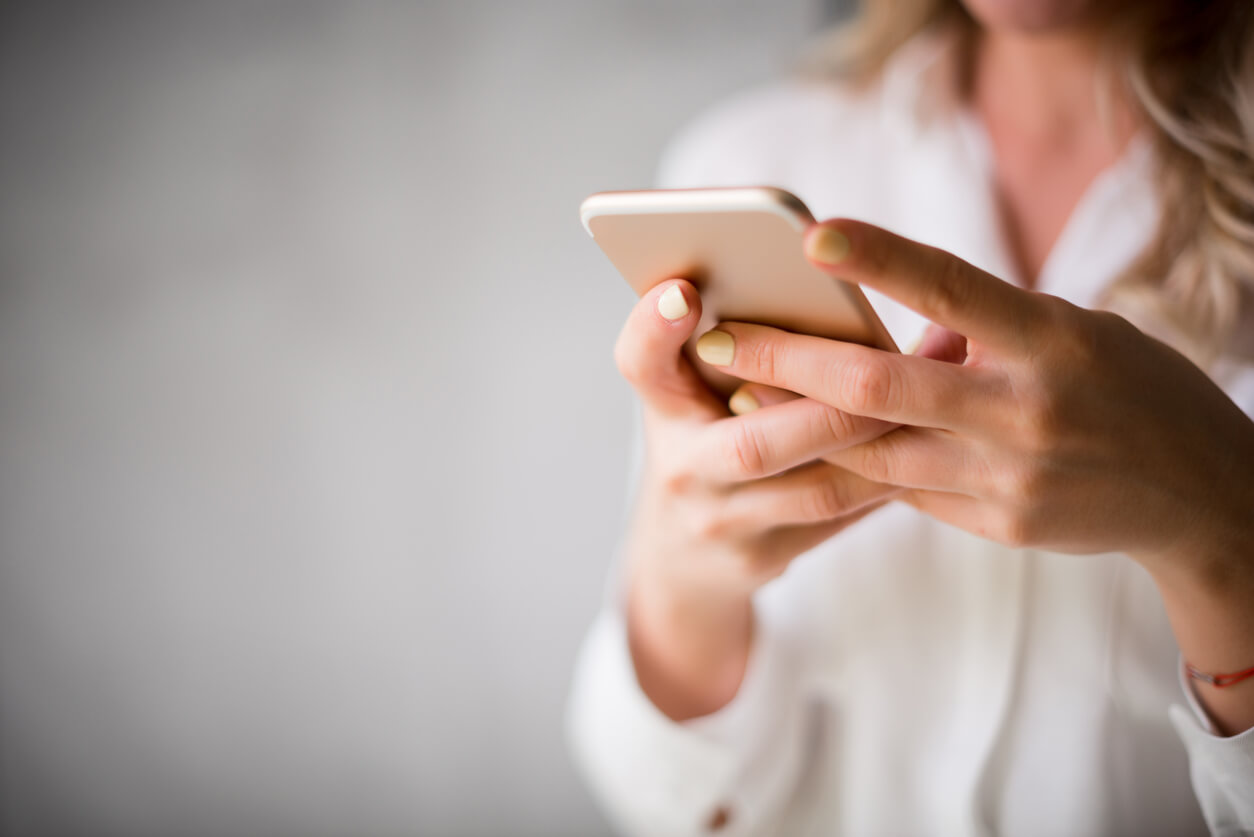 Why SMS enquiries matter
To know how to respond to an SMS enquiry we should first look at why we should be responding to them. SMS enquiries are just as qualified as any other lead. The only difference is the channel of preference the couple has chosen.
90% of text messages are opened within three minutes of being received. They also have a conversion rate of 45%. Which means your SMS response doesn't just have a higher chance of being opened, but you also have a higher chance of converting that lead.
The benefits of SMS enquiries are many. You can be more succinct and get your message across more clearly. You still have a written record of everything that is said and can review it before you press send. Many couples prefer using it. And you're also being given direct access to one of the most personal items a couple owns; their mobile phone.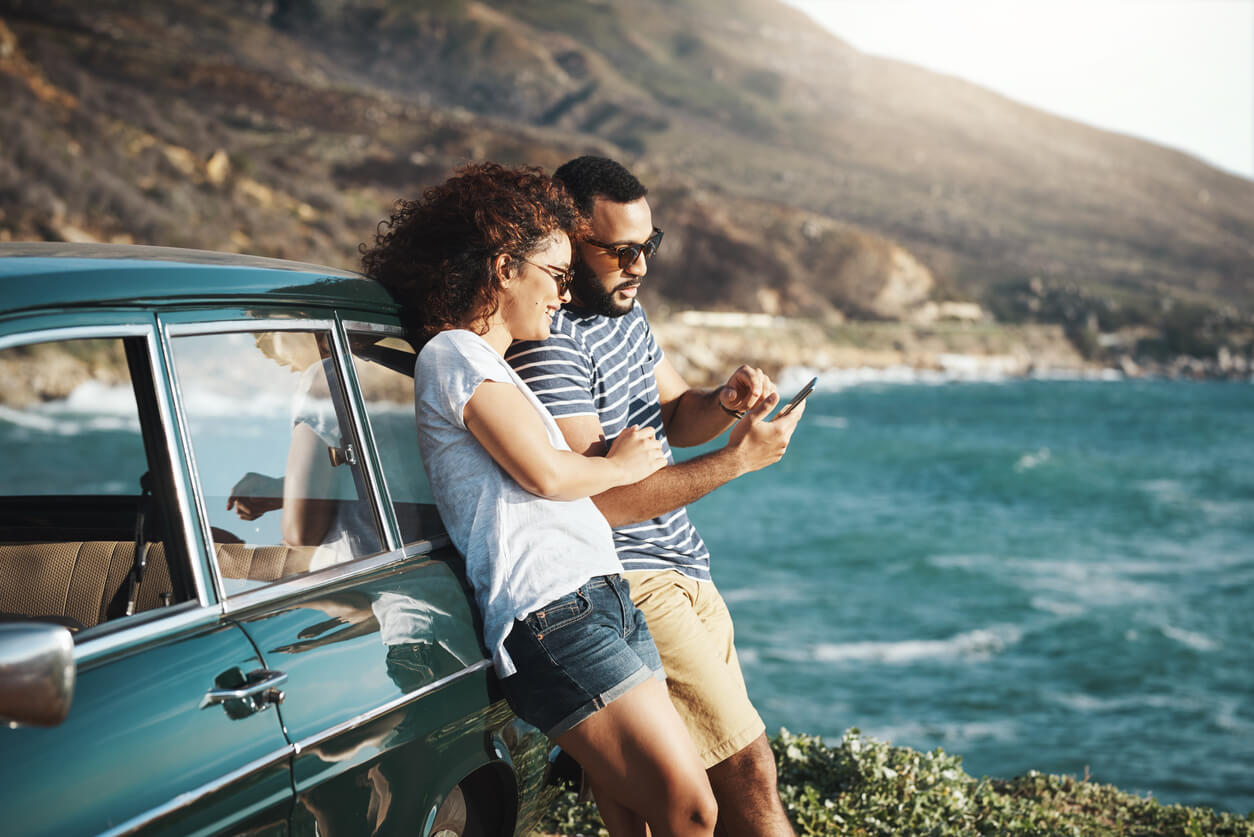 Tips for responding to SMS enquiries
Keep your response short
Text messages are designed to be short, so shorter responses will work in your favour. Many mobile devices will split a message if it's over 160 characters which means your conversation could come through fragmented.
Shorter messages are also ideal to get the attention of the couple. If an SMS is short enough that it only takes up one section of their phone screen and they can read it no matter what they're doing, it's less likely to be ignored.
So how do we actually shorten those messages? One trick is to respond to the text and then look at what you can take out of that response before you press send. You may notice that you can take certain words out of the SMS without diluting your own message.
Start a conversation
Another way is to initiate a back-and-forth conversation with the couple. Asking them a yes or no question in a single message won't just give them a shorter response. It will also give them a reason to continue getting back to you.
For instance, if a couple asks a photographer about their packages and prices ask them more about what they want. You can tell them you have different package options available and ask how long they're thinking of having their photographer for.
This doesn't have to stray too far from what you would usually respond with, rather than splitting up the details. Sending a number of shorter messages with a quick response rate will work better to build a connection and conversation with a couple.
See how you would usually respond to an enquiry and split this up into short messages with questions so you're ready when an enquiry does come through via SMS.
Avoid multiple messages
We've already mentioned that some mobiles will split an SMS message. So not only do you want to keep your SMS under those 160 characters, but you also want to avoid sending a barrage of texts adding extra information to what you've written.
Avoid sending your message as a chain of texts like this: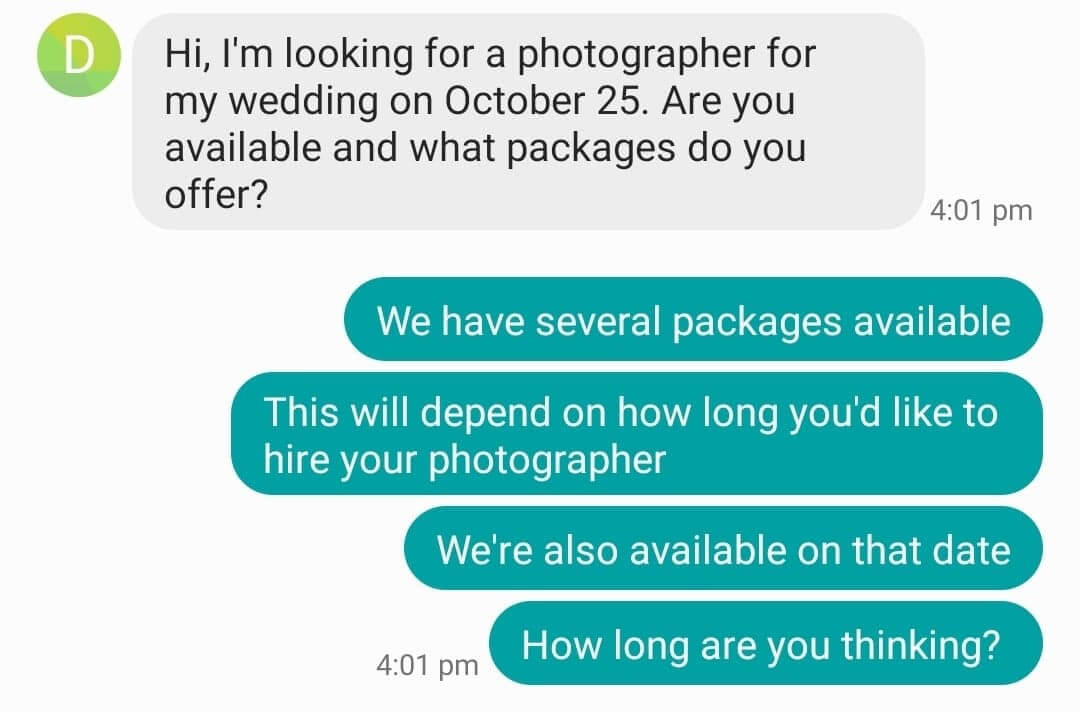 Not only is this disjointed, but it's also a good way to annoy a potential client with all the notifications! Instead, bring your points together to fit them into the one message under your character limit: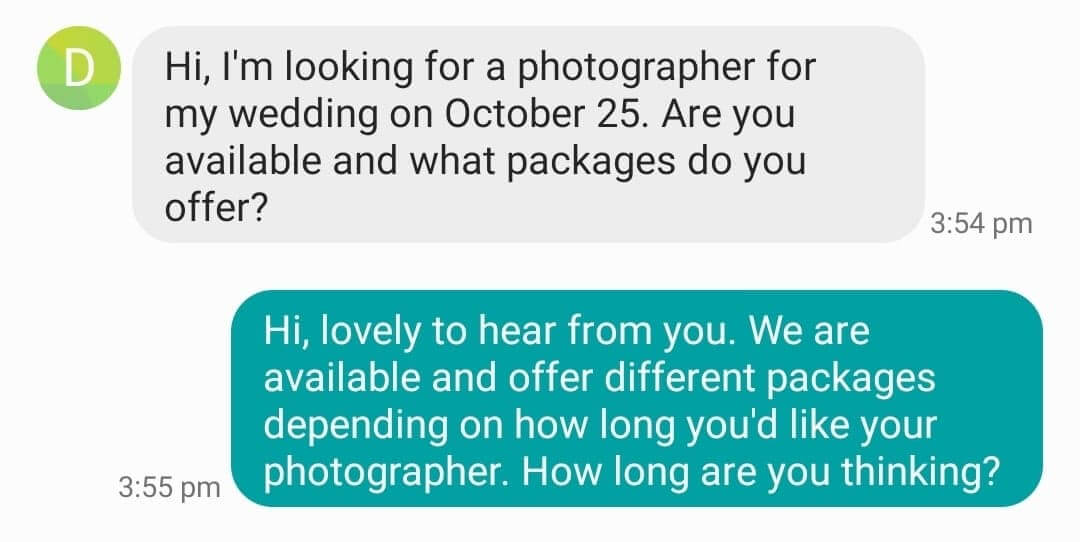 Be mindful of timing
Like phone calls, be mindful of when you are responding to text messages. SMS enquiries can naturally be more casual but there is still a level of when you should or shouldn't be responding.
Even if a couple is enquiring with you late at night give yourself a limit of how late is too late to respond. If you send an immediate response you may be able to get away with a late message. However, leave it for the next morning you haven't seen it straight away.
Finish with a low commitment question to direct them to your preferred closing channel
We don't expect you to start closing sales through SMS overnight. But text messages can be an extremely useful tool to start a conversation with a couple and get them to the point of a qualified phone call or meeting.
Couples will find it easier to start committing to something when they have an A or B answer in front of them, rather than a decision they have to think about themselves.
Which of the following would you find easier to respond to?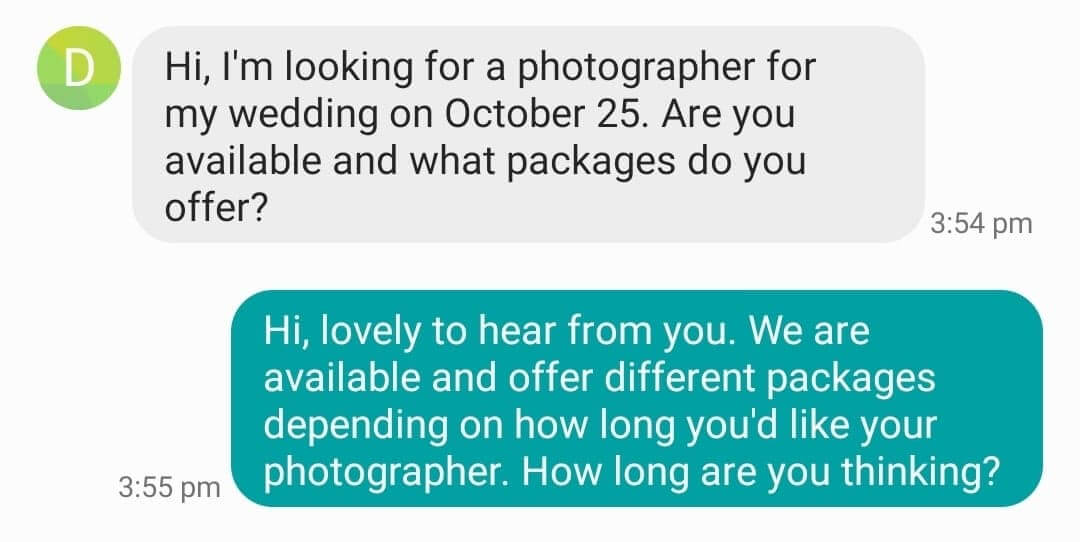 Or would you find this easier to respond to?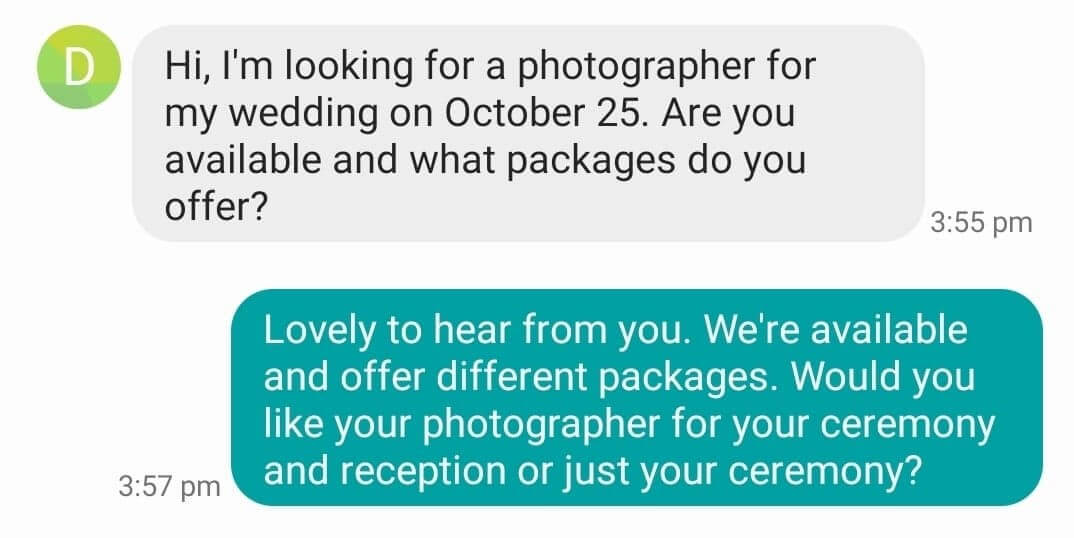 Giving a couple the potential answer in the question will help them make a decision and build their trust in you. You can then build on these answers to direct them to the channel you feel most comfortable closing a sale in.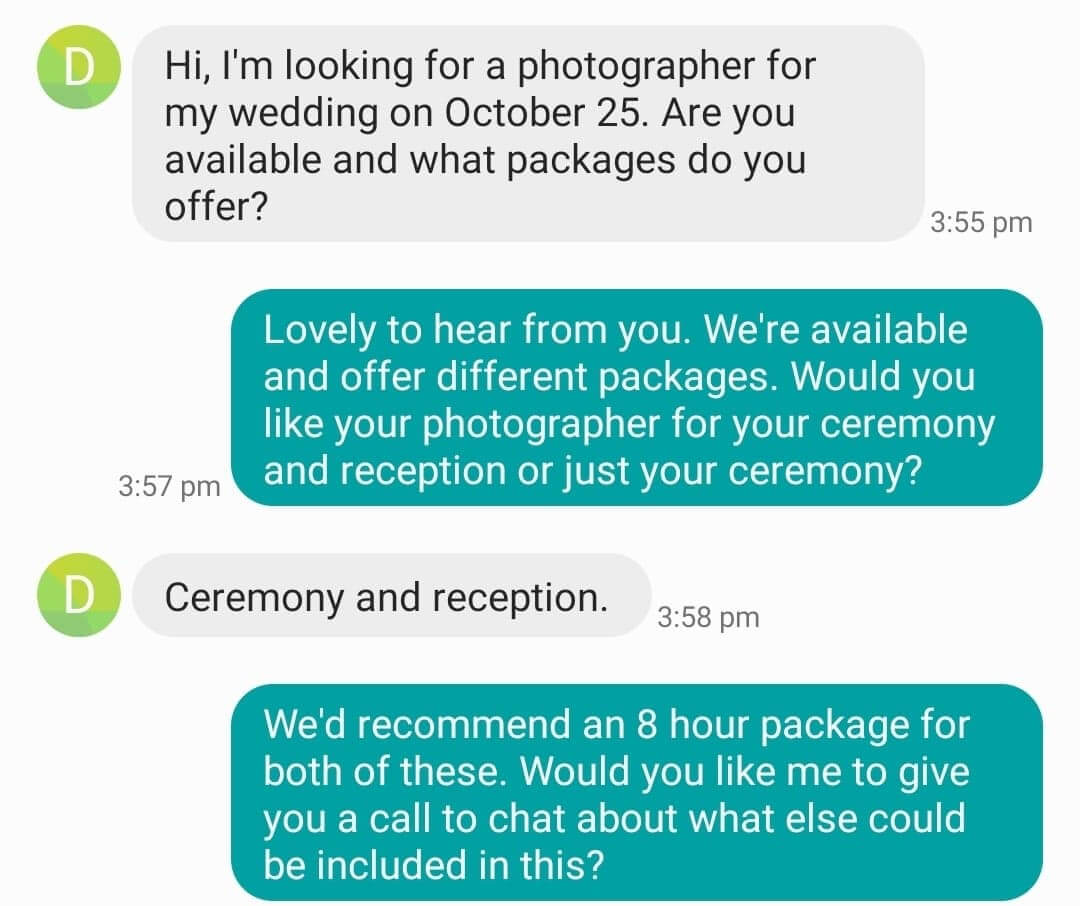 Remember, if you don't think the couple is ready to direct off SMS yet ask them another lower commitment question and continue that conversation.