The annual competition has found its 2019 winners.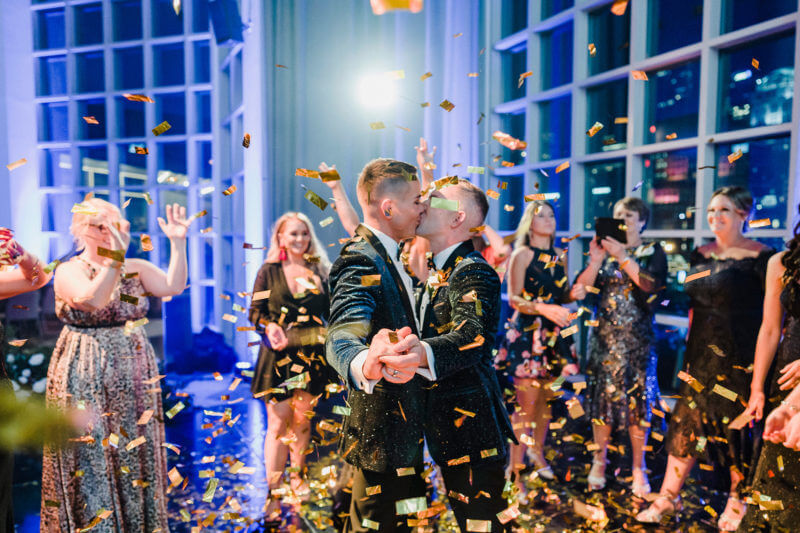 14 February, 2020: The 2019 Wedding of the Year has been announced on the most romantic day of the year, and it's an Australian first.
Daniel and Michael from Melbourne have become the first same-sex couple in Australia to be given the title of Wedding of the Year. Their big day beat out 11 other couples in the final stages of voting and campaigning.
"It feels pretty amazing to be the first same-sex couple to take the crown for a wedding of the year prize," Daniel says.
"No other same-sex marriage globally has been recognised for this type of award and we think it's such a brilliant way to break down misconceptions and stereotypes around what a traditional wedding should look like."
The couple doesn't just win the title of Australia's best wedding in 2019. They'll also be heading on an all-inclusive honeymoon to the Maldives thanks to Heritance Aarah and Easy Weddings.
Daniel and Michael's wedding was held at Metropolis Events in Southbank. Their big day hosted a stunning abstract floral arbour, fireworks and lots of confetti. Corey Wright Photographer captured everything perfectly and they even had Real Housewives of Melbourne's Gina Liano as their celebrant.
"One thing we always promised each other was that we were going to do our wedding our way. We wanted to treat our guests, as our way of saying thank you for the many years of love, support and friendship."
The announcement marks a first for Australia which has only recognised same-sex marriages since December 2017. According to the most recent stats from the Australian Bureau of Statistics, same-sex weddings made up 5.5% of marriages in Australia in 2018.
"We were hesitant to share our story initially, but we have been so overwhelmed with the public support. It has been amazing," says Daniel.
"We've received so many amazing messages of support. From 'to be couples', parents of gay
children and people who might have been on the fence about same-sex marriage."
"It's truly been an amazing journey, and we feel we have made a real difference by sharing our story."
ENDS 
Media contact
For interviews with the winning couple and more images please contact:
Elise James
Easy Weddings
media@easyweddings.com.au
About the Wedding of the Year competition
The Wedding of the Year prize is announced on Valentine's Day every year by Easy Weddings, Australia's largest wedding website and directory. A selection of 12 nominees are decided every month and the winner of each month receives the highest number of votes.
The winners of each month then go into the final round for the Wedding of the Year prize where the winner is decided on a combination of votes and campaigning.
This year's prize is a 6 nights all-inclusive accommodation package at one of the Maldives' newest luxury resorts, Heritance Aarah. The couple will receive 6 nights in an ocean villa with a plunge pool, 24-hour butler service, all meals and beverages (including alcohol), a complimentary introduction dive and return airport transfers by seaplane. They'll also receive $2,500 cash from Easy Weddings to put towards flights and other travel expenses.
Easy Weddings is Australia's number one wedding website and the largest resource for couples planning their wedding in Australia.
All images of Daniel and Michael's wedding should be credited to Corey Wright.
Video courtesy of TRUE STORY Wedding Films.