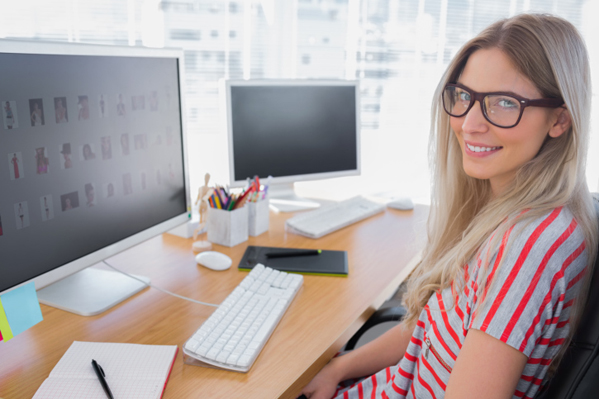 Graphics play an important role in your business and in many ways they help define your business' image.
They also play a pivotal role in the message you want to put across.
Most small business owners don't create graphics themselves but have to hire a graphics designer, but how to find the right one?
Before we discuss tips for choosing a graphics designer, we need to briefly consider what a graphics designer is in today's world, one where most every business has a website.
In addition, the Internet has evolved and become very graphical. What would a website be without graphics? How would you have a Facebook page without business? How would you create business cards without a graphic designer? Of course, there are plenty of generic ways of having your business graphics done, but you can't beat the personal touch!
The phenomenal growth of the Internet has changed the roles of web developers and graphic designers.
Sometimes your web developer is your graphics designer or your web developer will work closely with a graphics designer. So, you can find someone who just does graphics design or someone who is more of an all-rounder and does web development as well as graphics design.
Now that we have that out the way let's move on to the 10 tips for selecting a graphics designer.
1.      Understand your requirements
What is your project about? Do you need graphics for your website or for print? Is it a small once-off project such as logo design or is it a bigger scale project?  Do you already know what you want and just need someone to produce it? Or do you need to find a designer with creative flair to come up with a unique and inspirational design?
Understanding your project requirements is the key to finding the right designer for the job. For example if you already have a logo and just need someone to integrate it on your website, your designer/developer will probably do. However, if you need to create a new design you will want to find a designer with creative skills.
2.      Location
In our connected world it is not unusual to work with someone who is on the other side of the word.
In fact, this is a growing trend as it gives you as a client a greater selection of people to choose from.  So, you have to ask yourself the question: Is your project a once-off task or are you looking for a designer to do long-term work?
Are you comfortable working with someone you have never met or are you the kind of person who has to meet face to face?
For a small once off project such as a logo design, it probably does not matter where the designer is located. If you require regular creative design work that requires regular meetings, team work and inspiration then it may be better to consider someone local.
3.      Cost
As a small business owner you always have to consider cost.
Can you afford a large agency or should you, perhaps, find a freelancer?
First you should have some idea regarding the amount you are prepared to pay for your design project.
Then you should get at least 3 quotes and compare them. This will also give you a good indication if your budget is realistic or not.
Nobody wants to pay too much but at the same time the cheapest offer is not always the best one.
Cost is an important consideration and should be part of the decision process, but it should not be the only deciding factor.
4.      Design and production
How good is your graphics designer?
Graphics design is somewhat subjective and what might impress one person may not impress another.
There are two important considerations here. One is design flare and the other is production.
If you already know what you want then it is more a matter of production. Some designers specialise more in the production of graphics whereas others are better on the creative side.
If you are looking for creativity you want to find a designer who is more artistic. If you already have a template or mock-up then you simply need someone who can make the graphic.
5.      Finding a designer
There are many places or ways to find a good graphics designer.
It could simply be by referral or word of mouth. Maybe your web developer already knows a designer.
This is often a good approach for basic web graphics. Since your web developer already knows and trusts the designer it saves you the hassles of trying to find one. This way the developer also takes some responsibility that the designer is suitable for the project at hand.
There are also many online places to find designers including job sites, freelance sites and so on. Of course you can also just Google a graphics designer.
There are also many digital agencies that employ designers. If you want to work more directly with a designer, you could find a freelancer on one of the job sites. If you prefer dealing with a company you could consider contacting one of the digital agencies but they tend to be much more expensive than freelancers.
6.      Reviews
Reviews are a good way to judge the ability of a potential designer.
This is especially true for freelance designers who work on job sites. All freelance sites have a review or feedback system. You would not want to choose a freelancer with too many bad reviews.
Reviews are not only about quality of work but also cover things such as communication, reliability and so on. You may have a great designer but is does not help much if the designer is unreliable.
If you are not using somebody from a job site you should ask the candidate for testimonials or referrals.
7.      Portfolio
Any serious designer will have a portfolio of current and past work.
You should check his or her portfolio and see if you like the designer's work.
8.      Mock-ups
Most designers will be willing to provide you with a mock-up of your small design project.
For example a potential designer could provide you with a mock-up of your logo, webpage or flyer.
This way you will get a reasonable feel for the designers skill and ability but they will likely charge you for it, of course.
9.      Equipment
In today's high-tech world, you want to deal with a designer that has the latest equipment or at least the equipment you need to do a job.
If, for example, your designer is also your web developer, you want to know that he or she has access to all the mainstream devices in order to properly test and check that your project works across these devices.
Similarly, if your designer is someone who works in physical media rather than digitally, you'll need to ensure they can get you projects digitally.
10.  Communication
Good and clear communication is vital in all projects and you will want to work with a designer that understands your requirements.
This avoids miscommunication and disappointment on both ends.