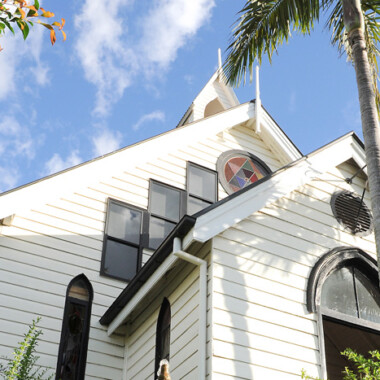 Broadway Chapel
Shelter Available: Yes
Fees: $790+ GST
Address: 49 Broadway Street, Woolloongabba Queensland, 4102, 49 Broadway Street, Woolloongabba Queensland, 4102, QLD
Image Credit:
Broadway Chapel
The Broadway Chapel wedding venue is Brisbane's only inner-city non-denominational chapel. It's available to all couples for both civil and religious ceremonies. The heritage-listed chapel is set amongst beautiful trees and gardens, with an extensive sandstone terrace, perfect for guests to mingle and host photos. The Chapel gardens also include a courtyardpaved with granite, a water fountain and an area for wedding car parking.
Broadway Chapel is ideal for couples who are hosting up to 150 guests. The renovated wedding venue is ideal for all couples at all times of the year, as it provides air-conditioned comfort, as well as wheelchair access and plenty of street parking. All ceremony packages at Broadway Chapel include pew decorations, chapel flowers, use of the in-house stereo system and a complimentary rehearsal prior to your wedding day. Additionally, the Broadway Chapel allows couples to fully personalize their day, with the option to provide their own celebrant or officiant, as well as musicians and decorations, at no extra cost.
Additionally, if you're looking for a venue with a real edge, then Broadway Chapel can offer you something truly unique – the ability to stream your wedding ceremony to family and friends in HD! You can have a copy to keep forever.
If you are concerned about the unforeseen issues that come with planning a park or garden wedding, like unpredictable weather or privacy, then Broadway Chapel is the ideal alternative for your wedding day.