Every wedding day is different because every couple is different.If you are busy planning your big event, you will no doubt have some ideas already in your mind as to what is important to get right on your day. If you know what sort of vibe you want, but haven't settled on where to go, here are some reasons why you should choose a winery wedding venue in Melbourne: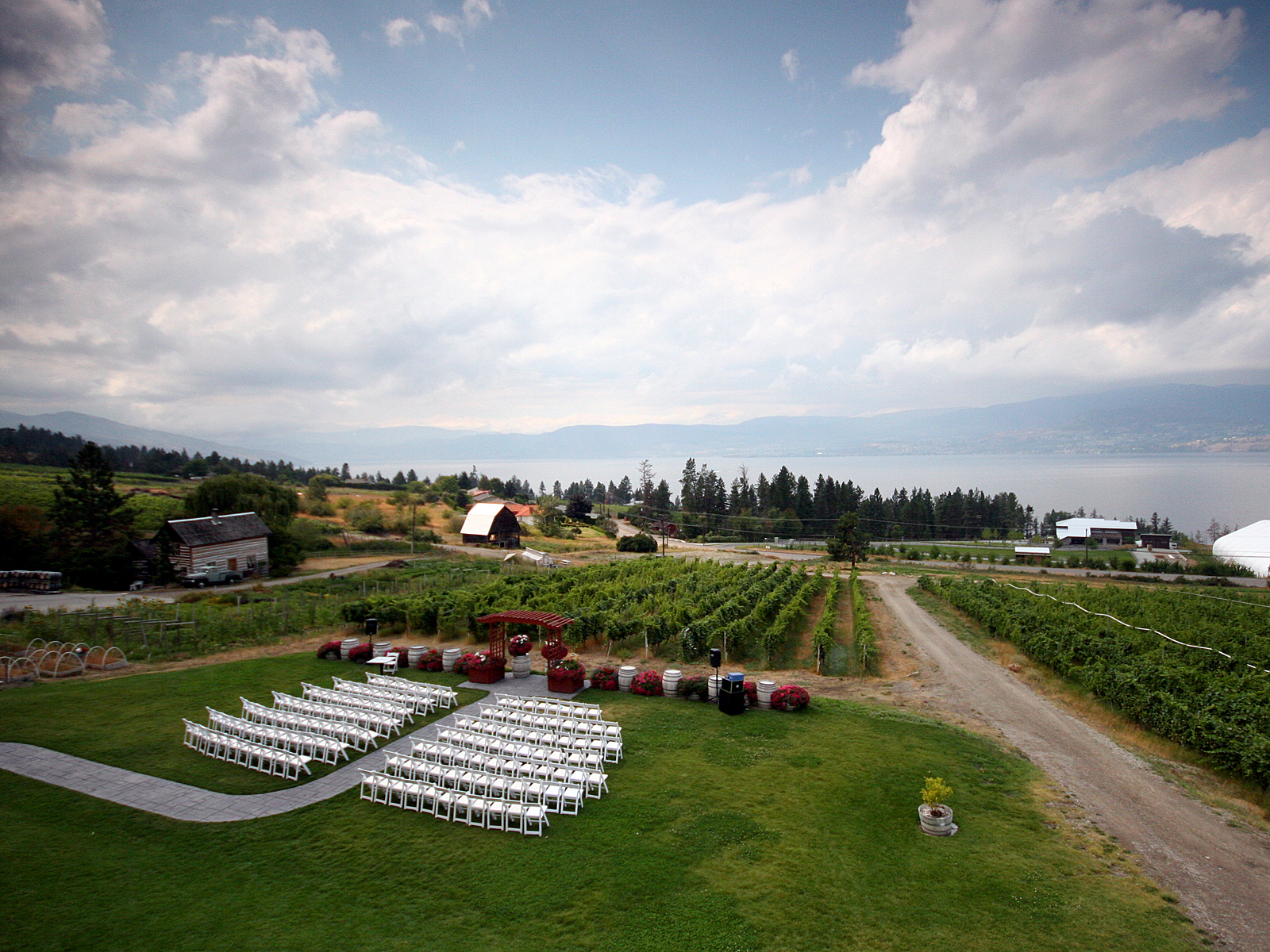 What do wineries get right?
The food and drink
Wineries are a foodie's delight. As their bread and butter (they don't really give you just bread and butter), their wine is the reason they are successful, so the drinks at your reception will be beyond compare. Most wineries will dedicate themselves to presenting local produce, and whether you go with sit down meals or the cocktail style of share plates, you are guaranteed to get something high quality. With wineries, food never feels mass produced, and your guests experience care and pride in every dish.
The wedding planner
Melbourne's wineries have made an industry out of throwing incomparable wedding events, and this is because of their talented wedding planners. Every winery worth its salt will have a dedicated coordinator in staff whose whole mission is to create your ideal day. With their knowledge of the best food and drink and spots on the property that make for the most distinctive photo shoots, you are assured they will recommend only the best for you. Their matchless understanding of how to keep the reception running smoothly is something you will wonder how you ever did without.
The photo opportunities
Vineyards offer an exceptional view through every season. The rows of vines are lush green in spring and summer, and then highlight autumns best colours through the cooler months. Even if bare, they can be captured in a fairytale light in which you are the central character.
Often supported by historic buildings and distinctive cellars as backdrops, you will capture a truly Australian look in your shots.
The unique experience for your guests
Wineries are in a class all by themselves. While you are busy getting married, your guests will be treated to the celebration of their year in an exclusive ambience that can only be provided by a vineyard setting. Most offer cellar door tastings in between the ceremony and reception, many also provide accommodation so your guests can make a whole festival of your day. With an all in one location, your guests can wander through your wedding like the villagers out of a Jane Austen novel.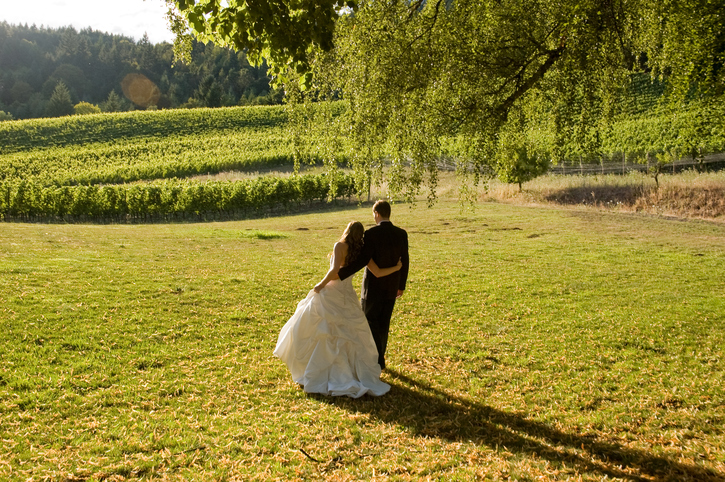 Our editor's picks for winery wedding venues in the Melbourne area:
Balgownie Estate Vineyard Resort and Spa
At Balgownie, you will be treated to a luxury without equal. With exceptional accommodation, supported by the spa treatments to get you ready before and help you wind down after, your big day is assured to be spectacular. At Balgownie, you will be inspired by the idyllic landscape of the Yarra Valley to paint the picture of your wedding day as you envisioned it would be. This venue will turn your perfect day into the ultimate wedding experience.

Witchmount Estate Function and Convention Centre
This award-winning venue with the mystical name is a renowned winery just twenty minutes from the CBD. Crowned by a rustic blue stone function centre and surrounded by rambling vineyards, this is an incredibly unique location to get married in Melbourne. You can choose from a ceremony in the courtyard with waterfall feature, the quaint gazebo, or even a marquee in the middle of the vines for a multitude of picturesque photos on your day.
Vue on Halcyon
For an all-inclusive and contemporary wedding venue, you must inquire at Vue on Halcyon, on Melbourne's outskirts. Providing boutique tailored services against a background on rolling hills, this place gives a wonderful modern feel to a historic region. Described as where nature meets romance, if you are wanting your day to be tailored exactly to your needs, then see what the expert team at the Estate can do for you.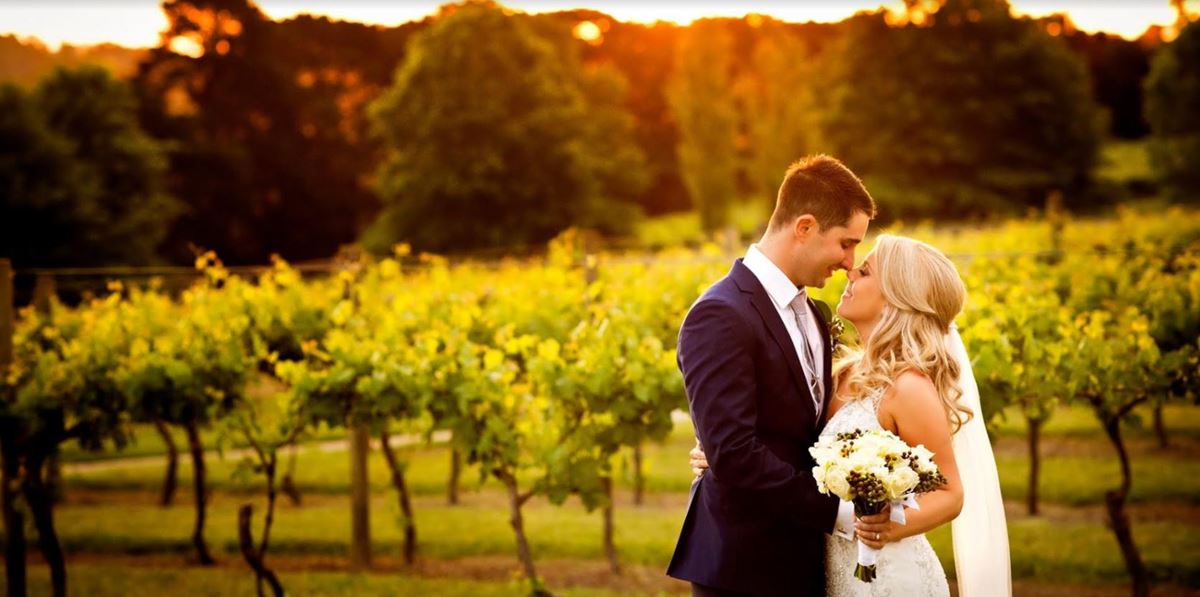 Goona Warra Vineyard
Couples don't often naturally think of Melbourne's west as housing some of its most beautiful wineries, but there is a hidden gem here in Goona Warra. Spectacular, elegant and unique, with a variety of dining packages to suit all celebration types, this place is easy to access yet transports you to another time.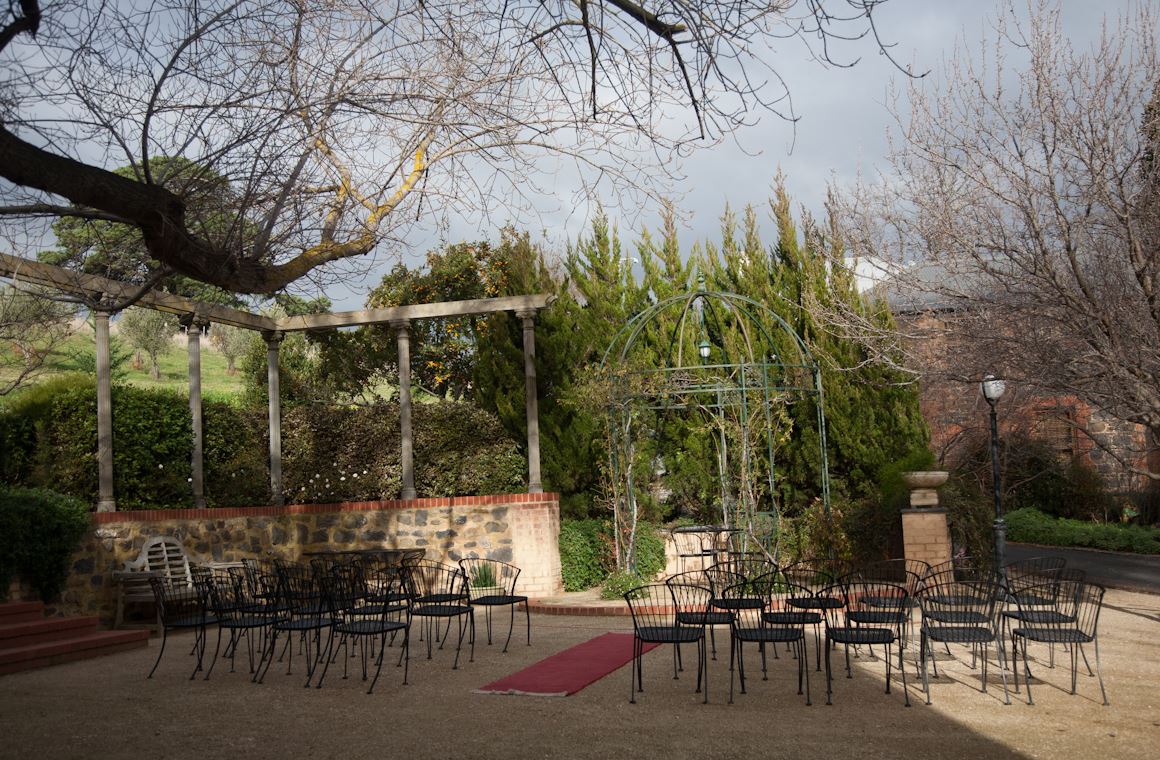 Grange Cleveland Winery
A jewel of the Macedon Ranges, Cleveland Winery offers a rural wedding experience just outside the hustle and bustle of the city. This reception venue is situated on a wide expanse of rustic farmland and vineyard and features an 1887 historic homestead. A wedding here offers breathtaking panoramic views of the vines, cottage gardens, lake and surrounding ranges. With a variety of packages to choose from, including an Underground Cellar Pre Ceremony Wine Tasting experience to a grand formal affair in the Great Room.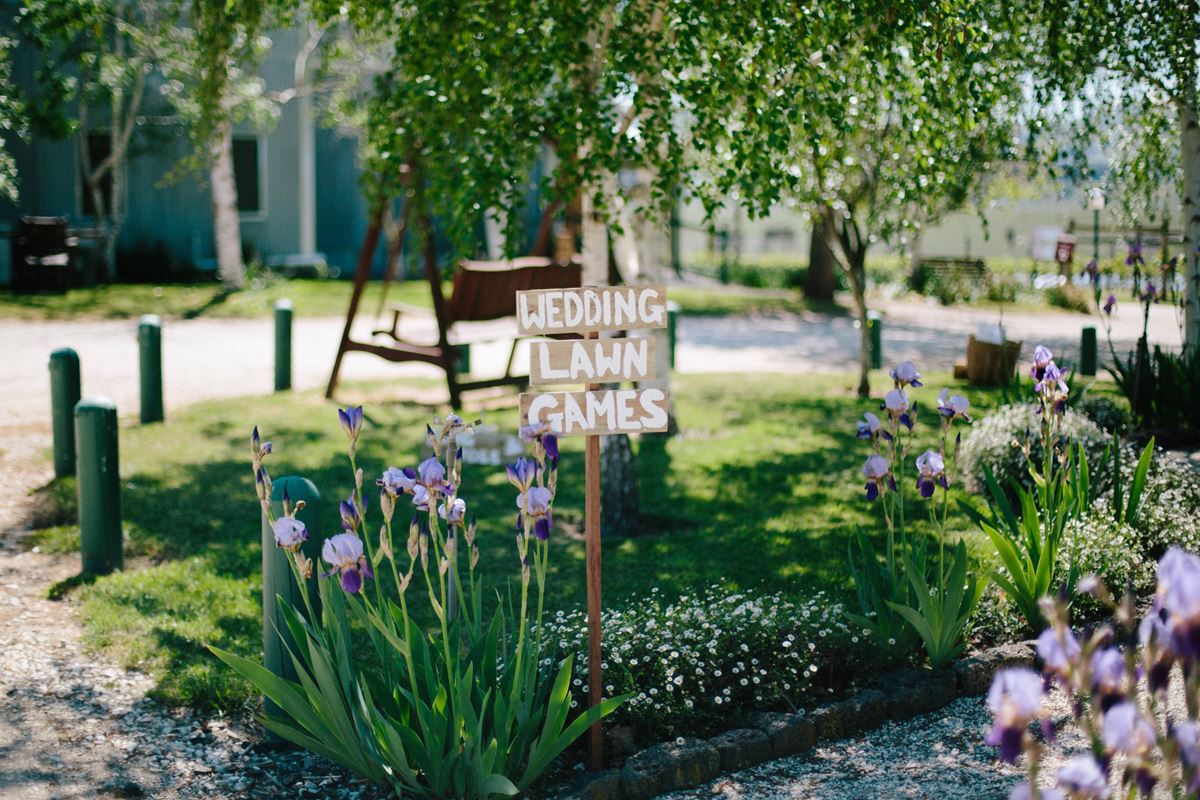 Shadowfax Winery
Located in Melbourne's southwestern suburb of Werribee, Shadowfax is a distinctive location for your big day and the perfect venue for more intimate and informal celebrations. Their chef has a love for wood fire cooking and incredible knowledge of the local produce and can tailor a menu to your liking, partnered with Shadowfax wonderful range of wines.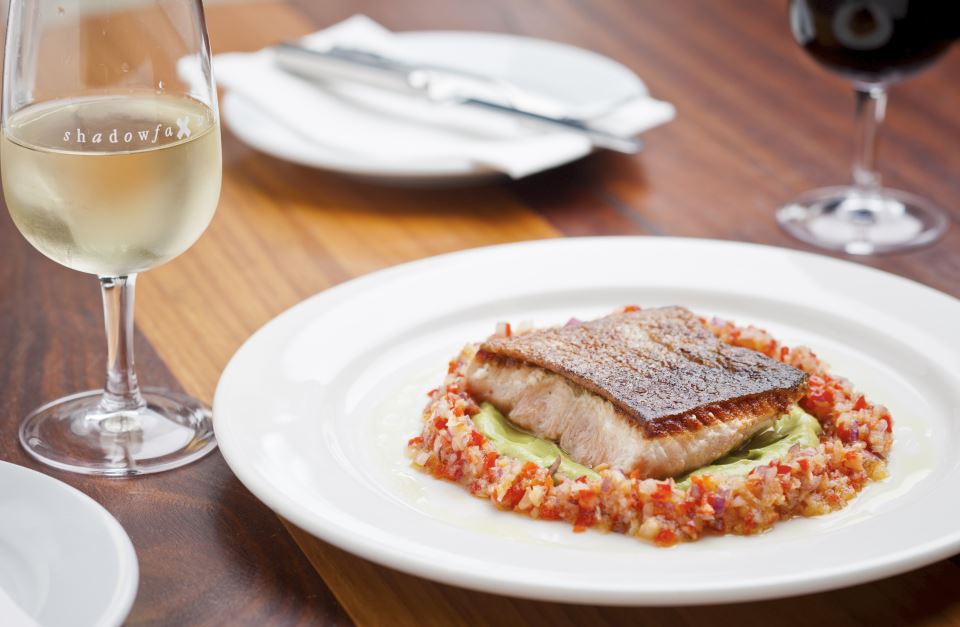 DiVino Ristorante @ Mandala Wines
This is a modern Italian restaurant located in the ancient hills of the Yarra Valley. Offering farm-to-table cuisine and high-quality wines, you are assured to be relaxed from start to finish on your big day. The captivating view from the glass room restaurant is flooded with green vines and hills punctuated with views of birds, hot air balloons and the odd kangaroo. A contemporary venue in a historic bushland setting.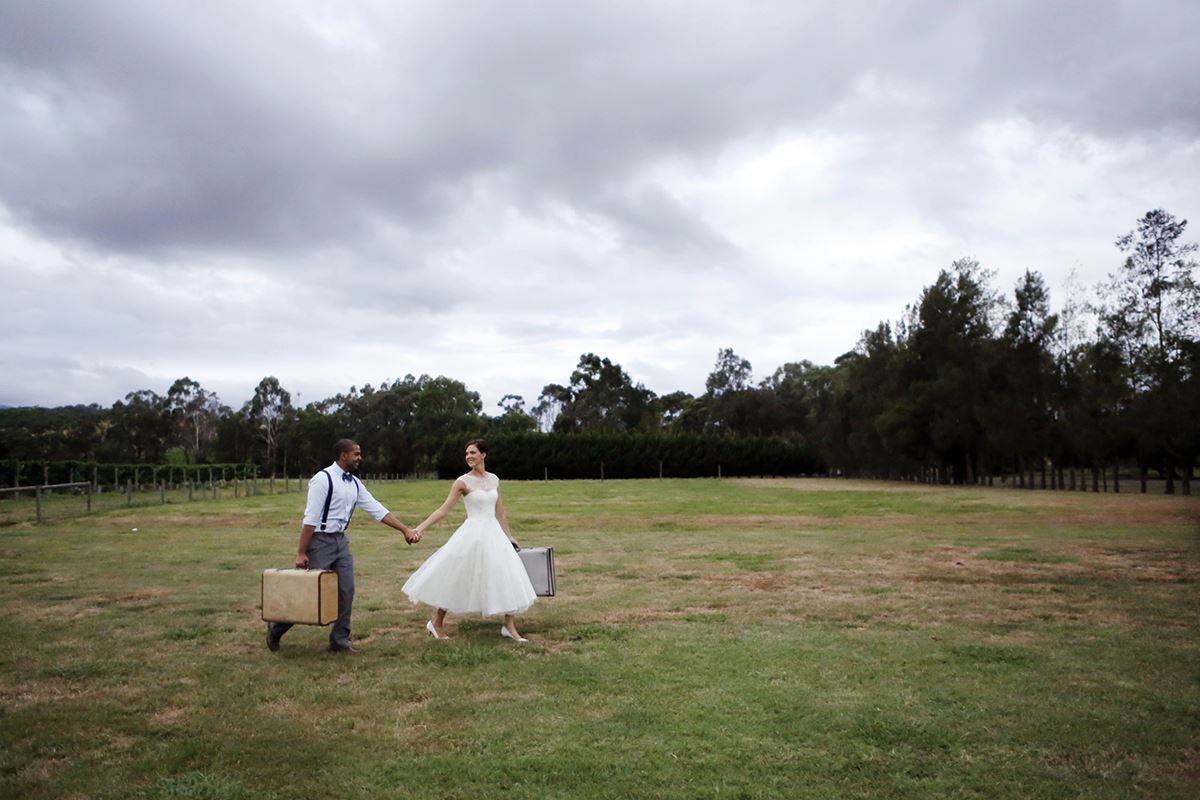 Mount Macedon Winery
If you are looking for a tranquil location for a relaxed and rustic country wedding, Mount Macedon Winery is the vineyard for you. With majestic mountain views and rolling vineyards, the catering is first class and the planning team work so hard to make sure your day is perfect. The team at Mount Macedon are warm and accommodating, with absolute commitment and passion for throwing wonderful weddings.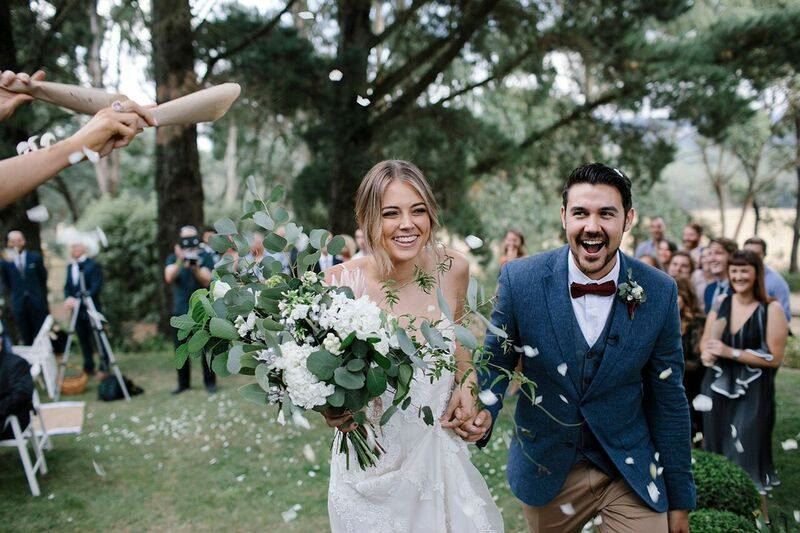 Jardin Tan
For the convenience of location and sheer magnitude when it comes to impressing your guests, Jardin Tan in the Royal Botanic Gardens is a must-inspect. Run by world-famous chef Shannon Bennett, this reception venue is embraced by the lush botanic gardens, with both the colourful outlook and tastes of the menu changing with Melbourne's seasons. In this unique venue where tradition meets innovation, this is the very best of where many cultures collide. Although not on a vineyard like a traditional winery wedding venue, the wine and menu at this venue is sure to impress.