When it's time to sort out your ideal wedding day look, it's not only important to make sure you look amazing, but also feel amazing. If you don't ever wear heels, then why would you wear them on your wedding day? We recommend sticking with a heel height and shoe you're comfortable with, and if that means sticking to flats or opting for wedding wedges, then we've got some great comfortable bridal shoes for you to consider.
Some people say that you should invest in good shoes and a good mattress, as you spend the majority of your life in them… and your wedding day is no different!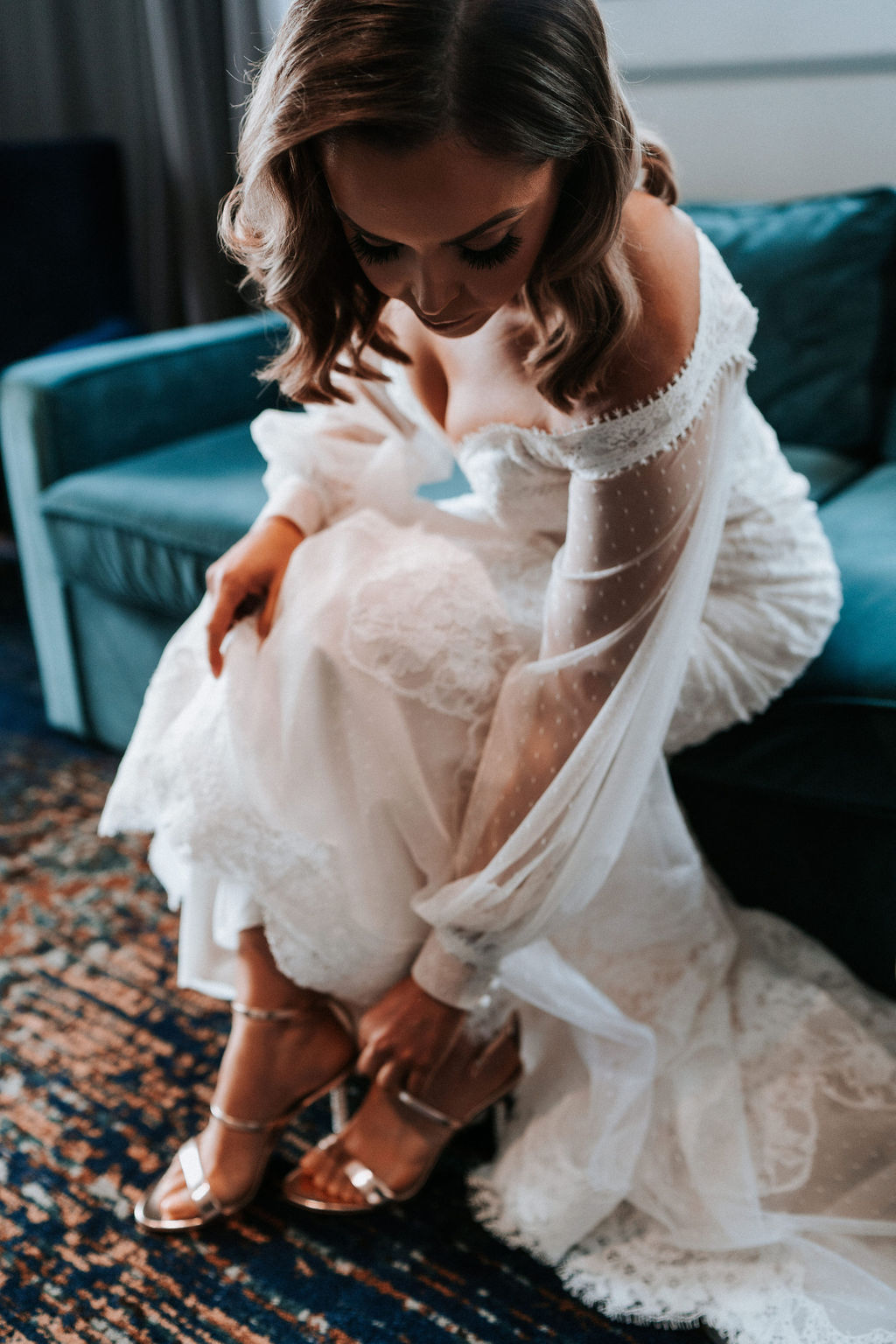 Jenna is the perfect alternative to a bridal heel, giving you extra lift and not compromising on style or glamour. These wedding wedges are for the brides who are after comfortable bridal shoes that pack a punch. Featuring crystals and white satin touches with a delicate ankle strap, these wedding wedges have a heel height of 8cm.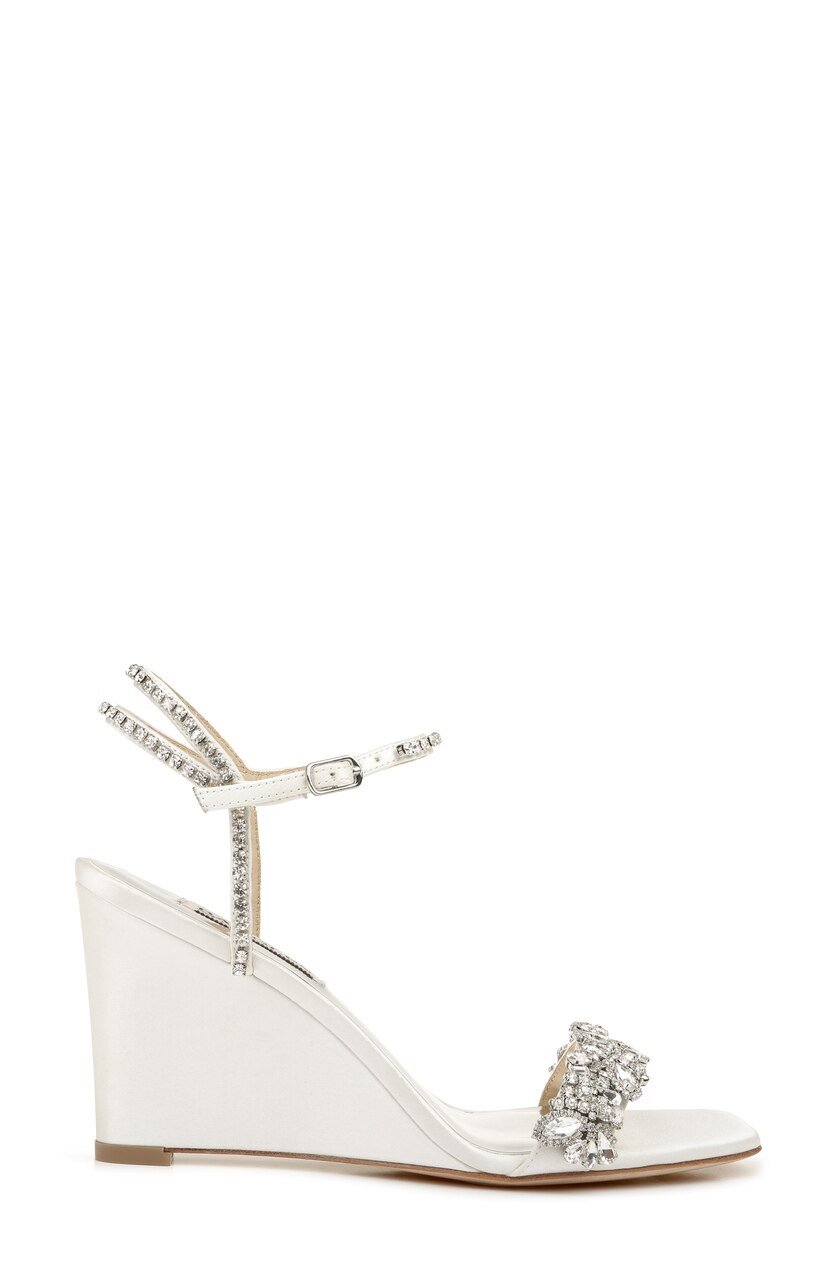 These kitten heels feature incredible tulle bows on the back and a delicate floral beaded design and point heel. The handmade design is handmade and has a padded footbed for incredible support, and a leather sole and lining. A great pick for a shorter gown so you can show off those bows!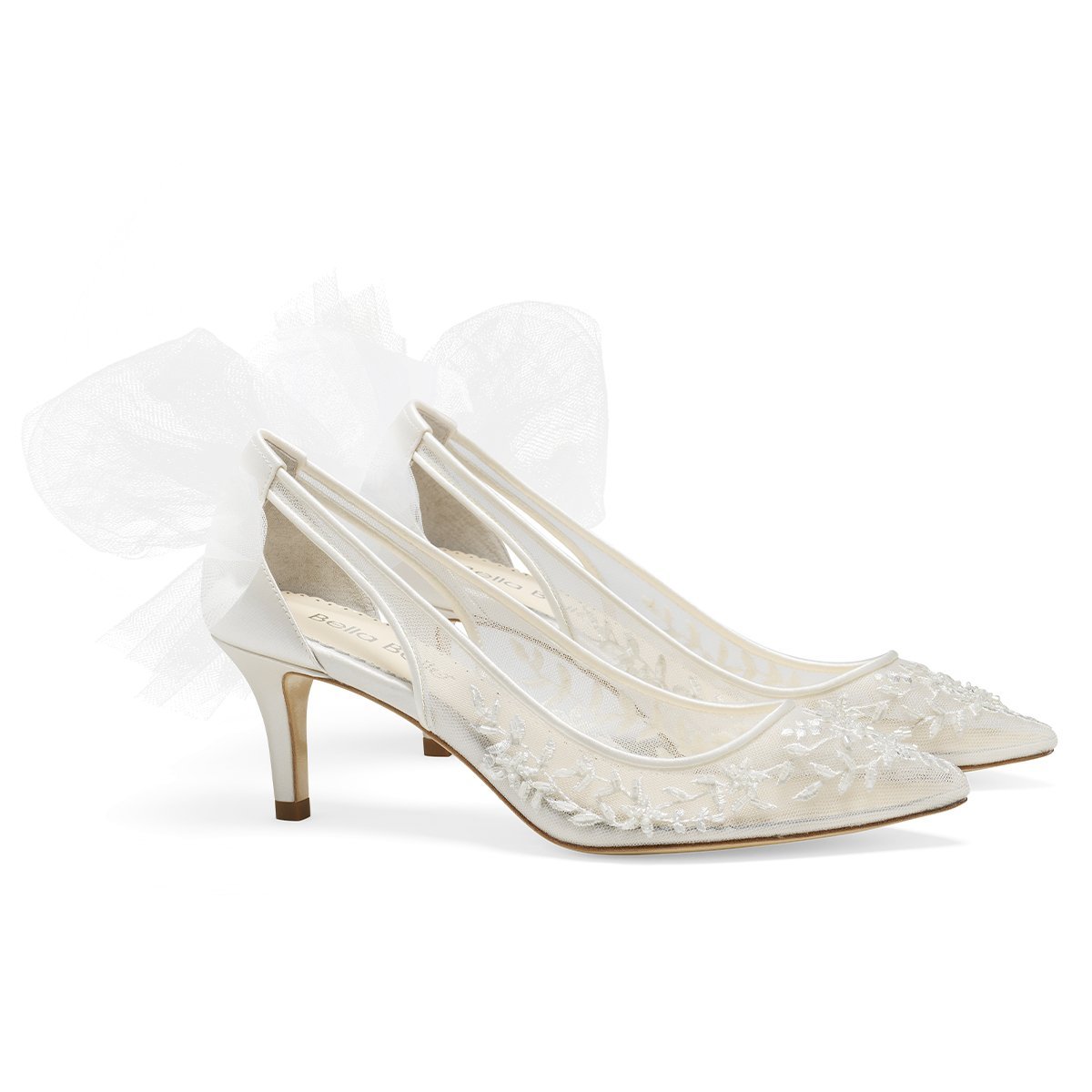 Feather: intricately designed, detailed wedding wedges that are a perfect statement shoe. Featuring an asymmetrical ankle strap with crystal detail and a wedge with a delicate scalloped pattern texture. Available in sizes 5-11.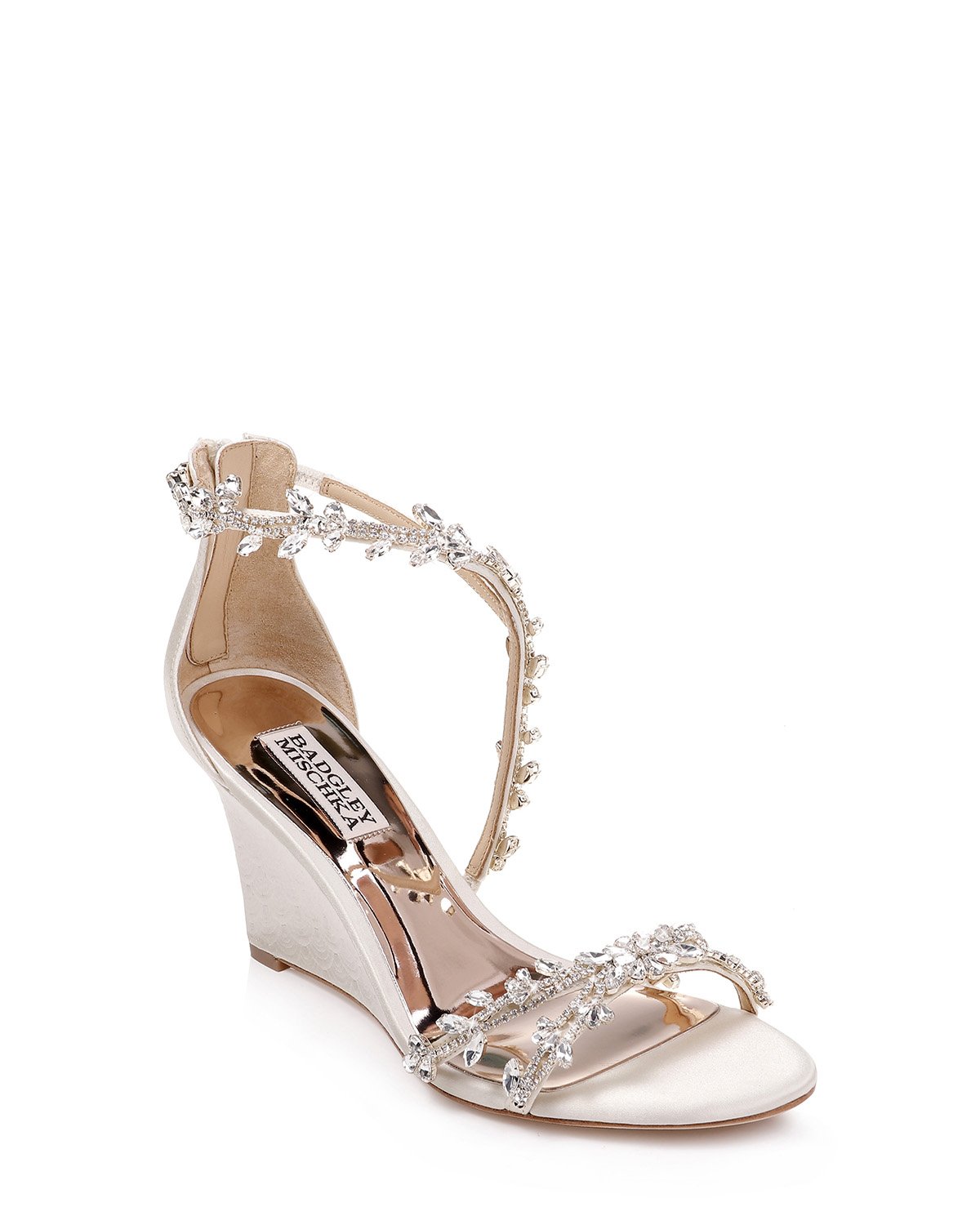 Delicate hand-pleated tulle and pearls? These white wedding flats scream luxury! If you're looking for cute wedding shoes with a low heel, then do yourself a favour and consider these wedding flats for a stylish and comfortable option that won't disappoint.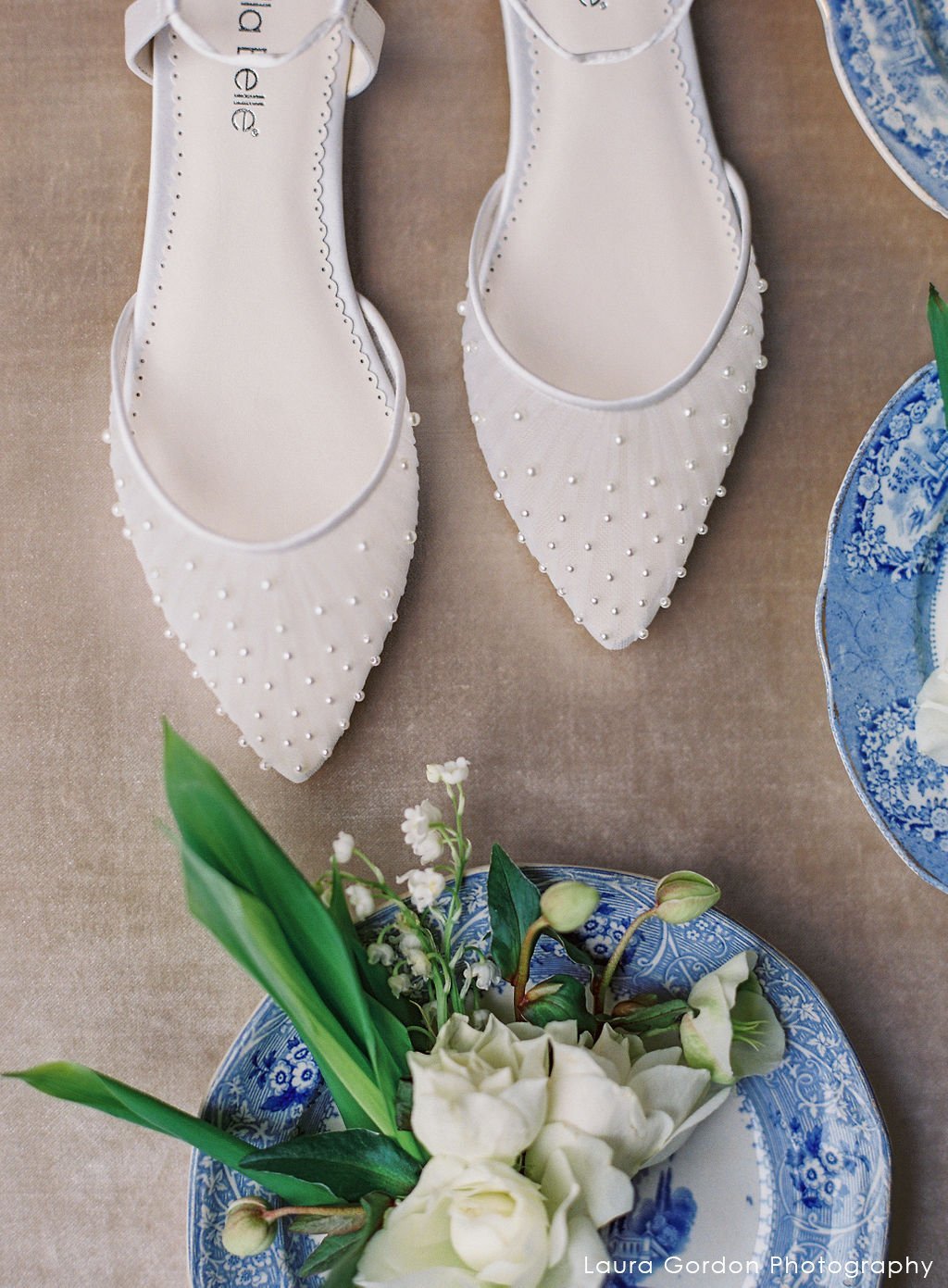 In a stunning ultra-soft blush suede, these pretty flats with metallic detailing offer a comfortable option that is a great alternative to white wedding flats. These open-toed shoes feature a gold leather strap.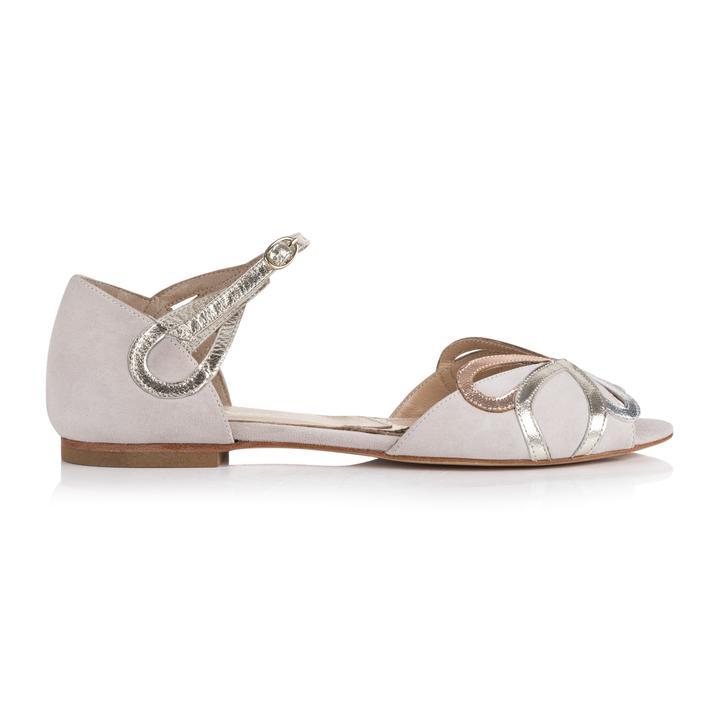 These gold sandals are perfect for someone who wants a little metallic shimmer and a slight heel without compromising their comfort or their style. The supple leather in shimmery metallic gold is a lovely statement with the signature heart chain hardware and a very sensible (and cute) heel for wearing all day and all night!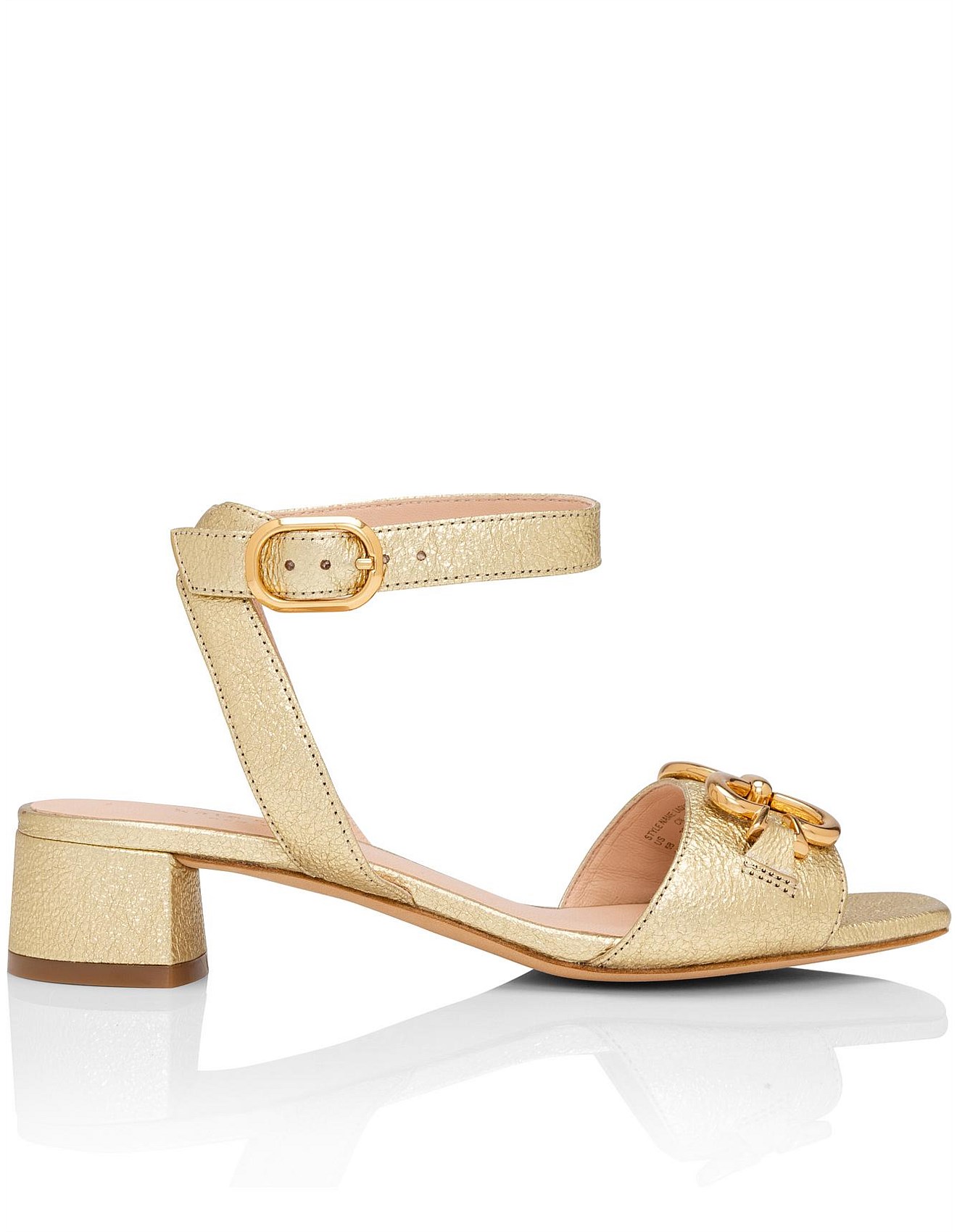 If you like the low, block heel look, but gold just isn't for you, then the Ivory Ivanna is the perfect solution. Elegant and comfortable, featuring a beautifully embellished strap and a heel slightly over 5cm. In a beautiful satin finish, this style would look great with any wedding gown.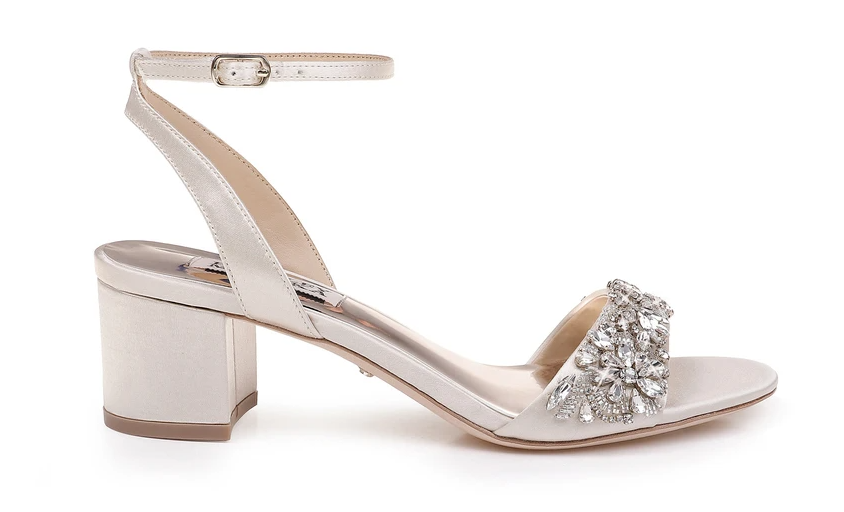 The perfect classic wedding heel in natural leather and ivory satin silk. With a classic pointed toe and kitten heel sitting at 5.5cm, this style will we one you can wear again long after the wedding day is over.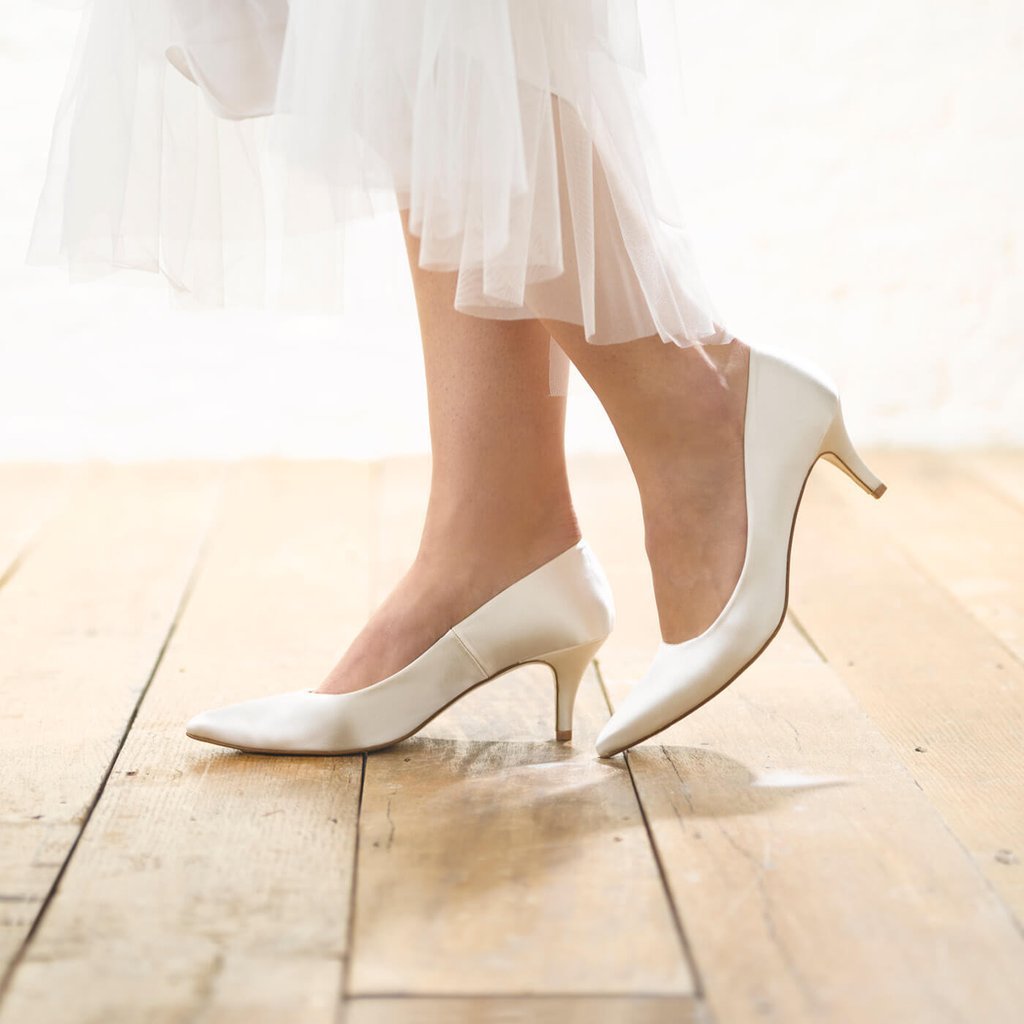 Indigo Pearl by Charlotte Mills
These comfortable white wedding flats feature gorgeous pearl detailing and a t-bar and cross strap across the ankle. The sole is embellished with the phrase "something old, something new, something borrowed, something blue, and a silver sixpence in her shoe". And funnily enough, the left shoe contains a silver sixpence for the cutest touch.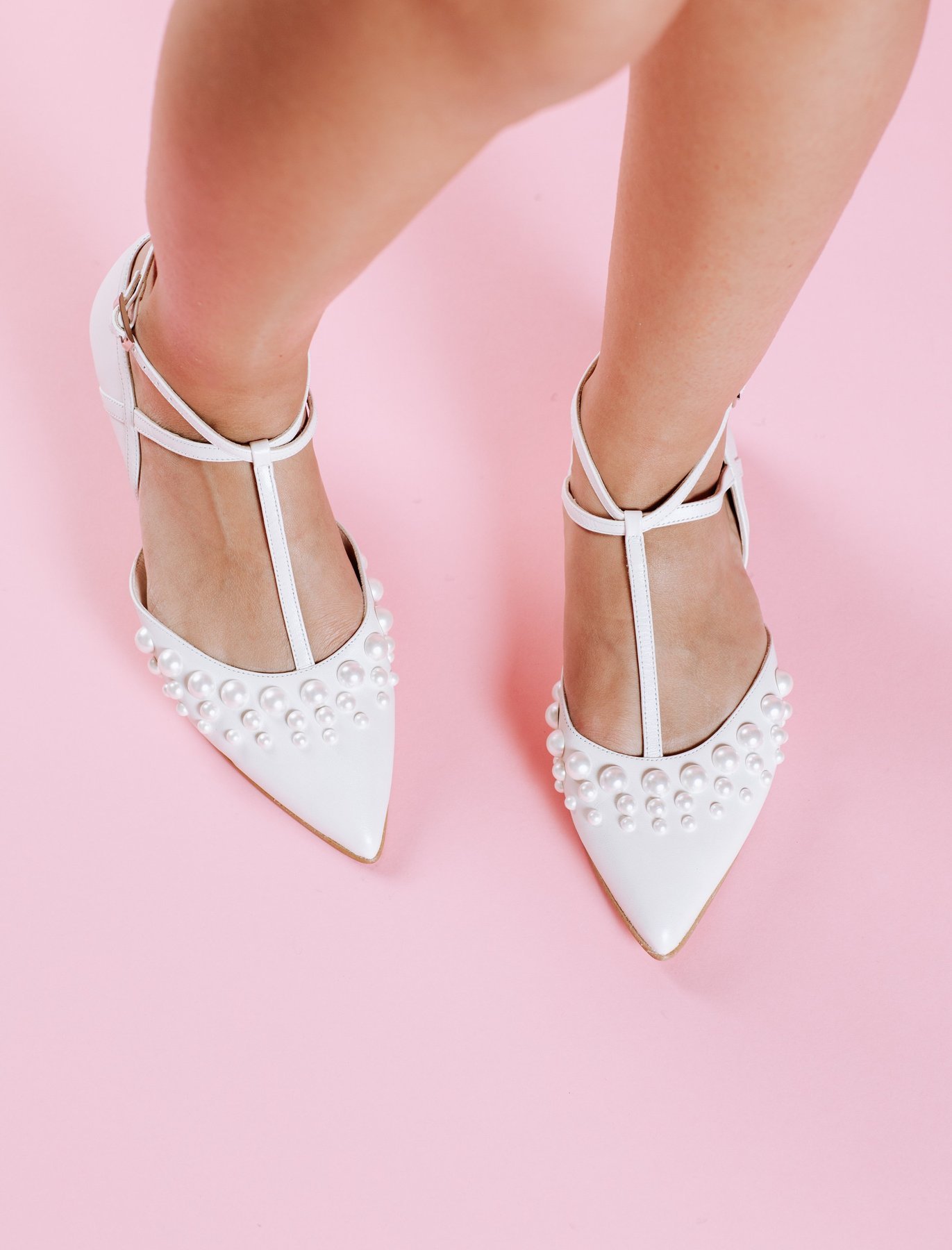 These crystal-embellished sandals featured a gorgeous light blue outsole, which is perfect for your "something blue"! Perfectly suited to a casual or beach themed wedding, in a soft gold colour with adjustable buckle closure and genuine leather upper.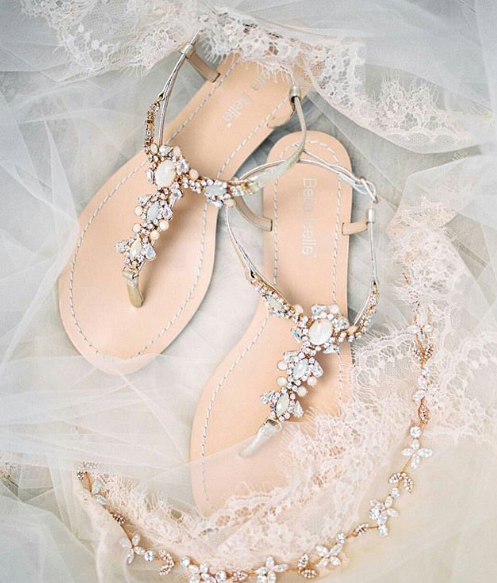 These gorgeous retro-style heels would perfectly suit a tea-length wedding dress. I can imagine the perfect 1950s style look right now! They have a 7cm heel height for the ultimate function-meets-style shoe. Also, can we take a moment to appreciate that BOW? Perfection.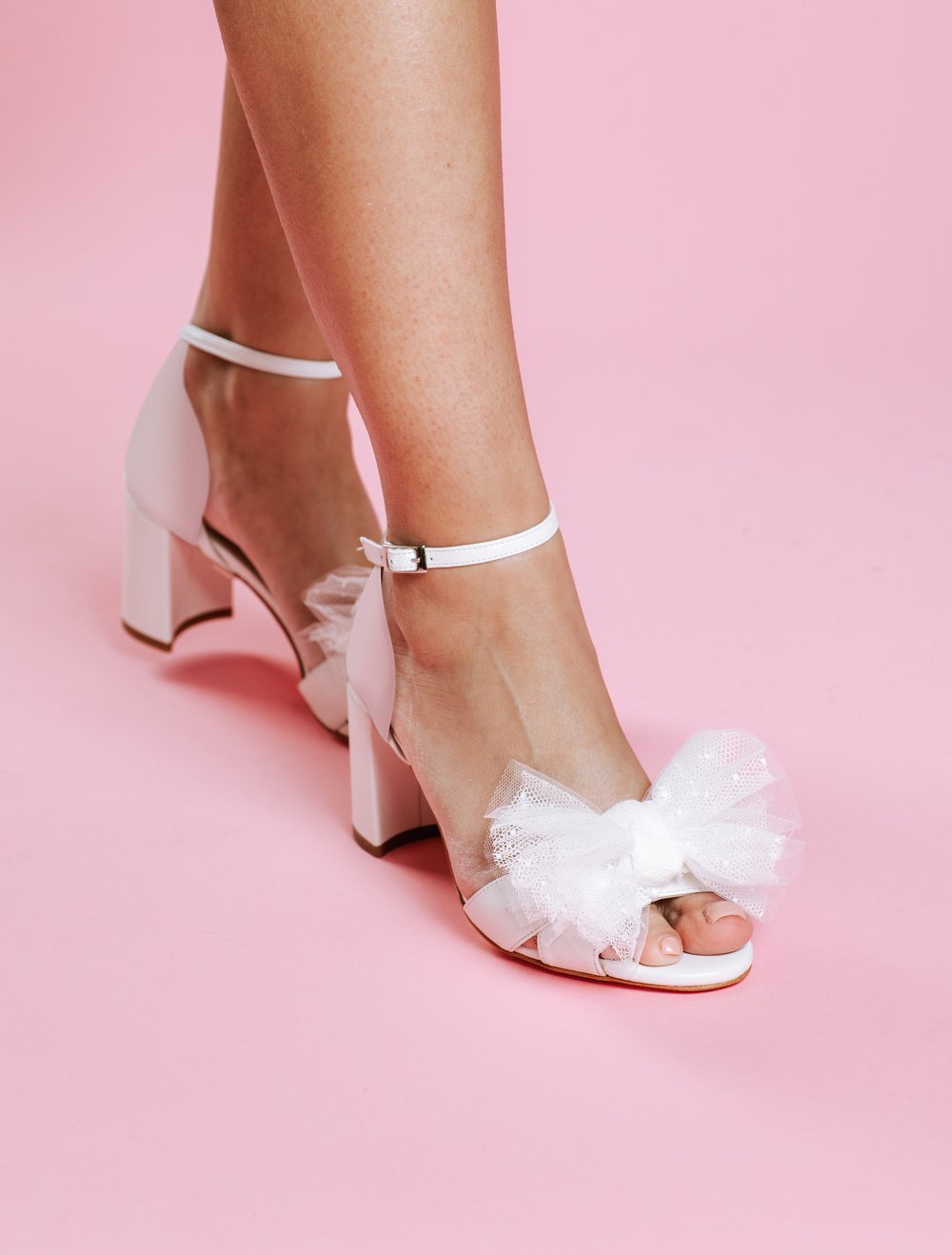 Modern and yet utterly regal, these divinely delicately detailed flats are absolutely perfect for matching with any wedding gown. With an ankle strap and leather sole, they'll mould securely to your feet and keep you comfortable all day long.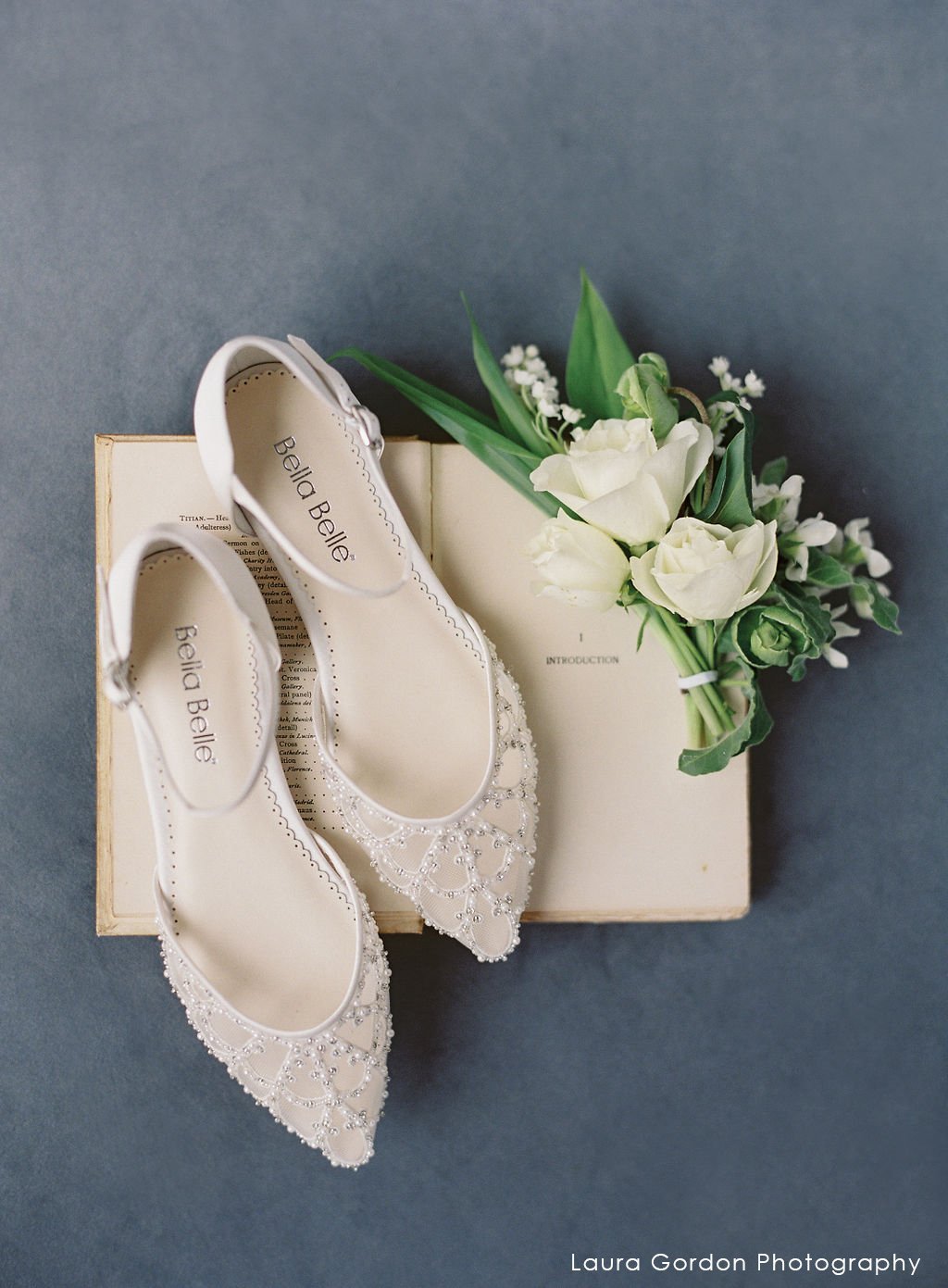 Love is Love by Irregular Choice
These incredibly quirky and playful Irregular Choice wedding shoes celebrate love. With Mrs & Mrs embroidered across the front of them, it's clear where your heart lies (with your new Mrs!). Floral, sequins and glitter, these have it all. With a heel height of 8cm, they'll be reasonably comfortable to wear all day long.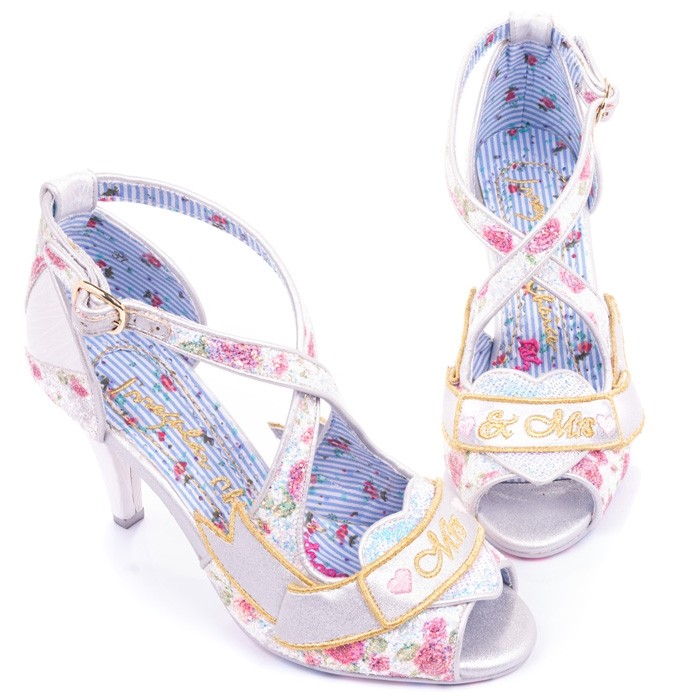 These shoes are in the classic irregular choice shape of the curvy heel with a sweet little bow on front. Emblazoned with glitter and featuring a 9cm heel, these are shoes you will wear again and again. The sole is blue so you conveniently won't have to worry about your "something blue" on your wedding day. Available in sizes EU 36-43.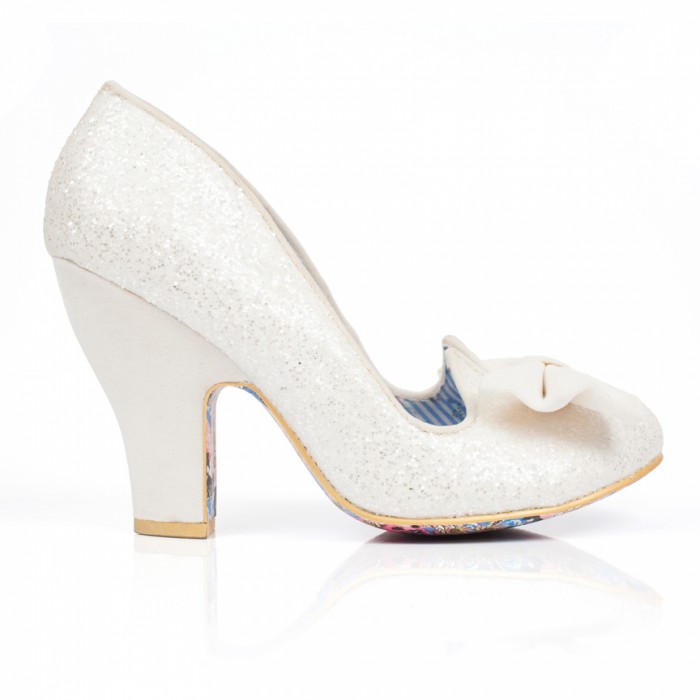 Gucci Mid-heel sandals
These "salmon pink" (which we'd personally call rose gold) are metallic heeled sandals by Italian fashion house Gucci. For those who want a modern, trendy shoe for their wedding and aren't afraid of an open toe. 10.5cm heel, so not as comfortable as some of the alternative on this list, BUT they do have a super sturdy, thick heel which will help. They also come in cream for those wanting a more classic look. You would definitely get plenty of wear out of these babies, but for a $1,065AUD price tag you'd probably be inclined to pick something you could appreciate more than once.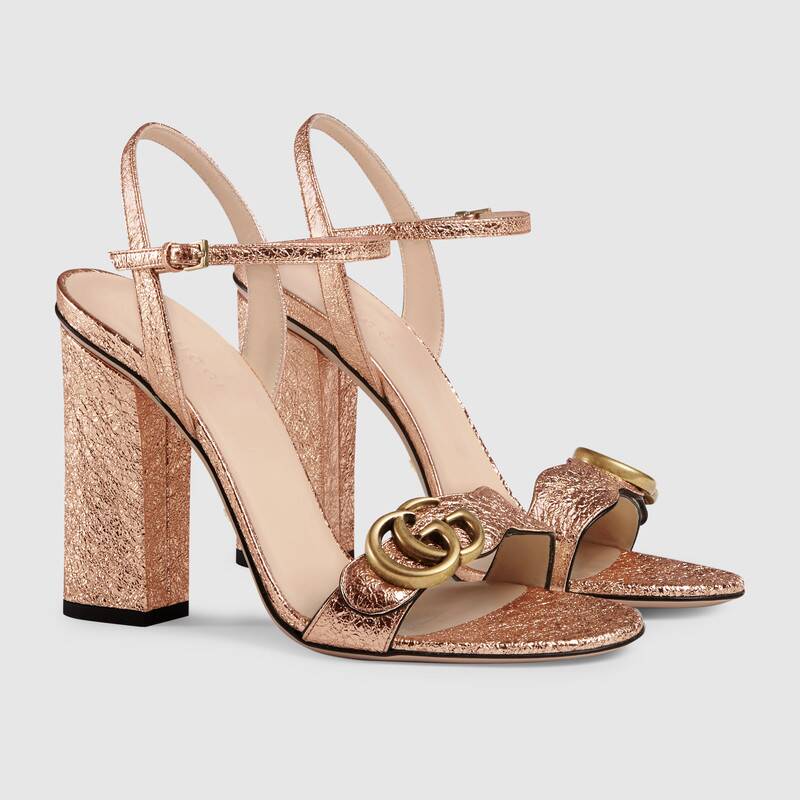 Not made for the faint of heart, these ultra blingy sneakers are the ultimate in comfort. With silver details at every angle, these will practically blind your guests when viewed in full daylight! Just kidding. But they are very sparkly and an ultra-comfortable shoe option for anyone, with sizes starting at EU34. There are also many options for men in the Louboutin range, with some incredible loafers on offer.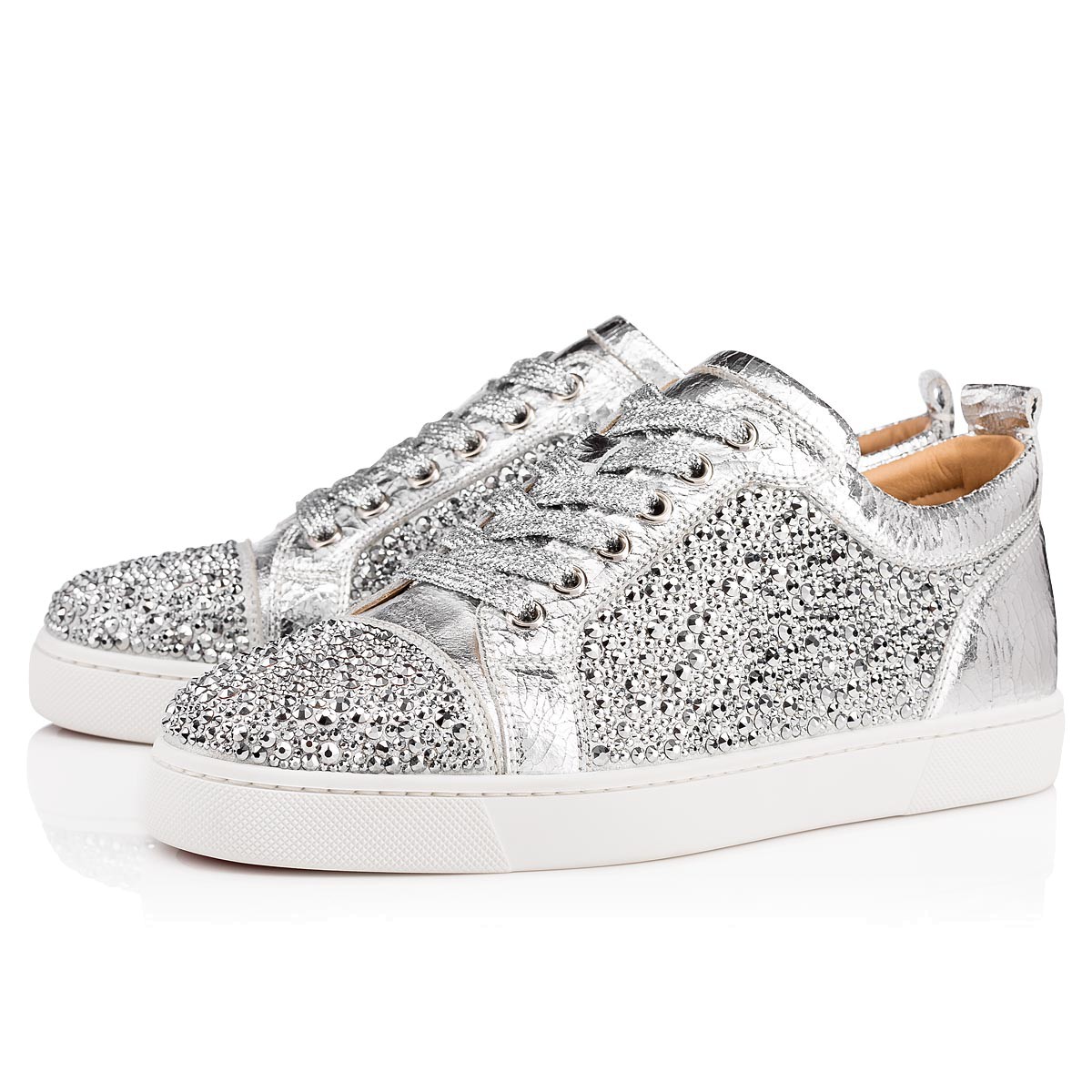 Made with delicate light silk rete, these are perfect for even hot weddings. Delicate crystals embellish the toe and graduate toward the heel. There are multiple colourways dependant on your style and gown, and even an all-clear PVC version (which would work well in winter). For summer or warmer months, we recommend the silk version for breathability and comfort. If these are a bit out of your budget, there is a great style that is similar here for a fraction of the cost.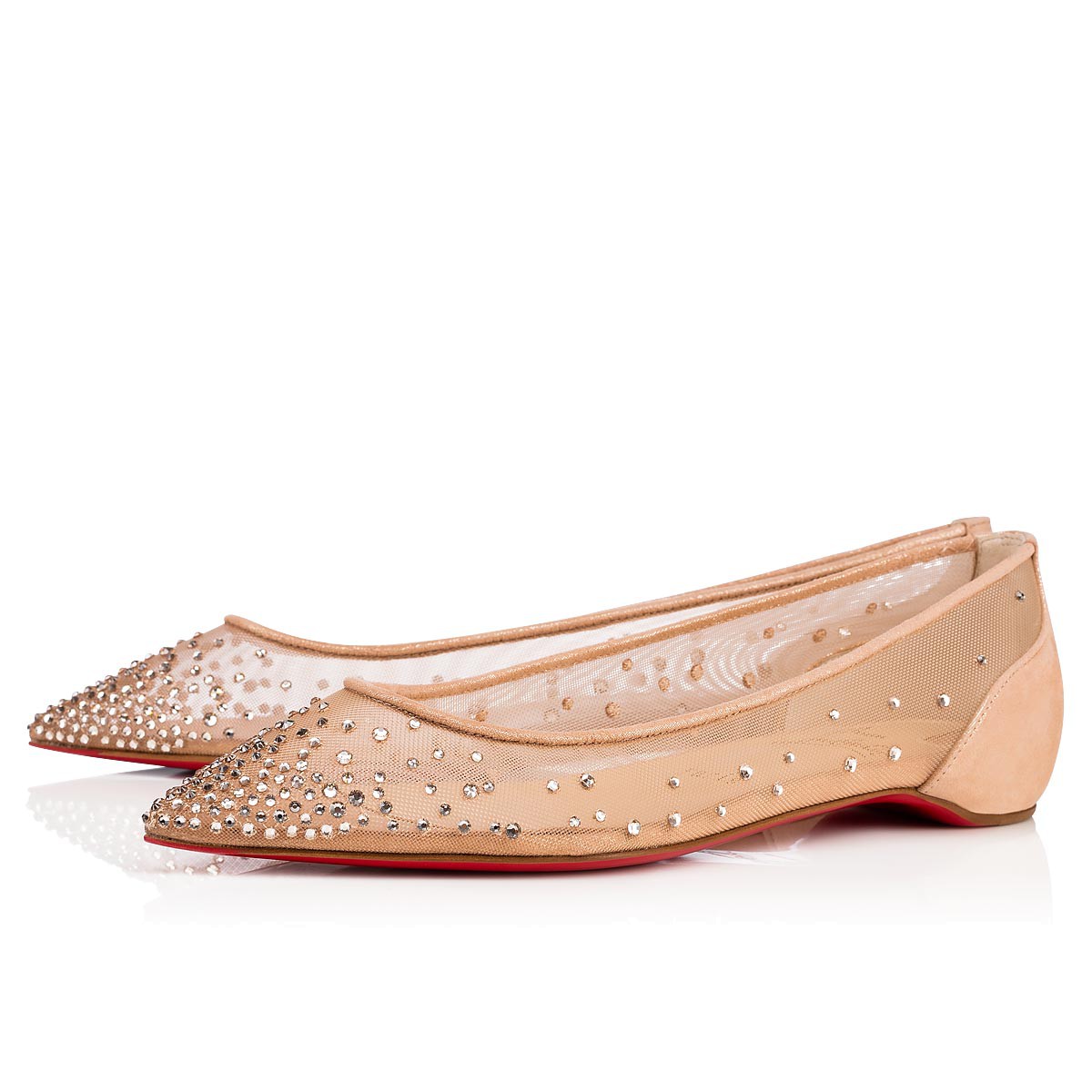 A popular style for bridesmaids right now and brides, this slip-on block style has well and truly made a comeback in recent months. It pairs beautifully with an elegant slip style dress. While these aren't wedding wedges, you bet they are just as comfortable.
While clear perspex might not be your thing, we can imagine these looking utterly perfect on the right person. Featuring a clear strap, clear heel and a pop of marble, these will elongate the leg and be a comfortable wedding shoe option for those who dare.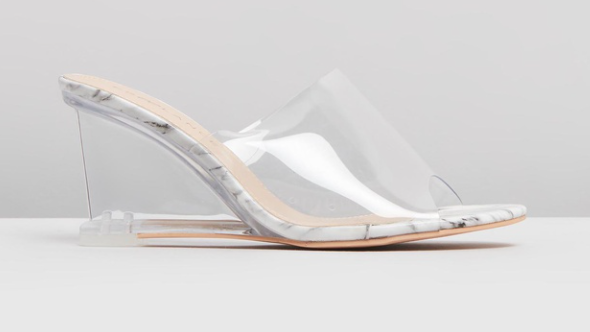 A classic style and shape in a muted tone like ivory is the perfect wedding shoe for a bride looking for something practical and understated. That's where these gorgeous wedding wedges come in. Plus… they're also available in different colours, so if you decide to add a pop of colour, these could be a great option for you on your wedding day, whether you want a metallic or a pop of red or even a peachy hue in gorgeous buttery leather. Seriously, check out this colour!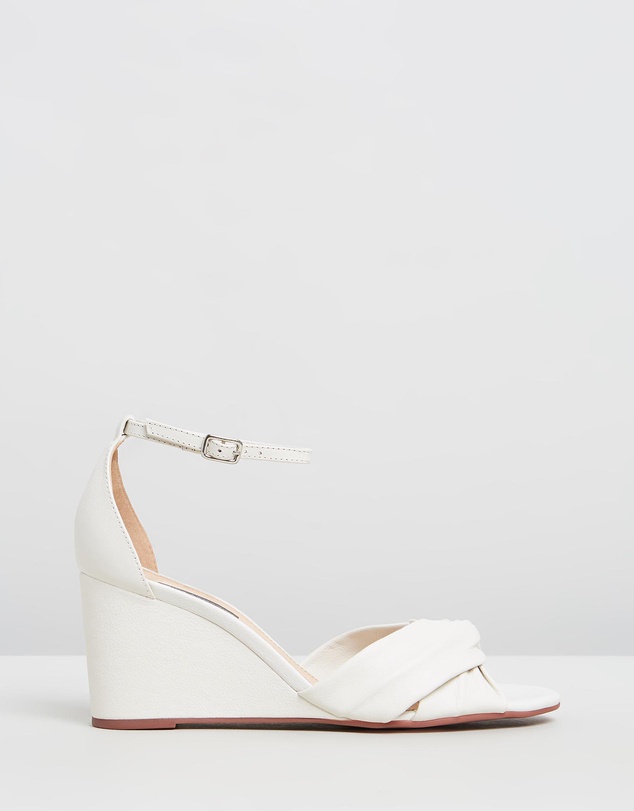 An incredibly simple but sophisticated style, these wedges will save your outfit time and time again long after your wedding day. Available in nude, white, tan and red, I can imagine every colour coming in handy. Nina Armando also makes some glorious block heels, if you're interested in that style as well as a wedding day option.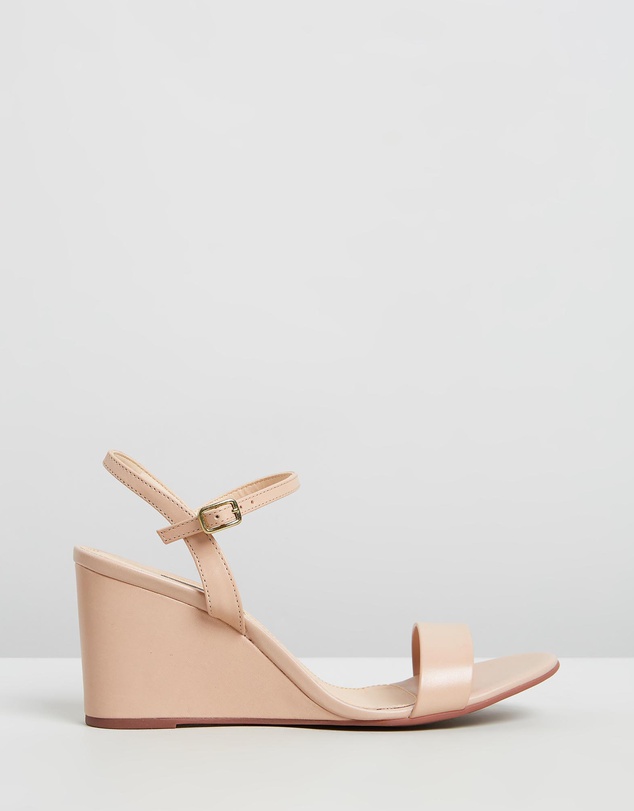 Bared Footwear Noddy Sneakers
Built with comfort and style in mind, these shoes are perfect for those with orthotics. You can remove the (super comfortable!) biomechanical footbed and replace it with your own orthotics, which means your feet will be fully supported, even on your wedding day! Genius. They also do come in a range of colours, but these are our pick for your wedding day, neutral with a little holographic sparkle.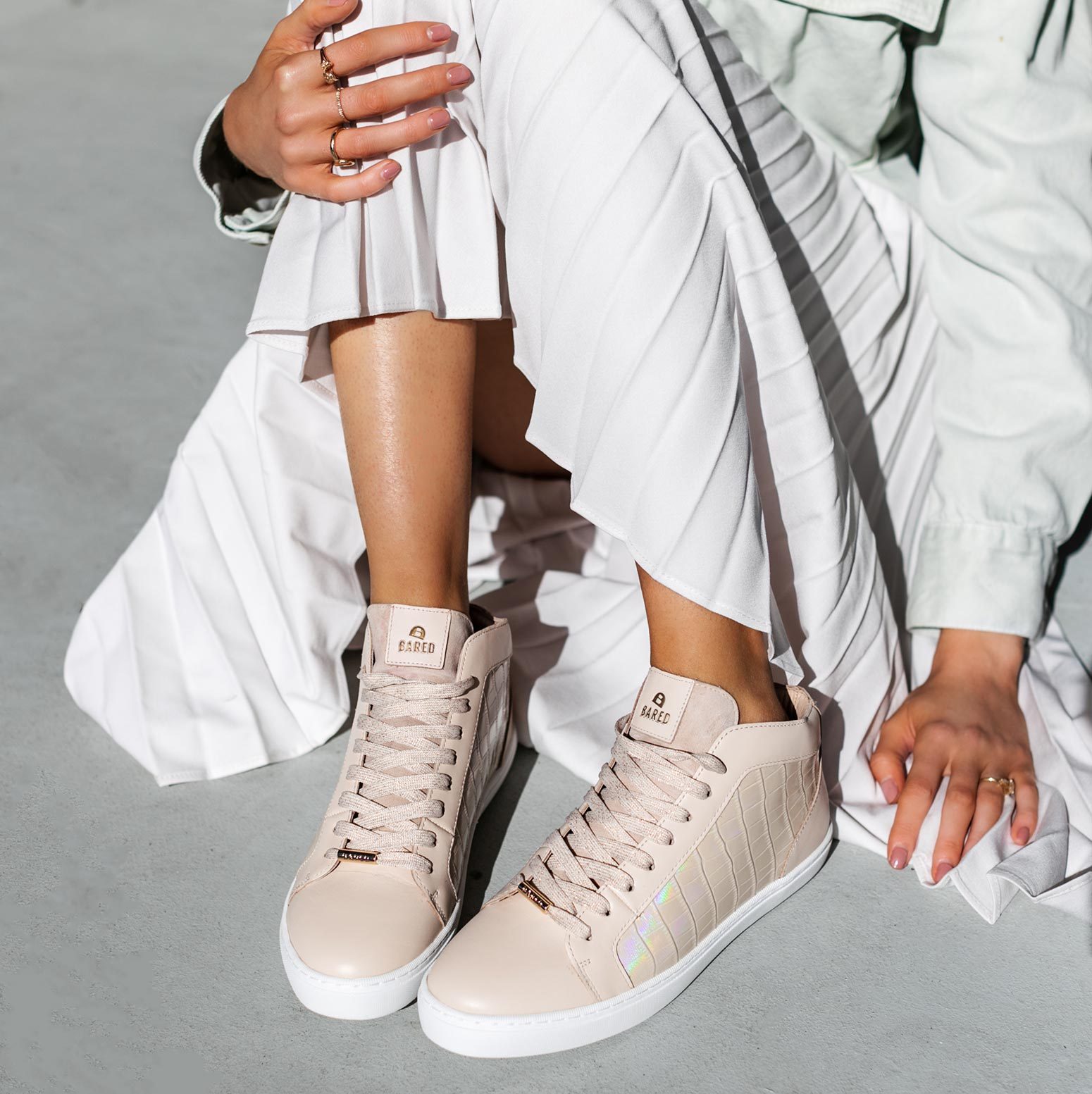 Someone call the rodeo. I am ready to unleash my inner country gal. These are AMAZING. I can imagine them fitting in perfectly at a Palm Springs wedding. LOVE! If anyone elopes in these, I need to see pictures immediately. Please pair with a sequin gown or a bridal jumpsuit for the ultimate wedding #lewk. Also, yep you CAN remove the footbed and replace with your own orthotics, should you choose to. Yep, more orthopedic wedding shoes! Who would have thought this was possible?!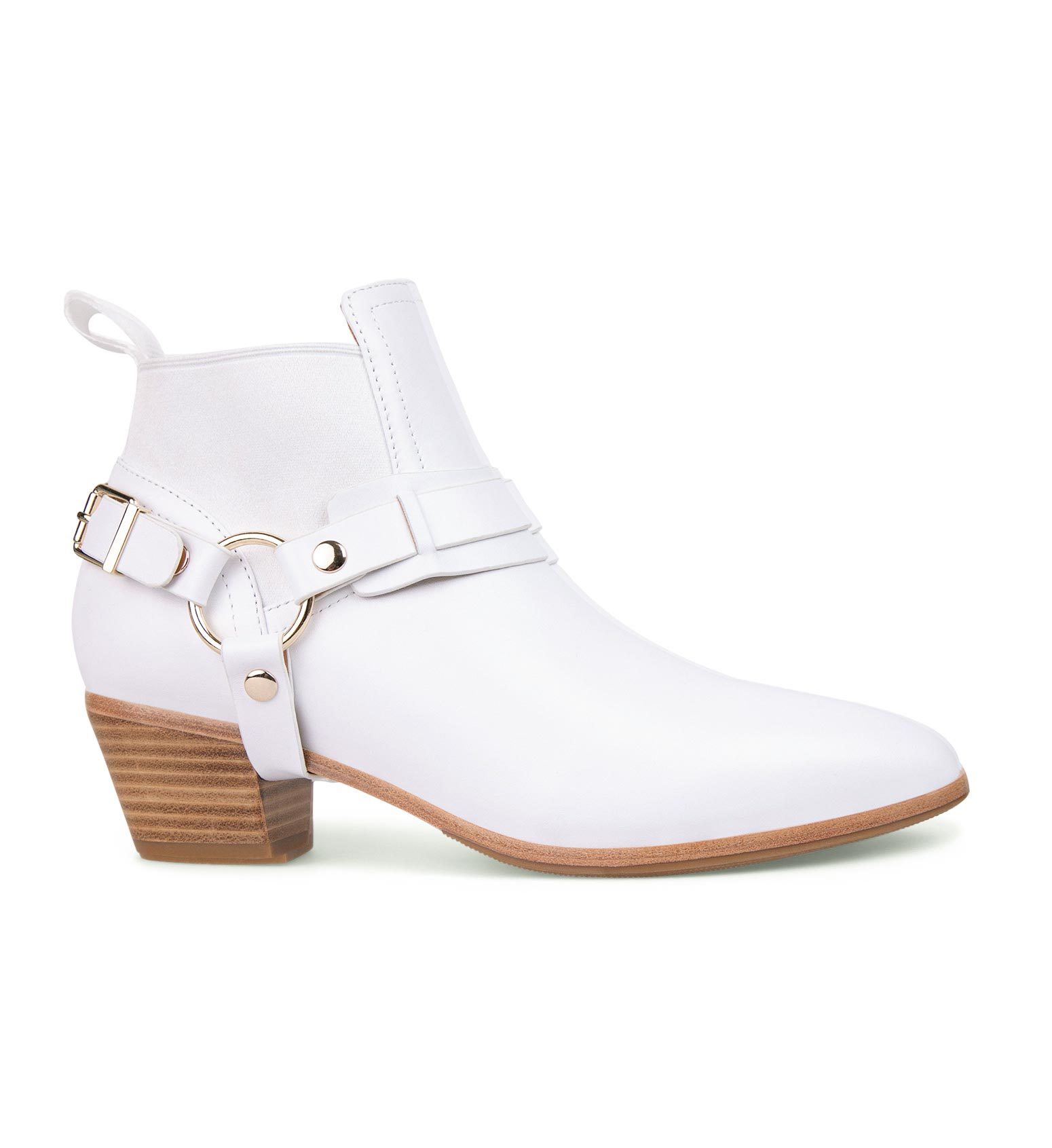 With just a 3cm heel, these cute slides feature a bow detail on the toes and a modern take on the slide trend. Because they're leather, you can guarantee a level of comfort that PU options can't provide.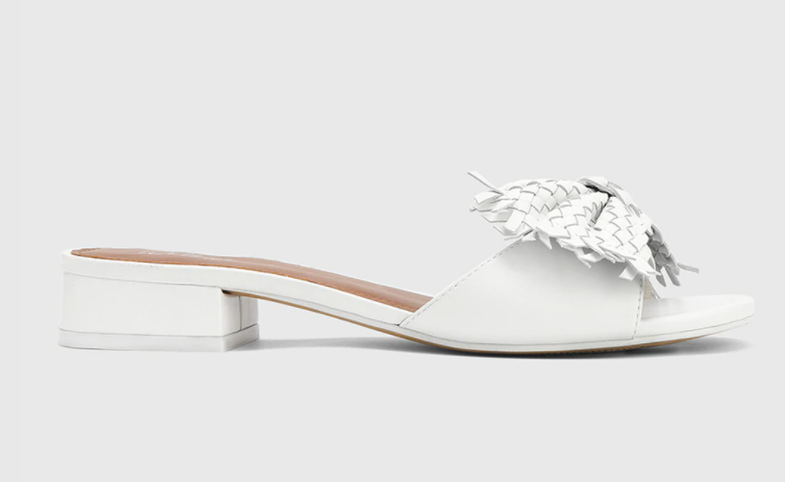 If you're wondering if it's okay to wear flats at your wedding, then this is your final sign that it most DEFINITELY is. These shoes were made for a bride. No one will judge you. It's your day and you should do whatever you please, and if it's these embellished ivory and baby blue lace flats… then go for it! Tick off both comfort and style along with your "something blue".