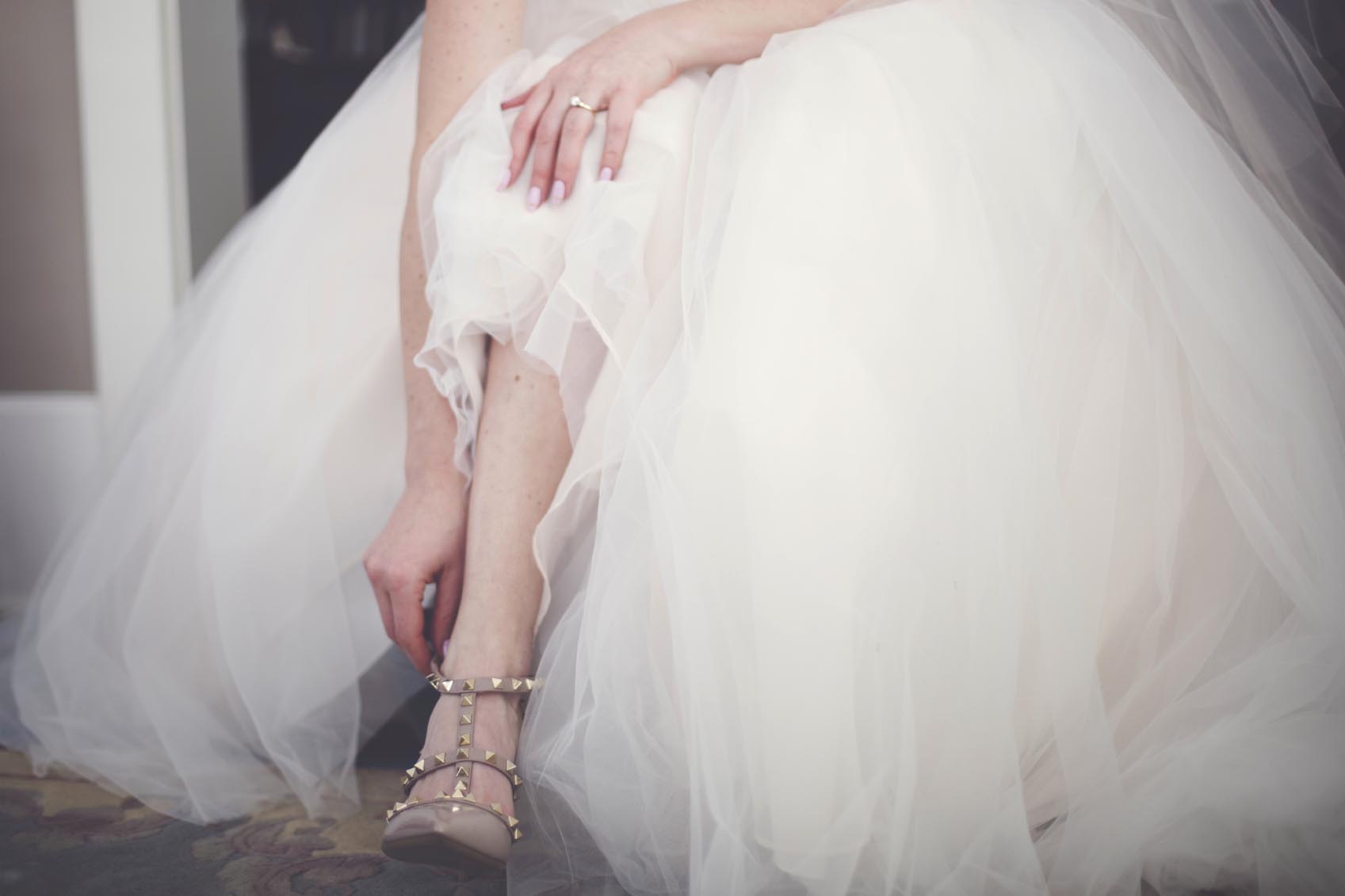 The right shoe can really finish a great outfit, and while your wedding shoes may be one of the last things you organise, they can be a very important factor in your bridal look. That's why you need to pick something that is not only fabulous, but also suits all of your bridal needs and requirements.
The style of wedding shoes you choose can be influenced by the style of your dress, the length of the skirt, your own height and build, and whether or not you are comfortable wearing heels all day. Here are some factors to consider when selecting your wedding shoes.
If you can see your shoes…
If your feet are visible when you wear your wedding dress, then you will need to find shoes that work well with your outfit. The first place to start is to determine the style of your wedding dress, and what style of shoe will match the proportions of your dress and your build. For example, if your dress is tea-length, a pair of points or open-toe heels will match well.
If you would like to perfectly match your shoes to your dress, it is a good idea to take your wedding dress or a swatch of your wedding dress fabric with you when you go shopping for your wedding shoes. If you can't colour match exactly, try to match the embellishment on your dress or jewellery with you shoes. If this is proving difficult, you can always have your shoes made, or even ask the wedding dress designer to give you extra fabric to cover your shoes.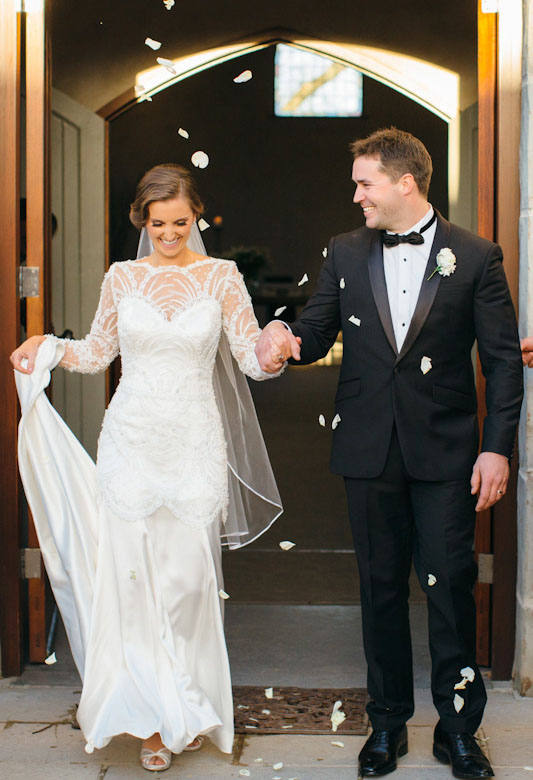 If you can't see your shoes…
If nobody can see your feet, chances are they aren't going to care if your shoes perfectly match the colour of the lace on your dress or not. This means you have the ability to opt for a shoe that may be more practical and comfortable, rather than having to wear something that perfectly matches but is uncomfortable to wear for a long period of time.
In saying this, a safe choice is to at least pick a shoe that won't appear too out of place if you flash your feet at some point. Colours like nude, tan, ivory, white or even pastel shades of pink, lavender and baby blue are safe choices. However, if you aren't a big fan of dancing all night and the likelihood of anyone seeing your feet is pretty low, you can always opt for a pair of comfy heels, espadrilles or flats in any colour you desire.
If you want a pop of colour
If you would like to add a touch of colour to brighten up your bridal look, a great way to do so is to incorporate a new colour with your shoes! Many brides use their bridal shoes as a way to have their 'something blue', but there are so many other colours out there to choose from too.
You can choose a colour that matches your flowers or bridesmaids dresses, or even select a colour which matches your wedding colour scheme. Metallic colours like gold, silver, rose gold and copper can have great visual effect when contrasted against white, and can also provide a very elegant and glamorous element to your outfit.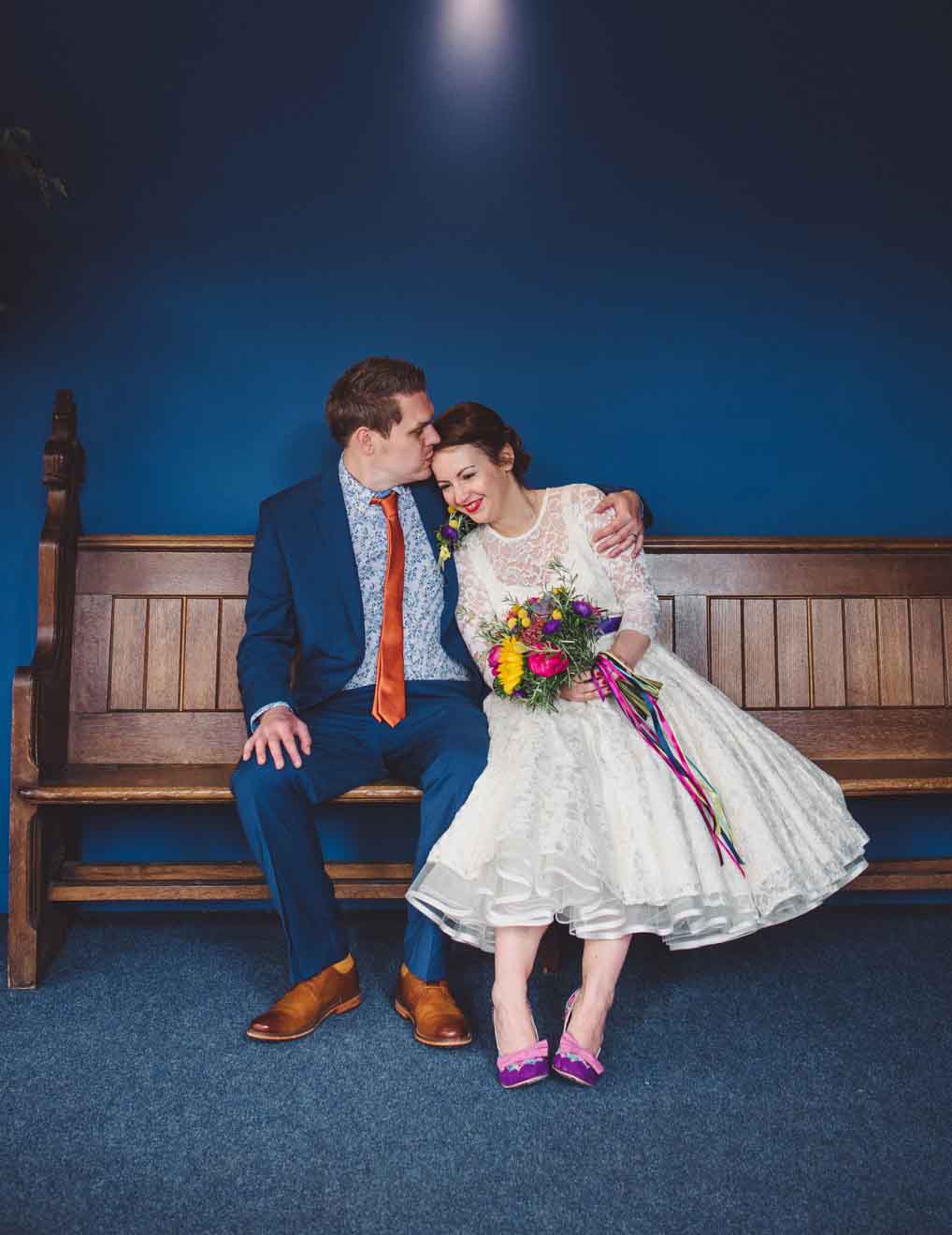 The heels vs. flats debate
Heels or flats?
This is completely up to you and comes down to a number of factors. Firstly, are you comfortable wearing heels? Are you having a very formal and traditional wedding, or are you getting married on the beach? Are you trying to appear taller, or are you looking to not add any extra height? Ultimately both styles of shoes can work, and while a pair of strappy heels like amazing with a sexy, mermaid-shaped dress, a pair of bejewelled sandals can look just as good when paired with a sheath, Grecian-inspired or empire-waist style gown.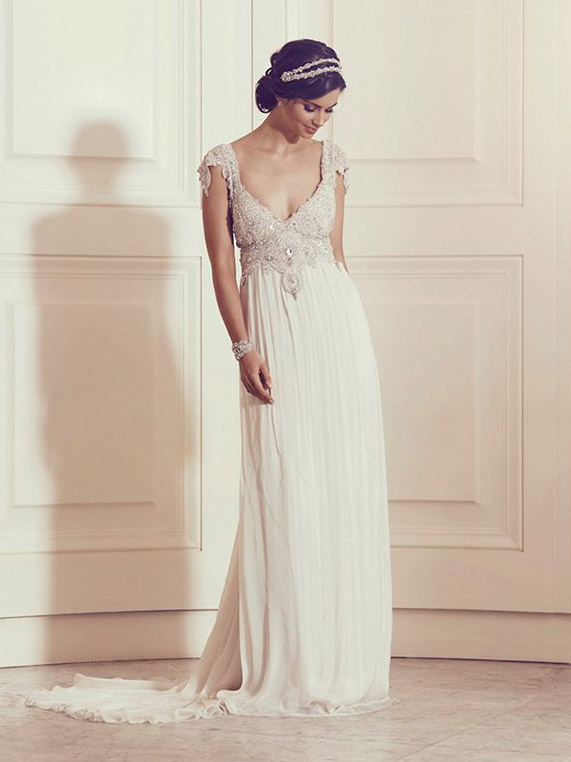 If you want to elongate your legs
Brides with shorter legs should try to avoid shoes which have an ankle strap feature, particularly if the strap is quite chunky. This style of shoe can make your legs look much shorter. A high heel of 2 – 3 inches will always provide a little extra height.
Just remember; although it may be tempting to opt for towering heels to give you the extra height you desire, if you aren't used to very high heels your special day may just be spoiled by sore feet.
If you're tall and you aren't interested in increasing your height, beautifully embellished flats are a great option. However, if you don't want to wear flats a small heel such as a kitten heel will give you the look of a heel without giving you too much extra height.
The bridesmaid factor
If you have selected shoes for your bridesmaids rather than having them wear something they already own, you may have to consider how comfortable the shoes you have chosen are. If you think the shoes you have selected may become uncomfortable throughout the evening chat to your bridesmaids and see how they feel.
A simple solution? Have your bridesmaids bring a pair of their own comfortable heels or formal flats, so they can change shoes after the formalities and photos are finished.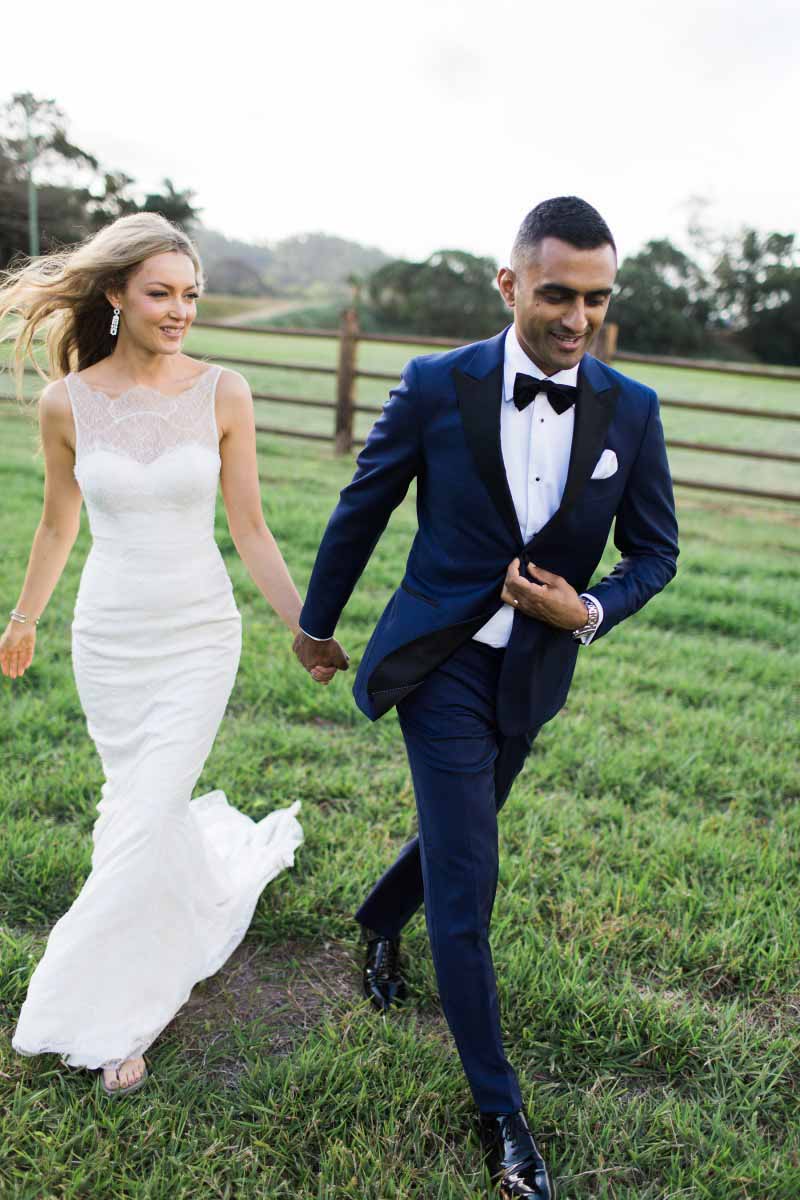 Tips and tricks
Wear your shoes in before your wedding day! Don't wear them fore the first time on your big day, that's a recipe for a blister-fest. Instead, practice walking in them a few times before your big day.
Bring a spare pair and keep them under the bridal table
Pack a footwear survival kit; things like band-aids and gel inserts may help with blisters caused by dancing.
Take your wedding dress shopping with you when you look for bridal shoes, or if that's not possible see if you can take a fabric swatch. This is particularly handy for brides who are trying to colour match.
If you can't find the shoe you want, whether it be the right colour or style, consider having them made.
Purchase some shoes grips to place on the bottom of your shoes if they are a tad slippery. Otherwise, the old trick of scraping the bottoms of your shoes on concrete should do the job!
If you are having your wedding dress made, you may have to purchase your wedding shoes earlier than expected. This is because the dress designer will need to make the dress according to your height and measurements.
At the end of the day your wedding shoe is a matter of personal preference, but don't forget to factor comfort into the equation, and make sure you decide on the type of shoe you would like to wear before you go to that dress fitting.