Popular wedding reception venues get booked up a long way in advance, so you should look to make a tentative booking and pay a deposit around twelve to eighteen months before you plan to get married. This can mean beginning your venue search two years before the wedding date. If you want to have the reception on a Saturday evening in the middle of the wedding season, or you are choosing a particularly popular venue, you may need to book even earlier.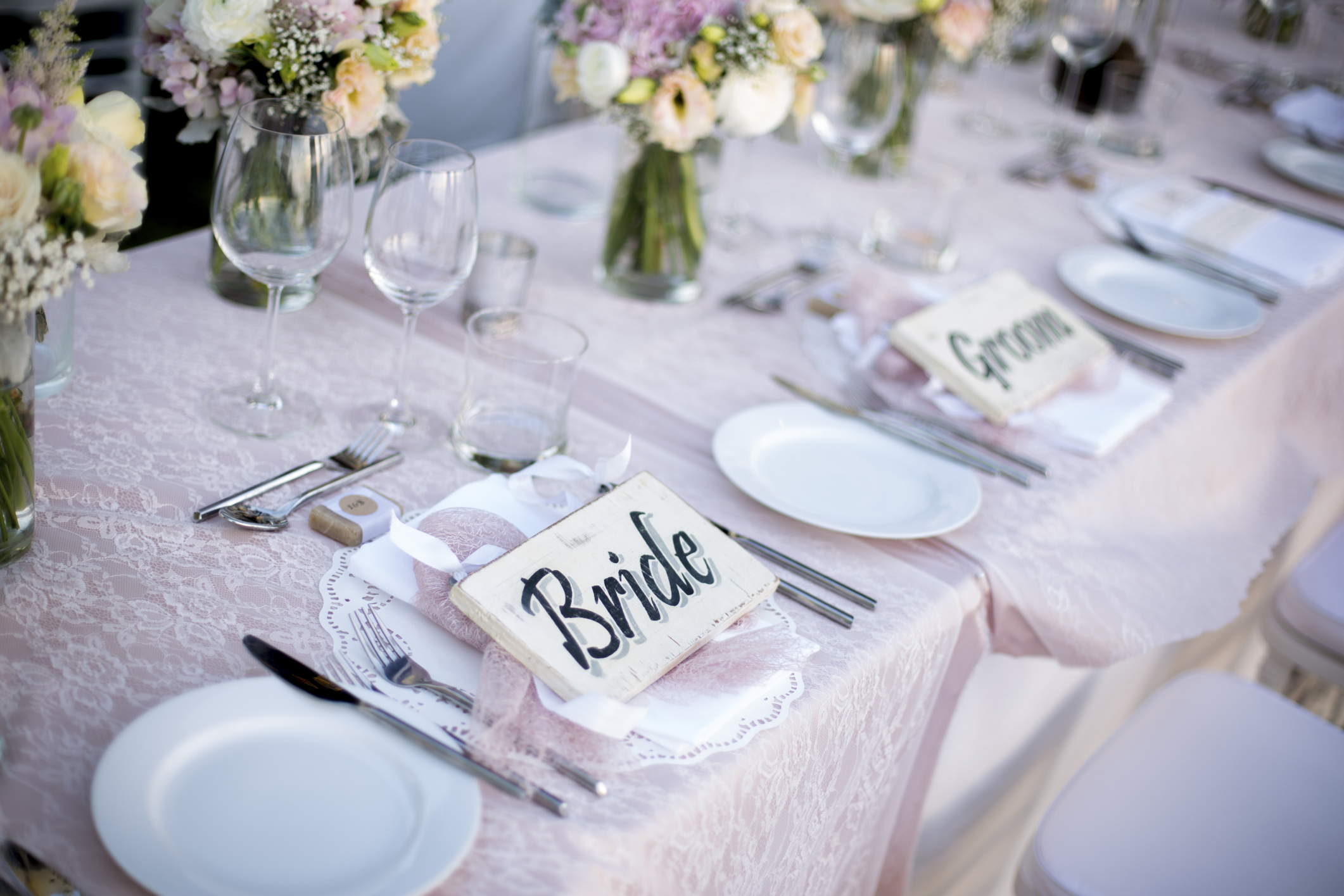 There are a few decisions to make before you start looking for a wedding reception venue. The first is the geographic location of the wedding, the second is whether you want to have the ceremony and reception at the same place or in separate venues, and the third is roughly how many guests you want to invite. Some couples want to set a date and then look for an available venue, while others decide to find their dream reception centre and pick a date based on its availability.
Looking for your perfect venue
Deciding on the type of venue you want for your wedding reception is crucial. Do you want a venue that will take care of everything from the wedding cake to accommodation for you, or do you just want a simple function centre where you hire the room and have to provide everything else yourself?
When you have a good idea what type of venue you are looking for, draw up a list of possibilities in the area and arrange to visit them, armed with your wish list for the big day, as well as a list of questions to ask. Make notes at each venue so you don't mix them up or forget any important information. Make sure you see all the rooms that will be used for your reception, as well as any additional rooms such as the bridal suite, ceremony room, and dressing rooms if applicable.
If you are planning an outside wedding, check that the venue has an indoors option in case of bad weather. If the venue is used frequently used for weddings they may have links with local florists, musicians and decorators and you may be able to negotiate a good package deal.
Venues may also have special rates with local taxi companies and hotels to provide accommodation transport and accommodation for your guests. Another facility to look for is a baby sitting service, or children's room if you are planning to invite children to the wedding.
Many reception venues will require you to use their catering facilities, which may have a real impact on your choice. Make sure you see sample menus and find out whether you have to buy wine and other beverages from the venue or whether you can provide your own and simply pay corkage.
Questions to ask the reception venue
Here are some of the questions you should ask potential reception venues:
Do you have an in-house wedding planner?
Do you offer wedding packages, and what are the options?
Are there disabled facilities?
Are any other weddings or functions taking place on the same day?
When will we be able to access the reception rooms for decorating?
Do you allow firework displays, confetti, rose petals or the lighting of candles?
What time will the evening reception need to end? Can we have a late bar?
Do you have accommodation, and if not do you have discount arrangements with local hotels? If so, when can guests check in on the day?
Can we have a live band or are there any noise restrictions?
Do we have to use your preferred suppliers or can we use our own choice of florist, caterer etc?
Can you cater to the specific dietary requirements of our guests?
Are we able to bring in our own alcohol? If so, what is the corkage charge?
Do you have facilities for children such as entertainment or a baby sitting service?
How much is the deposit and how far in advance do we need to book?
Are there any restrictions on where photographs can be taken?

Trends in wedding reception venues
Many couple are choosing unusual and creative venues for their wedding reception to make it a day to remember. Think about whether you might like a waterfront venue, an outdoors country wedding, a chic city centre venue, or even a reception on a cruise boat.
Backyard wedding are re-emerging as a popular choice. Some couple are foregoing large commercial venues for a more intimate gathering at a parent's house, making use of a marquee in the garden for a real personal feel. This is partly in response to the expense of a large wedding, but also because couples are deciding to limit the number of guests and make their wedding receptions exclusive affairs.
One very popular wedding reception trend this year is to have a strolling reception. This means that instead of a traditional sit down meal, where guests are restricted to a particular chair for the majority of the reception, they are provided with small samples of different foods at a number of food stations.
This allows guests to mingle while they eat and can allow for more creativity in the wedding menu, possibly including a variety of meats, seafood, speciality desserts, tropical drinks, and foods from various countries. A strolling reception may require a fairly large venue to accommodate the food stations and to give the guests room to mingle.