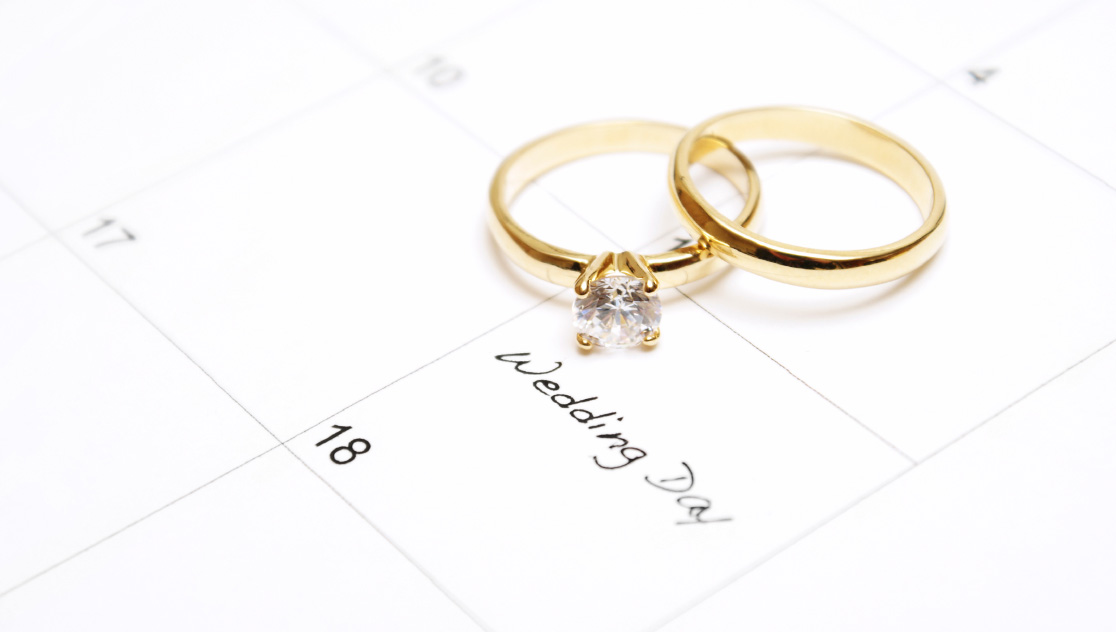 Newly engaged? Well fear not, planning a wedding can be easy. If you've found your suppliers and have begun using the right planning tools then that's a great start, however, it can't hurt to seek some extra advice to help ensure your big day runs smoothly. To make it even easier for you, we've collated a list of some of the common mistakes couples can make when planning their wedding – and how to avoid them.
From time management to spontaneous lapses in judgement, here are some of the common wedding planning mistakes to avoid in the lead up to your wedding.
Leaving the paperwork till last minute
This mistake makes the top of the list because without a marriage license, there is no wedding! It's a very common scenario for couples to be uninformed about the marriage license laws in their state. Rules and regulations differ by location; and there are usually quite a few forms couples will need to fill out before they are legally married.
We recommend having a discussion with your celebrant early on to determine what forms need to be signed and when. If you want more information on what paperwork you need to lodge to get married, click here.
Spontaneous change in appearance
Whilst a new hair colour or brand new hairstyle may really suit you, you may want to reconsider if it's something you want to do just before your wedding day. After all, it could be the best personal style decision you ever made – or the worst. Getting married is a special moment and is one that will be visually documented, so you may want to consider carefully before making a massive change to your appearance which you may regret afterwards.
Booking the venue too late
Many couples make the unfortunate wedding planning mistake of attempting to book their dream wedding venue at the last minute. Wedding venues are often in high demand and some can even be completely booked out a year or two in advance, so couples who leave this to the very last minute may often miss out.
We recommend you should try to book your wedding venue as early as you can to ensure that you secure the location you truly want. Using planning tools like a To Do list will help you keep track of all the things you need to get done, and in what order too!
Not setting a budget
With social platforms like Pinterest and Instagram adding to the pressure of somewhat unrealistic wedding expectations, it can be easy for couples to end up spending much more than they thought they would. Without setting a budget, or using planning tools like a budget calculator, many couples find themselves with a very expensive wedding on their hands.
We recommend couples have a good conversation with one another once they begin the planning process to determine what they think the budget should be and where to allocate their funds.
Housing and babysitting multiple guests
Couples sometimes make the mistake of housing relatives and friends who have traveled from interstate or another country. While this may be welcomed by some, for others it can mean precious time in the lead up to your wedding being dominated by fussing over guests, or ferrying them around.
A wedding is about the couple and celebrating with their respective families, but that doesn't mean couples should feel obliged to house multiple guests over the course of their wedding weekend. If you can't have guests stay at your house but you don't want to seem uninviting, it may be easier to to book a hotel room for them near the wedding venue.
Only selecting the bridal party out of obligation
Just because a friend asked you to be a bridesmaid or groomsman for their wedding doesn't mean you have to return the favour, especially if you no longer have a good relationship with that person. Many couples make the mistake of selecting their bridal party based on obligation, and as a result may feel that the people they chose to share their special day with weren't truly involved or happy to be there. Asking someone to be a part of your bridal party is a big deal, and should be reserved for people who are genuinely happy for you and will help you celebrate your special day.
Letting other opinions dictate
Dominant in-laws, pushy bridesmaids or know-it-all relatives and friends may sometimes offer advice and give their opinion when it comes to making decisions for your wedding. However, this is where some couples may let other people dictate the plans for their special day. While some couples may appreciate friends and relatives making suggestions, sometimes this can become overwhelming and can make couples question what they had originally planned to do.
The best thing to do to prevent this situation is to start your planning process with a rough idea of how you would like your wedding day to be, and although this may organically change slightly, it's best to continually communicate with your partner so you are both on the same page and comfortable with how your plans are progressing. After all it's your day, and you can choose to do whatever you want!
Not planning the wedding day schedule
One of the biggest mistakes a couple can make is not planning their wedding day schedule, which can result in flustered brides and grooms, relatives and suppliers. Things like estimating how long it will take to get ready, and making time allowances in case there is traffic or delays, are imperative when it comes to pulling off a smooth wedding day. Planning for any possible delays and mapping out what time your suppliers bump in or deliver things, will allow everyone the appropriate time to prepare and avoid the feeling of being rushed and overwhelmed.
Not trialing first
When selecting services like hair and make-up or spray tans, it is best to trial first so you will be happy with the outcome on the wedding day. For brides, this may entail meeting with your hair and make-up artist before the wedding for a trial. After all, the particular hair and make-up looks you think you want may not be your best fit, and you may not realise this until you've tested the look out. A professional stylist will guide you and suggest colours and styles that will suit you best.
Micro-managing professionals
Whilst it is important for couples to be in control of their wedding planning and their wedding day, some couples can be so focused on taking the reigns that they miss some beautiful opportunities.
The suppliers you book for your wedding day will be professionals, and as professionals they may have some ideas or suggestions that you may have over-looked. For example, sometimes candid wedding photographs can portray a beautiful and natural moment shared by a couple, and may provide a more authentic result than a photograph which was micro-managed by a couple trying to get the best shot.
Having faith in a professional opinion and experience may not only provide results that exceeded your expectations, but it will also take away the stress of worrying about every little detail on your big day.
To make the wedding planning process less stressful, why not enlist the help of a wedding planner. Find a local wedding planner here.