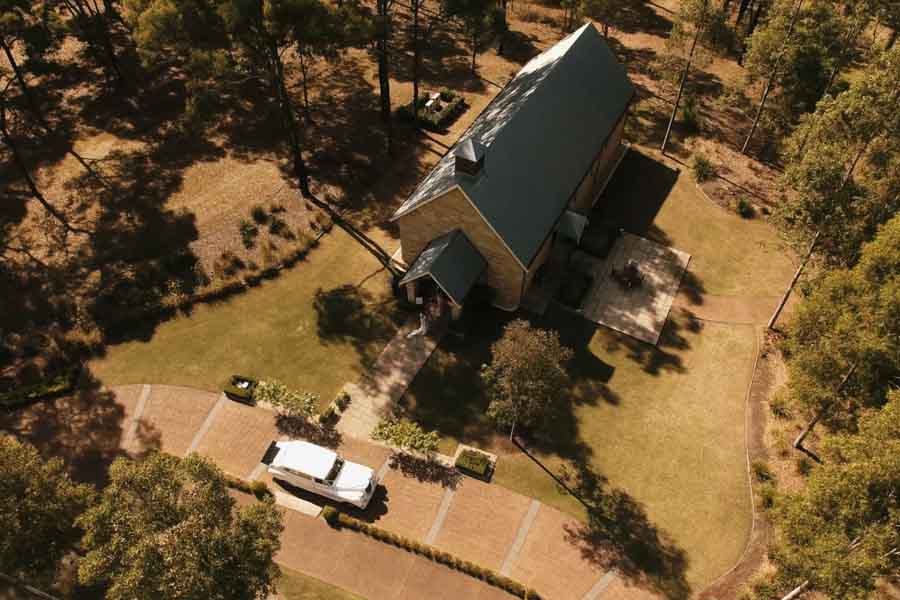 The bride and groom are riding serenely in an elegant horse-drawn carriage along a lonely, sun-drenched country road surrounded by sweeping hills. Meanwhile, a video camera soars 100 feet in the air to film the spectacular scene.
It's an enchanting old-world moment captured by new-world technology from the sky – a drone equipped with a built-in cinematic motion camera that has a bird's-eye view of the newlyweds' first journey together from a little country church to their wedding reception.
A take from a Hollywood feature?  Not quite. It's part of a wedding video made recently on the NSW south coast for a couple who decided that the sky wasn't the limit when it came to recording their special day.
Drones, those little unmanned aerial contraptions, are increasingly being used to document weddings as couples search for the latest wow-factor for their videos – and a touch of movie-style pizzazz.
"It's much more than a gimmick," says Marcus Stimson, a licensed drone pilot and aerial cinematographer with Marry Me Movies, one of the first wedding film companies in Australia to offer the service. He has been flying his video drones for about three years.
"I've been working in cinematography for 15 years and one of the things about being a cinematographer is that you are always trying to find a new and interesting angle to view the world.
"It's an interesting learning experience to take your photographic eye and apply it to this new way of capturing images. And you can get some spectacular results at weddings."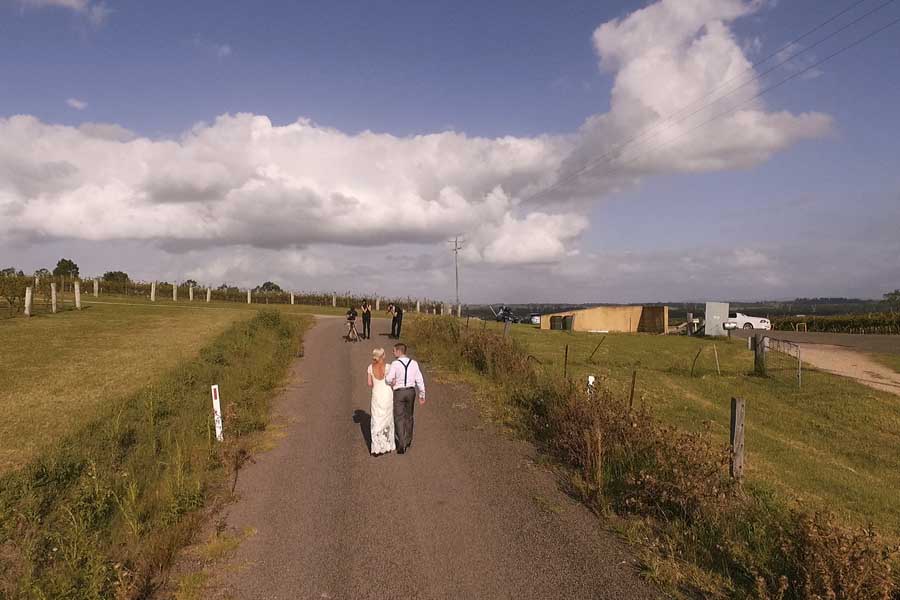 Marcus usually takes at least two drones to weddings. They can each fly for about 18 minutes on one battery so he carries at least six batteries and interchanges his drones during the day.
Under Australian regulations, drones can fly as high as 400 feet but Marcus usually flies only to about 100 feet. "At 400 feet you might get a beautiful vista but lose all the special details in the shot so we tend to fly lower," he says.
"Every wedding is treated differently. You can generally get a nice visual of the ceremony if it's outside. We've done some in the Hunter Valley wineries district where there is incredible scenery and you get this beautiful vista of the wedding party from the air,
"And sometimes at a seaside wedding you can have the drone 30 metres out on the ocean looking back at the wedding party on the beach and it's absolutely beautiful.
"But if you're having a wedding in a built-up area, drone filming is not necessarily going to work for you. There's only so much you can do. Drones are for outside and lot to do with weddings happens inside. And the trick is not to be noticed doing your job. To be honest, you don't want to have drones buzzing around at receptions when people are sitting down."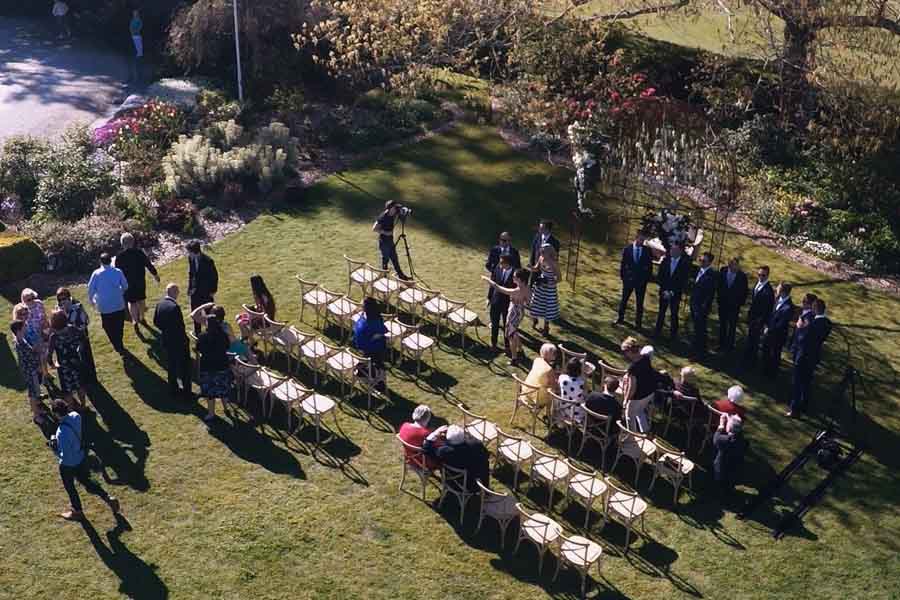 Chris from Marry Me Movies agrees that drone filming is "not for everyone".
"But it's surprising how many people know about filming with drones and their eyes widen when they know we can do that," he says. "We find that the guys are the most interested in this option.
"The word about drones has spread and it is certainly a growing service for us."
He advises couples to plan well ahead if they want to have a videographer or cinematographer at their wedding.
"Some couples are smart and plan for a video in advance and have a budget for it," he says. "But sometimes that budget is unrealistic. So they end up going for a company that won't do the job properly.
"Some leave it to the last minute and by that stage most of the budget has been spent. The message we want to get across is to plan in advance for your wedding video if you want a good one. I think people should budget for video in the same way they budget for photography."
Marry Me Movies' cinematographers have worked with mainstream TV channels, shot music videos featuring popular artists such as Ed Sheeran, and have had their work featured on SBS, Channel V, Foxtel and The Voice.
"You don't get the opportunity to re-shoot at weddings and you have only one chance to capture the special moments so you need people with the technical skills to be aware and get the right shots. Our guys have worked for news programs on TV so they know how to react quickly.
"All the great technology and clever editing in the world will mean nothing if you don't get the shots."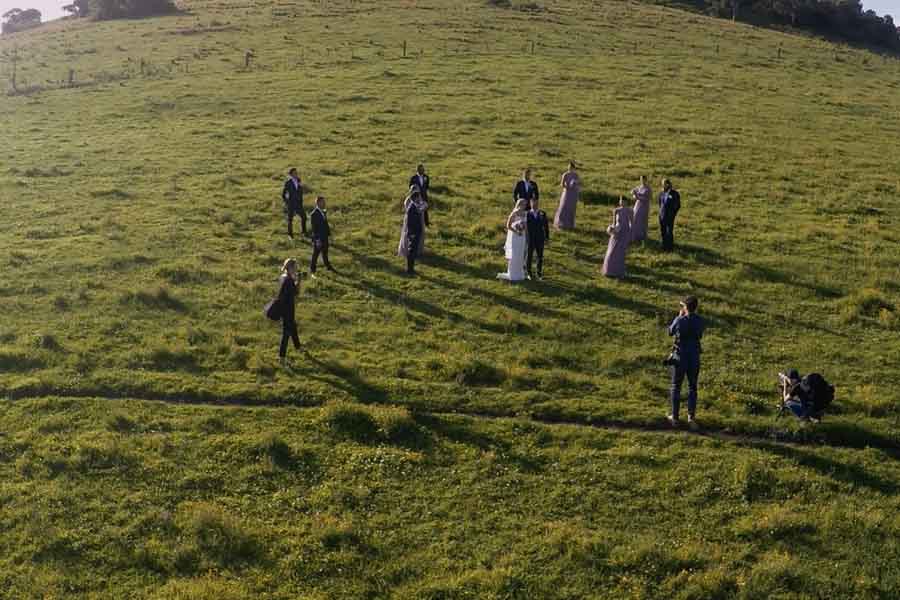 Marry Me Movies offers several packages, ranging from $1500, that can include aerial filming, time lapse photography, wedding highlights and same-day editing to play excerpts at the reception. The company also provides its clients with all the unedited footage captured by the cinematographers.
"All of our packages come with either one or two cinematographers and we usually recommend having two to catch all the action.
"Having two means we can be in two places at once. For example, with an important moment such as the bride walking down the aisle it is important that one cinematographer be focussed on the bride. Having a second cinematographer available means we are also able to capture the groom's reaction as his bride walks down the aisle.
"Likewise, while the reception speeches are taking place, one cinematographer is able to focus on the person making the speech and the other cinematographer is able to focus on the guests and their reactions. It's all about telling the story of the day."