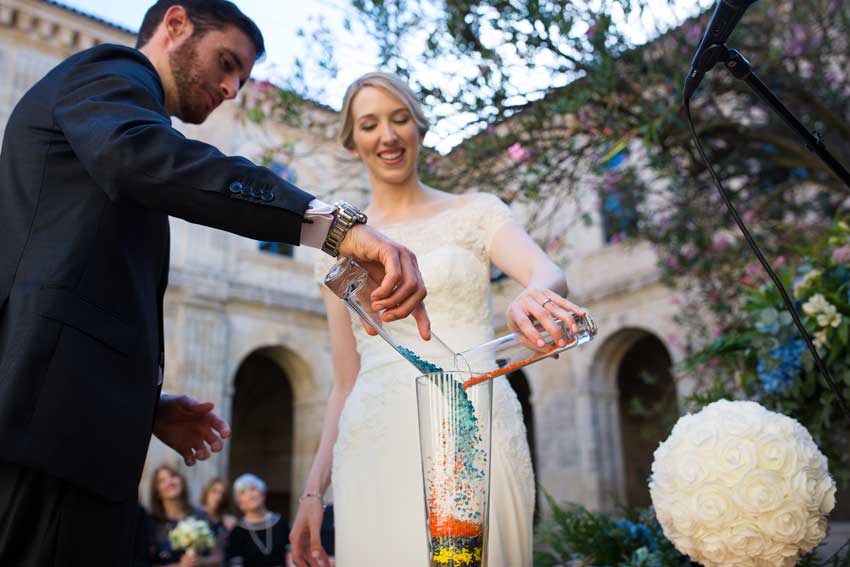 The most popular styles of unity ceremonies usually involve sand or candles, but there are many more options. Here are 10 styles of unity ceremony you may want to try at your wedding.
But first, what is a unity ceremony? Unity ceremonies are non-denominational ceremonies that represent the coming together of two people as one. They're sometimes even held as part of a bigger religious wedding ceremony, but they always represent the same thing: unity.
Exchange a rose
The bride and groom can each give the other a single rose. It'll be the first gift they give each other in their new married life. Once they do this, the respective families can also exchange roses to symbolise the joining together of the families.
You'll find roses and more at these great local florists.
Let us drink together
A single wine glass is placed on the white tablecloth. There are two carafes of wine – the same wine. The bride pours some wine from her carafe into the glass and then the groom does likewise from his carafe. Then the bride drinks from the glass, hands it to her new husband and he too drinks.
[ew-supplier-carousel]
Plant a tree together
A plot and sapling are obtained beforehand and, at the appropriate time, the couple use the same shovel to place some soil into the hole. Together they plant the young tree signifying the growth of their married life together. Note: best suited for outdoor ceremonies!
Plant a time capsule
Place written promises of love, photos and other mementos into a sealed capsule and place it in a secure location. It's there to be re-opened in years to come. It's a nice way to set your intentions and is fund to look back on in years to come.
Please take a pebble
Before the wedding service, guests are invited to take and hold a small stone, a pebble from a collection. The guests are encouraged to bless the pebbles with their well wishes while they are holding on to them. These are gathered later and placed in a vase to be displayed in the couple's home.
Bless the rings
The wedding bands are displayed where guests can bless them before taking their seat. Or the rings can be placed in a small bag, placed on a cushion and then passed around before the ceremony. This is known as a ring warming ceremony. The couple know that when the rings are exchanged, all their family and friends have blessed them wishing the couple happiness and love.
This article provides a more in depth look at ring warming ceremonies.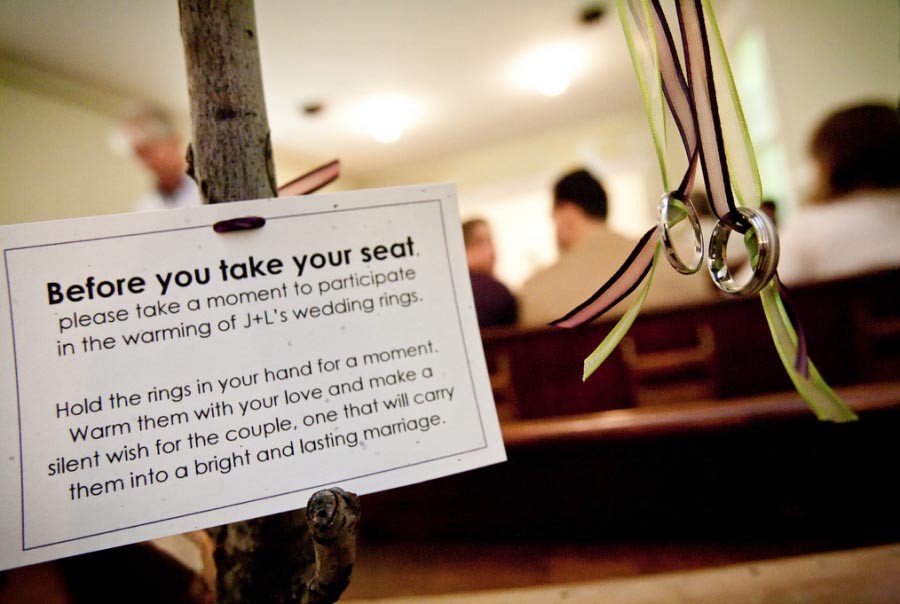 Wash your feet
This has a direct connection for Christians where Jesus washed the feet of his disciples. The bride and groom remove their shoes [and any other foot garments], and, using a sponge and water from a bowl, wash one another's feet. Special monogrammed towels are then used to dry the feet before each of the newlyweds replaces the other's shoes.
Tie the knot
We know it's a saying meaning to get married, and here is a practical way to do just that, literally, using three strands of rope. Make the strands different colours to add beauty. The minister or celebrant holds the ring to which the three strands are attached. The couple entwine the strands making a single piece. It's good idea to rehearse this activity beforehand!
Use sand to signify unity
This is a popular choice with many couples and especially at beachside weddings. Two different types of sand – colour, texture, etc. – are poured into one container. The sands are poured simultaneously so you can see the different sands becoming one. The see-through container is then displayed in the couple's new home as a symbol of their unity.
European company Unity Glass does something similar but with coloured glass pieces – these are then melted into amazing glass sculptures.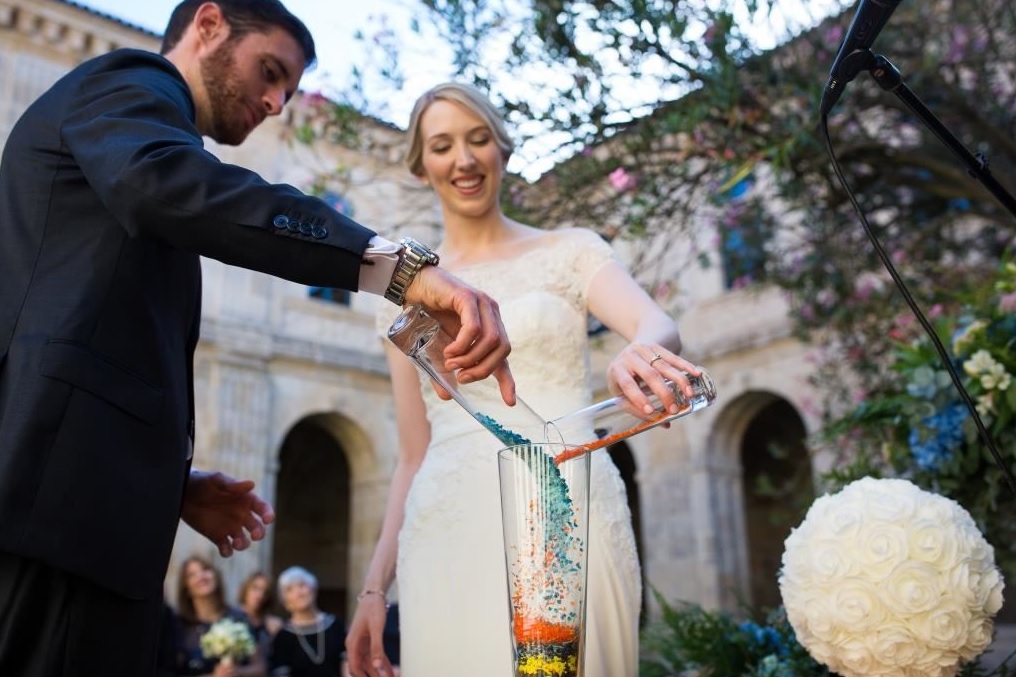 Salt has long been important
For centuries salt has been used in many ways including, obviously, daily consumption. The beauty of both bride and groom pouring the same type of salt separately into the one container, shows that their once separate lives have now become one. Again, the small container of salt is retained by the couple as a reminder of their unity ceremony.
Planning your wedding? Find the best local wedding suppliers here.