Sometimes it is hard to remember why wedding traditions started, or why they are still relevant today. You may not know why wedding couples initially had a wedding cake, but this is one trend that is still very much loved today and is unlikely to fade anytime soon.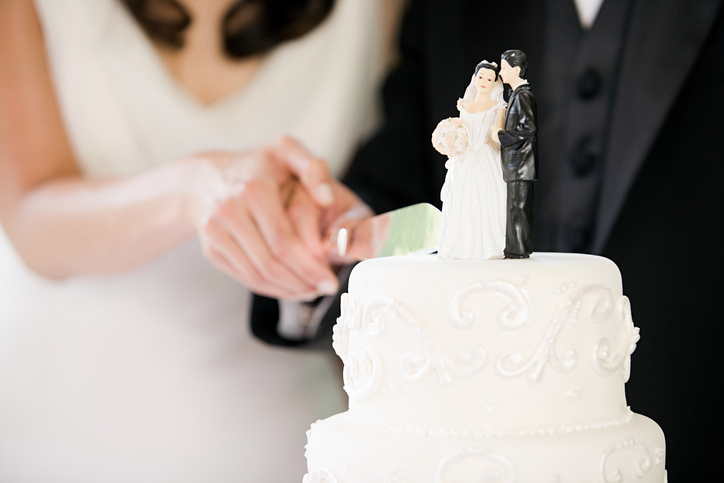 Where did the wedding cake tradition start?
The meaning behind the tradition of having a wedding cake is quite a sweet one (if you will excuse the pun!). Like many wedding traditions, its roots are in wishing luck and prosperity to the wedded couple in their new life together. This is definitely a sentiment that is still very important in the present day.
In the beginning, the cake was bread which was broken over the newly married couple's head to wish them luck. The tradition evolved to become pie, and then eventually cake. Over time the cakes became more elaborate and were considered to be a sign of wealth and status, with whiter cakes meaning you were higher class.
In the last century wedding cakes were usually fruit cake, which could be kept for a long time. It was considered good luck to keep the top tier of the wedding cake and then eat it on the first anniversary or at the christening of the first baby.
The cake was cut in front of everyone and then shared to wish luck to the couple and all of their guests. It may also represent fertility.
Some modern trends have the cakes not even being distributed amongst the guests and instead being more of a centrepiece of the wedding day. Other modern weddings chose to have no cake at all or may replace it with something like a cake of cheese such as those made by Cornelius Cheese.
Wedding cake trends that will never go out of style
White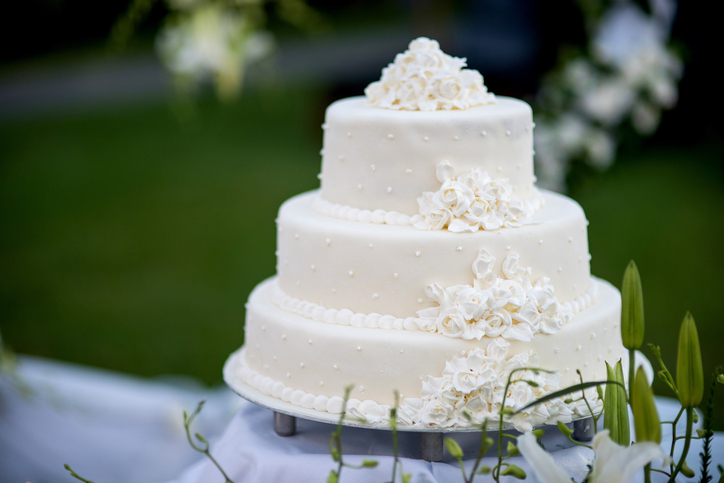 Wedding cakes became white with Queen Victoria's marriage to Prince Albert in 1840, and this was the first known use of Royal Icing.
The majority of wedding cakes today are still white, or white with some colour touches and effects. This colour while being traditional is classic and lends itself beautifully to every wedding theme. White can be anything and everything, and will simply never go out of style.
Traditionally wedding cakes were fruit cake, but this seems to be far less common today, with every possible cake flavour available for your special day. Whatever cake you love, you can have as your wedding cake. Popular choices include vanilla sponge, butter cake, mud cake, red velvet cake, and even carrot cake.
Layers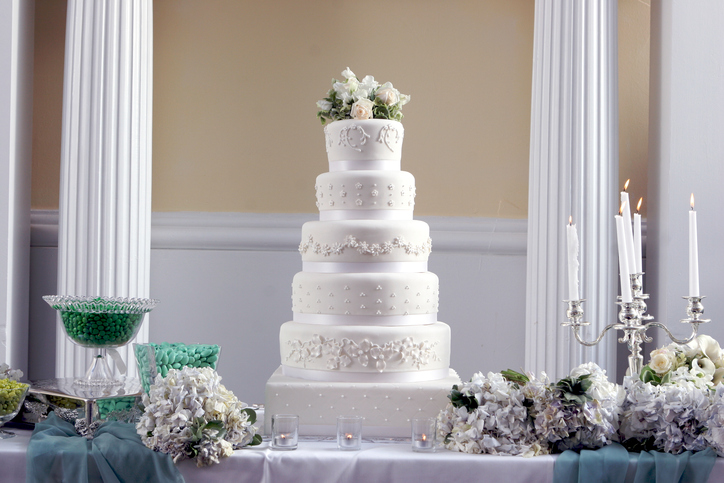 Throughout time, wedding cakes have become towering masterpieces of art and architecture. Why on earth would you have a one-tiered cake when your wedding cake could look spectacular and otherworldly? On your big day, nothing is ordinary or as it usually appears, so why should your cake be any different?
Layers used to have pillars between them, but more commonly are stacked directly on top of each other now. Pillars still can be used for themed cakes such as vintage or contemporary cakes for a very striking and memorable look.
Intricate details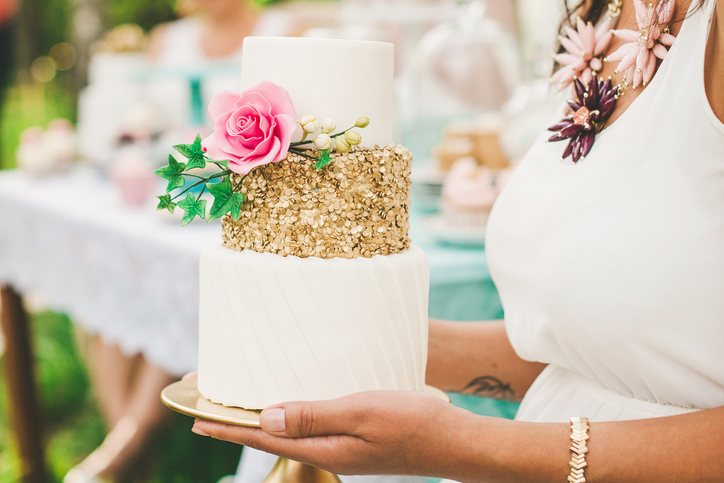 While cost may be your only restriction, you should have as intricately detailed a cake as you can afford. This is not the day to go casual or easy. Details may be piped on in icing, added in decorations or toppers, or even printed or painted on.
One wonderful way details are put into cakes more recently is in the mirror gloss cakes that resemble entire galaxies of stars.
Miniature couple perched on top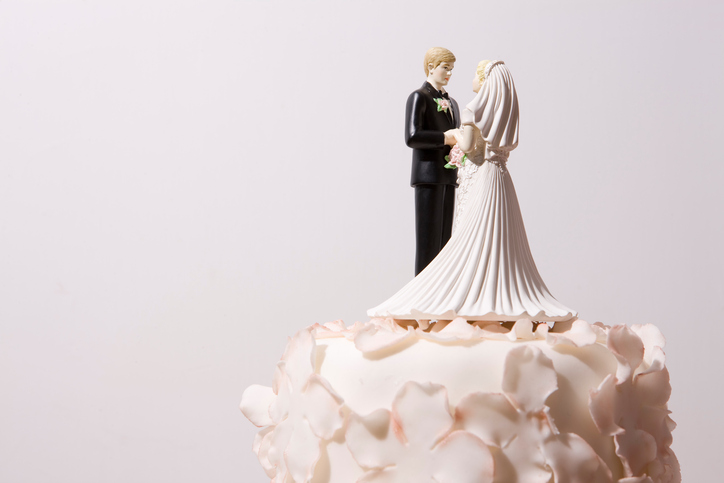 Cake toppers became popular in the 1950s and used to be store bought and mass produced. Today this is still a wonderful tradition but retains its relevance through individually tailored cake topper couples. You can have handmade toppers made which represent you specifically as a couple, either physically or through personality traits.
For ideas for personal cake toppers, talk to Tops for Cakes who deliver Australia-wide.
Flowers
Decorating your cake on top, sides or base with flowers is a gorgeous trend that will never fade. You can use fresh flowers such as those is your bouquet or even incredibly crafted silk or edible ones.
There really is little restriction on what can be created, and flowers have such a romantic feeling attached to them, the attraction of having vibrant blooms perched on your cake will never go out of fashion.
For some modern takes on florally decorated cakes check out Heidi's Dream Cakes based in Sydney.
Putting your own theme on it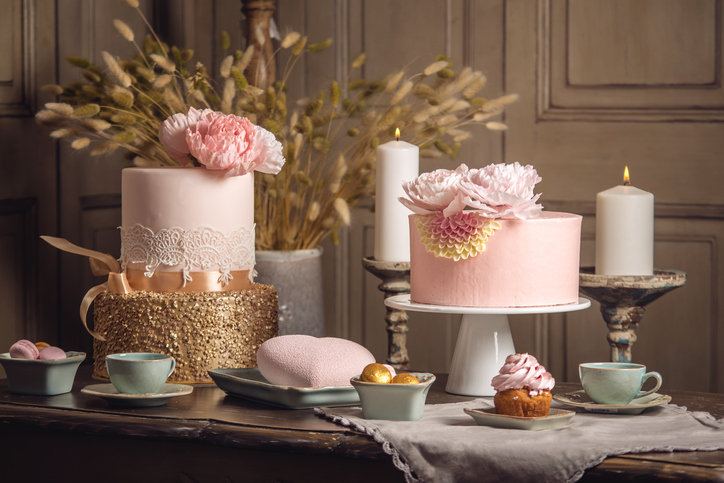 Your wedding cake is a perfect way to exemplify your chosen theme and make a showpiece of your cake at the same time.
While most are white, they can, of course, be any colour or any combination of colours. The magic of cake decoration today means that anything is possible, from any colour hue to any kind of decoration.
Contemporary cakes can display a number of different shapes and patterns, changing from layer to layer. They can also use bold and contrasting colours or striking geometrics. With printing available onto edible icing in any pattern or print you like, the range is only as limited as your budget and your cake maker's imagination.
Sophisticated cakes could be dripping with gems, crystals or pearls, or painted in glittering gold or silver. Rose gold tinted cakes are also a stunning trend that will never fade. For beautiful sophisticated and elegant cakes check out Priscilla's Cakes based in Melbourne.
Rustically themed cakes may have flowers, greenery, grapes or other fruit topping them. Newer trends like nude finish cakes and dripping effect look fantastic as a base for rustic weddings, such as the ones created by Trendy Cakes based in WA.
Colours may be natural or pastel in tone but can be any colour of the rainbow really. Other touches may include lace, ribbon or hessian.
Personal touches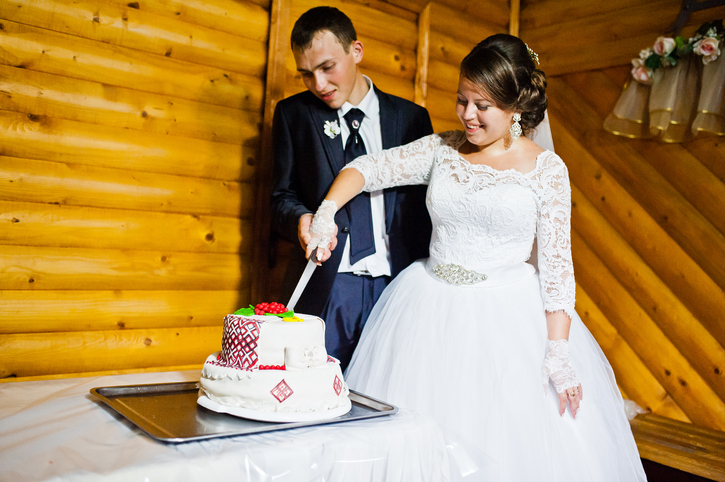 Your cake is another way in your wedding day to tell your beautiful story and stand out from the crowd. It is a way to add your own personal and creative touch to the day, as well as a great way to thank your guests.
And it is still a lovely way to wish love, luck and prosperity for the start of your married life together. This trend should never go out of style.