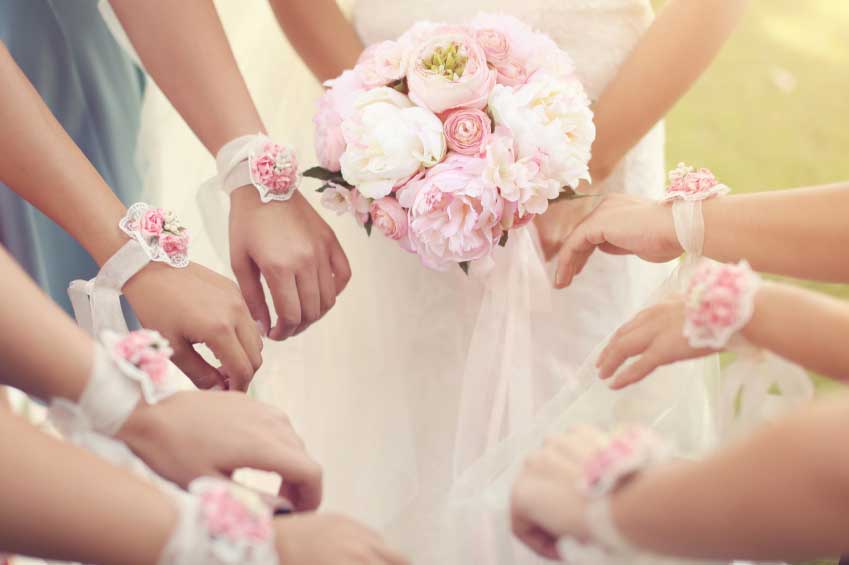 The relationship between a bride and her bridesmaids is, generally, a precious one. But that doesn't mean picking – and keeping – your attendants is always easy. Sometimes, things don't go according to plan, and it can be tricky to know how to respond. Here are three common bridesmaid-related dilemmas, and our advice on how to handle them.
I've been asked to be a bridesmaid but I don't want to do it. How do I decline politely?
When a friend asks you to be in her bridal party, it's a huge honour. After all, she's asking you to stand by her side on one of the most important days of her life. So, when the request brings a sinking feel rather than one of overwhelming joy, it can be a tricky path to navigate.
The first thing to ask yourself is why you don't want to be a bridesmaid. That's not to say you owe anyone a justification, it's just that working out the reasons can make the course ahead clearer. Are you worried about costs? Would you rather do something less involved or time consuming? Is there a better way you think you can contribute to a great day? Whatever you decide will determine how you decline what is, often, a heart-felt request.
If you simply can't afford it – and that's genuinely your only reason – ask for a private conversation and explain that you are thrilled by the invitation but finances just don't permit it. Be honest without being grim and you may even find the bride offers to cover the lion's share of expenses to make the opportunity work for you. And in that case, it's a win-win situation.
If the reasons lie elsewhere, a little bit of honesty is a good thing, but perhaps coached in the right terms, ones which recognise that the day is not all about you.
For example, if you know your work is going to be seven-days-a-week busy for the next six months, let the bride know your workload is the problem, making sure she understands you would hate to say yes and then not be able to provide the proper amount of support and attention she deserves.
But, if you also know that things will ease up for the last month running up to the wedding, you could offer to help with something such as DIY ceremony programs, picking up tuxedos for the groom's party or even doing something lower key, such as a reading at the ceremony. The main thing is to let her know that it's not personal, it's life – and if she can find it in her heart to agree on another role, you could think of nothing more special than taking part in her celebration.
That said, at the end of the day, you have to prepare for the bride to be a little unhappy at being turned down for a request many people would be thrilled to accept. But if you handle it politely, with courtesy, and offer to support and help her however you can, your friendship should be able to navigate past the no.

My fiance wants me to have his sister/friend/etc as a bridesmaid, but I'm not keen. How do I respond?
As a general rule, a bride picks her bridesmaids and the grooms pick his groomsmen, however, let's face it, weddings are all about joining two families, and it all starts right here. After all, often, the groom may want his sister or cousin to be in the bridal party and the bride may want her own brother or a close male friend to be there too.
Of course there ways around tradition and, these days, we see plenty of 'bridesmen' and 'best woman,' which allows for this scenario – somewhat.
The thing is, if it's someone close to your groom, as a sister may be, chances are that you have also gotten to know them well and, perhaps, you were already considering having them as part of your bridal party, in which case there's no problem.
Issues arise, however, when you want to say no, for whatever reason, be it practical or personal, so it pays to clarify them before having the conversation with your fiance.
For example, being asked to be someone's bridesmaid's role is an honour, one that acknowledges the bridesmaid's role in the bride's life. So, it makes sense you would only want to choose someone you're truly close with, someone who's been there with you, and for you, through thick and thin, rather than someone you only met through your groom.
Also, depending on the bride's personality and needs, a bridesmaid needs to be pretty much on call for the duration of the wedding planning for everything from going wedding dress shopping to organising the bridal shower. So, you need to be truthful in answering the question: would you feel comfortable asking your groom's sister to do all that?
Whatever decision you come to, it's important to give the question serious consideration because, it probably wasn't asked lightly – and, unless there was a true bond, it's unlikely your groom would make such a request of his bride-to-be on a day he knows should only be filled with her nearest and dearest.
So, your spouse-to-be deserves a well articulated response, but also an honest one. It's simply a case of being gentle with him but, at the end of the day, also being honest, since you need to be happy with your bridal party – and you don't want to start out your married life with either a lie or something that's going to bother you.
Of course, if you aren't able to give a straight 'yes' or 'no' answer, you could meet him half way. Explain that you understand how important this person is to your groom – and your new life as a married couple moving forward – and, therefore, you would be delighted if they could play another role in the big day, say as the MC or something equally important.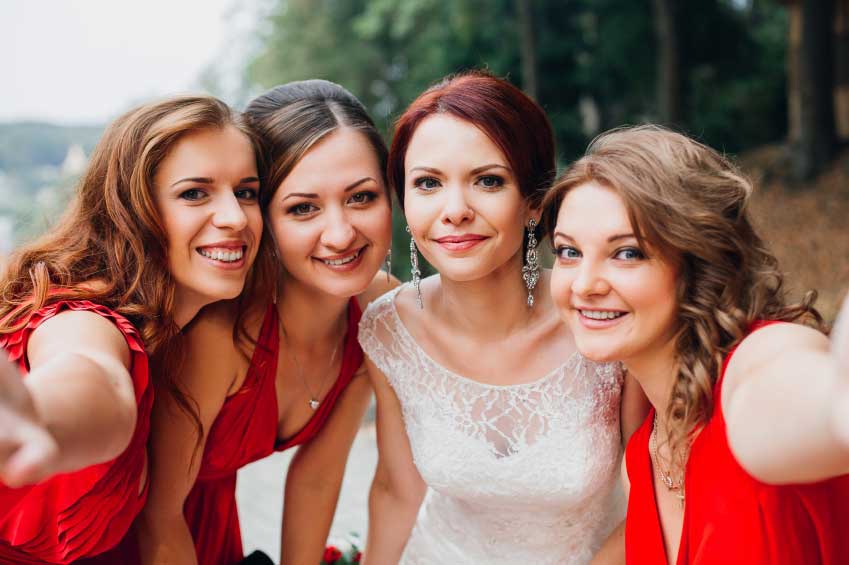 A bridesmaid has backed out of my wedding at the last minute. Should I replace her?
When you ask someone to be a bridesmaid, it's because they're an important part of your life, meaning you want them to be an important part of your very big day. So, if the circumstances are such that they wish to – or must – back out, it can be hard not to take it personally. But, before you take their actions to heart – or even retaliate in frustration, be sure to listen to what they have to say and understand that they've probably come to you after many a sleepless night and, hopefully, that they haven't made the decision to back out of the bridal party lightly or without thought.
Regardless of their reason for backing out, hopefully, it is something you are able to understand: perhaps they just can't afford the mounting costs, perhaps they're so overwhelmed by the demands of being a bridesmaid that they can't cope with the rest of their life or, perhaps they have fallen ill, and no longer have the ability or energy to take part in what can be a very busy and stressful time.
Of course, it may be something you simply cannot understand. Whatever the case, stop and breath. Listen to them and try to understand their position as, hopefully, they will understand yours. Try to be gracious about it. Perhaps there is even something else you can give them to do, such as overseeing the gift table at the reception?
However, that doesn't solve the issue of a bridal party minus one and whether or not you should replace her?
The answer is: only if you wish to.
There's some sensitivities to consider here, especially in that the person you ask to step up would know she's a Plan B which, if you're lucky, she won't mind at all. But if you think it would be too disrespectful, there's no problem in going with an uneven number of attendants.
Just be mindful of the fact that being down one in the bridal party means that one of your groomsmen is going to have to spend all the big 'couple' moments alone, including the bridal dance when the bridal party joins the newlyweds for their first dance.
In the long run it won't matter how many bridesmaids and groomsmen you have anyway, as all eyes will be on you!