A little planning will ensure your beach wedding is as perfect as it can be
Beach weddings are a dream for many couples, and with coastlines as beautiful as ours here in Australia, they're the perfect setting for kicking off your married life.
But, while beach weddings can be utterly romantic and absolutely unforgettable, a little planning and forethought will ensure they're not unforgettable for the wrong reasons.
Nicole Ritchie, lead stylist and co-owner of Beautiful Beach Weddings, has planned her fair share of beach and outdoor weddings, more than 125 in total.
"Walking down the aisle and being surrounded by people who care about you is always a very special moment, but doing it with sand between your toes and the warm sun shining down on your skin is truly special," says Nicole, who should know. Her own wedding, in 2007, took place on a sweeping beach in Vanuatu and inspired the idea for Beautiful Beach Weddings. Sister Justine, too, was married on a beach in Hawaii.
"Beach weddings sounds absolutely perfect and they can be, but you need to plan ahead," says Justine, who also styles beach weddings.
"Little things make all the difference, like providing guests with water or parasols or sunscreen, which is vital given they'll be sitting in the sun a lot longer than the bridal couple!"
Nicole's top tips for ensuring your beach wedding is as fabulous and disaster-free as possible include:
Provide water and parasols for guests
"Remember that your guests will be on the beach for a lot longer than you will be," says Justine. "It's lovely to provide them with water and some shade, so perhaps provide the water in lovely ice tubs."
Parasols can be hired and are very popular with women. Most people will forget to put sunscreen on, so this gives them a bit of shade and have a bottle of sunscreen available just in case.
Bridesmaids Dresses
"Chances are there may be a breeze on the beach during the ceremony, so try to avoid dressing your bridesmaids in short or whispy materials that are easily blown around."
We have seen a few wedding where the dresses were lovely and flouncy, however a gust of wind and the bridesmaids bared all!" Ehem!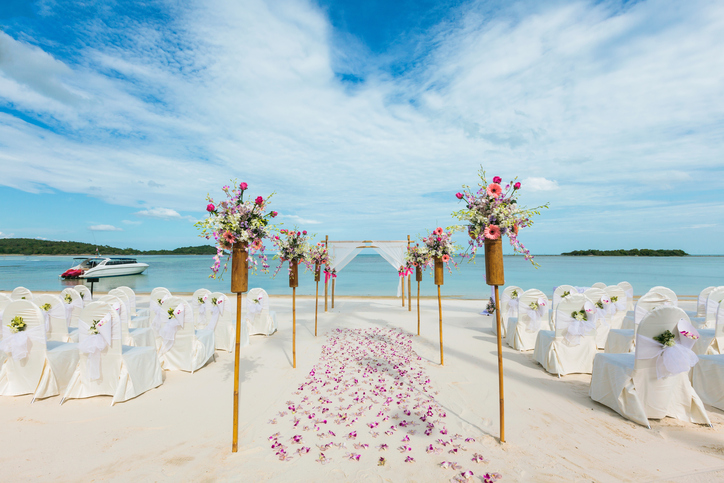 Shoes or bare feet?
Beach weddings lend themselves to going barefoot and, for a fun touch, both the bride and groom could opt to wear some fun thongs.  Brides can opt to wear some beautiful foot jewellery that will add a little pizazz to your feet without requring heels, and you can always slip your shoes back on after your beach photos so you can dance the night away with your new hubby.
One fun tip is to provide a shoe bucket at the top of the beach for the guests to pop their shoes into. Then they too can enjoy the sand between their toes!.
Council Permit
If you're marrying on a public beach or in a park location, you will generally require local council approval to use the space.
Make sure you book the area and provide your stylist with a copy of the permit form.  "Usually the general public are extremely accommodating if they know a wedding is being setup and will move," says Nicole. "To liaise with people in the area is a job that your wedding stylist can take care of on the day – and it will avoid having that topless sunbather in the background of your wedding shots."
Check 1, 2, 3
There's no point inviting guests to witness your big day if they can't hear what's going on and, out on a beach, especially on a breezy day, the potential for wind and the rolling sound of waves to, erm, drown out the goings-on are too high. Be sure to have your celebrant provide a good quality PA and microphone, even if there are only a few guests. "It's amazing how much noise the nearby surf and water can make," says Nicole.
Directions
Beaches are big and saying something like; Location, Bondi Beach won't cut it. Be sure to include a map or very clear location instructions, such as a cross reference (eg. King Beach near the corner of Marine Parade and Dianne Street). Then, place a flag or some sort of unmistakable pointer at the closest point of entrance to help mark the spot and alert guests to the wedding's location. "Whenever we style a wedding, we always mark the location with a giant, crisp white 5m bali flag," says Nicole, "You can also use fun little blackboards and wedding signs with arrows to point the way."
Go with the Flow
Even the most organised bride or the most fabulous wedding stylist cannot control the weather, so make sure you have an indoor or undercover option available – just in case. Before the wedding, allocate a friend or family member who will let your guests know of any changes. This is best done via a bulk text messaging the morning of the wedding. You should make your weather call at least two hours prior to your ceremony's start time.
This will allow you or your styling company time to move to an alternate location (which should be organised before the big day) – and gives them time to set it up and make it look beautiful.
Oh, and don't forget to let your celebrant know too!
"Finally, the best thing you can do is relax and enjoy your special day!  You're surrounded by your family and friends who all love you, so, put those nerves aside and savour every moment," says Nicole.