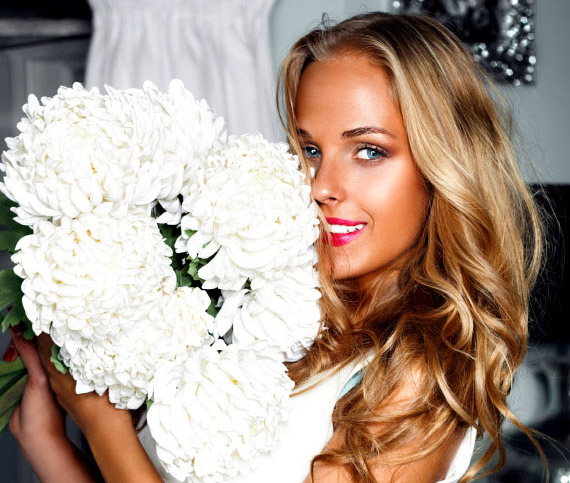 Many brides and bridesmaids will opt to have a spray tan as part of their beauty preparations for their special day. If you are choosing to sport a faux sun-kissed glow at your wedding, here are 10 spray tan tips to help ensure you look more like Cinderella rather than her pumpkin.
Firstly, what is a spray tan?
A spray tan is a beauty treatment which involves the recipient being sprayed with a mist solution that reacts with the skin and creates a layer of bronzed colour. The layer of colour stays on the skin for four to five days on average, and eventually fades and rubs off. A full body spray tan takes around twenty minutes and is applied to bare skin.
What's the difference between a spray tan and self tanner?
A self tanner can be applied at home and usually comes in the form of a cream or lotion, whereas a spray tan is an in-salon beauty treatment and is always applied by a professional beauty therapist.
A self tanner can will provide natural looking results, however, some people can find self tanner difficult to use in terms of achieving an even consistency of colour, and it can be hard to reach certain areas of the body such as the middle of your back. A spray tan will provide an even application of a consistent colour, and is generally favoured for a professional finish.
Here are 10 top spray tan tips for brides looking to rock a faux glow.
1. Have a trial
Probably the most important tip when it comes to getting a spray tan for your wedding is to have a trial. Organise to get a spray tan at the salon you intend on going to for your wedding spray tan, and book it no later than a month before your wedding, (don't get it done too close to your wedding as you will need time to remove any remnants of the first tan before you get another). You can even organise the trial to be before any of your pre-wedding events such as the bridal shower or hen's party so you can put your spray tan to good use!
When you book the appointment explain to the beauty therapist what kind of colour you desire. Some brides may want a natural, 'barely there' glow, some may want a medium brown colour, and others may like a really dark spray tan! If you are happy with the results from your trial spray tan make sure you book the same therapist for your wedding spray tan. If that therapist is unavailable, explain to the therapist who will be doing your tan for your wedding how you like your colour.
2. Avoid lotions, make-up or perfume
Avoid wearing perfume the day of your spray tan appointment as some perfumes can permeate the skin and interfere with tanning solution even if you have showered. Skip deodorant, make up, moisturiser and any lotions on the day you are having your tan applied too, as these products can also prevent the spray tan from taking to your skin in an even manner. Also, some deodorants can turn the tanning solution green!
3. Exfoliate, exfoliate, exfoliate
Prepare your skin by exfoliating prior to your spray tan. Removing dead skin cells ensures that your skin will be a smooth canvas for the spray tan to take to, which ultimately means you will not have a blotchy tan. When spray tan is applied to dry skin, it can appear slightly uneven and even look flaky in consistency. Exfoliating will remove the top layer of dead skin cells and will make your tan last longer too.
4. Don't shave or wax after
If you are planning to wax or shave any body hair, do so before you go to your spray tan appointment. If you wax in the days after your spray tan you will remove your tan and be left with obvious patches on your skin.
Shaving is OK, but not recommended 24 hours after your spray tan, and when you do shave expect that your tan may wear a little as a result. It is best to try and avoid shaving altogether, however, if you really need to shave make sure that you do so gently and slowly so you don't remove too much tan.
5. Avoid exercise after your spray tan
Avoid sweaty activities such as playing sport or going to the gym until your tan has developed and you have had your first shower since getting your spray tan. Sweat can make your tanning solution run and create patches or streaks. It is also best to avoid swimming for long periods of time once you have a spray tan as this will make it fade quickly.
6. Avoid wearing tight clothes
In the hour before your spray tan and for 24 hours after the fact, it is best to avoid wearing any tight clothing such as socks, tight jeans, tight tops, and even bras and certain types of underwear.
If you wear very tight clothing before your spray tan it may leave marks in your skin which means that during the tanning process your tan will set according to the contours made by your garments. Wearing tight items of clothing 24 hours after your spray tan can rub off your tan, and items such as bras and socks are especially high risk for removing colour and creating lines.
7. Shower at the right time
The beauty therapist who does your treatment will advise you when you can shower, as per the brand of tan she is using. Many spray tan brands offer different solutions with different developing times. For example, many brands will provide a rapid development solution which develops in 90 minutes and an eight-hour solution which requires eight hours to properly develop.
Once you have worn your spray tan for the correct developing time it is safe to shower, however, most salons will advise that for your first shower you should try and be as quick as possible, refrain from using lots of soap, and don't shave.
8. Pat don't rub
In order to maintain the quality and duration of your spray tan it is best to adopt the 'pat don't rub' policy. This means that every time you get out of the shower, you must gently pat yourself dry as opposed to rubbing yourself dry with the towel. When your skin is wet your tan is more susceptible to being marked or removed, so it is important to be very gentle to ensure your tan lasts and does not begin to appear blotchy.
9. Moisturise, moisturise, moisturise
Moisturise as often as possible once you have your tan to make it last longer. If dead skin cells are shed they will take your tan with them. Moisturizer will keep them attached to your body. At a minimum you should moisturise morning, night, and after taking a shower. Moisturing will also prevent your tan from appearing freckly, as tan sits and looks better on a supple canvas as opposed to a dry and flaky one.
10. Don't forget sunscreen
Just because you have a beautiful spray tan it doesn't mean you are protected from the sun's rays. Apply sunscreen liberally once you are on your honeymoon, and in general too! Plus, you won't need to lie out in the sun all day anyway as you will already have the perfect tan.
[ew-supplier-carousel]