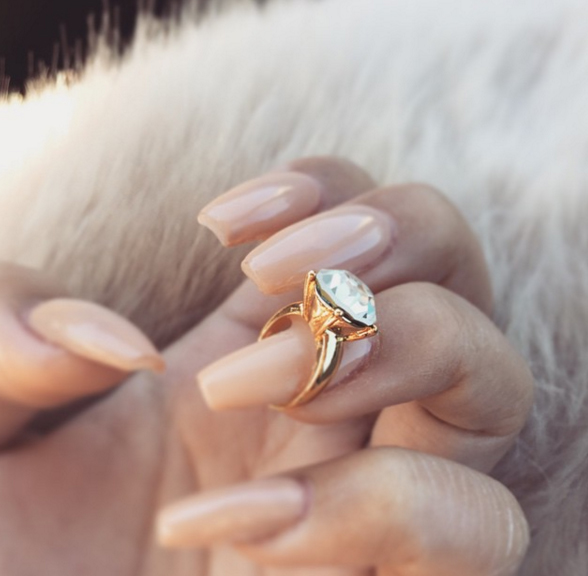 The perfect wedding manicure creates an ideal backdrop to show off a finger that starts the day with one ring and finishes with two. French manicures are an ever-popular option, but they're not a must. In fact the only limit to what you can do is imagination. Here are some impressive manicures to give you some ideas.
Glass glamour
A glossy glass like sheen will no doubt add a unique texture and shine to your bridal look.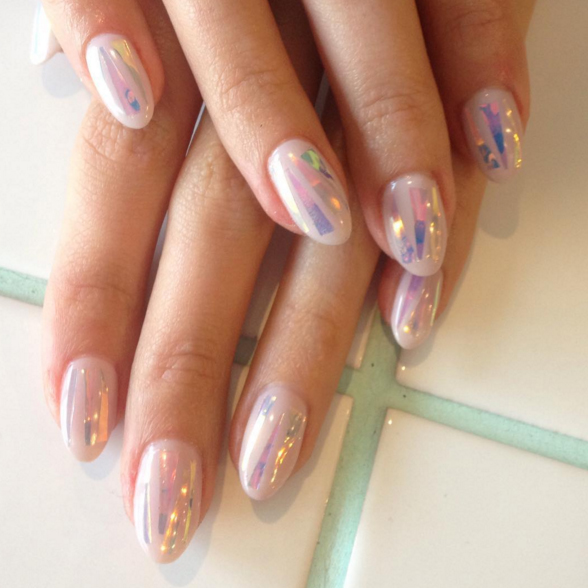 Navy and gold
This look would be great for bridesmaids wearing a navy gown. Accessorize with some gold jewellery and a gorgeous manicure!
Crystal couture
Adding Swarovski crystals to your nails can enhance your bling factor for your big day.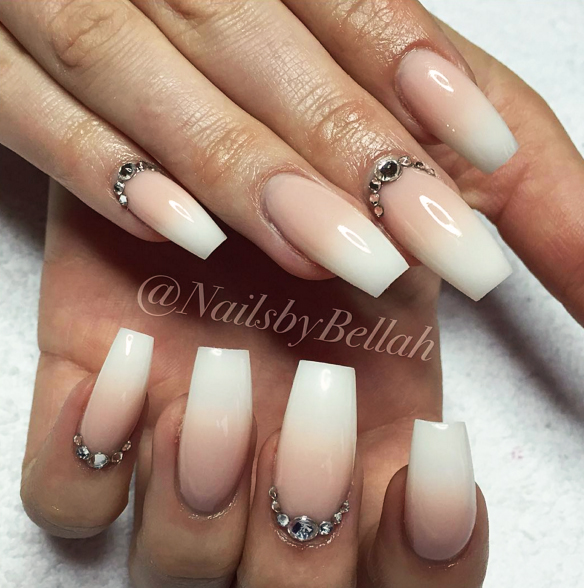 Pretty in pink
A matte dusty pink is a soft and feminine approach, and can be made a little more dramatic when applied to long acrylic nails.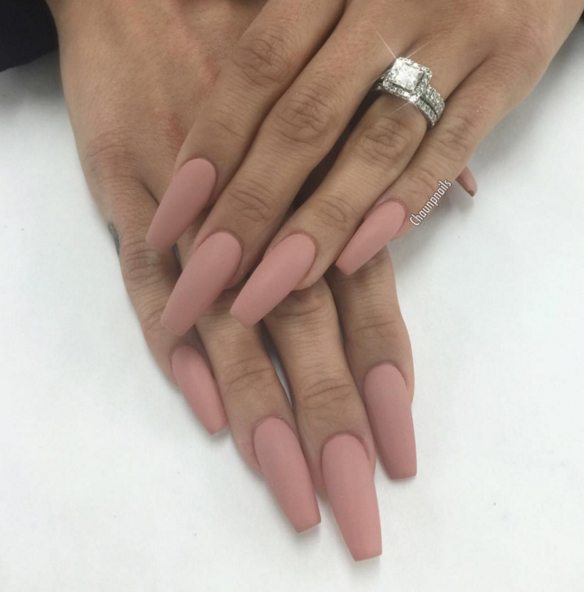 Full bloom
This metallic floral pattern set against a matte black is a truly unique look and would look great with colourful bridesmaids dresses.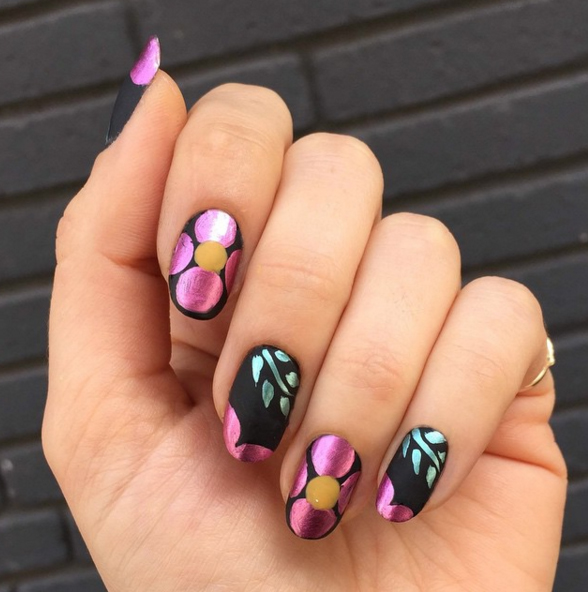 Groovy black and white
Classic black and white never dates and suits a retro style wedding. The best part is this groovy look will work well with any other colours.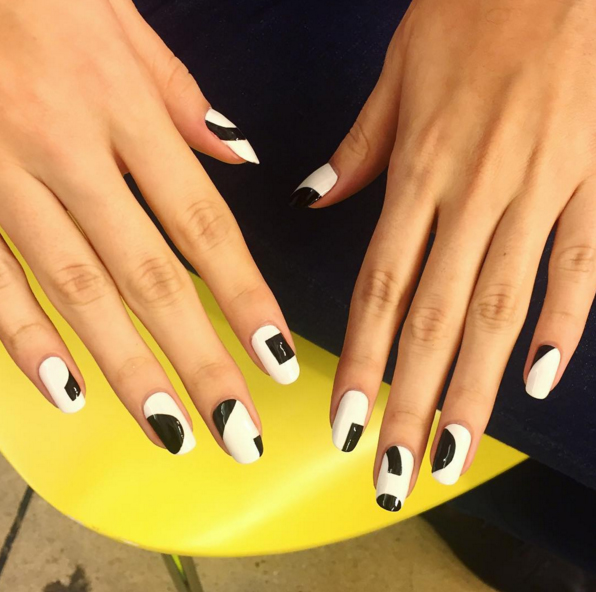 Magnificent marble
Marble textures are all the rage at the moment so it's little wonder the trend has filtered into nail art. A crisp white and grey marble look with gold edging would be a very 'on trend' option for a wedding day manicure, especially if the aesthetic of your wedding is minimalist with luxe styling elements.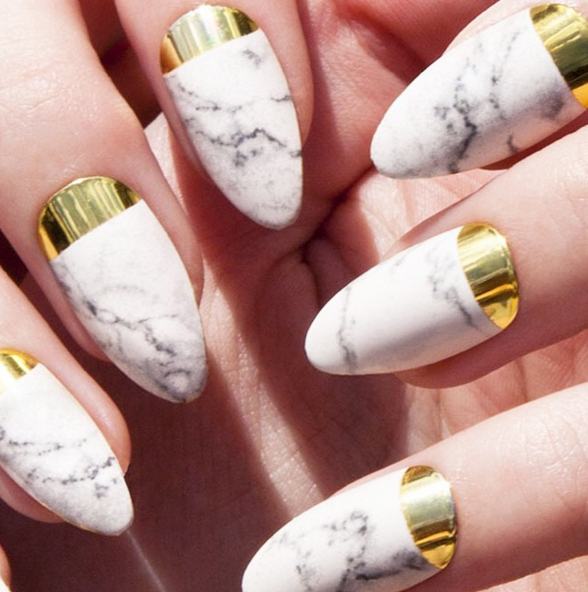 Purple potions
A purple hue for both your bridesmaids and yourself would definitely be applicable for a winter wedding, particularly if your maids are wearing purple dresses. The colour is indeed quite dark and will make quite a statement!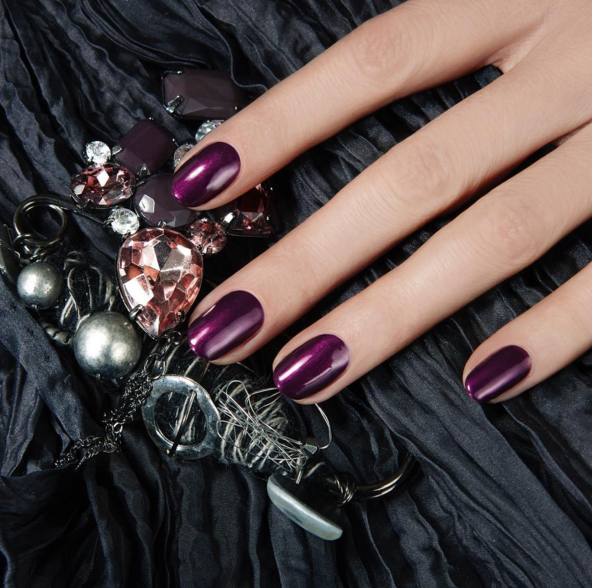 Tuxedo suit
A tuxedo style manicure will have you matching the groomsmen and the creative look will certainly add a little character to your fingertips. Classic black and white tuxedo nails look great, but add a gold or silver for some extra sparkle.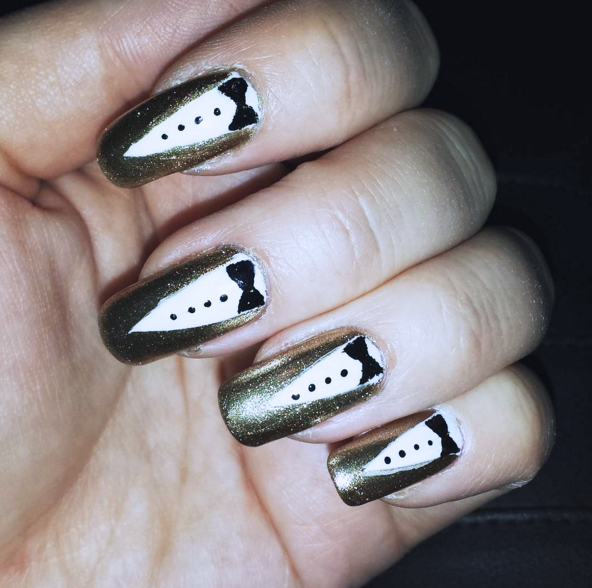 How lovely
Scrabble-inspired nail art is a sweet concept for weddings, you can spell out words like love, or even your partner's name!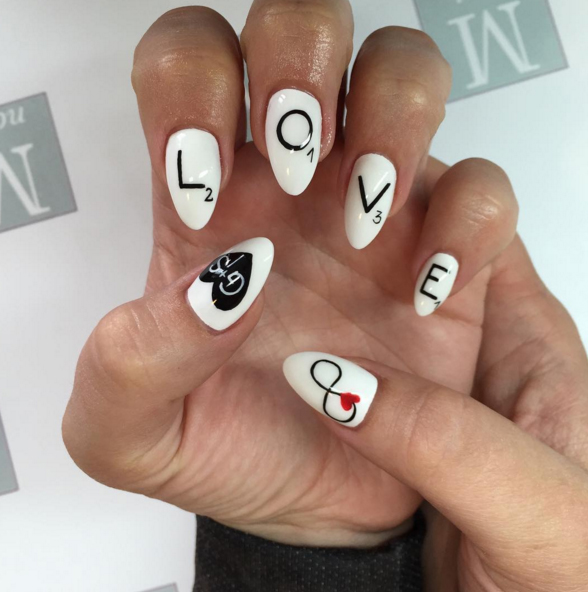 Art deco
The beautiful art deco era lends itself to decadent shades of gold, white with silver which are accented with clean lines and geometric patterns. Art deco nails are indeed an elegant and glamorous approach to a bridal manicure.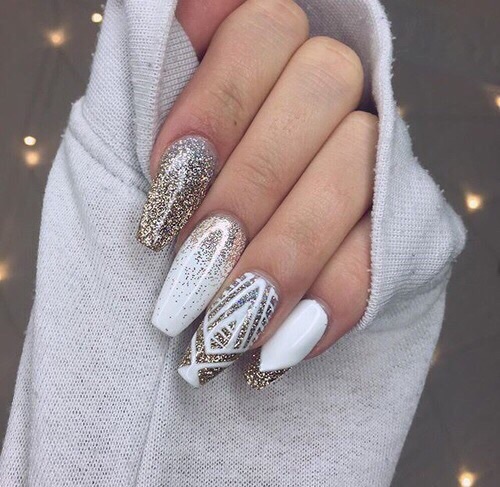 Half-Moon manicure
This very unique and intricate manicure design would work well with both navy and silver wedding colour themes.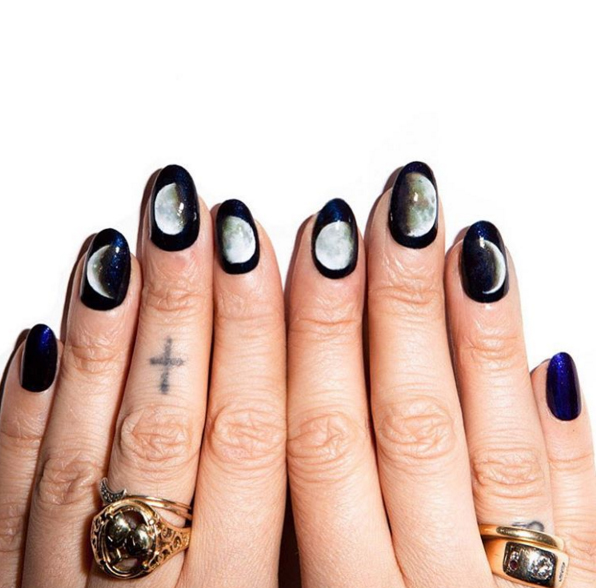 Red, red, mine
Classic red nails never go out of style, and the vibrant colour is known to symbolize passion, desire and love.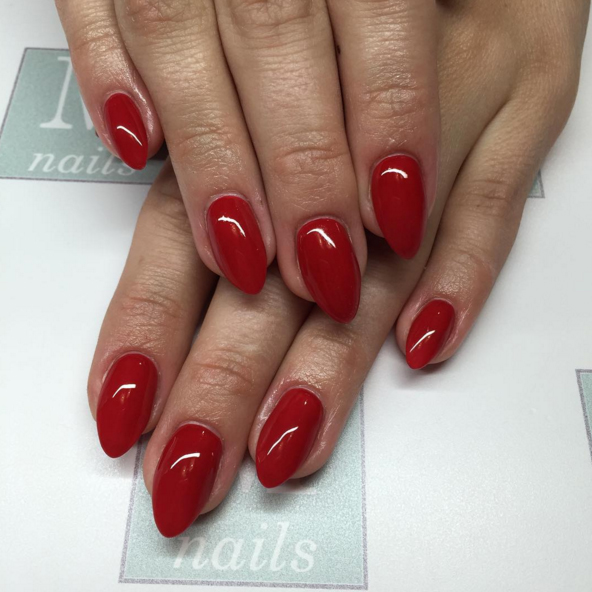 Golden goodness
Gold is associated with abundance, prosperity, and luxury, and a super metallic version of the hue can be a very striking and elegant way to adorn your nails for your big day. The look would work well with other gold elements such as bridesmaids dresses or jewellery, or styling features and decorations at your wedding.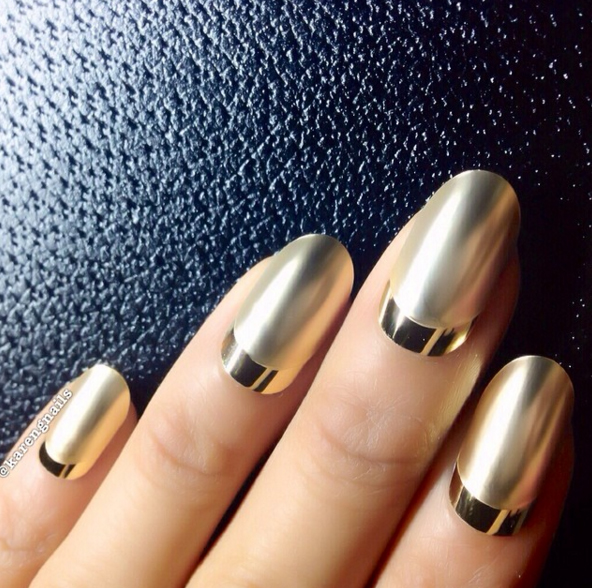 Tiffany blue
Wedding lore says every bride should have something blue, so why not the fingernails? Hopefully the something new is inside the box….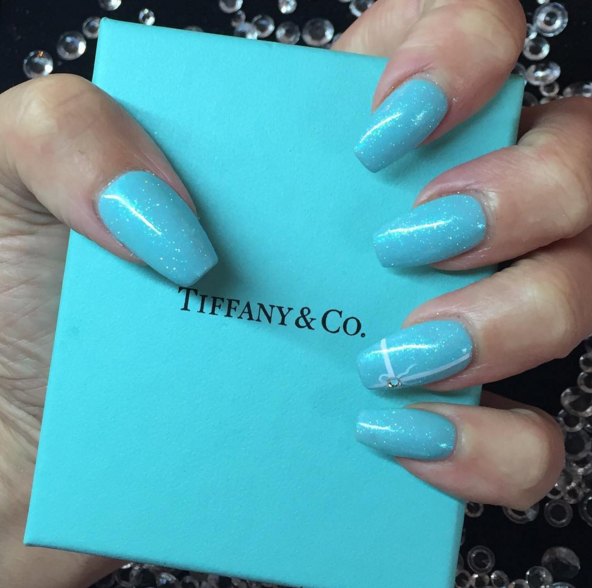 Blinging berry
A little bit of Swarovski crystal and a warm and dusty berry hue would be a manicure look suitable for a winter or autumn wedding. The look would be especially flattering for bridesmaids who are wearing a darker version of the colour, as it would create a colour contrast and really enhance the colour theme of your wedding.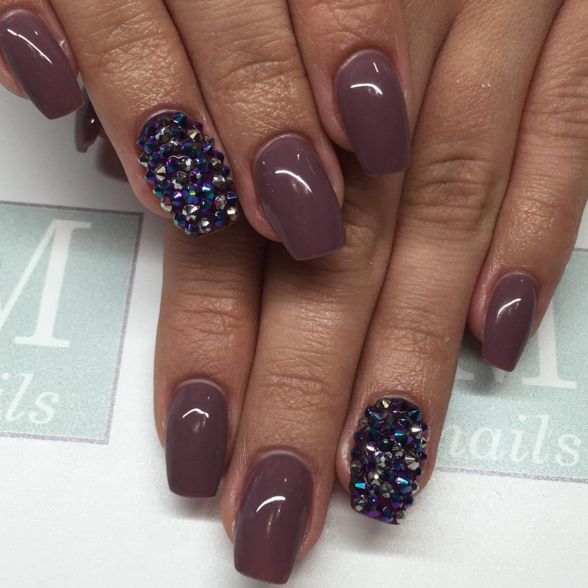 Bright white
Since all eyes are going to be on your ringer finger at some point, give it an extra dose of dazzle with a clean white manicure lightly dusted with some sparkling Swarovski crystals.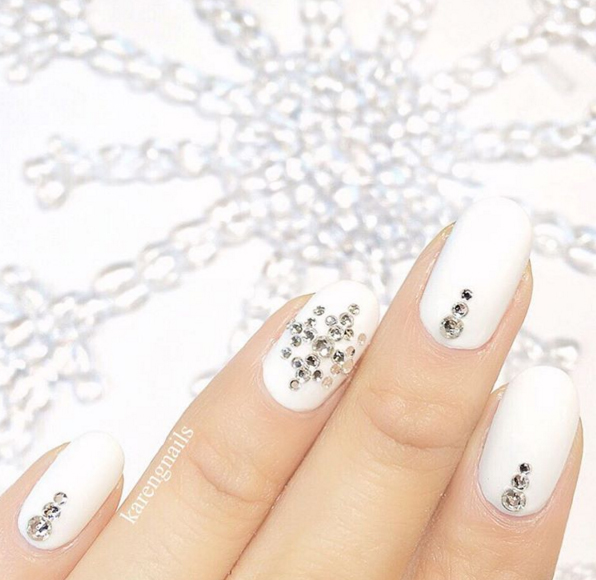 Illustrated and bejewelled
Something a little alternative and very cool! Illustrated nail art with jewells will certainly make a statement and would work very well within the context of a themed wedding.