When we talk about wedding hairstyles the emphasis tends to be on long hair. Buns, chignons, French twists, and loose curls are all in vogue but what about those of us with shorter hair. Do we need to grow longer locks just because we're getting married?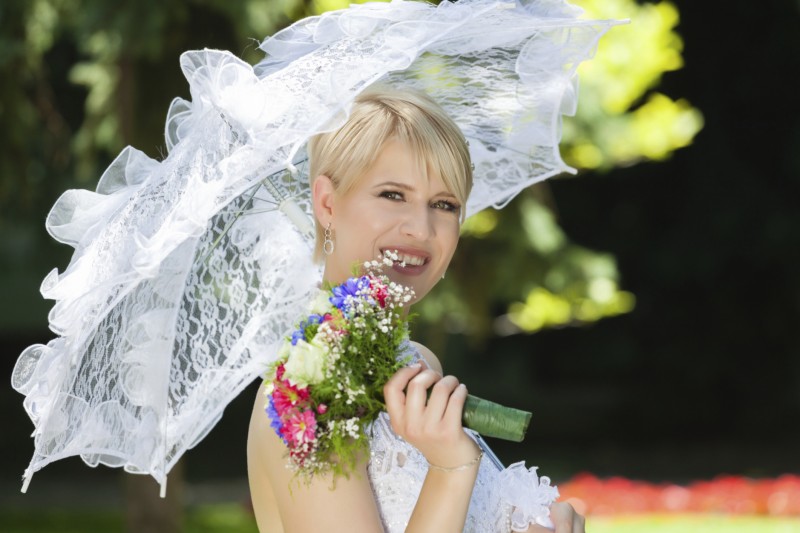 ---
Do you trust previous customer reviews as much as a personal recommendation?
---
The answer is no; there are plenty of cheeky, cute or glamorous short wedding hairstyles out there, so there's no need to book hair extensions just yet. Here are a few short wedding hair ideas:
Short bobbed hair
The bob is a classic look that never goes out of style and is easy to maintain. There are various ways to wear the bob depending on the style of your wedding gown and your personality:
The straightened bob is a chic modern look, slightly longer at the front than at the back. As the name suggests the hair is sleek and straight, although it curls in slightly at the ends which should just reach the jaw line. The hair is parted in the centre and is lifted at the roots for extra volume. A simple narrow Alice band will work with this look without making it too fussy.
The retro or vintage bob has more waves and works best with a vintage gown. It is worn with a side parting and the hair at the front waves inwards around the eye line. The hair can be clipped back with a retro hair slide on the opposite side to the parting.
The half up bob is a feminine look for shorter haired brides. Two small sections from the front of the hair are pulled back and clipped just behind the crown of the head. These sections can be braided for a romantic touch. The hair clip can be accessorized with feathers, flowers, or crystals, and tendrils of hair are left loose to frame the face.

Short layered hair
The hottest short hair look for this season is the pixie. This generally consists of very short layered hair at the back which can be tousled and spiked to create a bead head look. Hair at the front should be a little longer and sleeker, and can be worn in a straight fringe or with a side parting.
The pixie looks great with a cute short veil, and is often accessorized with a modern side band or fine toothed Alice band. The shape created by the pixie look is perfect for accentuating the neck, and looks good with the current trend for chandelier earrings. A pixie cut can also be worn with a single bloom tucked behind one ear.
Short curly hair
If you have curly hair, the chances are you've been trying to straighten it your whole life, but on your wedding day you should celebrate your curls and use them to create a stunning style. Use a frizz serum to calm your hair and accentuate your curls, and add clips or a headband to create shape and structure. Miniature silk flowers such as white rosebuds look superb pinned into short curly hair.
80% of Australian couples use Easy Weddings to connect with their dream wedding suppliers.
Browse the directory and start planning today!