Your bridal outfit is more than just the gown; it includes your hairstyle, your jewellery, your accessories, and very importantly your shoes. There's no point in spending a fortune on a designer dress if you are going to ruin the overall look with the wrong shoes. Finding exactly the right bridal shoes to complement the wedding dress can take just as long as finding the perfect dress in the first place.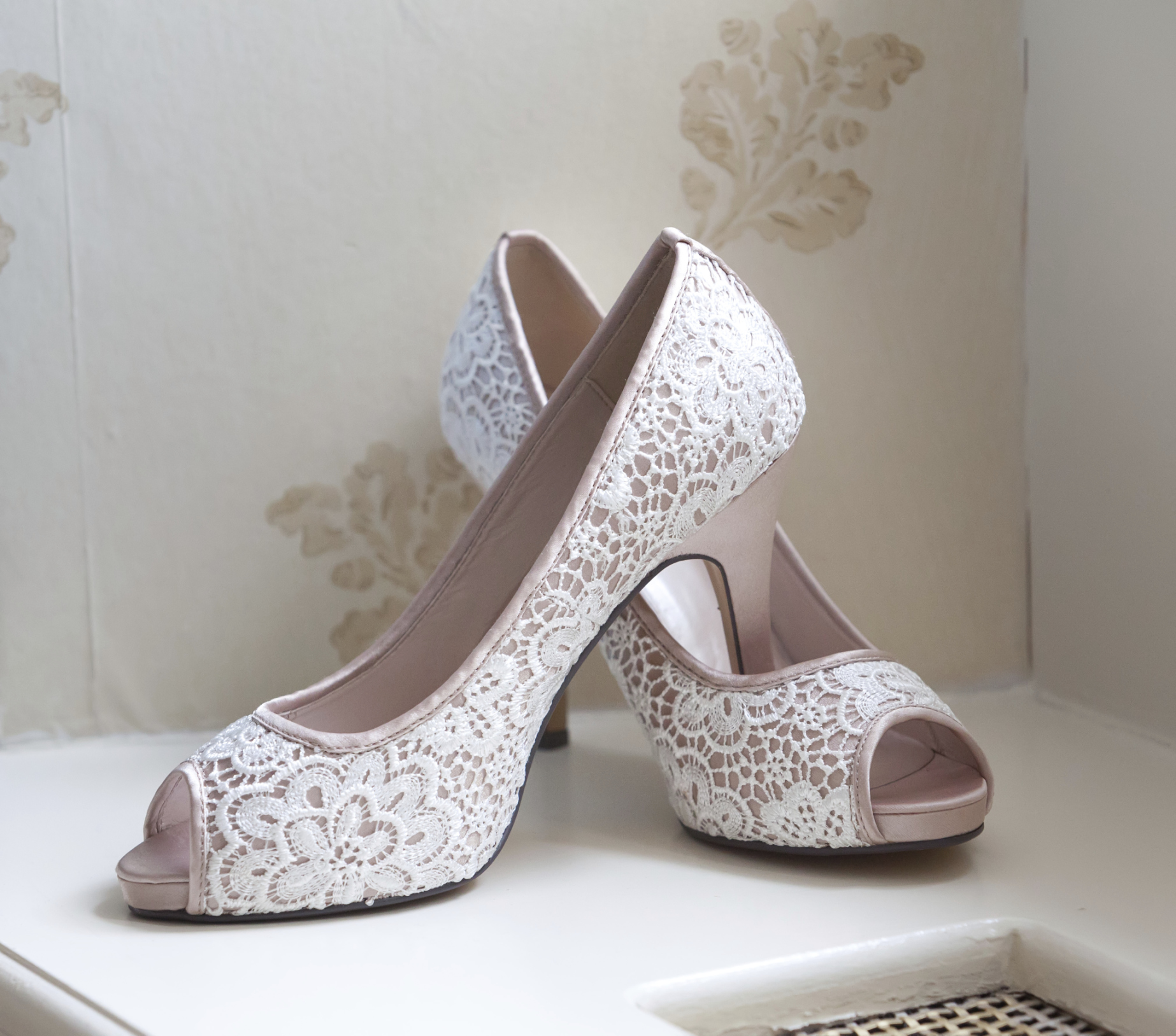 Many brides want to know whether they need to get shoes to match dress, and there are two answers to that question
If they are going to match they must match exactly
If they aren't going to match they must be a complete contrast
If you wear shoes that almost match the dress but not quite it will be very obvious, especially in the photos which will pick up subtle undertones in the fabric that aren't so obvious to the naked eye. To avoid looking as if you have tried and failed to get matching shoes, they should match perfectly or not at all.
If you want matching shoes, bear in mind that the material needs to match as well as the colour. There are various ways to find shoes that match your dress exactly:
If you are lucky you may be able to buy shoes that happen to match your dress perfectly. This is more likely if you are wearing a pure white satin dress than if you are wearing an ivory tulle gown.
You could buy your shoes from the same designer that made your dress. This will ensure that the colour, the material, and also the style are perfect for your bridal gown. This can be an expensive option, however.
You could order some extra dress material and have another pair of shoes that you have bought covered in the material. This is usually cheaper than buying designer shoes, and guarantees a perfect match if the shoes are suitable to be covered and are covered professionally.
You could look for a company that specialise in dying bridal shoes to perfectly match the dress. They offer a range of standard styles and materials, and if you send them a sample of your wedding dress material, they will dye a pair to your specification.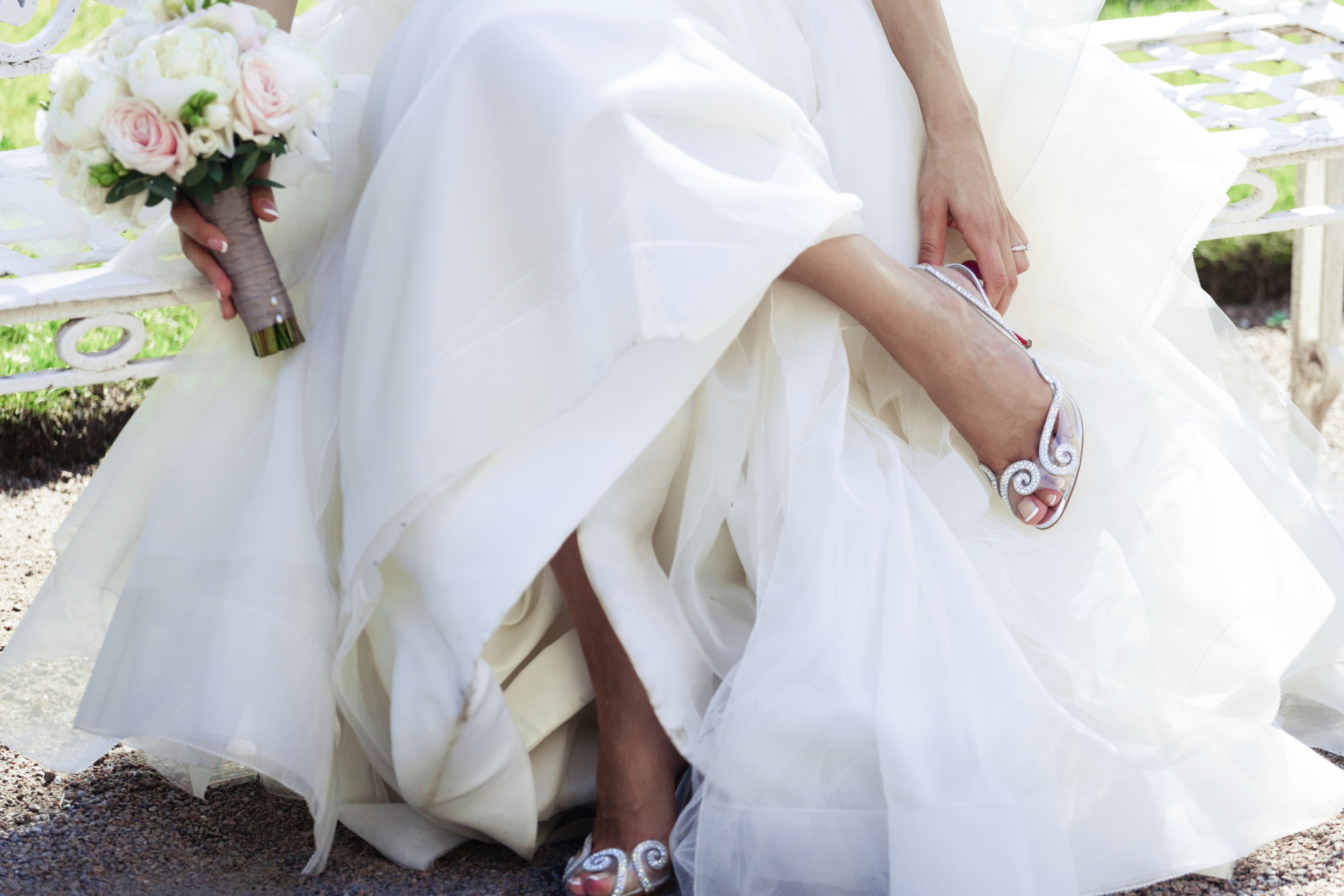 What are the options for contrasting bridal shoes?
Brides are getting more adventurous with their bridal shoes, and many are using them to inject a little originality and personality into their wedding outfits. Brightly coloured or highly accessorised shoes are very fashionable, and fabric corsages or crystal studded straps are featured in many of the latest designer bridal shoes.
If you want your wedding shoes to provide a complete contrast to your bridal gown, here are three ways to achieve this:
Find shoes in your accent colour
Looking for a pair of bridal shoes in the same colour as your bridesmaids' dresses, or your bridal bouquet, is a great way to tie your entire theme together. This works especially well if you have a bold accent colour such as deep red, against an ivory gown.
Look for metallic shoes
Metallic accessories are a fashionable choice for brides and bridesmaids alike, and finding bridal shoes in gold, silver, bronze, or metallic pink will create a statement whilst still looking good with your gown. Make sure the shoes work with your jewellery and your dress. Silver shoes work well with pure white gowns and silver jewellery, gold shoes work well with cream gowns and gold jewellery, and pink shoes work best with ivory gowns and pearls.
Make your shoes your something blue
Choosing blue shoes means you don't have to look for anything else to be your something blue. Baby blue satin shoes with a pure white gown are a subtle choice for a winter wedding, while sapphire shoes with an ivory gown will make more of an impact.