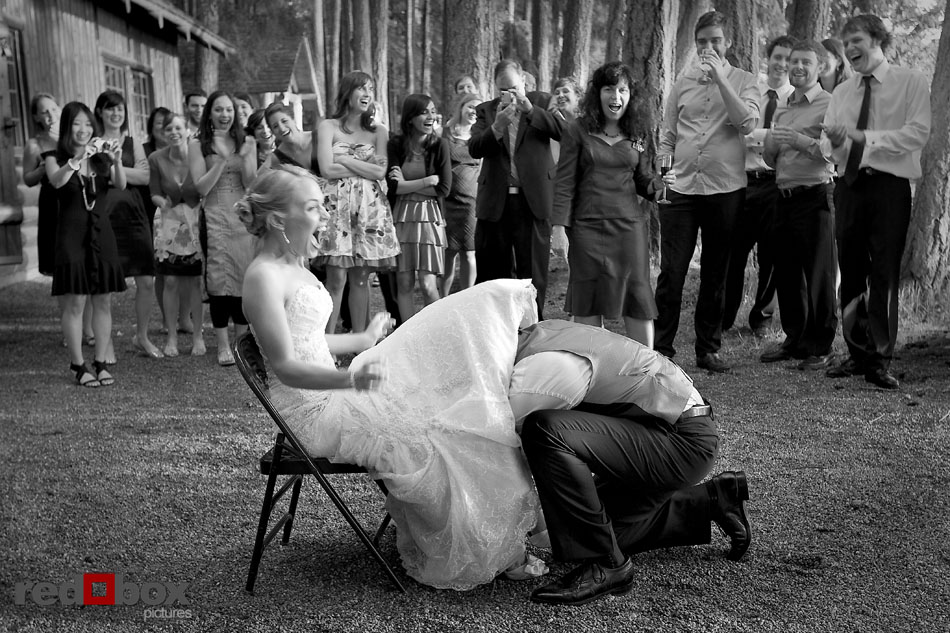 Wedding superstition says the tradition of throwing the garter dates back to 14th Century France, when it was considered very good luck for guests to secure a piece of bridal attire – and brides started throwing their garter to keep their dress safe. These days it's more about fun than tradition, which means you need just the right song to enhance the atmosphere. Here's 10 suitably cheeky garter toss songs…
The Mission: Impossible theme song
Your mission, should you choose to accept it, is to retrieve your new wife's garter from high on her thigh and then throw it to the ranks of single men to see who's going to be next down the aisle. Done in the right spirit, this one would be a hoot.
Jaws theme song
Along the same Hollywood-related note, try John Williams' iconic score from one of the most terrifying films of all time. After all, it has a good rhythm going, so it's just a matter of letting your fingers do the walking as you head into danger territory..
Hot in Herre
"It's getting hot in here, so take off all your clothes." Thanks for the suggestion Nelly, but if it's alright with you, we might just stick to the garter. A great garter toss song guaranteed to bring out the inner showman in the groom.
U Can't Touch This
A retro MC Hammer hit that lends itself to a humourous take on the whole thing. Just imagine. Your groom comes close, ready to retrieve his prize, when suddenly there's a hand in his face: "Can't touch this". It will bring the house down.
You Can Leave Your Hat On
The garter's coming off, but your hat? No way! This Joe Cocker classic – popularised in film, of course, by Kim Basinger – is a staple of such ceremonies because it sounds exactly how a garter removal should sounds. Enough said.
Lay Your Hands On Me
Bon Jovi mightn't seem like an obvious choice for removing a garter, but the title of this song says it all. And if your groom is a bit of a rocker at heart, it's also the perfect soundtrack to bring out his inner air guitar and hair metal skills.
The Stripper
https://youtu.be/5bLX06yR3wY?list=RD5bLX06yR3wY
When burlesque queen Dita Von Teese calls a tune one of the best striptease songs of all time, you know it's doing something right. With a perfect beat for peeling off a garter, it has just the right mix of tease and spice. Let the fun begin.
Danger Zone
If it's good enough for Top Gun, it's good enough for us. But only if you're prepared to have fun. Because there's no way to be taken seriously as Kenny Loggins blasts lyrics such as "revvin' up your engine, listen to her howlin' roar".
Bootylicious
Gorgeous femme fatales come front and centre in this tune, which is guaranteed to get the crowd dancing along. It's a funky reminder that while he might be the one who's removing the garter, you're the one who's letting him.
Sexyback
Justin Timberlake has a pretty good line in sensual songs, which he channels perfectly through this chart topper. It's guaranteed to make any groom look and feel sexy and suave. And better this one than a number from his N'Sync days.
Looking for the perfect wedding band or DJ to rock your wedding day? Begin looking here.