Choosing a destination wedding venue can turn your one-day event into an unforgettable multi-day celebration with luxe accommodation, breathtaking photo backdrops, all-inclusive packages & seamless service.
International travel is back, baby! And we could not be more excited to see couples planning destination weddings at luxury resorts again. Whether you're dreaming of an intimate wedding on a remote Fijian island or an extravagant beachside soiree for 300 guests on the sun-drenched Gold Coast, destination weddings are a great way to get your loved ones together for a relaxing getaway post-covid.
In partnership with our friends at Marriott Bonvoy, we've rounded up the top five reasons to consider a resort wedding. From all-inclusive packages to luxurious on-site accommodation, there's a bevy of reasons why a five-star resort might be the perfect place for your wedding — read on to discover just a few of our favourite perks.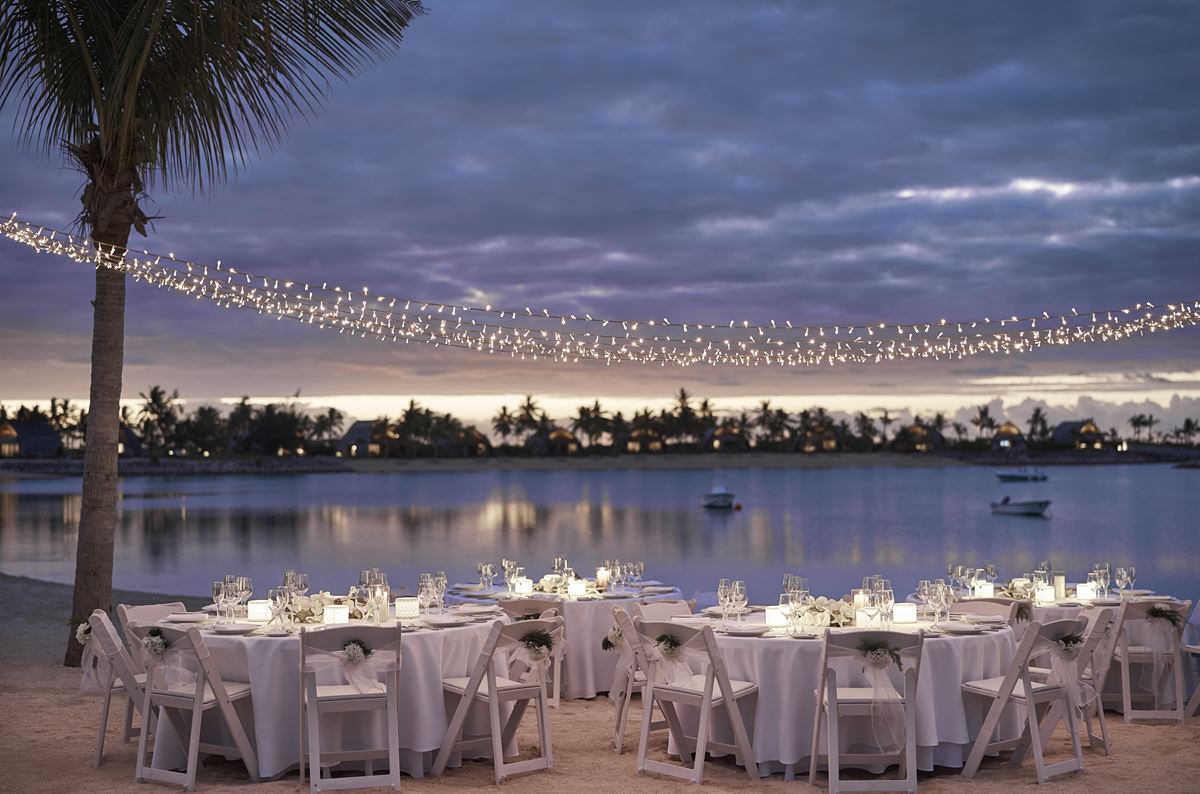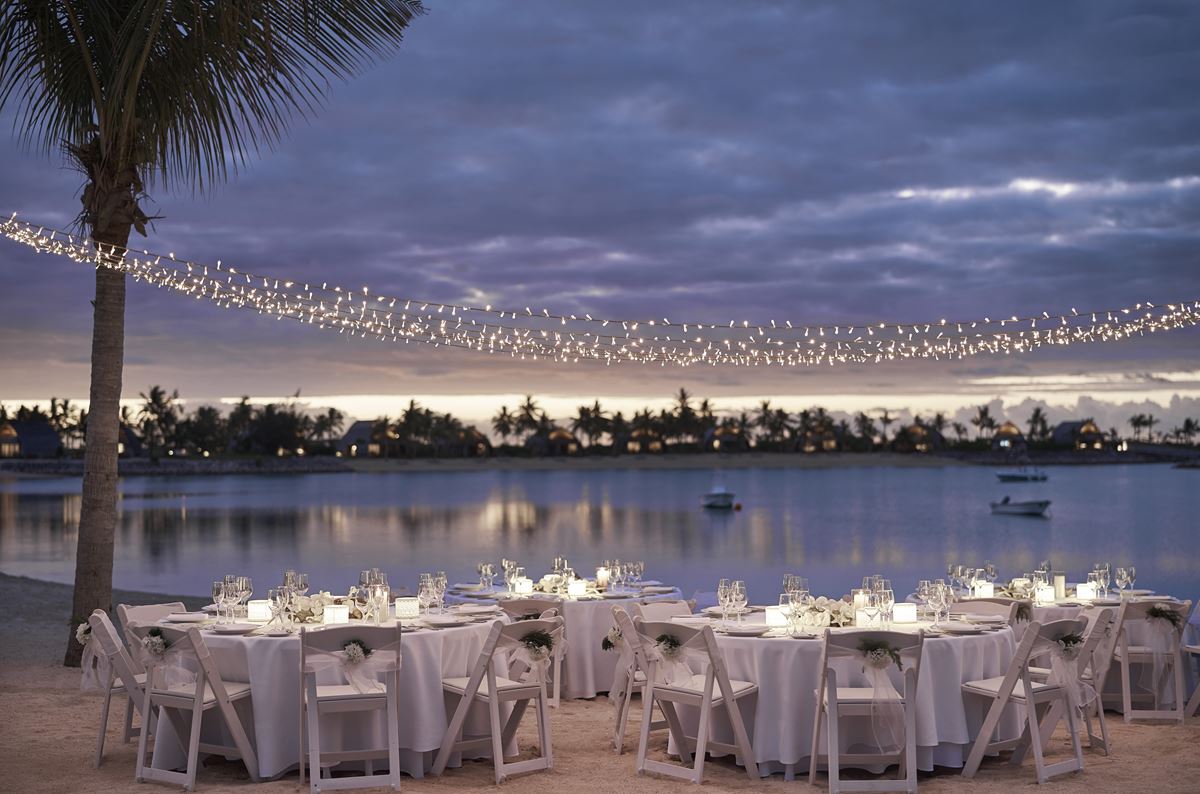 Discover Marriott Bonvoy Venues
---
#1 Stress-Free Wedding Planning
The convenience of a resort wedding is unmatched, with carefully curated packages and dedicated in-house coordinators to assist with everything from finalising menu choices to liaising with suppliers. Many wedding-worthy resorts offer free planning help to couples and an abundance of all-inclusive packages to keep things simple while providing options to make your day unique.
The incredible team at Sheraton Grand Mirage Resort, Gold Coast is renowned for planning stress-free, seamless, and memorable wedding celebrations with everything you could need in one stunning location. When you book your wedding in one of the resort's exceptional reception spaces, you'll be walked through the entire planning process by a dedicated in-house wedding planner.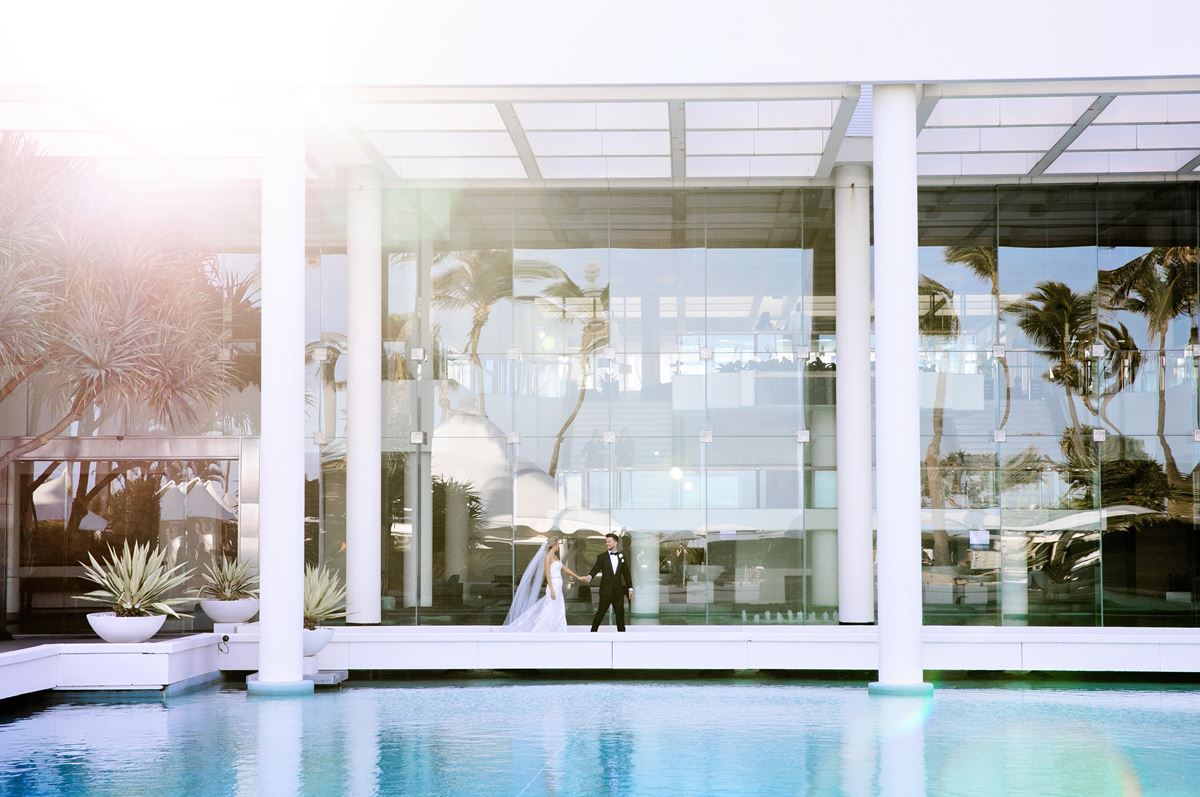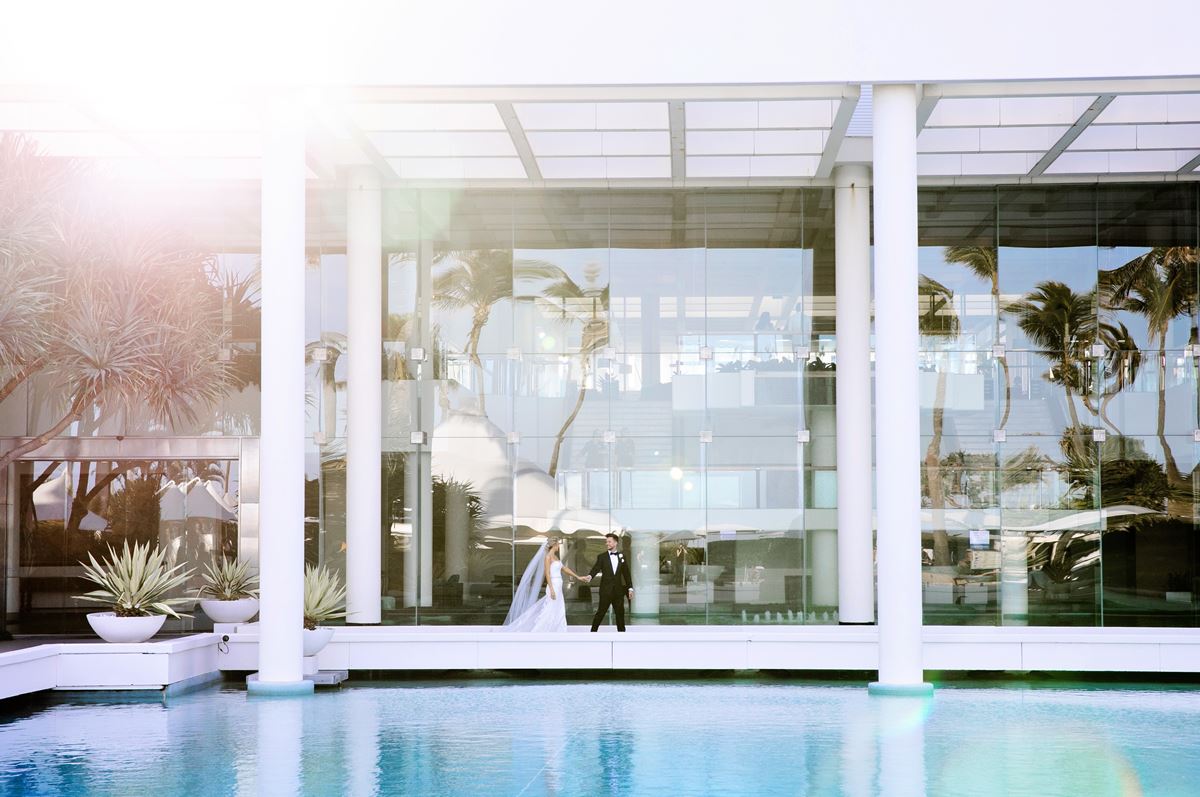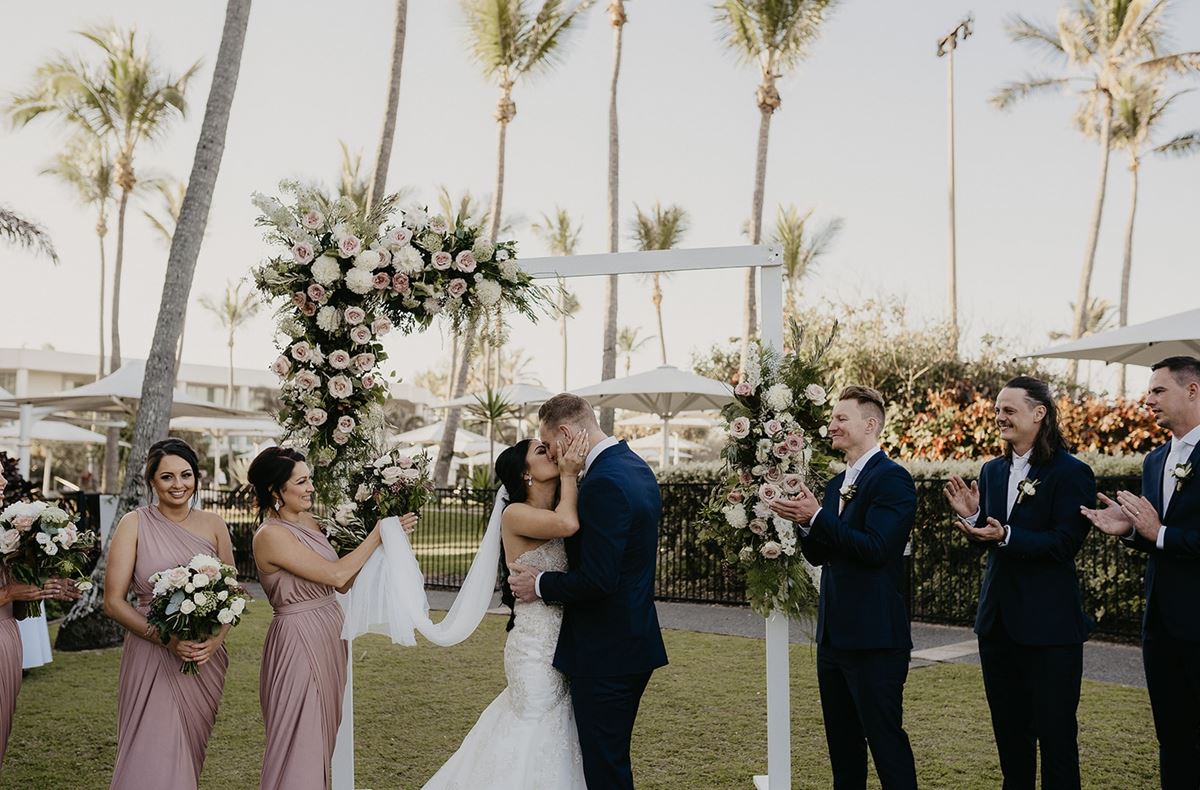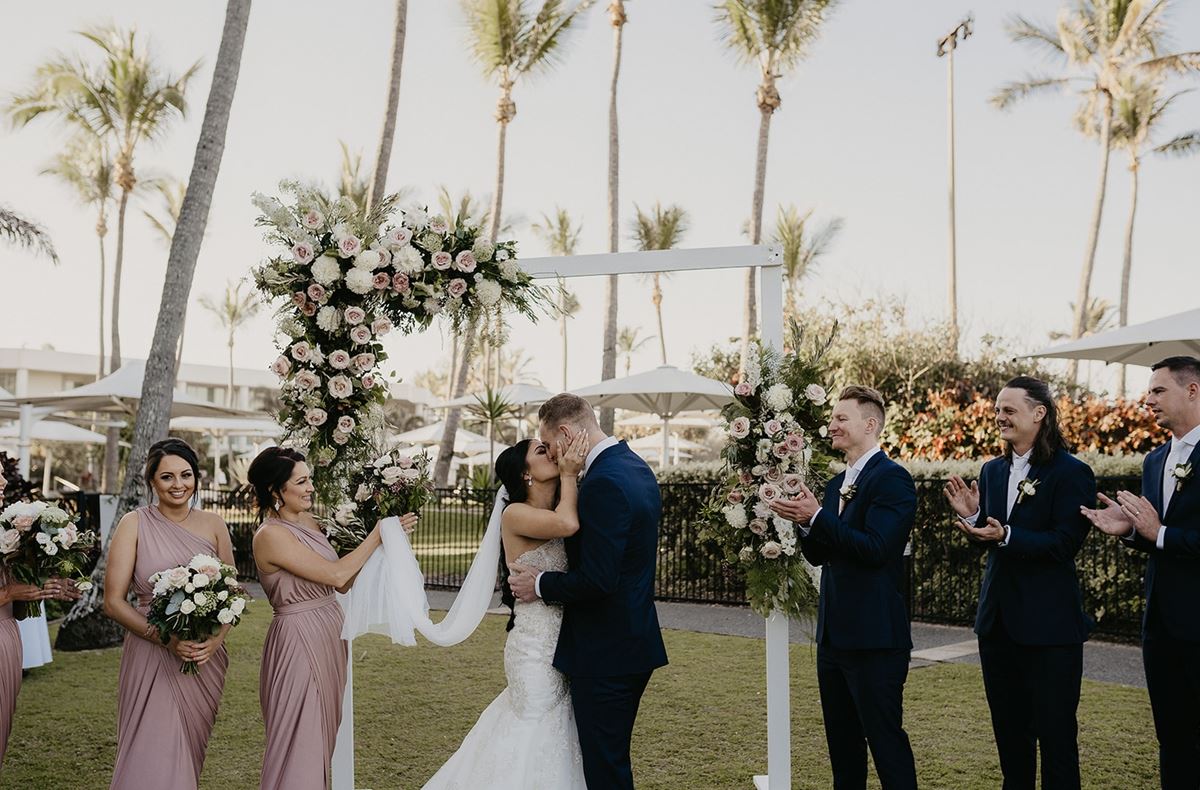 Sheraton Grand Mirage Resort, Gold Coast Wedding Venue Highlights:
Host your wedding at the Gold Coast's only five-star absolute beachfront resort
Luxurious resort accommodation boasting incredible views of the ocean, tropical gardens and sparkling lagoons
Mouthwatering menus showcasing fresh seafood and locally sourced produce
visit Sheraton Grand Mirage Gold Coast
---
#2 Luxurious Accommodation
Aside from the ease of planning and coordination, hosting a wedding at a five-star resort comes with another major perk — onsite accommodation. You won't have to think about transportation to and from the ceremony/reception, and neither will your guests, which means you can all relax and enjoy the convenience of retiring to a luxurious suite or overwater villa once the wedding celebrations wind down. Plus, with special rates on Marriott Bonvoy accommodation for your guests, they'll be able to extend their wedding stay for a serene island getaway.
At the five-star Fiji Marriott Resort Momi Bay, you'll have the choice of 250 spacious guest rooms, including 114 luxurious suites boasting spectacular views of the oceanfront and tranquil lagoon waters. The resort's unique Fijian Bures feature lofty high vaulted ceilings, private outdoor decks, deluxe bedding, and spacious bathrooms with freestanding bathtubs and separate showers.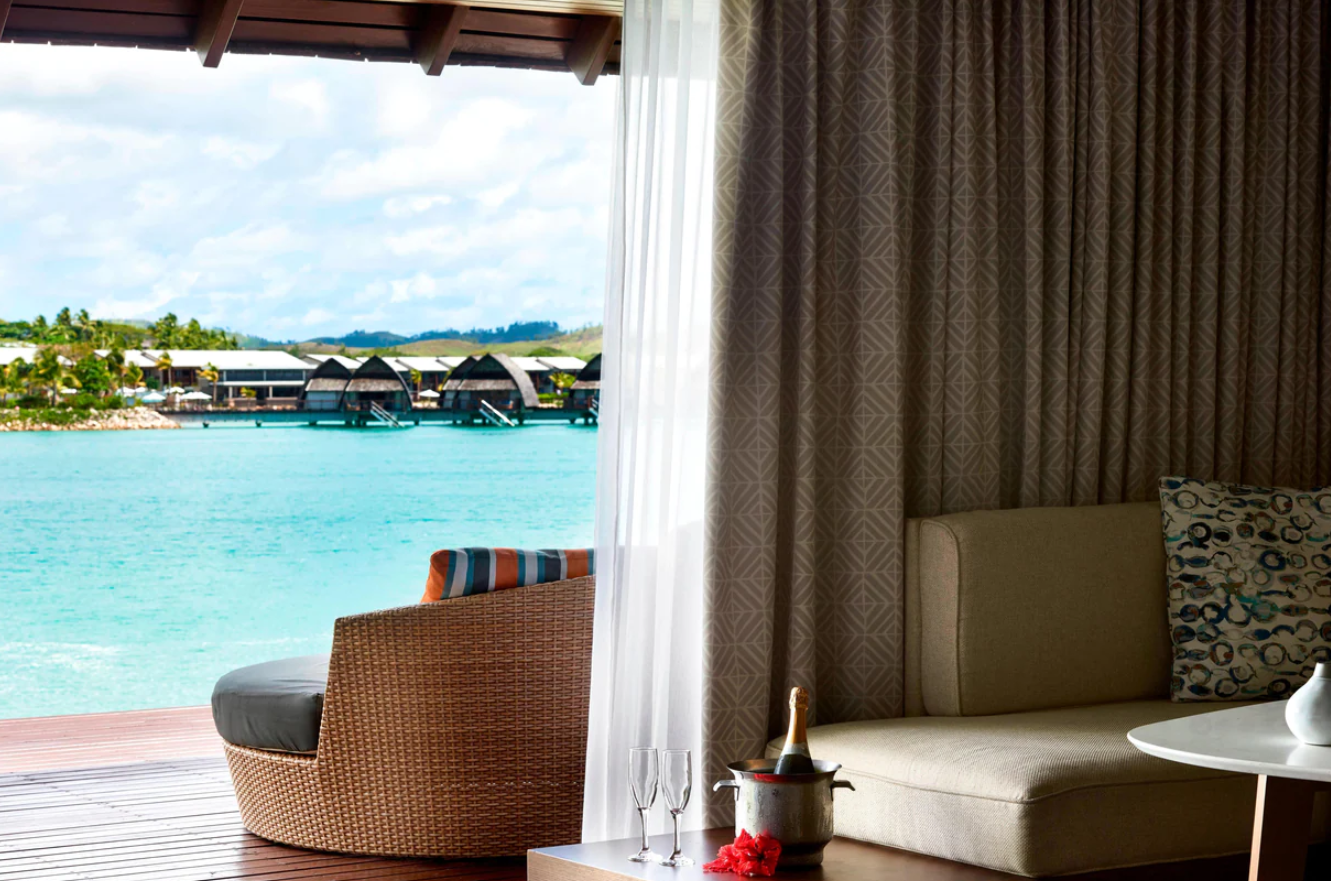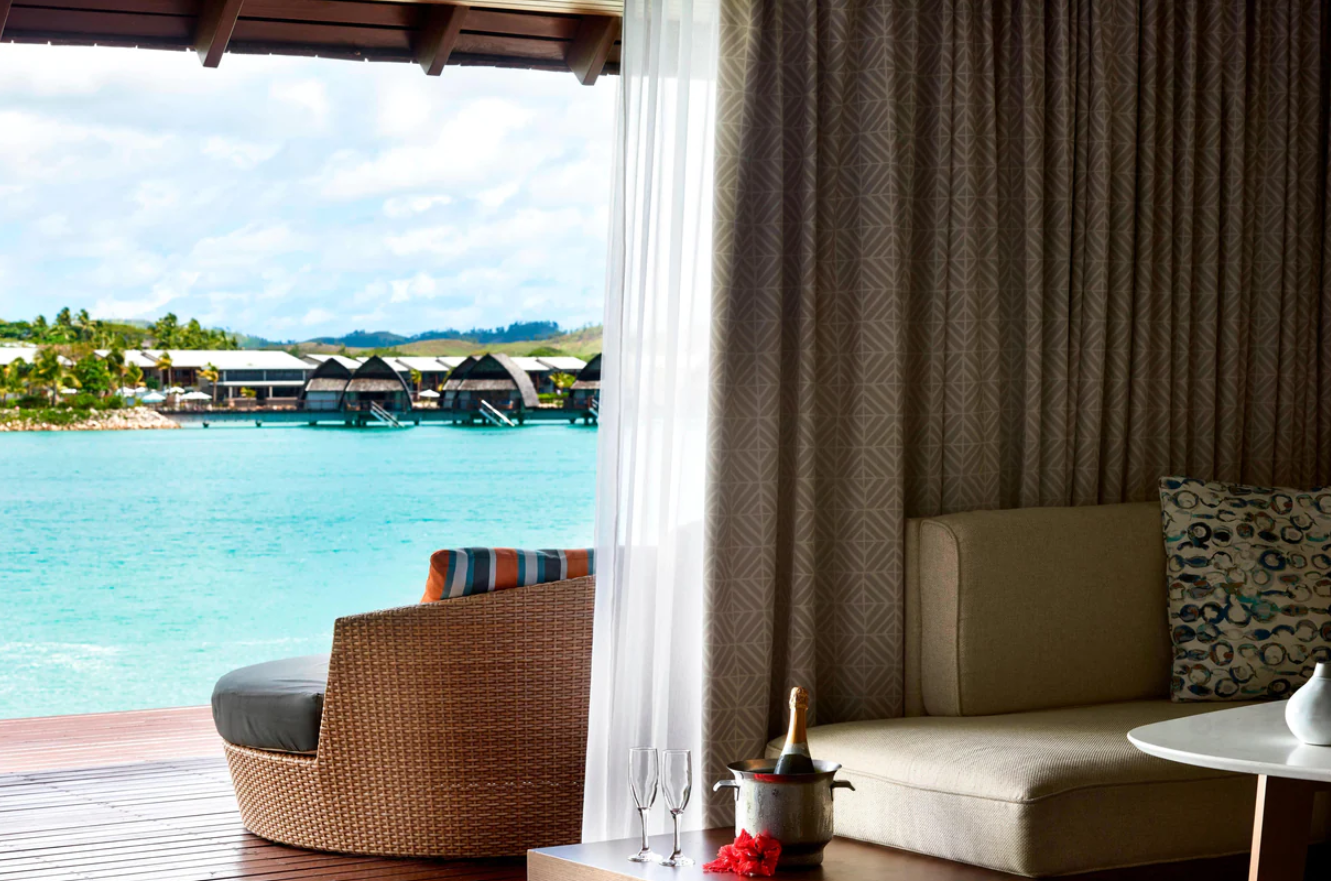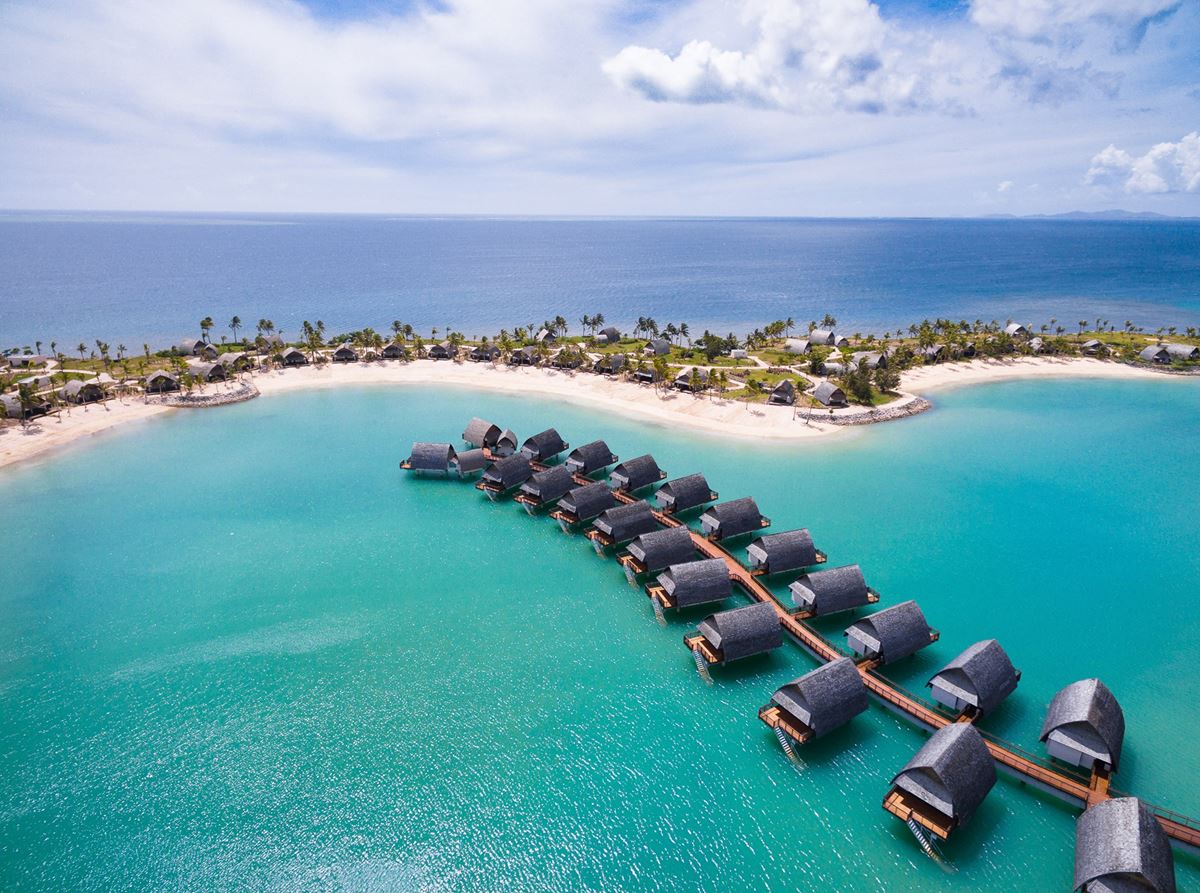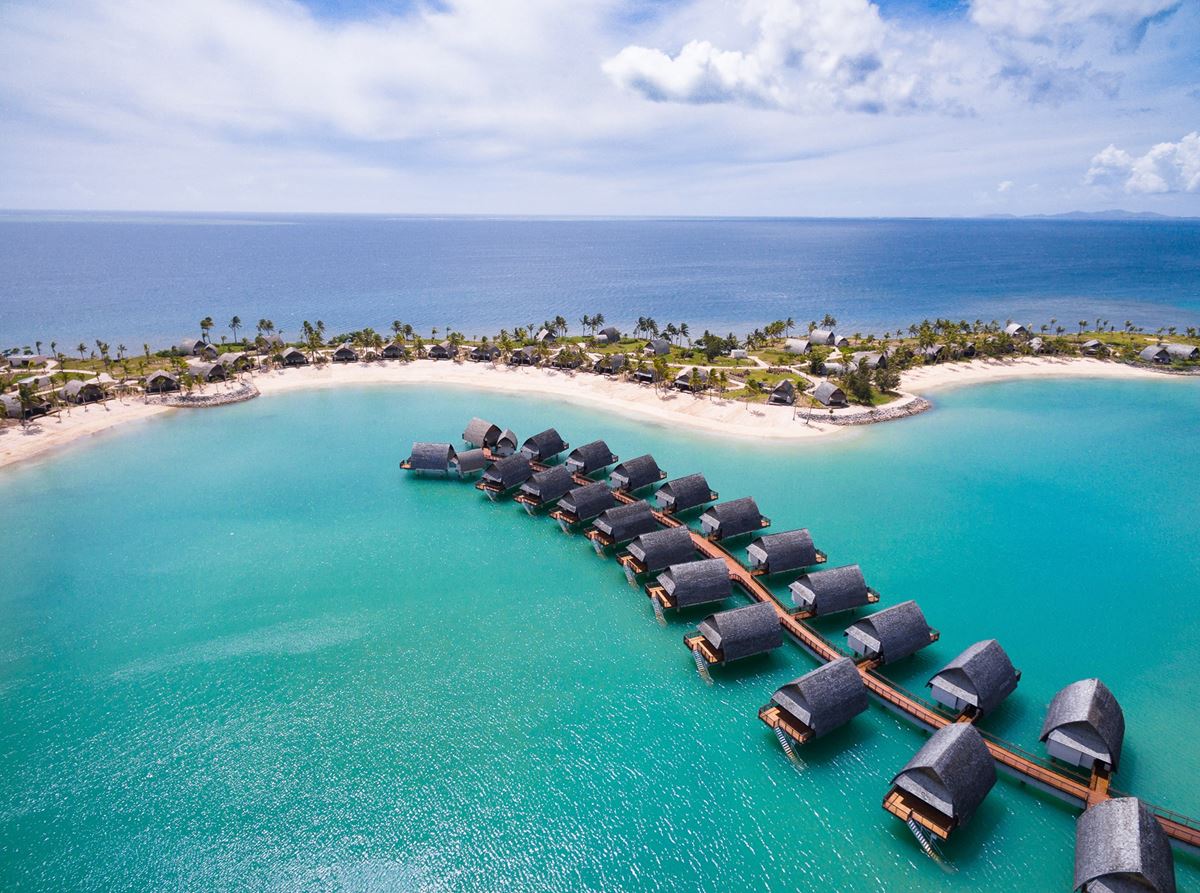 Fiji Marriott Resort Momi Bay Wedding Venue Highlights:
Luxurious resort with romantic overwater villas
Beautiful Vonu Beach for receptions of up to 300 guests
Three swimming pools and an on-site spa
Bespoke wedding packages tailored to your vision and budget
check out Fiji Marriott Resort Momi Bay
---
#3 Everything in One Convenient Location
Planning the logistics of a wedding day with separate ceremony, reception and photo locations can be a major headache, which is why it's always a great idea to host your celebrations at a convenient all-in-one venue. This is where Marriott Bonvoy resorts reign supreme — with everything you need for a seamless and stress-free wedding experience in one place! You and your wedding guests won't have to leave the property to enjoy stunning event spaces, indulgent spa treatments, world-class restaurants, state-of-the-art gyms, and luxuriously appointed accommodations.
Nestled on the picturesque Denarau Island, Sheraton Fiji Golf & Beach Resort has everything you need for an unforgettable destination wedding surrounded by swaying palm trees and turquoise waters. This expansive resort features three restaurants, stunningly light-filled guest rooms, a beautiful beachside wedding chapel, an 18-hole golf course and racquet club, a fitness studio, and a sprawling lagoon swimming pool.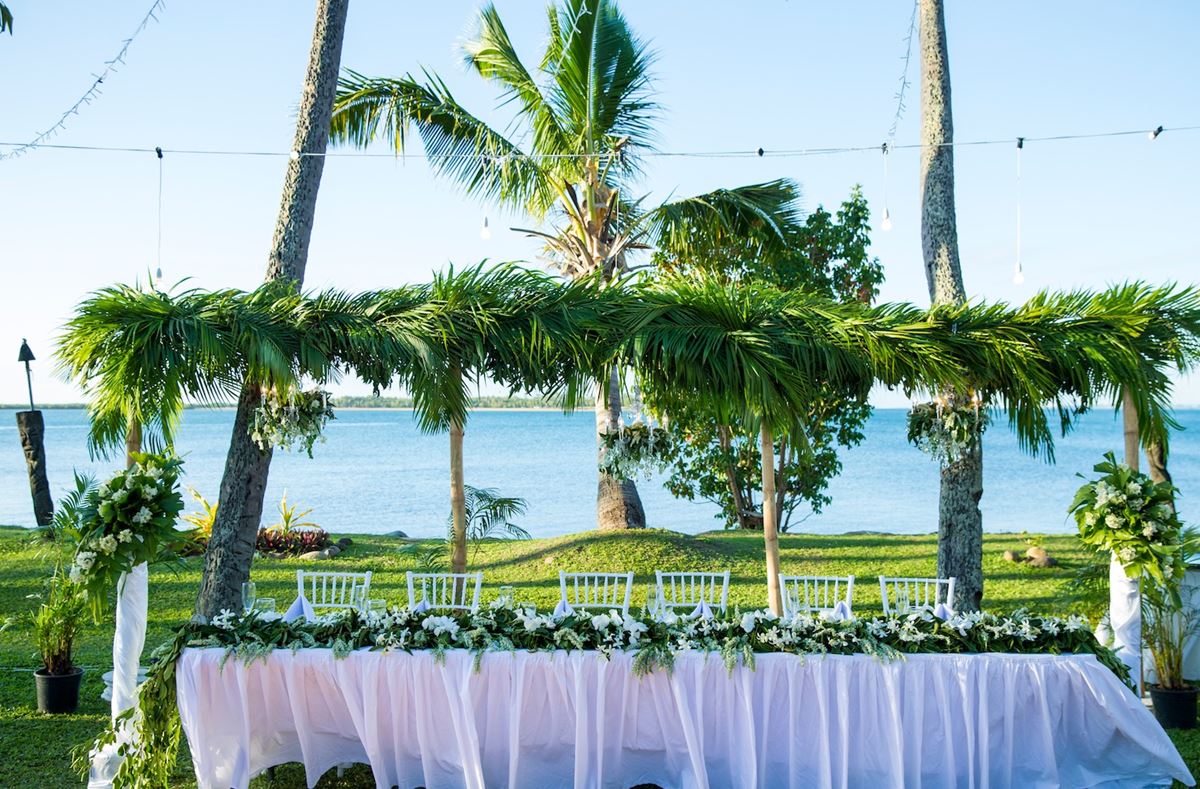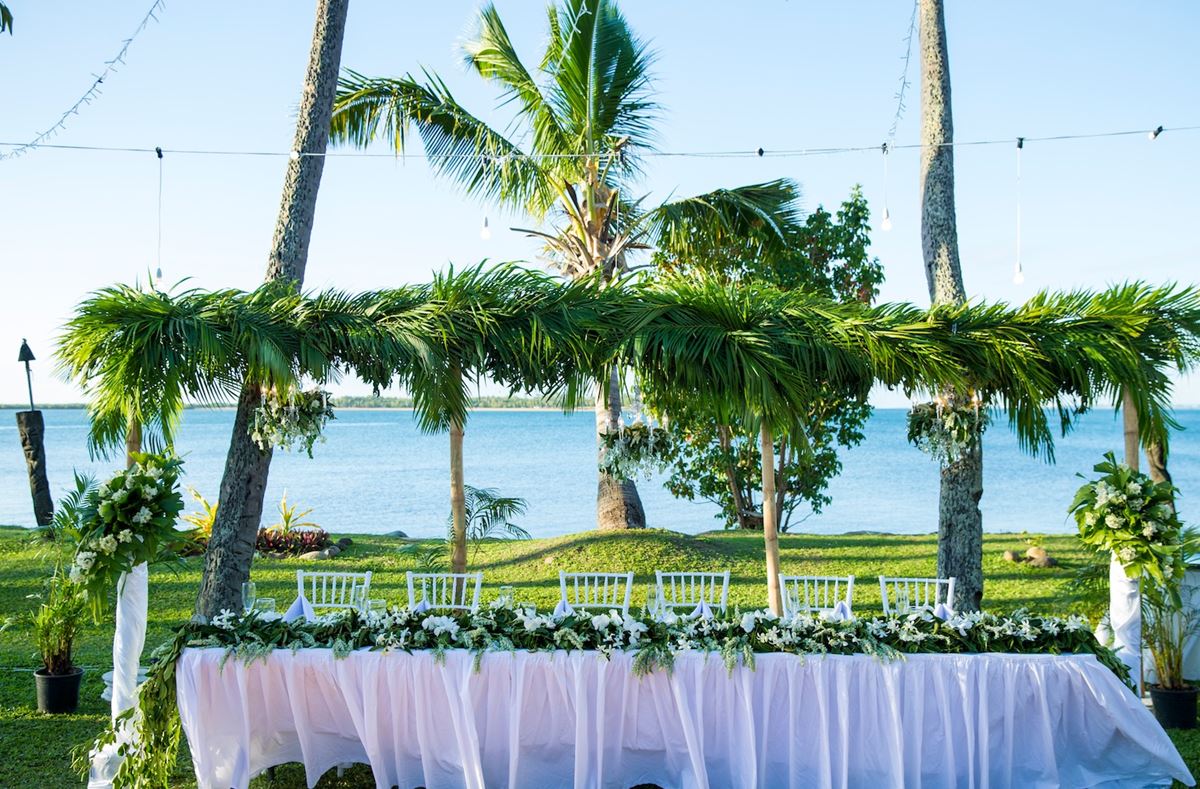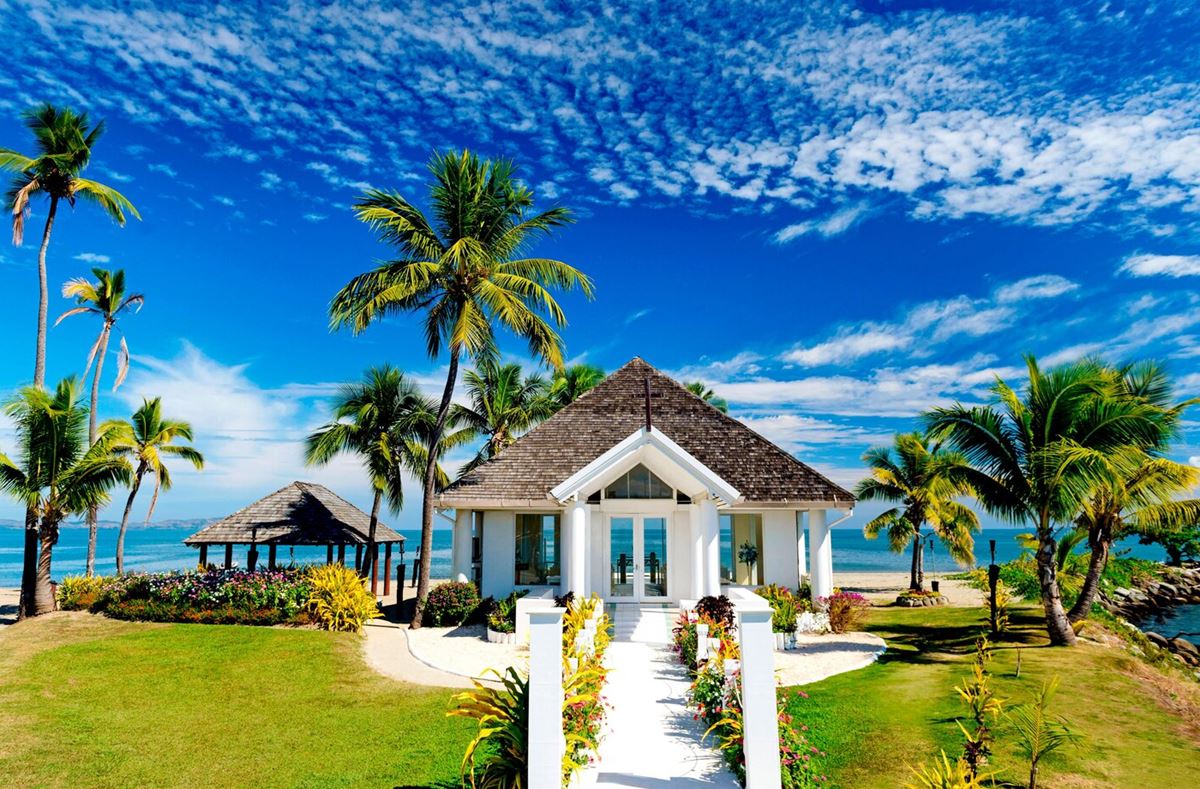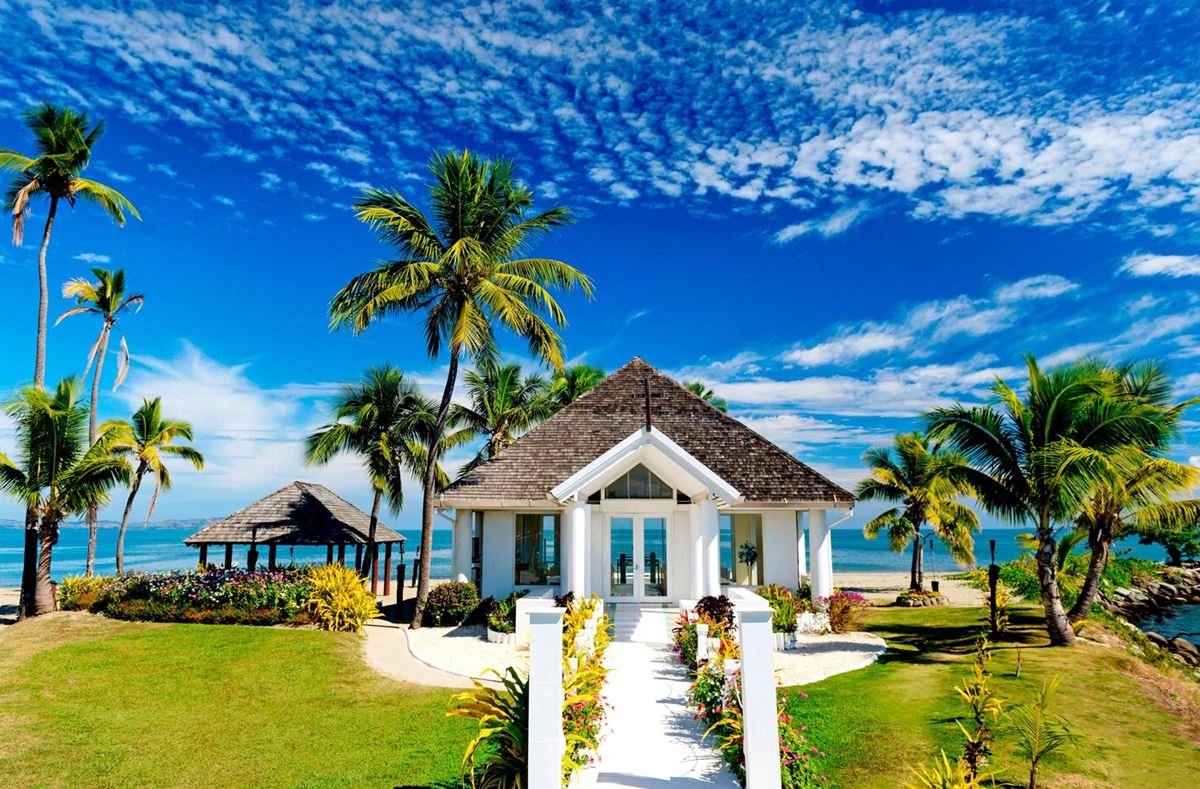 Sheraton Fiji Golf & Beach Resort Wedding Venue Highlights:
Breathtaking beachside wedding chapel
Catering for weddings of up to 800 guests
Heavenly Spa by Westin for indulgent pre-wedding treatments
Just 20 minutes from the international airport
visit Sheraton Fiji Resort
---
#4 Exciting Pre and Post-Wedding Activities
Another reason to love a resort wedding is the amazing amenities and on-site services that can be utilised for relaxing pre and post-wedding activities. Impress your guests with a recovery brunch on the beach, a group kayaking trip to a nearby island, or organise a rehearsal dinner in one of many on-site restaurants. And if you're in need of some R&R after the wedding day, book in for an indulgent treatment at the spa or head to the pool for a refreshing swim.
At JW Marriott Gold Coast Resort & Spa in Surfers Paradise, an array of pre and post-wedding activities are available to you and your guests. Book an indulgent treatment at the luxurious Ruby Spa, learn about sustainable produce at the JW Garden, partake in a culinary class, go snorkelling in the saltwater lagoons, or enjoy a range of exciting water activities in the resort's private marina — the options are endless!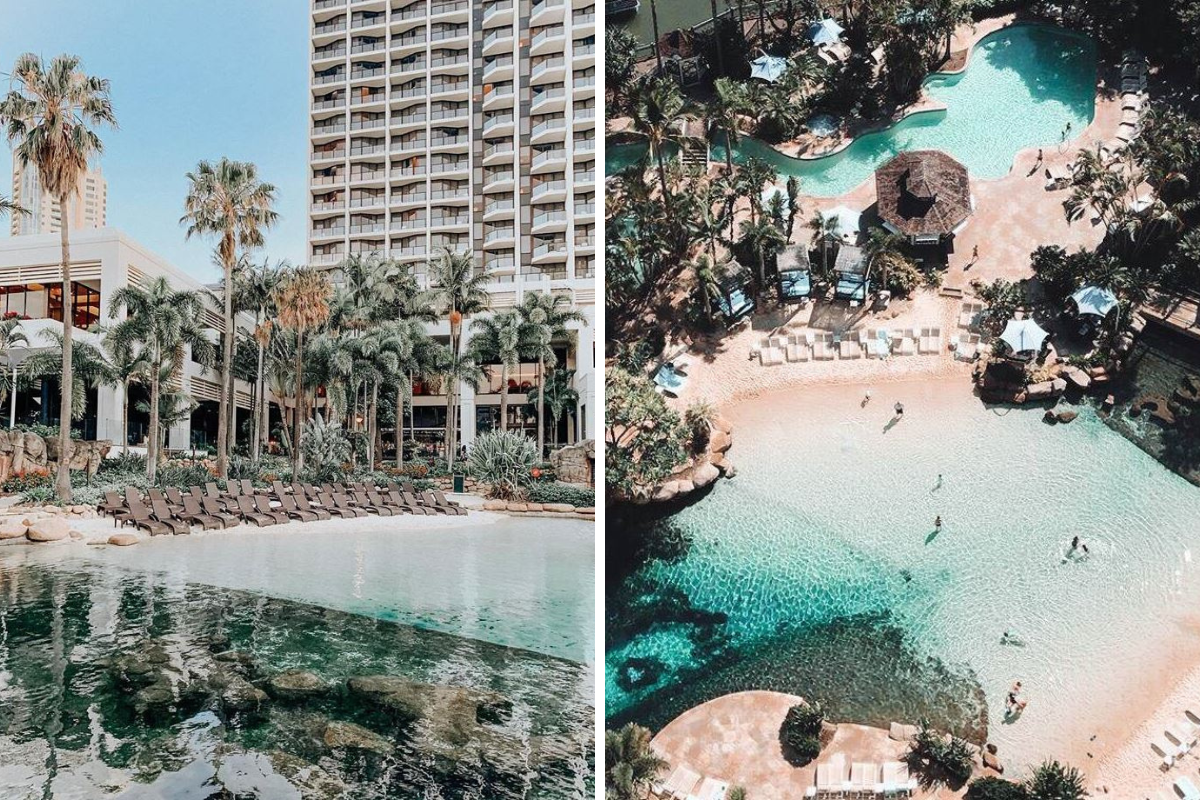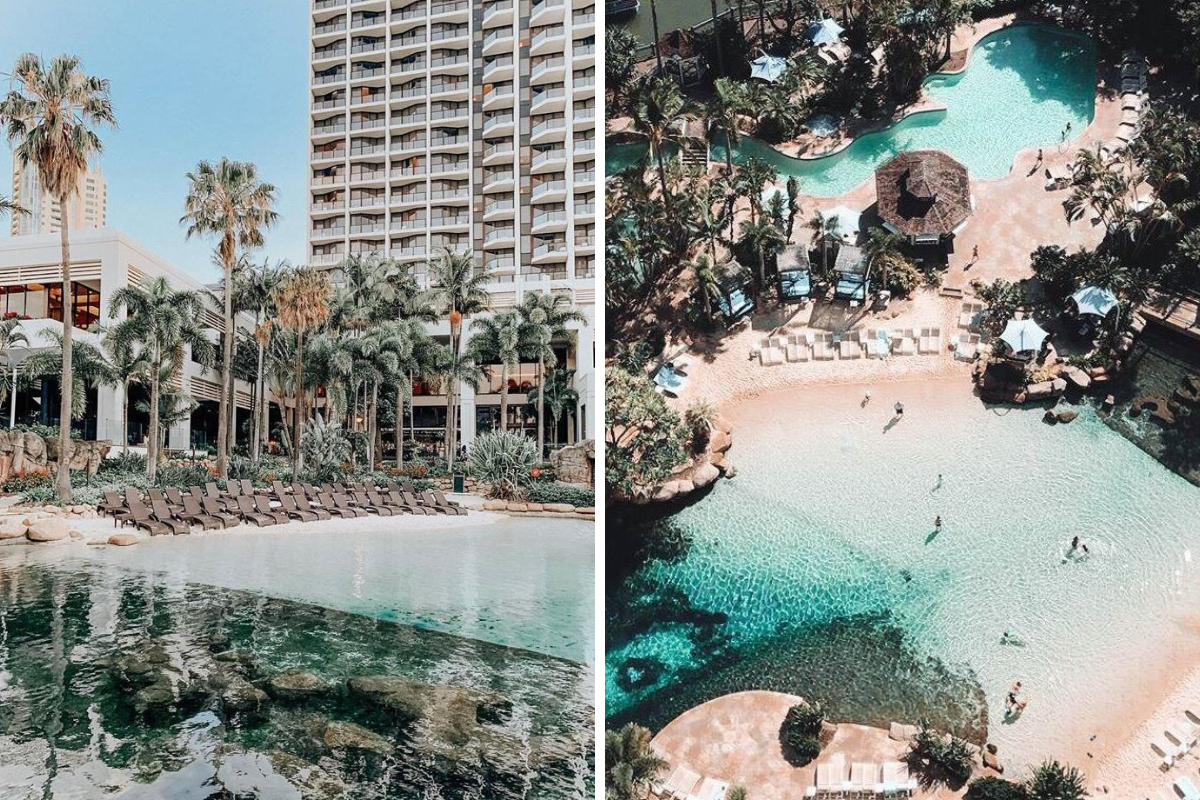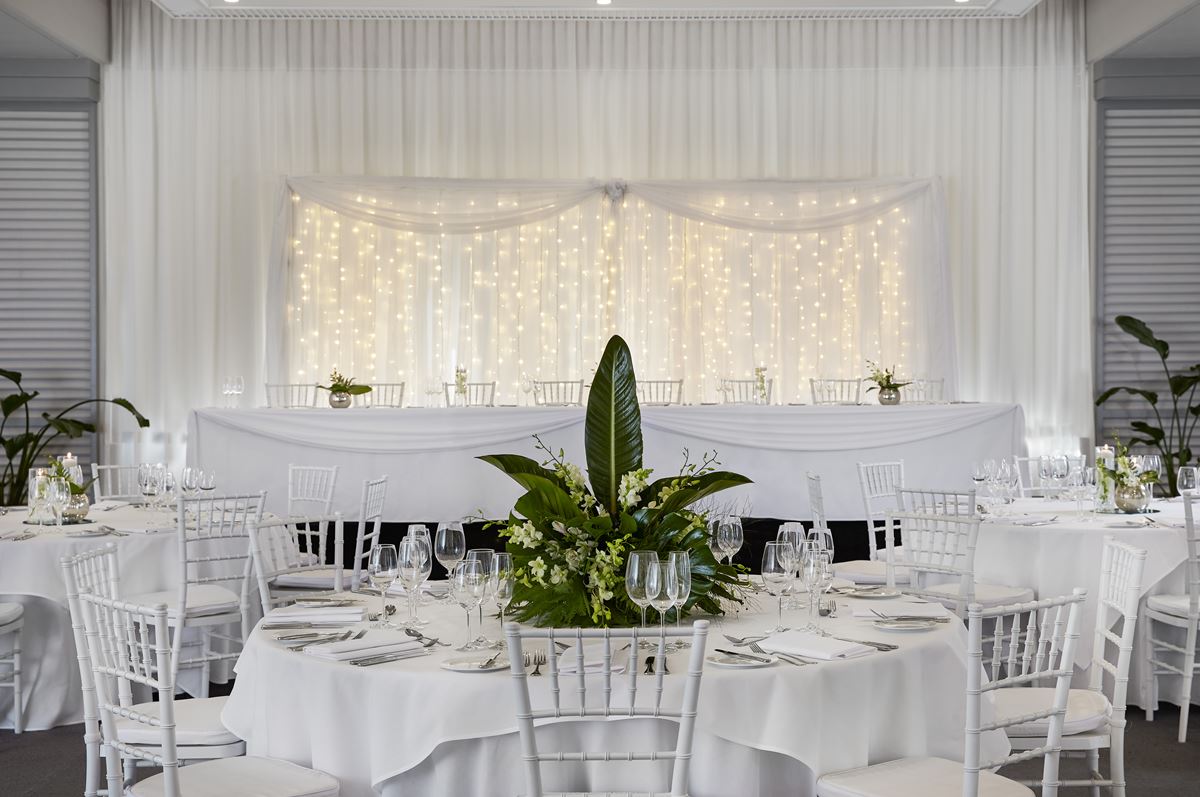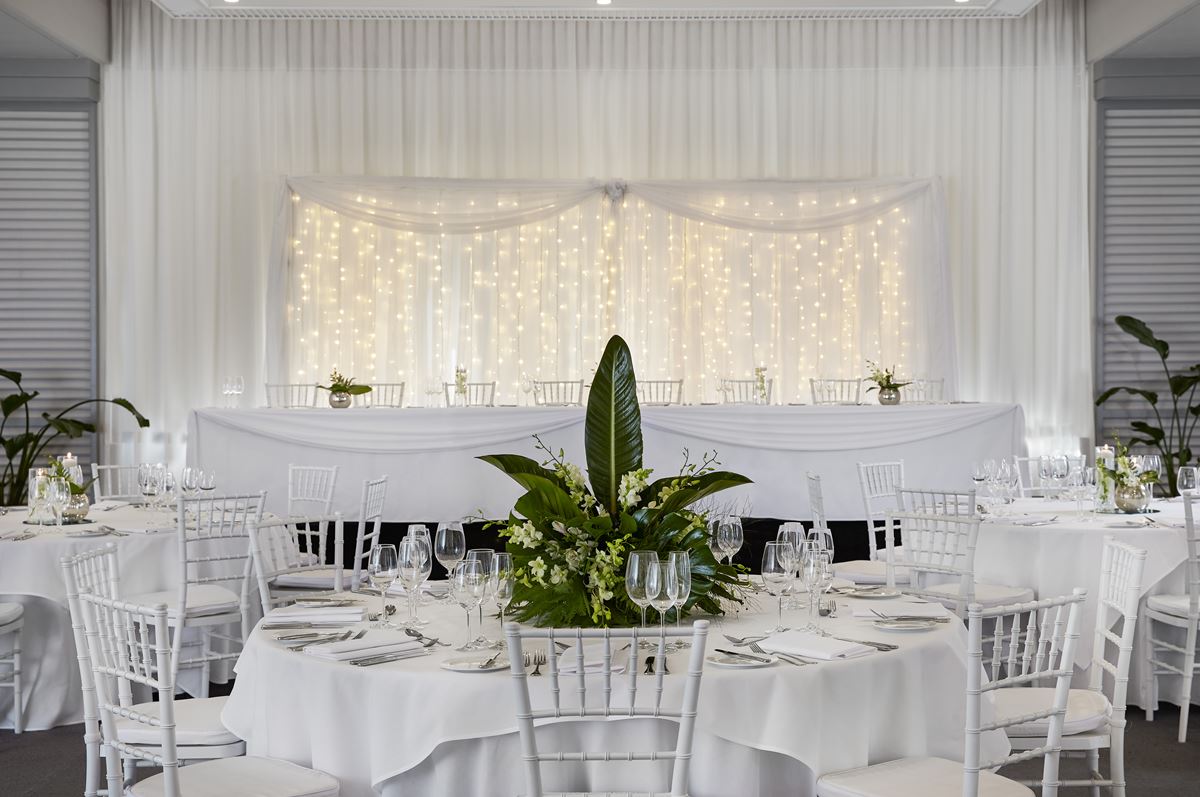 JW Marriott Gold Coast Resort & Spa Wedding Venue Highlights:
Catering for larger destination weddings of up to 450 guests
Luxuriously-appointed guest rooms and suites boasting incredible ocean views
Indulgent pre and post-wedding experiences, including spa treatments, cooking classes and water activities
Carefully curated, all-inclusive wedding packages for a seamless experience
visit JW Marriott Gold Coast
---
#5 Endless Photo Possibilities
When thinking about destination weddings, scenes of palm-tree-speckled shores, secluded beaches, dazzling sunsets, and shimmering turquoise waters come to mind, meaning it'll be impossible to go home with a bad wedding photo! Thanks to the picture-perfect locations of Marriot Bonvoy's five-star resort wedding venues, your photographer will be spoilt for choice when scouting Insta-worthy locations for your photo shoot.
Perched on a coral reef, surrounded by pristine white sands and warm, crystal clear waters, Sheraton Resort & Spa at Tokoriki Island is a spectacular location for your wedding celebrations. Located amidst Fiji's much-loved Mamanuca Islands, this luxury resort provides a blissful escape from the everyday, with endless photo opportunities, exceptional amenities, fine dining experiences, and world-class service from a dedicated team of event planners and coordinators.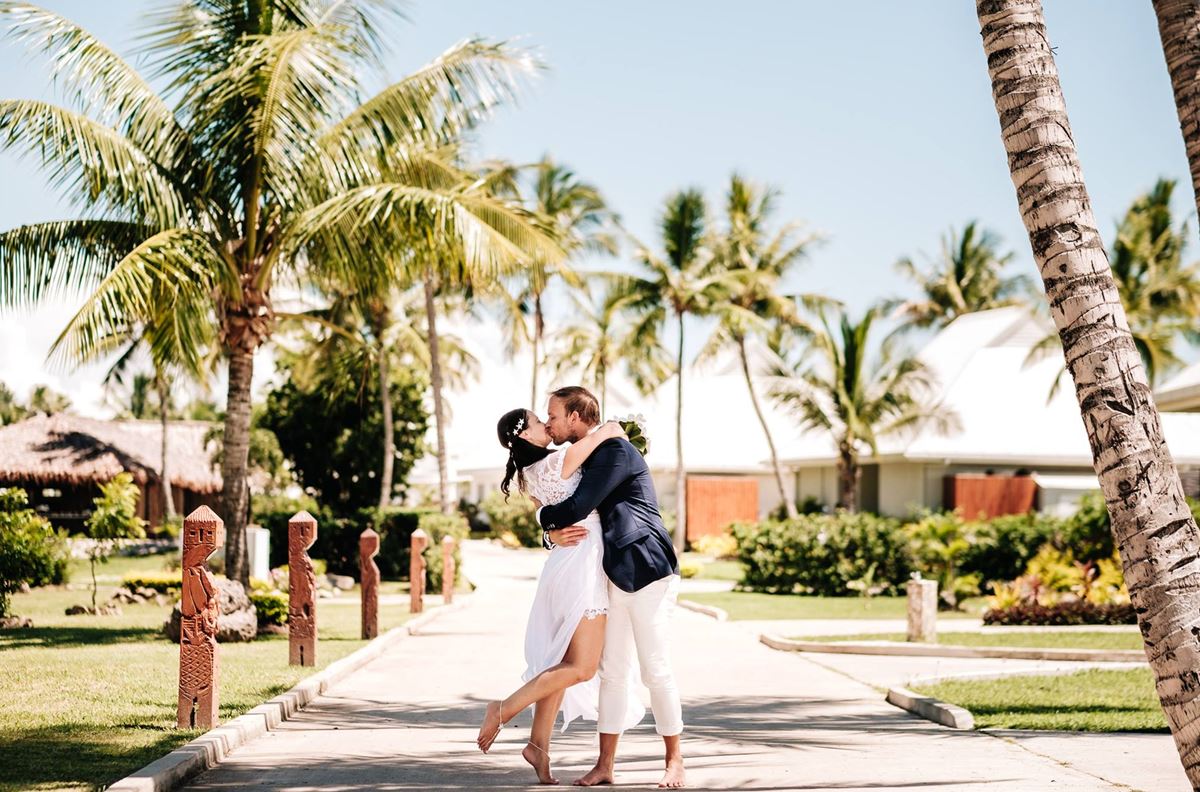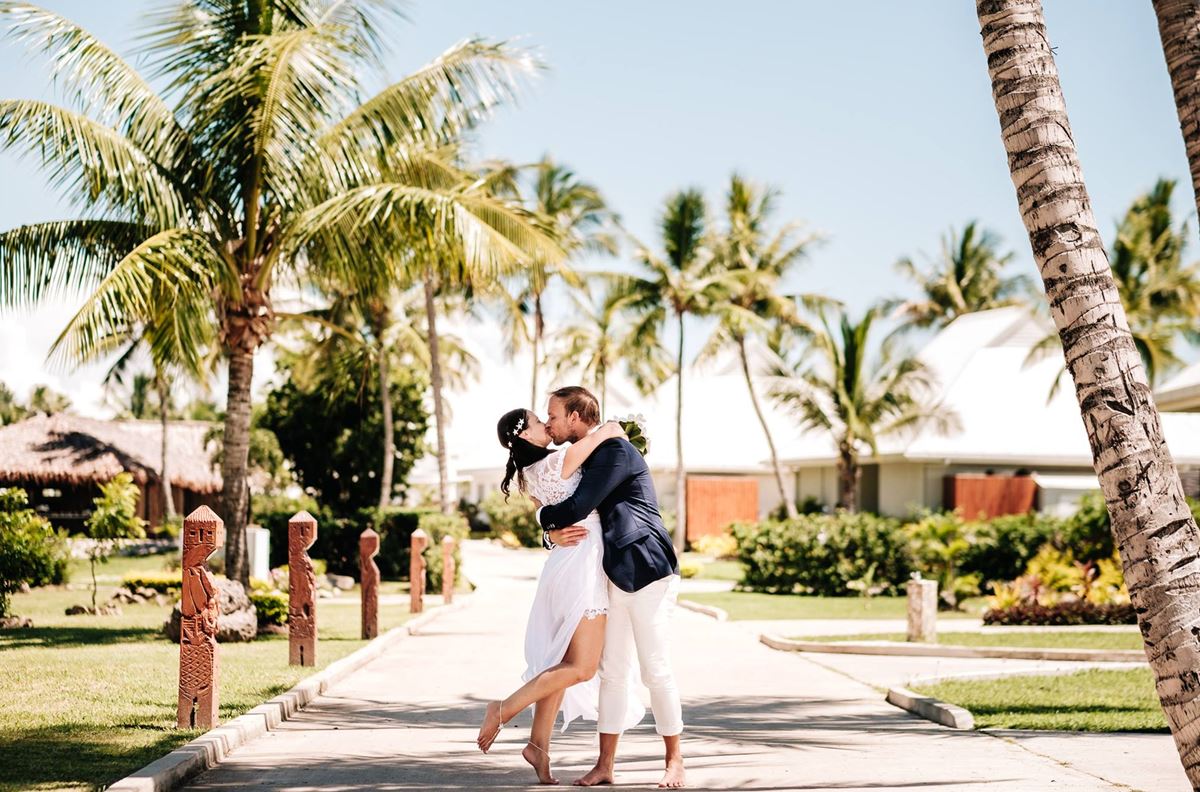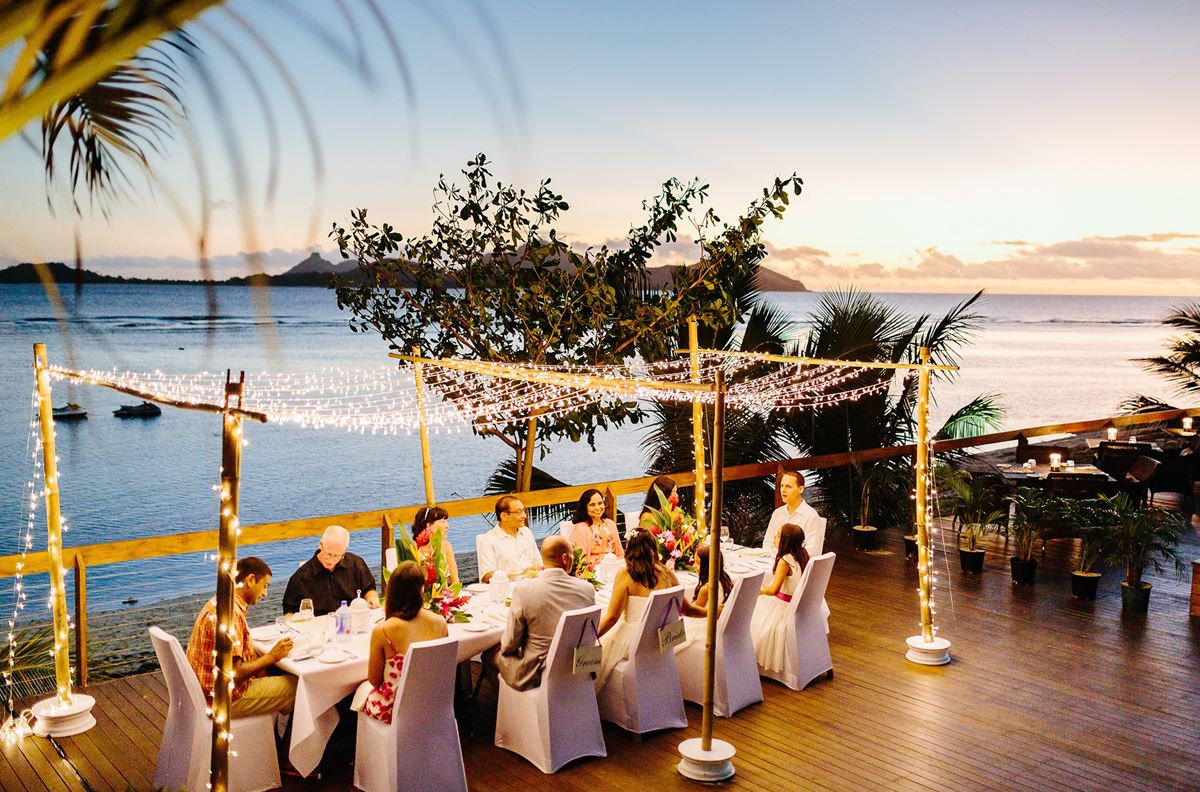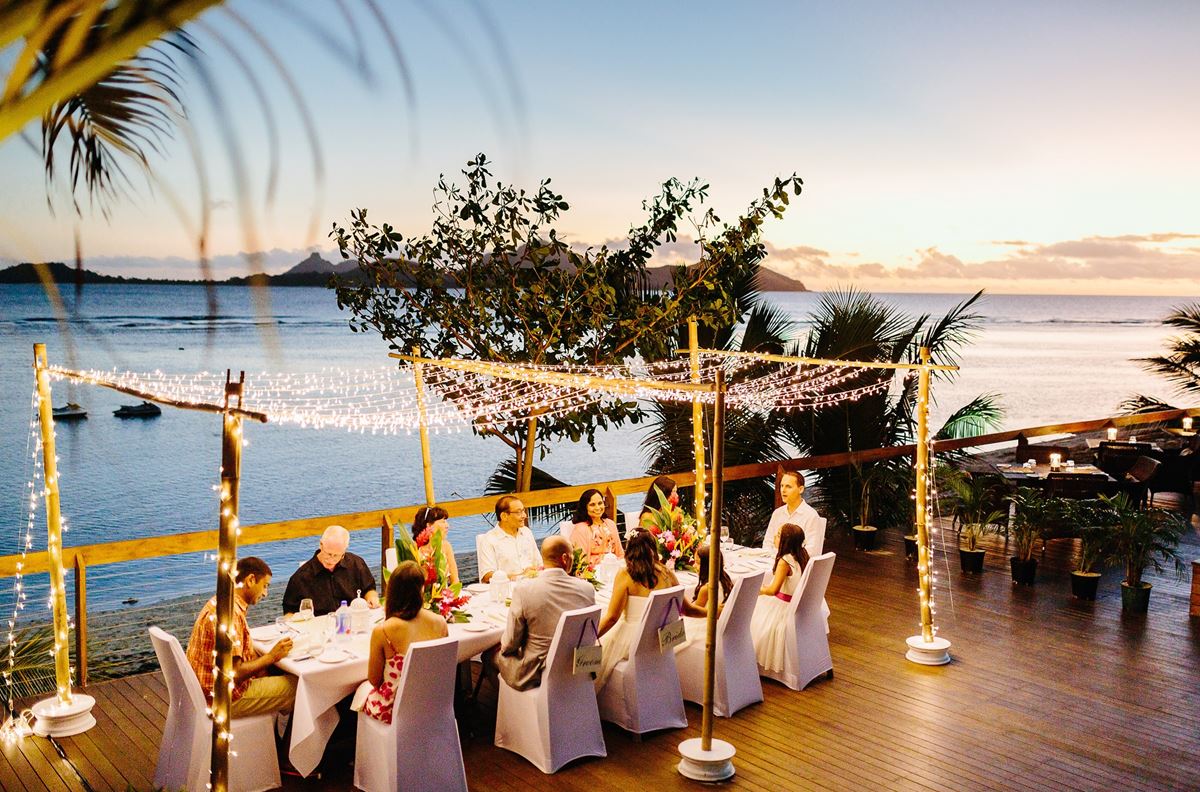 Sheraton Resort & Spa Tokoriki Island Wedding Venue Highlights:
Exclusive beachfront location on Tokoriki Island
World-class accommodation
Stunning island chapel and elegant ballroom
Indulgent day spa and infinity pool
Discover Sheraton Resort Tokoriki Island
---
Here are just a few highlights of Marriott Bonvoy weddings:
Personalised wedding and honeymoon planning
Earn loyalty points throughout your wedding, bridal shower, or high tea
Redeem points during your hen's or buck's party
Use points for your dream destination honeymoon
Special offers for anniversary dinners after your wedding
Access VIP experiences through Marriott Bonvoy Moments
Exclusive member rates