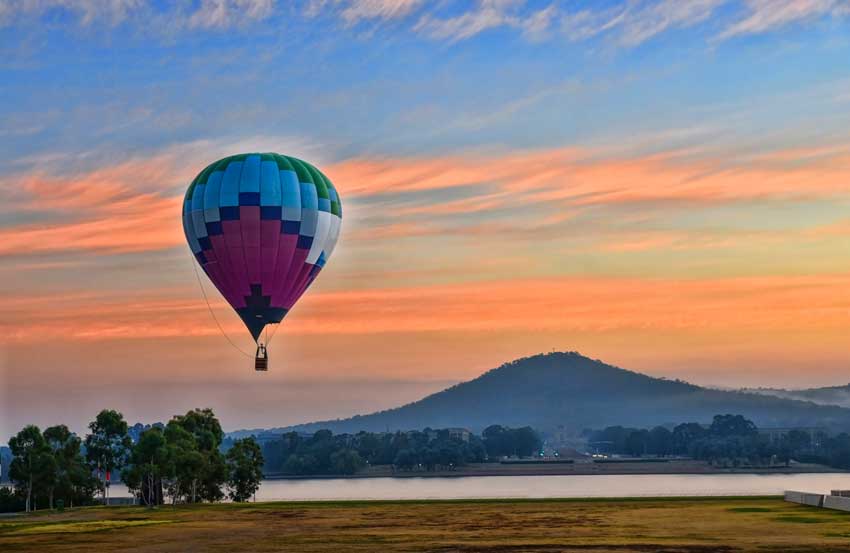 Ask most people what they know about Canberra, and they're likely to mention politics. But if you think that's all this gorgeous city has to offer, you couldn't be more wrong. There's fantastic food, fabulous culture, a thriving hospitality scene, exciting tourist attractions and a palpable sense of history that speaks to the heart as Australians. It's also a place that is tailor made for weddings, whether you're a local, or a bride or groom open to the idea of a destination wedding celebration. Here are five reasons to think about marrying in our nation's capital.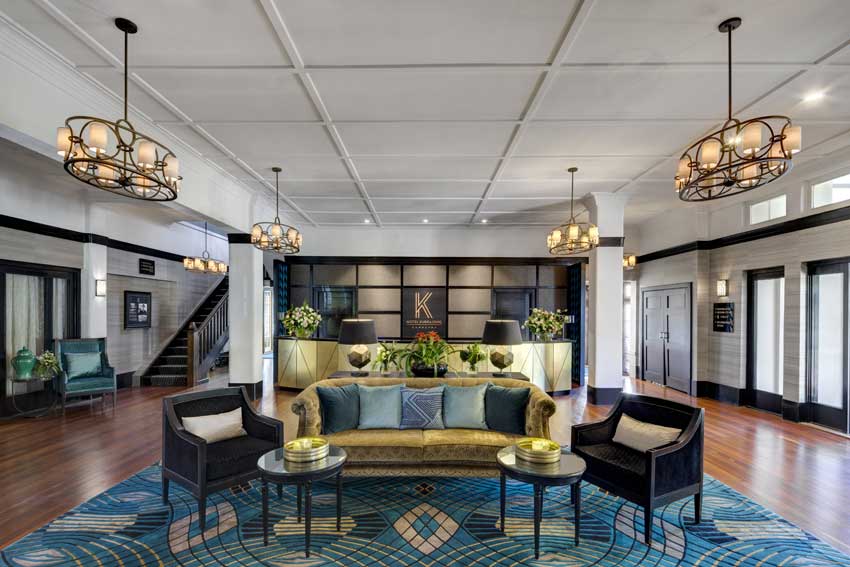 There's a wonderful sense of history
To some extent, the history of Australia is the story of Canberra's evolution. And there's something hugely exciting about being able to tap into the spirit of those people who helped make Australia great. At the refurbished Hotel Kurrajong Canberra, for example, you can follow in the footsteps of 16th Prime Minister Ben Chifley, who led the nation from 1945-1949.
As the hotel's wedding coordinator explains, there's actually a pretty good story here. "When he was in Parliament, Ben Chifley chose to stay here as his official residence, rather than the Lodge," she explains, noting the CBD is less than a 10-minute drive away. And it's here he also made his final curtain call, succumbing to a heart attack in June 1951.
"There's all this mystery about whether he died here in the hotel or in the ambulance on the way to hospital," the wedding co-coordinator shares. "So it's got that kind of haunted history people are fascinated by." Even today, interest remains high, and the hotel has actually refurbished his room to look exactly as it did in his day, one of 147 rooms available, including 26 in the heritage wing.
In the know: Canberra isn't just home to the politicians of Parliament House, it's also home to monuments that preserve and profile our history and culture. Must-sees include the Australian War Memorial and National Portrait Gallery, while at the National Library of Australia, precious treasures include Captain James Cook's Endeavour Journal and the landmark papers of Eddie Mabo.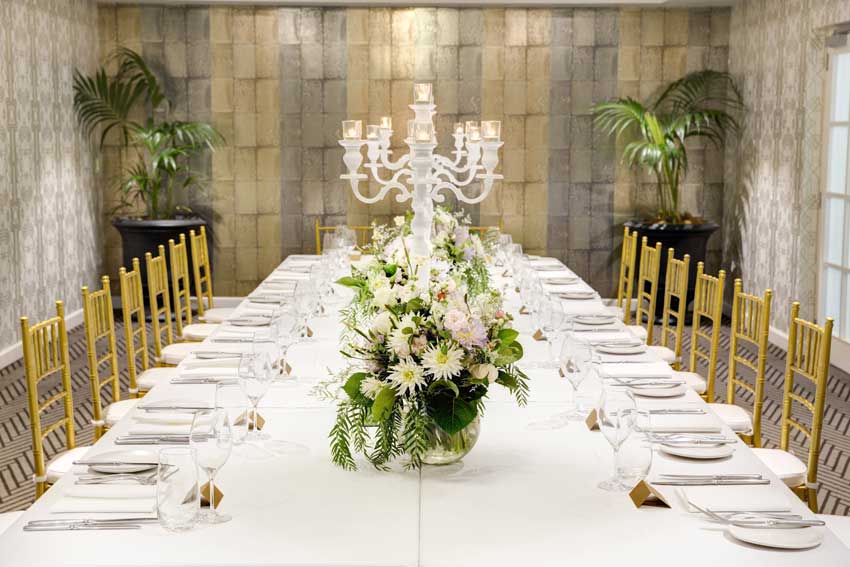 The food is seriously sensational
While cities such as Melbourne and Sydney have long been applauded for their culinary pedigree, Canberra has quietly gone about cultivating its own headline-worthy reputation. After all this is the city that hosts an annual truffle festival – which the Hotel Kurrajong Canberra takes part in – is home to acclaimed vineyards and has lured big names such as Jamie Oliver.
The attitude is all about melding sophistication with accessibility, giving basics a beautiful twist and, crucially, focusing on seasonal menus and what they can bring to the table, whether it's fine dining, high-end vegetarian or something a little more casual.
Again, the hotel's chef-designed menus are a case in point, being personally curated by the award-winning executive chef, who draws on his five-star experience to guide couples through the process of choosing just the right tastes, textures and temptation.
Think options such as smoked duck with celeriac slaw and raspberry vinaigrette, pan-seared salmon with puy lentils, baby cress and chive emulsion, a milk chocolate salted caramel done or even the DIY approach of a barbecue, seafood, cheese or carving station. "Food is a really important part of any wedding because it's something the guests will focus on and remember," says the wedding co-coordinator.
"That's why it's important to us that we work with couples individually. We give them ideas, we look at their dietary requirements for guests, we host them for menu tastings and we're able to answer any and all questions they have. It's all about creating a food experience that bests reflects you as a couple, be it a boutique event for 50 or one where we open up our restaurant to cater for 160."
In the know: If you and/or your guests are keen foodies, there's a feast of great food events to time your wedding around, such as the Canberra Food and Wine Expo or the Taste It Festival. There's even a wine harvest festival, for those who love a good drop.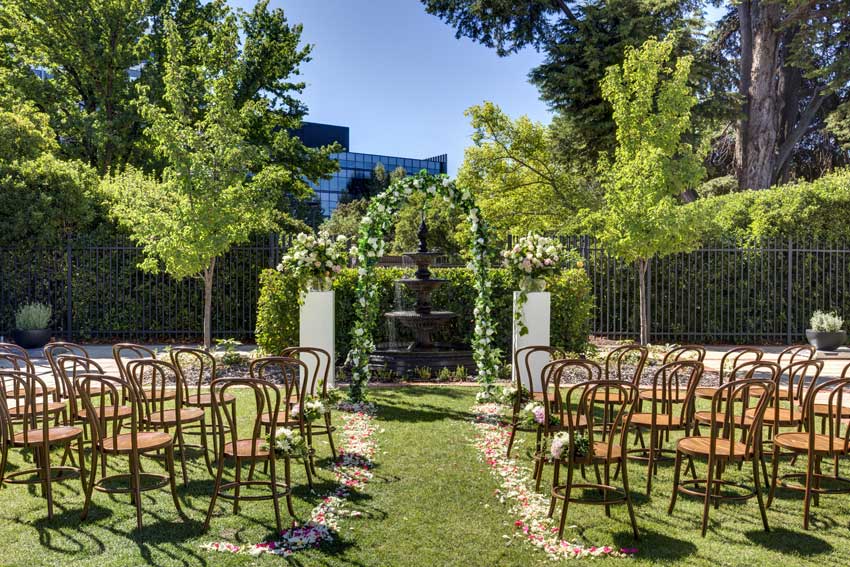 You can curate a great adventure for guests
Modern couples often take advantage of proximity to friends and family to turn a one-day wedding into a kind of mini festival over a long weekend or more, especially when friends and family can travel quite a long way to attend. "It's actually pretty normal that most of our weddings have interstate guests, who book accommodation with us" says Hotel Kurrajong's wedding coordinator, whose team is available to make guest bookings.
So, the challenge then becomes keeping them entertained. That's where Canberra comes into its own, with a plethora of drawcards that fly under the radar, such as the National Arboretum, which has one of the world's largest living collections of rare, endangered and significant trees. Even if your guests are all local, you can still come up with a few hidden gems, be it a speakeasy or a Segway ride around Lake Burley Griffin.
And, if you get stuck for inspiration, there's always help at hand. Through Viator, the hotel offers day trips everywhere from Questacom to the AIS. As the wedding coordinator explains, it's about remembering that for your guests – and even for yourself – it's not just about the ceremony and reception, but about the celebration as a whole. It's about recognising the gift of the time people spend with you and helping to make memorable memories for them as well.
In the know: As experts in everything Canberra, Hotel Kurrajong offers a handy online resource full of ideas to get the most out of the city, and help your guests do the same.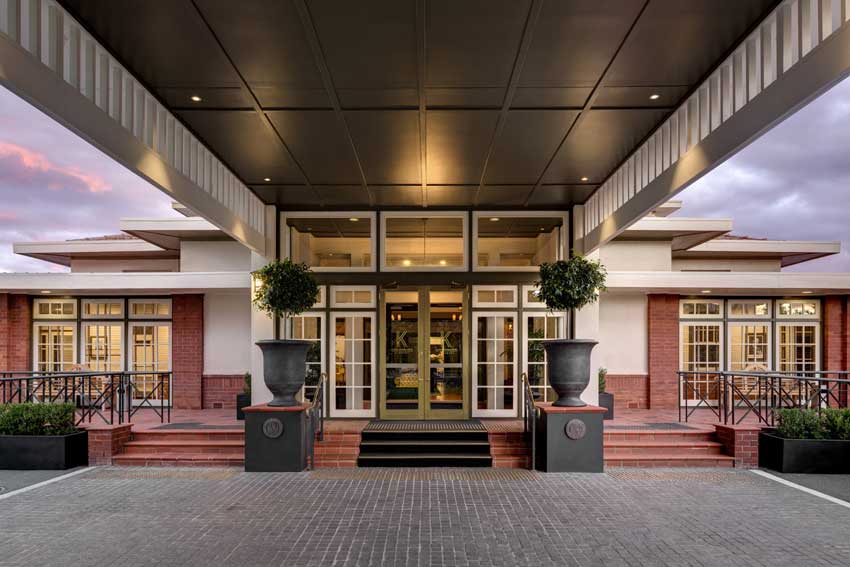 The city really knows how to plan a great event
Canberra mightn't have a reputation as a party town, but it certainly knows how to plan a good event, be it the annual floral explosion of Floriade, the exertion of the Australian Running Festival and the noise and excitement of Summernats. And the elements of success that go into making such events a hit include the ease and convenience of getting around the city and precision planning. They're qualities that lie front and centre with Hotel Kurrajong Canberra's wedding coordinator.
"We're there every step of the way," she says, noting that all wedding packages offer inclusions such as a display table for the wedding cake and guest book, cake cutting and serving, chairs covers, sashes and tea light holders, and a microphone and lectern.
"I'm there at the food tastings, I'm there at rehearsals and we also offer a one-stop shop through great partnerships with local vendors across everything from hair and make-up to event hire and theming."
Location is another drawcard, with a gorgeous courtyard offering a tranquil space to exchange vows, as a water fountain tinkles in the background, the evolving colours of summer, spring and autumn create a beautiful backdrop and optional extras such as floral arches provide a finishing touch.
From there, the celebration moves through into the restaurant, creating a seamless flow. "We often find that couples come to us to book a reception and then end up actually getting married here," says the co-coordinator, who explains that more and more couples – and guests – are looking to the convenience of a ceremony and reception in the same venue … before the shortest of walks back to their rooms. It's a trend echoed nationwide, and that's not where it ends, because….
… you can stay on for a honeymoon you'll never forget
Who doesn't love the idea of combining their wedding and honeymoon? Of sleeping in the next day – the hotel's complementary bridal suite offers a late check-out – and starting married life without the hassle of planes, trains or even automobiles? Sounds divine, which is why the idea of weddings cum honeymoons are part of a growing trend, even if you're a local who's just keen to see your city in a new light. And in Canberra, you could stay for a year and still not see everything worth doing, no matter your tastes or budget.
Feeling romantic? Head to Red Hill for an amazing vista over the city. Want to meet and greet the animal kingdom? Visit the National Zoo and Aquarium. Fancy a vigorous walk? Work up an appetite on the Bridge to Bridge trail around Lake Burley Griffin before breakfast at Chifley's Bar and Grill. Feeling chilled? Then simply find a nook to relax on the hotel's verandas and covered pavilions. It's all about enjoying your literal honeymoon period, away from the hustle and bustle of life that will soon beckon you back into the fold.
In the know: For a honeymoon excursion you definitely can't find anywhere else, head to Parliament House, where you can check out the only copy of the Magna Carta in the southern hemisphere. For those who don't know, this 800-year-old document sets out the freedoms and liberties of democracies.
Other great reasons to consider a wedding in Canberra include its four distinct seasons – hello to the russet and gold tones of a real Autumn; the fact it's equally convenient for Melbourne and Sydney and easily commuted from other Australian locations; its palpable sense of power and authority (yes, you can book tickets to Parliament Question Time) and a certain panache that simply can't be labeled. Just like the hotel. "We're very different and very unique," the wedding coordinator says.
"We have a lovely history and heritage and this is what separates us from other venues." It's about a classic and elegant style but with a beautiful modern slant. Much like Canberra itself.