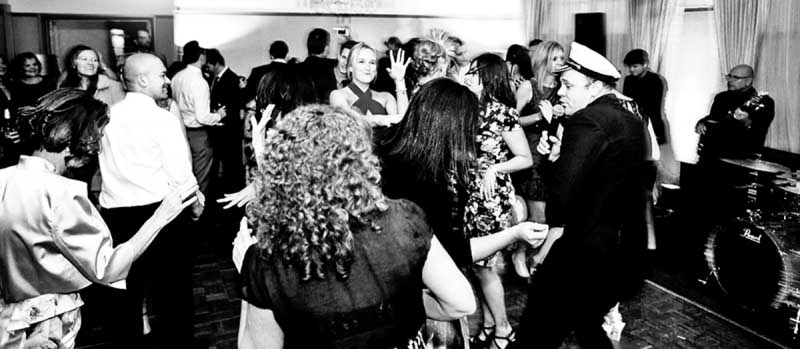 Adam Sandler's cult classic film The Wedding Singer paid fluorescent homage to the decade that was the 1980s. But it also offered a sweet and sentimental tribute to the art of wedding entertainment, showcasing not only myriad ways to perform Spandau Ballet's power ballad True, but also how a great ringleader can turn a reception into an unforgettable celebration.
It's something Trevor Newnham gets to embrace week in and out as the founder of celebrated outfit the Club Band, which performers at weddings all across Australia.
It made him the perfect person to hit up with all the questions about wedding bands we could possibly think of….
OK, so starting at the basics, what is the standard make-up of a wedding band?
There's actually no set formula for it. In fact, one of the key reasons people look to hire a band is flexibility, which is not only about budget and size, but also genres. For example, our musicians know just about any cover song you could mention, but we're also all jazz trained, which means we could just as easily perform at a Great Gatsby themed celebration as a more standard Saturday night affair at a restaurant. We also cover off multiple instruments, so we can create a variety of different sounds without the cost of booking multiple bands. For example, we could bring along the brass section for the reception to really get things swinging, but then maybe just have one or two people performing during the ceremony to add to the atmosphere and provide a beautiful background without overpowering the emotion and importance of the moment.
[ew-supplier-carousel]
How does hiring a band differ from hiring a DJ?
It really comes down to a different skill set, and looking at what live artists can bring to the party. When you have a band, the lead singer sits front and centre, almost like an entertainment ringmaster, taking over when the official proceedings are done (or even before that if the MC's had a couple of drinks and defers to us). And that's where you can get the most value – in understanding that people often need leadership to really get into the party spirit. Brides and grooms know their parents, their grandparents, their uncles, their aunties. They know no one is getting up on that dancefloor unless someone warms them up and breaks the ice. And that's where a band comes in, not just with great music, but also with some vocal encouragement, or even a little bit of gentle coercion. Basically, whatever it takes to get the party started.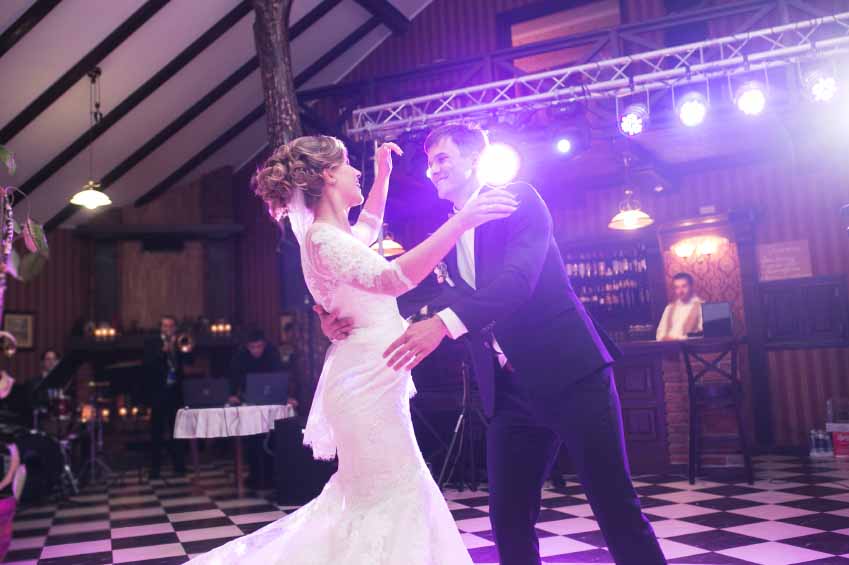 So what's the difference between a song played from a record or CD, or one done live?
Probably the best comparison is to say it's like the difference between listening to your favourite band's latest CD or going to their concert. The CD is a great way to enjoy the songs, but when you go to the gig, it brings a whole new level of personality and colour. You're surrounded by noise and atmosphere, and there's room for the unexpected, where the band can suddenly segue into a medley or mash-up, start jamming on a favourite number or even just perform an extended version of any tune that has really brought the crowd to its feet. It allows for spontaneity in a way pre-recorded music never really can.
When it comes to a set list, can you program a band like you do an MP3 player?
Of course you can – it's your wedding. But we always encourage couples to leave room for spontaneity so you can tap into the mood as it unfolds. For example, you'll explore their musical tastes by asking for say 10 songs or bands they love and 10 they don't. This will tell you that they might love Aussie rock, that they want to sing anthems, that they adore funk or that they prefer stuff from the '60s or '70s. So then you begin to shape a theme and a set list. But apart from 'must-play' numbers, it's never set in stone, as you want to be able to respond to the night's energy. If they're going crazy for something like Summer of '69, for example, you can make sure another classic, such as Every Little Step by Bobby Brown, isn't too far away. Similarly, How Sweet It Is might pair perfectly in close proximity to Everything. It's all about gauging what's happening and responding accordingly.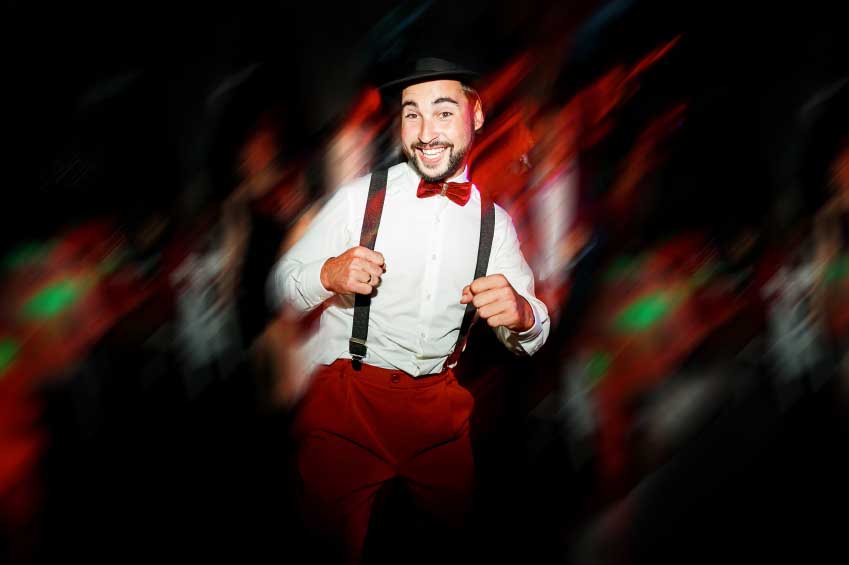 Are there any particular songs that will get everyone on the dance floor?
A real favourite at the moment across the age groups is Uptown Funk by Bruno Mars and Mark Ronson. That will work every time.
Will a band learn a special song or songs if I make the request?
Absolutely. Musos love to help create special musical moments that have personal meaning for you. The only thing you might be surprised to find is they probably already know the song, as their repertoires tend to be incredibly varied.
Is there ever a place for a song the bride and groom haven't thought of?
Definitely. I mean, wedding musicians play for thousands of people a year, so they know what works to pack a dancefloor and keep it moving. They understand the guaranteed crowd pleasers may not be something the bride and groom have thought of, so if you give them freedom for the unexpected, it can pay off big time. Plus, it's a nice surprise for a bride and groom to enjoy something out of left field after all their months or even years of intense planning.
And can you play around with the arrangement of songs?
Yes, and it's really fun to perform songs in a different way than expected – say doing a jazzy version of a pop song, throwing a brass section into a number that doesn't have brass or even rocking up a song that's traditionally viewed as kind of cheesy. For example, something we love to do is a kind of dance blitz, where we'll take six or seven good dancefloor songs, mix them up and play them back to back without stopping. We pick out their best sections, go back and forth between the ones people really love, jam on our instruments, free form and basically just go all out. It's 20 minutes or half an hour where the beat goes on. And people really love it.
That sounds like you'd work up quite a sweat and appetite. Which brings us to the next question. Do we need to feed the band?
Wedding etiquette – and our contract – says yes. But this is a pretty standard arrangement. Also, most caterers and venues will allow you to buy meals for all of your vendors, including musicians, at a reduced rate.
Is it important to see a band perform before we book?
This is something I highly recommend – especially if you're tossing up between using a DJ and going live. One thing we often find, especially for couples who haven't seen a band live at a wedding, is they don't really understand what musicians can bring to the party until they've seen a live showcase event. Because it's not so much about the notes and bars of a song as it is about the intangible elements. It's the energy, the kind of arrangements you give to songs, the fun you have on stage together and the atmosphere you can create. It's about getting people excited, and we often find they'll then count down on Facebook with messages that say something like: "Woo hoo, only two weeks until you rock our reception. Can't wait!"
Trevor, a bass player by trade, says live music at weddings has always been popular, as evidenced by demand for his bands.
These are the Radio Club Band in South East Queensland, the Press Club Band in Sydney, the Party Club Band in Adelaide and the Summer Club Band in Perth.
All feature experienced professionals who have toured the world and performed alongside everyone from John Farnham and Katie Noonan to Sneaky Sound System and Jamiroquai.
It's a level of experience that lets them take responsibility and lead from the front.
"Brides and grooms spend so much time planning the reception they don't want the responsibility of making sure people have a good time," Trevor says. "They don't want to be the ones to have to drag them on to the dance floor or get them excited. That's where we come in."
It's all about encouraging a sense of fun and interactivity.
"We build up a real chemistry with the bride and groom, their families and guests, and use it to develop a terrific atmosphere," Trevor says.
"For example, we'll bring someone from the wedding party up to perform on the microphone. Or we'll use a bit of friendly coercion to encourage people on to their feet. Or we'll head out on to the floor to play and dance among the guests, which is something our brass section especially loves to do.
"It really feeds into the crowd and it's fun for us. In fact we have to pinch ourselves that we get paid to play for people who are dancing and having so much fun."
Trevor – who explains all of their musicians are particularly passionate about weddings – says they're a great gig to play.
"People are really responsive and there's a fantastic community vibe," he says. "Everyone just wants to have a good time and it's very satisfying for a musician."
He also points out a band can fill a room in the way speakers cannot.
"You just can't beat the atmosphere of having someone leading the fun and directing the audience with lyrics or words," he says. "Of having that person to gather around, whether it's handing a microphone to the bride and groom or helping to teach the steps to a classic dance.
"It just becomes a focal point, which is something you can't match. It's about being live, and spectacular."