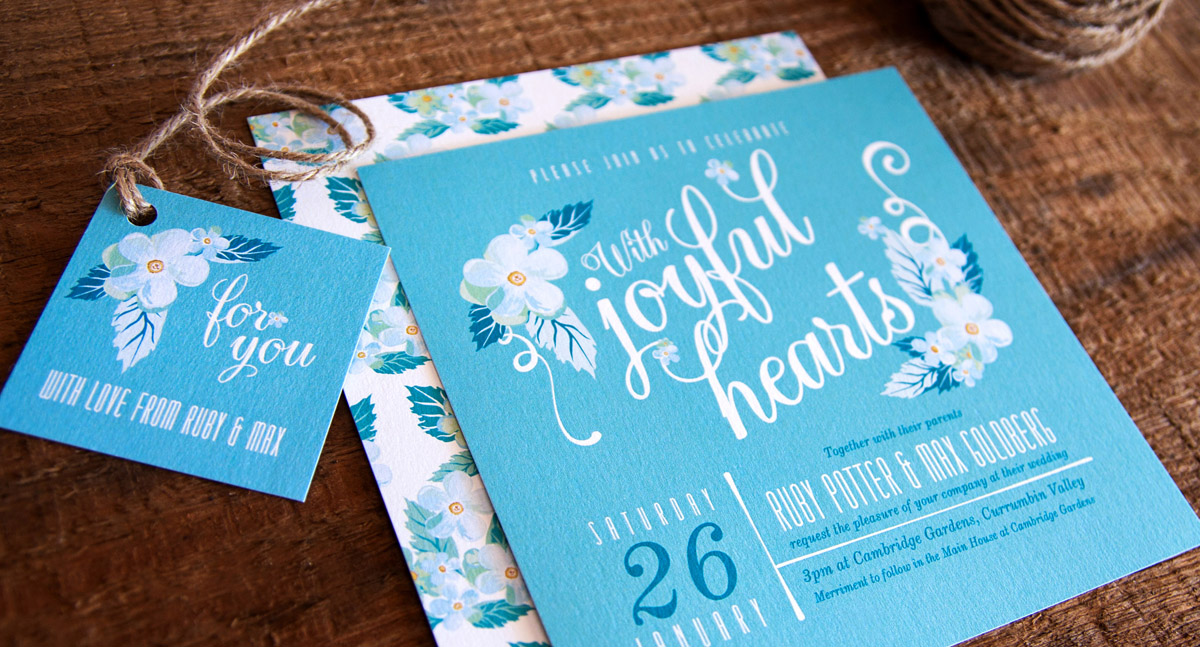 The talented ladies behind Lovestruck Invitations were inspired to choose their business name in a suitably romantic way.
The creative collective, who had worked together before, decided to team up to create a wedding-specific online stationery site offering customisable ranges and one-off bespoke choices to suit varied budgets and turnaround times. But when it came to selecting a memorable name, it probably took longer than the business side of things.
"We continued to bandy around many names, but no one could agree," graphic designer Saffron Jensen said. "Then our owner, Rebecca, went out on a date one night, came in the next morning after an amazing time and made a comment about the person she had met. The word she used was 'lovestruck' and, with that, we had our business name."
Saffron – who says clients work with one designer the whole way through – believes getting the stationery right is a crucial part of wedding planning.
"It's the first aspect of the wedding that your friends and family see and receive," she says. "It sets the theme and style and can be a lasting memento."
But it's also a process that can be confusing and a little intimidating. So we set out to answer some of the most common questions from brides and grooms.
What's the first piece of wedding stationery you should send people?
Technically, the first two pieces of stationery are the engagement announcement and engagement party invitations. But when your focus turns to the wedding itself, item No. 1 is the save the date card, which serves a really practical purpose.
For starters, many couples have such long engagements that the invitations come well after they've locked in a day – so a save the date is a great way to ensure guests keep it spare.
This is particularly important if you've picked a notable time of year, for example New Year's Eve, on the weekend of a major sporting grand final or on a public holiday – ie dates when people could normally be expected to have other plans. The card also lets people start to lock in earlybird prices for transport and accommodation.
What comes after that?
If you want to go the whole hog and feature the full complement of wedding stationery, here's what else you would choose (more details here)  …
Bridal shower invitation
Bachelor/ette party invitation
Attendant thankyou card (to let them know how much their help and support means)
Wedding invitation
Rehearsal dinner invitation
Ceremony program
Escort card (to help direct people to their table)
Table card (often a number)
Place card
Reception menu
Guest book
Thank you card
Wedding announcement (to send to people who weren't at the big day)
Now, it sounds like a lot of stationery – and it is. But, as with everything wedding related, it's about choosing only the pieces that fit your theme and vision.
For example, some people might forego the escort and table cards in favour of a seating plan at the entrance to the reception. Other couples might have no need of a wedding announcement as everyone they really cared about was there. Still others might choose to thank their attendants with a gift, rather than a card or note.
So, remember that, apart from the basics, such as a wedding invitation and thank you cards, it's all about what you 'can' do, rather than what you 'must' do.
Do I need to have the same stationery the whole way through?
In a word, no. Most couples choose to go with the same design and style throughout, but there are other ways to build a sense of flow across all the elements. You could choose different designs but keep the same colours, or have the same design in different colours.
You could choose a flower that means a lot to you and then have different illustrations of it or use different photos from your courtship across the different pieces. The sky really is the limit when it comes to creativity.
And what about the wording? Who should the invitation come from?
It really depends on whether you're taking a classical approach or something more modern. With a traditional format, they would generally be sent by the parents, who footed the bill. But these days, couples often send them personally, reflecting not only their financial input into the big day, but also the fact there may not be just two sets of parents involved, which can make it a little complicated.
So, a nice way to work it is to say something like 'Catherine Middleton and William Windsor, with their families'. Whatever the case, we do always suggest that times and dates should be spelt out. Here are some examples…
Traditional wording
Mr. and Mrs. Samuel Drake
request the honour of your presence at the marriage of their daughter
Kaylee Jefferies
to
Jonothan Higgins
son of
Mr. and Mrs. Steven Fred
Saturday, the eleventh of February
two thousand fifteen
at three o'clock in the afternoon
Valley Views Retreat
411 Mountain View Road
Maleny, Queensland
Casual (non-traditional) wording 
With Joyful Hearts
Kaylee Jefferies
and
Jonothan Higgins
Would love you to join us
as we wed
and celebrate our new life together
Saturday, the eleventh of February
two thousand fifteen
at three o'clock in the afternoon
Valley Views Retreat
411 Mountain View Road
Maleny, Queensland
OK, so just to recap, what information does the invitation NEED to include?
There's a few things, all designed to answer the question of who, what, when, where and why. They are:
– The hosts (as per above)
– The name of the bride and groom
– Who is invited
– The date and time of the wedding
– The location of the ceremony
– The location of the reception
– RSVP deadline and contact details
Then, of course, come the added extras you can incorporate, such as a favourite quote from a poem or a movie you both love. We certainly encourage couples to add in anything that stamps their personality on the page to remind guests of their beautiful love story.
Fantastic, that's the invitation sorted. What else goes in the envelope?
Depending on the size of the envelope, there's quite a few complimentary pieces of stationery you might want to include. The most common is an RSVP card and, as the name suggests, this invites people to formally let you know whether they plan to attend.
At the very least, these make for a wonderful souvenir for your wedding memory book. It's also a practical avenue through which to quiz them about any special dietary or other requirements they have. Something else people often find useful – on both sides of the equation – is the inclusion of a registry card.
This lets people know where you have registered and makes it easy for them to choose a gift they know you will love. Similarly, if you have everything you need and would prefer a financial donation, send a wishing well card to outline this request. Other helpful inclusions range from directions – if your venues can be tricky to find – to an extra information card, which might, for example, have suggestions on convenient accommodation to book, great places to eat locally and any transport arrangements that have been made for the big day.
If I'm holding other events around the weekend, can I include those invitations in the envelope as well?
Absolutely. In fact it will make it easier for guests to plan their trip. You can combine everything from a wedding eve barbecue to a day after brunch on the one invite and the events can also share an RSVP card.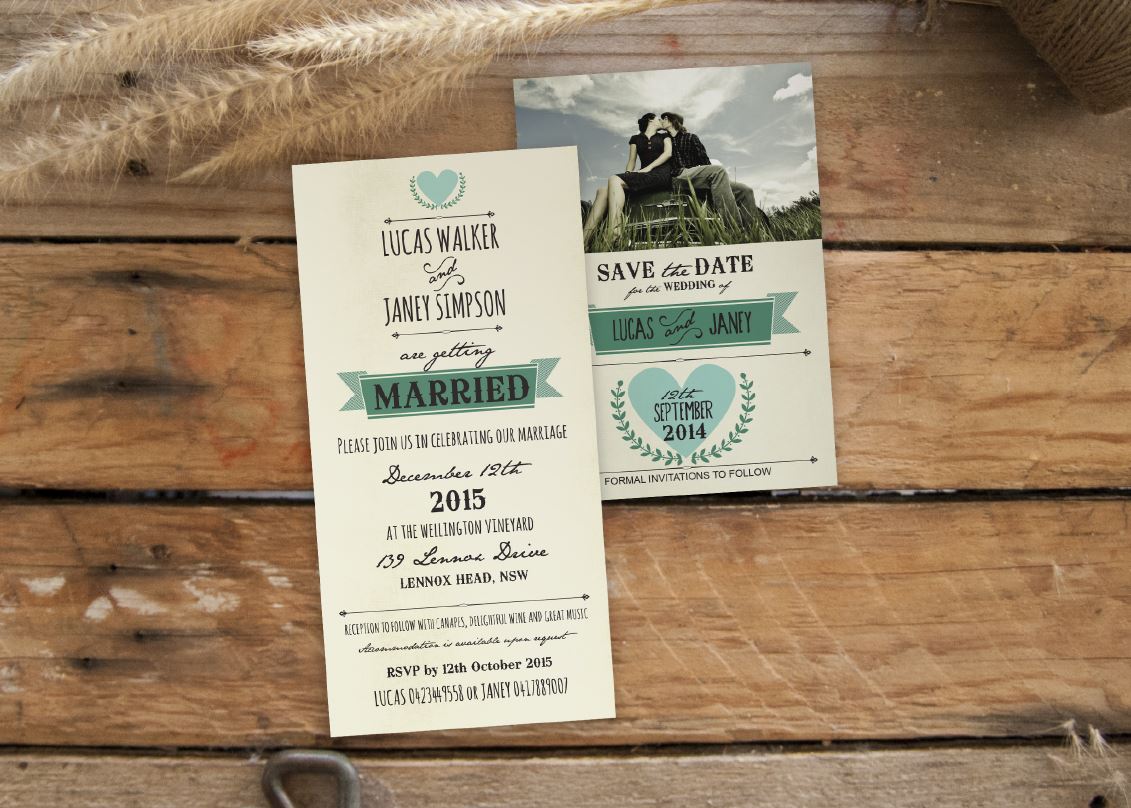 And now to the fun bit. What sort of stationery styles are currently in vogue?
Aside from seeing so many modern-day romantics, we are also loving our BOLD brides! These unique women (and their partners) are re-defining the romantic style of yesteryear. Think gold flourishes, magenta pops and accents of living green! We have a wide range of unique wedding stationery design suites which tastefully combine careful typography with adventurous florals and abstract patterns which are joyful, fearless and still so pretty!
Here's some great inspirations…
* Make your font the centrepiece of the invitations, playing with several different types to stunning effect.
* Use patterns to stunning effect, whether it's a chevron across the back, a chalkboard-type background or a diagonal stripe underneath a text box.
* Design your invitations to look like something else, from a postcard or a movie ticket to a page from a calendar with your big day circled in red.
* Make your names stand out. You're the stars of the show so present yourselves in big, bold and beautiful format.
* Turn a little kitsch. Yes, something like 'tying the knot' underneath an illustration of a knot is a little corny, but in context it's beautifully sentimental.
* Go double-sided. That way you can use one side for the details and treat the other as a piece of art, whether it has an illustration, a photograph or even a poem about love.
* Play with shapes. Many invitations are DL sized, but anything goes – from squares to rectangles and beyond.
* Be playful with words. For example, instead of an RSVP card that merely says 'will attend' or 'must decline', try something like 'will be there with bells on' or 'is devastated at missing such a wonderful day'.
* Make a production of added extras. For example, if you're including directions to the venues, a handdrawn or designed map can be a wonderful point of visual interest.
* Add a magnetic strip to the back of your invitation so they can be stored on the fridge or freezer for easy reference.
On a practical side, Saffron – who says the design team aims to add new designs most weeks – says her top tips for couples to think about when choosing a design and stationery range are:
* Leave yourself enough time to ensure you don't rush the process. It really helps to have all of your details confirmed before creating your invitations.
* Ensure you have LOTS of eyes to proofread your invitations so there are no errors or last-minute stresses!
* Choose a style which represents you and your wedding day. For example, all of our designs can be re-jigged, re-vamped and re-styled so make sure you aim for exactly what you want.
In the end, she says, it's all about adding that personal touch.
"It could be picking a certain theme to reflect shared interests such as travel or gardening, opting for an unusual colour combination or adding a fresh twist to photos by using baby portraits," she says. It just adds a nice personal and illustrative touch to the piece and tells your friends and relatives who it's from before they even see the names.