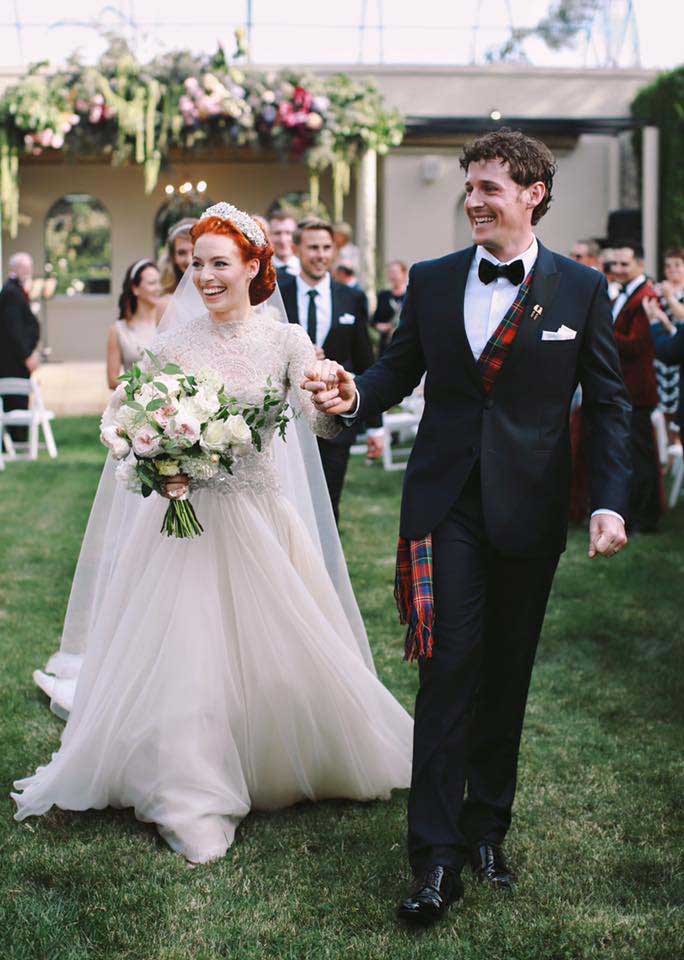 Yellow Wiggle Emma Watkins and Purple Wiggle Lachy Gillespie have exchanged vows in an elegant outdoor ceremony, which wasn't without a few cheeky references to their Wiggles background.
Lachy, 30, and Emma, 26, both joined the internationally renowned children's entertainment group The Wiggles in 2013 and couldn't help but weave a few fun and cute references to their working life into their big day. The couple celebrated with a Wiggles-themed wedding cake and had their wedding rings engraved with the signature yellow bow from Emma's Wiggles costume.
The couple of three-years married over the weekend in front of 200 guests at Hopewood House, in Balmoral, NSW and the bride wore an embellished headpiece by Victoria Novak and a stunning vintage Suzanne Harwood gown which featured lace sleeves and a flowing tulle skirt. Lachy looked dapper in an Arthur Galan suit which was styled with a tartan scarf, and the children's performer has since told 9 News, "Seeing Emma was the most magical moment of my life."
Red Wiggle Simon Pryce was present as one of Lachy's groomsmen, while Blue Wiggle Anthony Field played the bagpipes as part of the processional. Original Purple Wiggle Jeff Fat was in attendance too, however original Yellow Wiggle Greg Page had a prior commitment and couldn't make it to the wedding. Other celebrities present at the wiggly affair included British writer and comedian Ben Elton.
In a sweet reference to their roles in the 24-year-old children's group, Emma and Lachy's wedding cake was decorated with Emma's signature Wiggle's bow and was coloured purple and yellow. The pair also had their wedding rings engraved with Emma's yellow bow and set with nine red rubies.