If you are having a contemporary themed wedding, you are probably a very discerning couple. You know that there is a certain level of quality that you want from your venue, and you won't settle for anything less.
And nor should you. If there is any day to be going for 100%, it is your wedding day. If you are a modern couple you would be used to high standards, and that is exactly what a modern wedding reception venue should deliver.
You also want a venue that doesn't make cookie-cutter weddings, and that will make yours personal and memorable. You want somewhere that will blow your guests away, and have them jealous that they didn't book their own wedding here.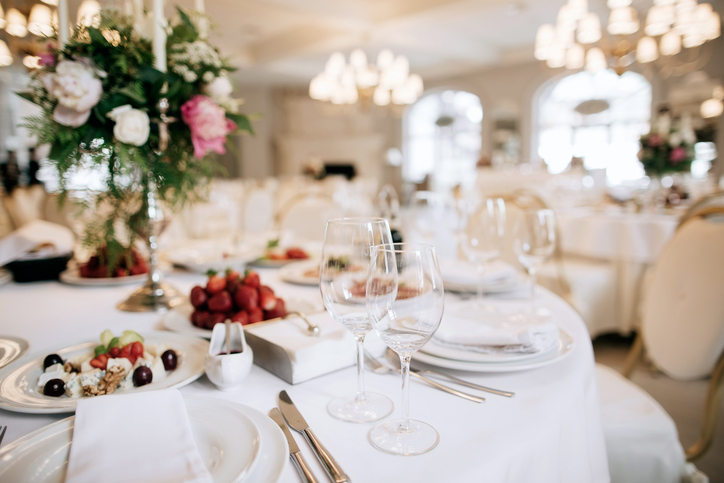 Here is what you should be looking for in your perfect contemporary wedding venue
New and well-finished
Your best contemporary venues do not need to have been just newly built, but they need to look as though they were.
These venues have to be immaculately looked after, with as-new coats of paint, crisp white tablecloths, candelabras that are polished until they are gleaming, no rough edges or tears of any furniture, and more.
The bathrooms have to be new, clean and current day, and very well looked after. Plates, cutlery, and glassware have to be blemish free, stain free and chip free. You should be able to go over the entire venue with a fine tooth comb and not find one chipped bit of wood, one dusty corner or one dirty fork.
Décor and furnishings
The décor must be stunning. In a modern venue, you are looking for high-quality surfaces such as polished or parquetry wooden floors, marble bathrooms, either gleaming walls or perfectly chosen wallpaper, and striking furnishings and fittings. There might be crystal chandeliers, or enormous vases, or leather lounge suites, but all of it must be contemporary and must look just right.
Usually, a modern venue will have a neutral palette, with wonderful use of white, black, tan or grey, with tasteful additions of colour such as blue, green or red. Usually, patterns and furnishings will be sleek and simple, with clean lines, and everything will blend in and have its perfect place.
The décor should allow for your own personal design touches to be added seamlessly, such as your own colours, centrepieces, floral arrangements and more. A modern décor is one that incorporates extra details easily and doesn't make too striking a statement on its own that would clash with your own additions.
Cuisine
Modern cuisine has to taste fantastic, but it also has to look amazing. The enjoyment of contemporary food begins as being a feast for your eyes and may assault other senses as well. Plating up and presenting drama and theatre on the plate is all part of the experience.
It will usually be a fusion of cuisines, or a modern take on just one. This is usually less about big meals like pasta, stew or even buffets and share platters unless they are exquisitely created.
Dessert can play a big part in a modern cuisine, with individual cakes and tarts looking like miniature art sculptures, almost too good to eat. Almost…
Technology
Your contemporary wedding venue needs to be at the forefront of digital and technological advances, because if they aren't, then the next venue who is will steal all their business. This can include:
Projectors that will display images or motifs on walls and floor
LED lighting in wall panels, in the curtains, on dance floors and in the bridal table, as well as in the ceiling
The capability to provide a lighting show reminiscent of a theatre production
Audio-visual capabilities to allow for slideshows, videos and more to be screened during the celebration
Faultless music and sound, perfect pitch for speeches, live music or DJs as needed
The ability to provide extra special touches, such as dry ice that appears from nowhere, pyrotechnic shows and more
And this list will never be complete because every week new advances occur that should be incorporated into the best modern facilities.

Flexibility
Because modern venues are recently finished, there should be no excuse for not being able to attend to every couple's request. These venues should be designed and built with adaptability in mind, and to anticipate needs before they even occur. This includes having facilities that:
Can seamlessly combine indoors and outdoors, as well as protect the guests against any inclement weather. This could include walls and ceilings that open, indoor/outdoor areas such as decks that are still warm and dry, and floor to ceiling windows that show off the elements and the views without exposing the guests to them.
Heating and cooling that can be adjusted in different areas as needed so that no one is too hot or too cold. Internal temperature should be perfect regardless of what is happening outside.
Rooms that can change shape and size as needed, incorporating moveable walls. This includes not having parts of the room with obscured views or behind pillars.
Tables settings that can meet any arrangement the couple would like.
Comfortable zones for all of the guests' needs, such as rooms that can used for children, or as chill-out zones if the wedding calls for it.
Conveniences
Contemporary wedding venues are all about not being put out. They are created to bring people's dreams to life, which means everything should be easy.
For example:
Enough clean and accessible toilets for everybody
Wheelchair or pram ramps
Ample free parking, or an excellent positioning to public transport
Comfortable places to breastfeed
The ability to cater for children at the wedding, including smaller tables and chairs, activities, menu options and more.
That extra special something
A contemporary wedding venue has to go above and beyond to meet these requirements, but it still has to do something more. It has to have that extra wow factor that makes it stand out.
The staff has to be well-presented, professional, friendly and accommodating. The quality of service and food has to be exceptional.
They need to have events management staff that work closely with the couples and ensure their dream day is understood and delivered. There needs to be personal attention to clients and their guests, as well as incredible attention to detail.
I know it sounds like a big ask, but it is your wedding day. You don't need to settle for anything less.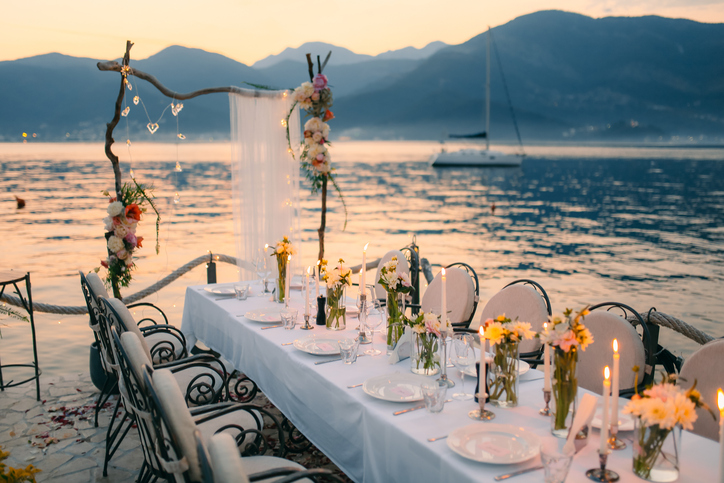 Embarking on your venue hunt? Start here.