In the modern world, not all families consist of two parents and their children. Many people find themselves having to choose between their natural father and their stepfather to give them away. Here are a couple of parental dilemmas and way to overcome them: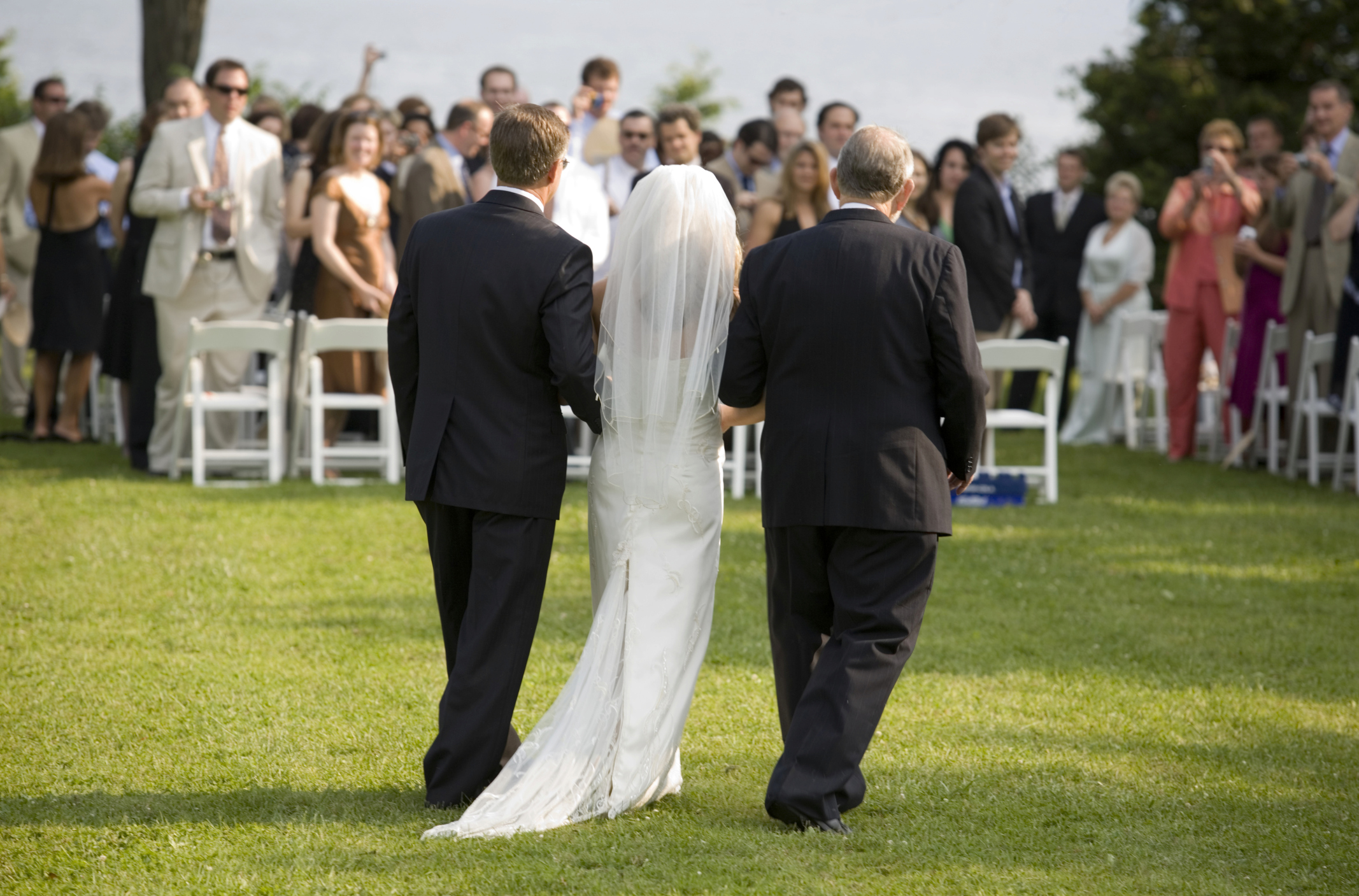 Dilemma 1: Two fathers of the bride
If you are equally close to your biological father and your stepfather it can be difficult to decide which one should perform the fatherly duties at your wedding. If they get on well could ask them both to walk you down the aisle, but if this is not possible you could forgo tradition and ask your mother, son or your brother to give you away instead.
Alternatively, you could split the duties between your two dads, asking one to give you away and the other to make a speech at the reception. If one of your fathers is footing the bill for the wedding it is only fair that they choose which duties they would like to perform, but that doesn't mean you should exclude your other dad from being a part of the wedding altogether.
If you are having a receiving line, or a top table at your reception, you need to include both of your fathers in this, or neither of them. The father and daughter dance can be a particularly tricky element of your wedding. You can easily dance with both fathers, but the question is which one you should dance with first. The easiest option might be to avoid a formal father and daughter dance altogether; just focus on your first dance with your new husband and dance with both fathers when the opportunity arises.
If you are having difficulty accommodating both your dads in your wedding plans talk to them about it. Unless the situation between them is very bad the chances are they will understand and will do their best to ensure the situation doesn't ruin your big day.

Dilemma 2: Inviting parents new partners to the wedding
If your parents have recently split up, it can be difficult to know whether to invite any new partners to the wedding. This is especially difficult if the new partner was directly involved in the marriage breakdown, or if only one of your parents has found a new love and the other is still single.
The answer to this problem will depend greatly on your particular family's circumstances. If for example, your father has left your mother for another woman, you may feel it would be disrespectful to your mum to invite his girlfriend to the wedding. Perhaps you could consider just inviting her to the evening reception as a compromise so that your mother gets most of the day without her. Talk to all parties concerned and explain how you feel, the majority of them will understand and will be adult enough to make things easy for you.
If, however, you parents aren't willing to be reasonable, you just have to do whatever you feel is right. If, for example, you want to invite your mother's new partner but your father refuses to pay for the wedding if you do, you might consider having a smaller wedding and footing the bill yourself. Your wedding day should be special to you, and you should be able to invite whoever you like without giving in to emotional pressure from your family.